Julian Kulski was only ten years old when he was introduced to war. As he hunted for mushrooms near Warsaw, Poland, he was struck by the unmistakable buzz of the German blitzkrieg:
"… we heard the sound of engines. We saw planes flying overhead, just above the treetops. They had black crosses on their wings and heavy canister-shaped objects under them."
When he arrived home, he learned the news: "Germany has invaded Poland, and the war has started."
The Color of Courage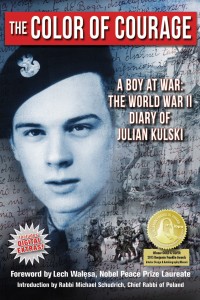 The Color of Courage—A Boy at War: The World War II Diary of Julian Kulski offers a rare first-hand account of a young Polish resistance fighter. Written in 1945, the diary chronicles Kulski's wartime experiences from ages 10 to 16, as he defied Poland's Nazi German occupiers and fought in the heroic and tragic Warsaw Uprising of 1944.
Kulski's experiences in war would shape his character and define the kind of man he would become.
"If there is going to be a war, I do not want to miss it."
At a remarkably young age, Kulski would make a conscious choice to resist the German occupation at all cost. He began with small acts of defiance: "I went to the street corners around Żoliborz and with a struggle tore down five or six wooden signboards, and carried them home on my bicycle." Confusion ensued the following day as German vehicles circled the streets looking for their headquarters.
At age 12, Kulski was recruited by his former scoutmaster, Ludwig Berger, into the clandestine Underground Army, and began training in military tactics and weapons handling. By 13, Kulski was a fully trained soldier for the Polish resistance, and had gone on a secret mission to liaise with Jewish leaders in the Warsaw Ghetto.
However, Kulski's personal resistance was nearly cut short.
"I can't say I really want to die, but I can see now that there are times when one has to be prepared to do just that."
In June 1943, 14-year-old Kulski was arrested by the Gestapo and taken to Pawiak Prison. There he was tortured for information on his former scoutmaster. He would not break.
Kulski was sentenced to Auschwitz, the notorious concentration camp from which few would leave alive. But his rescue would change his fate. He was accepted into a commando unit of the Underground Army.
At age 15, Kulski found himself fighting on the frontlines in the Warsaw Uprising of 1944. One of the largest and most tragic acts of defiance against Nazi occupation in Europe, the 1944 Uprising would result in a quarter of a million deaths within two months.
The failed uprising led to Kulski's capture, and the young resistance fighter spent 7 months in a German POW camp. There he struggled to survive starvation and illness. As the war ended and Allied forces began reaching the POW camps, Kulski made a dash for freedom onto an American truck rather than waiting for liberation by Soviet forces.
"No amount of effort, no amount of resistance, and no amount of tears is too much in defense of liberty."
The story of Julian Kulski is not just a soldier's story, but also an immigrant's story. After the war, Kulski, now a young man without a country, arrived in the United States with only five dollars in his pocket. Building a new life in the U.S., he never forgot the lessons of war and the value of the freedom he had fought so hard to preserve.
A Multimedia Experience
The Color of Courage strives not only to present the stunning story of Julian Kulski's resistance against the Nazis, it also seeks to immerse the reader in the sights, sounds, and stories of the Polish occupation. A total of 11 historical videos accompany the book's content, with original footage of the major events in the Polish occupation, from the German victory parade in Warsaw to the Katyn Forest Massacre investigation.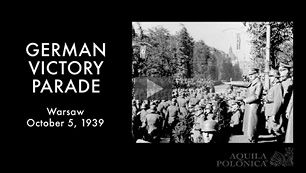 This multimedia approach gives Kulski's account a level of immersion unique to the literary world. The QR codes and URLs for these videos are all available within the volume, allowing for a seamless transition between media.
Praise for The Color of Courage
"This account, written from the heart and by the hand of an adolescent boy, gives us unique and moving insights into World War II. A superb lesson of humanity and patriotism."
— Nobel Peace Prize Laureate Lech Wałęsa
"Kulski was able to give shape to the wider context of the Resistance movement. At once absorbing, inspiring, and tragic."
— Publishers Weekly
"Haunting and powerful—the unforgettable true story of a boy soldier in World War II."
— Susan Eisenhower, President, Eisenhower Group
Immerse yourself in The Color of Courage, a phenomenal story of a young boy who embodied heroism, patriotism, and honor.
** This article was sponsored by Aquila Polonica**