By Al Hemingway
Much has been written about the battlefield exploits of German Field Marshal Erwin Rommel. His exemplary leadership skills, especially during the North Africa campaign, received unending praise from Adolf Hitler. Joseph Goebbels's propaganda machine transformed him into a god-like figure in the eyes of the German people. His sobriquet, "The Desert Fox," was certainly well earned.
Although Rommel was an exceptional military leader, he did not get along with many of his superiors; especially those within the Italian Army. He frequently ignored orders and proceeded with his own agenda, which infuriated both the Italians and the German high command.
In his new book Rommel's Desert War (Cambridge University Press, New York, 2009, 508 pp., photos, maps, notes, index, $40, hardcover), Canadian historian Martin Kitchen has done extensive research and revealed previously unused Italian sources to provide the reader an unbiased view of the North Africa campaign from all perspectives.
Rommel's first taste as an armored unit commander was not granted until February 1940, just months prior to the invasion of France. He performed well, despite the jealousy of other senior officers, during the campaign. Although he received kudos from the high command, some had doubts about his heading a corps in future battles until he had "greater experience and a better sense of judgment."
Despite the criticism from his fellow officers, Rommel was given command of the Afrika Korps in February 1941 by Hitler. He was sent to Libya to reinforce the Italian Army fighting the British there. The Führer was not keen on dispatching troops to North Africa because he was secretly planning Operation Barbarossa, the invasion of the Soviet Union. As Kitchen points out, Hitler's motives were purely political. From the outset, he firmly believed that a pact with Italy "should be the cornerstone of German foreign policy."
For two long years, Rommel's men fought numerous battles and skirmishes in an attempt to conquer the region. He drove his troops beyond their limits. He even relieved battalion commanders on the spot if, in his opinion, they were not performing their duties to his high standards. His harsh command style did not make him popular with his army.
In spite of his stern behavior, Rommel did not fight a war of hate, as he called it. His command was never accused of any war crimes. He openly refused to execute Jews or deport them to France where they surely would have ended up in concentration camps. He treated Allied prisoners of war in an equal fashion, defying orders to shoot certain prisoners who participated in behind-the-line commando-style raids. He felt that they were military men performing their duties and did not deserve such inhumane treatment.
As a tactician and strategist, Rommel was superb. But he lacked administrative and logistical talents sorely needed if such a massive military campaign was to be successful. Often, he could not be located because he had driven miles to the front to oversee a battle firsthand. His absence proved to be detrimental on numerous occasions. His supply lines were stretched to their limit, causing a serious breach in his ability to carry out his mission. When approached with the problem, he would dismiss it.
Kitchen's excellent book delves into Rommel's behavior on the battlefield and, more importantly, his relationships with his superiors and subordinates. His uncanny ability to appear at will when least expected instilled fear in his opponents. Some of the Allied commanders, although respecting his skills, were careful to point out that making Rommel an unbeatable iconic figure would hurt the war effort.
"There exists a real danger that our friend Rommel is becoming a kind of magical or bogey-man to our troops, who are talking far too much about him," wrote British General Claude Auchinleck. "He is by no means a superman, although he is undoubtedly very energetic and able. Even if he were a superman, it would still be highly undesirable that our men should credit him with supernatural powers … I am not jealous of Rommel."
---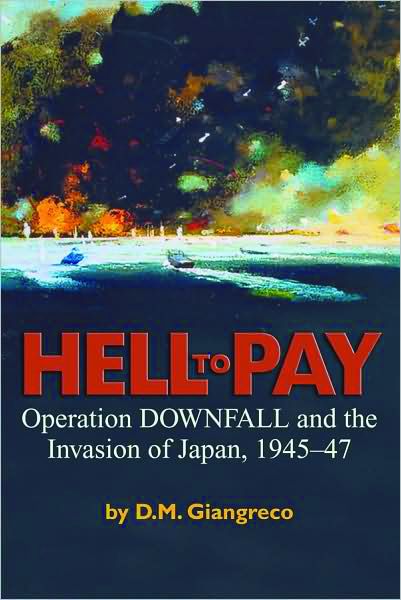 Hell to Pay: Operation DOWNFALL and the Invasion of Japan, 1945-1947 by D.M. Giangreco, Naval Institute Press, Annapolis, MD, 2009, 363 pp., photos, maps, index, $36.95, hardcover.
What if the Japanese had not surrendered after the U.S. dropped atomic bomb on Hiroshima and Nagasaki? What if the horrific blasts that produced horrendous casualties had instead steeled the Japanese people and Emperor Hirohito hd ordered the Japanese homeland to be defended to the death?
Military historians have argued these very questions since the end of World War II. One controversial aspect was the projected number of American and Japanese deaths that would have occurred if such an invasion did, in fact, take place. Some have indicated that the dead and wounded were exaggerated to justify the unleashing of nuclear weapons and obtain revenge upon a foe that had caught the United States by surprise at Pearl Harbor.
For nearly two decades, editor and historian D.M. Giangreco has done an outstanding job in countering this theory. He has amassed a plethora of numbers and figures that support his conclusion: the Japanese were preparing to defend their country at all costs.
Japan did open secret negotiations with the Soviet Union in 1945 in hopes of ending the war early. But as the author points out: "The fanatical Japanese militarists retained their grip on the decision-making process until the simultaneous shocks of the atom bombs and Soviet entry into the war in August 1945 stampeded Japan's leaders into an early capitulation."
Despite this peace overture, Japan had secretly stockpiled ammunition, aviation fuel, and other supplies for the impending invasion. There were more than 18,000 Kamikaze pilots and nearly 13,000 aircraft poised to strike. Fortifications were built that would have dwarfed those confronted during any island campaign thus far in the Pacific. American deaths were estimated to be between 1.7 million and 4 million with another 5 to 10 million Japanese killed and wounded as well. It indeed would have been hell to pay.
---
Above the Thunder: Reminiscences of a Field Artillery Pilot by Raymond C. Kerns, The Kent State University Press, Kent, OH, 2009, 305 pp., photos, index, $24.95, hardcover.
Here is a fascinating book written about a subject that has received scant attention over the years. The author, a retired U.S. Army lieutenant colonel, spent World War II flying the L-4 Piper Cub in the Pacific with the 33rd Infantry Division in New Guinea and the Philippines. Not only was Kerns an aviator, but he also fought at times as an infantryman if he had to make an emergency landing.
The author's story is a slice of the American dream. He was born in Kentucky, and his father was a struggling tobacco farmer. His parents divorced when he was 11 years old, and he quit school to help on the farm. He enlisted in the Army prior to World War II and was stationed at Schofield Barracks on Oahu when the Japanese attacked. Kerns quickly commandeered a Browning Automatic Rifle (BAR) and fired bursts at the passing Zeros.
Despite his lack of education, Kerns became an L-4 pilot. The aircraft, dubbed the grasshopper, proved to be a valuable asset during the conflict. Pilots such as Kerns flew in these slow-moving rickety planes as spotters and braved enemy fire to coordinate artillery operations.
This is a wonderful account of heroic men braving the elements and the enemy to perform an important role. Although Kerns would not consider himself a hero, he is one in the memory of all the infantrymen he served with.
---
Defenders of Fortress Europe: The Untold Story of the German Officers During the Allied Invasion by Samuel W. Mitcham, Jr., Potomac Books, Washington, D.C., 2009, 256 pp., photos, maps, notes, index, $27.50, hardcover.
Just how good were the German commanders facing the Allies from June 6, 1944, from the D-Day invasion until Germany capitulated in May 1945? Because of their military mystique both the German high command and the ordinary foot soldier were often thought of as supermen who could not be defeated on the battlefield.
As military historian Samuel W. Mitcham points out, however, such was not the case. He carefully scrutinizes each of the top commanders at D-Day, the fight for the hedgerows, St. Lo, Caen, the Allied breakout, and the fall of the Third Reich itself. Much has been written about Erwin Rommel, Albert Kesselring, and Alfred Jodl, but the author also gives vital background information on their subordinates.
Another interesting aspect of the book is a chapter titled, "What Happened to the Defenders of Fortress Europe?" In it Mitcham gives a brief synopsis of their lives and what became of them at war's end. Some were executed as war criminals, and others, amazingly, lived well into their 80s or 90s. Mitcham's book is a must for any reader interested in this subject.
---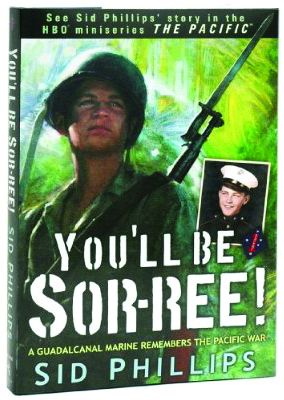 You'll Be Sor-ree! A Guadalcanal Marine Remembers the Pacific War by Sid Phillips, Valor Studios, Montoursville, PA, 2010, 205 pgs., photos, softcover.
When the Japanese attacked Pearl Harbor on December 7, 1941, Sidney Phillips of Mobile, Alabama, could not wait to enlist. Just 17 years old, he tried the Navy but settled on the Marine Corps after the recruiting sergeant told him that he would put him "eyeball to eyeball with the Japs."
The sergeant was not joking. After Boot Camp at Parris Island and infantry training, Phillips was sent to New River, North Carolina later to be renamed Camp LeJeune. From there he sailed to New Zealand and then, on August 7, 1942, landed on the main island of Guadalcanal. For the next four months, Phillips and his buddies from Co. H, 2nd Bn., 1st Marines endured starvation, constant shelling from enemy warships offshore and firefights, such as the Battle of the Tenaru on August 21, to defend Henderson Field.
Phillips's unit was then sent to New Zealand for rest and in December 1943 they invaded Cape Gloucester, situated on the western tip of New Britain. In addition to fighting the wily Japanese, the Marines had to contend with some of the most unforgiving climate in the entire Pacific Theater.
After the war, Phillips became a doctor in his hometown of Mobile. He was featured in the Ken Burns documentary The War and the upcoming HBO miniseries The Pacific.
"Of extreme importance as to what carried them through it all was they were Depression kids and had never had very much of anything as civilians, plus, in my opinion, American humor and the optimism of youth and pride in being an American. Added to this was the additional pride of being a United States Marine," he later wrote.
---
Japanese Intelligence in World War II by Ken Kotani, Osprey Publishing, New York, 2009, 224 pp., photos, notes, index, $24.95, hardcover.
Amazingly, little has been written about the Japanese intelligence network during World War II. And with good reason. There has been very little information forthcoming from the historical archives that had not been destroyed by Japanese officials at the end of the conflict.
Here, at last, is a comprehensive account of the secret inner sanctum of the Japanese intelligence community. Ken Kotani, a fellow at the National Institute for Defense Studies in Japan, has translated his work into English so historians and other interested readers can gain a firsthand knowledge of this clandestine group. Kotani provides a clear understanding of how the Japanese intelligence system worked or, in some cases, failed.
"It was not so much a failure of the intelligence organizations themselves as a massive failure of the culture and bureaucratic organization of the Japanese military from top to bottom," wrote Williamson Murray, professor emeritus at Ohio State University, in his foreword to the book.
Jealousies among the Army and Navy caused serious breaches in national security. When the Japanese Army learned that the Americans had broken their navy's code, they deliberately chose not to inform the Navy. This may be unfathomable to some, but understanding the extreme cultural differences between the two arms of the military, it does makes perfect sense.
Kotani reveals another fascinating tidbit in his book—present-day Japanese intelligence has many of the same faults that its World War II predecessors had. Things such as poor status, no centralized organization, and the processing of the information received are some examples of these shortfalls. This book is a real eye-opener and should be on every reader's bookshelf.
---
The Road to Big Week: The Struggle for Daylight Air Supremacy Over Western Europe, July 1942-February 1944 by Eric Hammel, Pacifica Military History, Pacifica, CA, 2009, 380 pp., index, notes, $34.50, softcover.
Noted military historian Eric Hammel has written another gem for those World War II buffs that have a keen interest in the air war over Europe. He traces the battle for air superiority during the conflict back to its infancy at the close of the World War I through the trials and tribulations of air pioneer Brig. Gen. William "Billy" Mitchell to the dark, early days following the surprise attack on Pearl Harbor, where the Japanese proved without a doubt that the mighty battleship could be sunk by bombers.
All of these events, coupled with the hard work and sacrifices of other military men who saw the advantages of controlling the skies culminated in what would be known as Big Week. This was a massive aerial bombardment that lasted a week to bring Nazi Germany to her knees. It started in late February 1944 and involved aircraft from the 8th, 9th, and 15th U.S. Air Forces. Together with the Royal Air Force's night-flying Bomber Command, the aircraft rained destruction upon Hitler's aircraft production plants and his fighter defense force.
"Big Week foreshadowed the incineration of both German industry and the Luftwaffe, and in itself justified the blending of the separate American bomber and fighter doctrines that had begun to emerge in the early 1920s, then progressed bloodily into 1942, and dramatically accommodated themselves to real war during the latter months of 1943," writes Hammel.
---
Introducing … The Sky Blazers: The Adventures of a Special Band of Troops That Entertained the Allied Forces During World War II by Jack Jacobson, Potomac Books, Washington, D.C., 2009, 224 pp., photos, $26.95, hardcover.
Ask any GI and they will tell you that USO shows and other live entertainment were a huge boost in morale. These singers, dancers, comedians, and other performers traveled everywhere, sometimes under hazardous conditions, to make sure the troops were entertained.
This book is about one such group and the two soldiers that started it. Jack "Jake" Jacobson, a comic, and his friend Murray "Duke" Davison, a jazz trumpet player, were intent upon having a career in show business. Then came December 7, 1941, and the dreams of stardom were dashed. Both enlisted in the Army and, while traveling to North Africa, somehow persuaded 9th Army Air Corps commander General Lewis Brereton to let them play for the troops.
The pair enjoyed so much success that Brereton decided to form a special unit strictly to entertain the men. It was called the Combat Special Services Entertainment Unit. Jacobson and Davison gathered a talented group of singers, musicians, and comedians and dubbed themselves the Sky Blazers.
Whether they were sleeping in foxholes, on the front lines, or playing at the Royal Albert Hall in London, the troupe spent more than two years playing for Allied audiences. Here is a good book about a completely different side of the war—and a subject that would probably bring a smile to all those who remember watching the Sky Blazers perform.
---
Short Bursts
Emissary of the Doomed: Bargaining for Lives in the Holocaust by Ronald Florence, Viking Press, New York, 2010, 322 pp., notes, index, $27.95, hardcover.
Here is a captivating account of one of the saddest chapters of the conflict. The story revolves around Joel Brand, a Hungarian Jew who tried desperately to save his fellow countrymen from being transported to the infamous Auschwitz concentration camp. He had aided the escapes of many to Hungary, but when the country was invaded by the Germans in March 1944, Brand looked for other methods to help them escape.
Brand was approached by the notorious SS officer Adolf Eichmann to help in making a deal with the Allies. Eichmann wanted to trade the lives of one million Jews for trucks and food supplies for the Germans. In the end, the deal never materialized because the Jewish Agency for Israel and the Allies would not agree to it. To his dying day Brand remained a very bitter man because of this.
Operation Last Chance: One Man's Quest to Bring Nazi Criminals to Justice by Efraim Zuroff, Palgrave McMillan, New York, 2009, 256 pp., notes, $25.00, hardcover.
Even after the passage of more than six decades, Nazi hunter Efraim Zuroff remains in relentless pursuit of Nazis who are known to have committed atrocities during the war. In 2002, he initiated Operation Last Chance, an all-out effort to track down, capture, and bring to justice those who have escaped his web.
Director of the Simon Wiesenthal Center in Israel and an authority on the Holocaust, Zuroff has managed to amass a list of nearly 500 alleged ex-Nazis that are still alive. Many are living under aliases and have escaped detection through the years. Zuroff knows that many are older and may be in poor health, but his last-ditch attempt to snare these perpetrators is to honor the memory of those slaughtered in the Nazi death camps.
Diary of a War by W.A.P. Manser, Tommies Guides, United Kingdom, 2009, 192 pp., photos, $19.50, softcover.
This is an exciting book of one RAF pilot's experiences during the war. First-person memoirs can be an excellent source for the reader to obtain a feel for what was going on during that period. And Manser certainly was in the thick of it. He traveled to the United States to train as a flyer and eventually flew the Hawker Hurricane in Africa and the Mediterranean area. He was taken prisoner by the Germans when his aircraft crash-landed on the island of Crete during a raid. He was transported to Germany and was released at war's end. The author certainly does a marvelous job in describing the people and places he encountered during his time as a pilot and a POW.
On the Swing Shift: Building Liberty Ships in Savannah by Tony Cope, Naval Institute Press, Annapolis, MD, 2009, 238 pp., photos, notes, index, $26.95, hardcover.
Amazingly, 88 of the nearly 3,000 Liberty Ships built during World War II came out of Savannah, Georgia. These cargo vessels, approximately 45 feet long with a speed of between 11 and 15 knots, were extremely vital to the war effort. They symbolized America's industrial might as the sturdy boats made their way around the globe delivering much needed supplies to Allied troops overseas. The nearly 45,000 workers at the Southeastern Shipbuilding Corporation in Savannah, many of them female, can take justifiable pride in their accomplishment. Cope has gathered more than 100 taped interviews with shipyard employees, merchant seaman, and Navy and Coast Guard personnel, to pay tribute to these dedicated workers who assisted in defeating the Axis powers by building these vessels.
The Battle of the Bulge: The Photographic History of an American Triumph by John R. Bruning, Zenith Press, Minneapolis, MN, 2009, 288 pp., photos, maps, notes, index, $50.00, hardcover.
Numerous books have been written about this subject. However, many World War II buffs just cannot get enough of the fighting that took place during the period from late December 1944 to early January 1945, commonly referred to as the Battle of the Bulge. This coffee table book is chock full of great photographs and richly detailed maps so the reader can follow along very easily. But rather than just concentrating on the siege of Bastogne, this book has chapters devoted to explaining the lesser known battles fought during this important period of World War II.
Despite the surprise and severity of the German blitzkrieg, U.S. forces held firm and, by doing so, created a legend that lives on in the minds of the American people today. Hitler's eleventh-hour strategy to punch a hole in the Allied lines failed miserably and drove another death nail into the Nazi coffin.