By Christopher Miskimon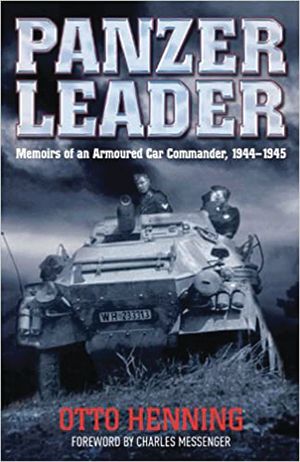 Otto Henning, born in 1924, joined the German Army in the summer of 1941. Volunteering allowed him to avoid the compulsory labor service and choose his branch of service. He picked the panzer arm and was soon trained as a tank gunner in a reconnaissance battalion of the 21st Panzer Division, then in North Africa. He served under General Erwin Rommel from March 1942 until sent on home leave in April 1943, avoiding the surrender of German forces in Tunisia. His next assignment was in the Panzer Lehr Division, fighting in Normandy after D-Day. Fighting almost to destruction, the division withdrew for refitting before going back into action for the Ardennes Offensive in December 1944. Afterward, the unit fought in Holland against the British and Canadians and against the Americans near Remagen. Panzer Lehr met final defeat in the Ruhr Pocket in April 1945. Henning fought the whole way, still as a reconnaissance soldier. 
This memoir provides an excellent look at a German armored reconnaissance unit. The author saw action in many of the war's critical actions, such as
, Caen, and the Ardennes. His descriptions are detailed and interesting, particularly those which reveal mistakes and defeats. While the author gives little information about what he thought of his opponents, this book leaves out the self-hero worship of many German military memoirs to focus on the war as he saw it.
Panzer Leader: Memoirs of an Armoured Car Commander 1944-45 (Otto Henning, Frontline Books, South Yorkshire, UK, 2022, 189 pp., maps, photographs, $22.95, softcover)