By C.R. D'Amore
After locating and analyzing original letters and written accounts from the American Revolution, and investigating period technologies and materials, they began reconstructing the Turtle as late 18th-century craftsmen might have. Collaborating with faculty, students, and alumni at the Massachusetts College of Art and the Timber Framers Guild, they used a variety of 18th-century methods, including copper brazing, bronze casting, blacksmithing, and glass blowing. Borrowing a technique of the Pequot Native Americans, the body of the Turtle was split and hewn from a single log—using only period hand tools.
Upon completion in January 2003, the Turtle was successfully water tested in Duxbury, Mass., and soon after the Turtle was tested further at the United States Naval Academy in Annapolis, Md. Utilizing the Academy's hydro-mechanical laboratory, tests were conducted to evaluate water-tightness, while drag tests verified calculations made in the Naval Architecture and Ocean Engineering department. The results of these rigorous tests proved that the Turtle replica was indeed seaworthy. Manned tests were conducted with the replica taken to a depth of 15 feet during a reenactment of the famous attack on HMS Eagle in 1776. During the reenactment, the Turtle successfully attached a mock bomb to a replica ship hull rigged inside the testing tank.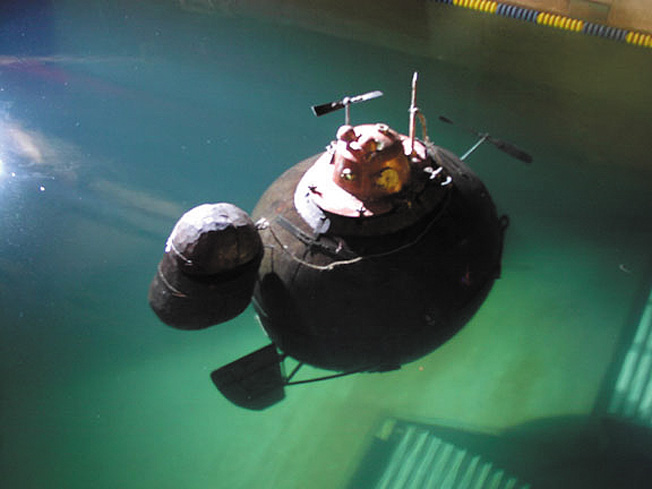 Machines Lost in Time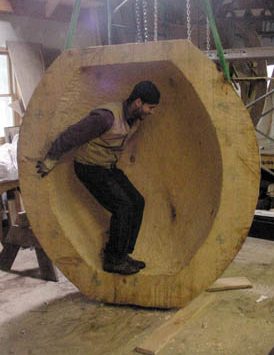 Following the Turtle replica's success at the Naval Academy, it was again taken to the harbor at Duxbury where it was launched into open waters. Once in the harbor, operator Rick Brown conducted a series of exercises to simluate how the Turtle actually operated under real-world conditions using its propeller and rudder system. The Brown's have been involved in other, similar history projects. They worked on the raising of an ancient Egyptian obelisk, recreated two large 18th-century construction cranes, and participated in creating a full-scale working medieval catapult. All of these projects have been executed using only period-correct tools and techniques.
Not long after the final tests conducted in Duxbury, the Discovery Channel, England's Channel Four, and France's Channel Five aired the one-hour documentary film, First Submarine as part of the Machines Lost in Time series chronicling the submarine's reconstruction and its origins in the American Revolution. Handshouse Studio is a non-profit educational organization dedicated to creating adventurous hands-on projects to explore history, understand science, and perpetuate the arts. Handshouse is preparing a traveling museum exhibit featuring its Turtle replica, and copies of letters, drawings, models, and other documents relating to David Bushnell's creation.