By Joseph Luster
Warface is another of many shooters that take war into the near future, doubling up on tech while sticking to real-world locations and a first-person perspective. Originally released as a PC exclusive in 2012, the free-to-play action is finally making its way to consoles—Xbox 360, specifically—with a debut set for 2014. It remains to be seen how smooth of a transition Crytek Kiev's FPS will make, but it certainly makes a good case for itself with the intensity and visual polish for which Crytek as a whole is known.
Warface
Set in the year 2023, Warface comes into focus in a world full of chaos and corruption; crumbled nations standing beneath the imposing shadow of a new world order. That order is Blackwood, a military force that takes control of the world's resources and makes battlefields out of its cities. Thus, an elite force known as Warface is formed to take on Blackwood, and you have a solid impetus for plenty of combat on the frontlines.
Warface offers up four classes of soldiers to choose from, with Rifleman, Medic, Sniper, and Engineer options available to swap between at any time across locations ranging from the Balkans to South America. As with most games of its type, though, working together is optimal. While there are plenty of ways to take on the game's scenarios as a solo war machine, special cooperative moves make playing together a much more enticing method.
Free-to-play games—typically bolstered with in-game transactions of some kind—have been doing their thing on PC for a while now, but it's also something we're seeing more on consoles across a variety of genres. World of Tanks blazed its way to a worldwide Xbox 360 release, and even fighting games have gotten in on the fun, with Namco Bandai testing the waters with free-to-play versions of Tekken and SoulCalibur. From the same publisher we have the upcoming dogfighter Ace Combat Infinity, which entered beta testing in Japan back in December. There's also Killer Instinct, which returned to the arena with a similarly experimental pricing model on Xbox One, so the stage is more or less set for more games like Warface to take the console plunge.
Publisher: Crytek
Developer: Crytek Kiev
System(s): Xbox 360
Available: Early 2014
---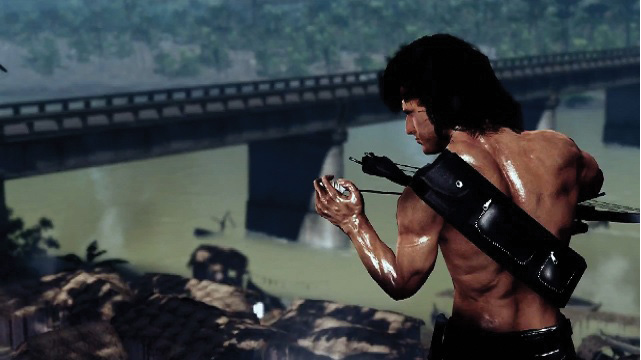 Rambo: The Video Game
Many folks likely share some of the same first Rambo-related game memories, if they have any at all. For one it might go back to 1988's Nintendo Entertainment System outing from Acclaim, while another ventures even further into the past with Rambo on Commodore 64 or ZX Spectrum. He's mowed down enemies across everything from those to Sega Master System and Sega Genesis, even stopping for an earth-shaking run in Japanese arcades not too long ago, and now John Rambo is set to return to consoles in the appropriately titled Rambo: The Video Game.
As over-the-top as the Rambo films gradually became, 1982's First Blood remains a pretty harrowing tale of the effects of war and life after the smoke clears. Smartly, developer Teyon is including that first film as part of the game's basis, with scenes from it and its sequels playing out on PC, Xbox 360, and PlayStation 3.
Despite the series' questionable history in the form of interactive entertainment, it's hard not to be at least a little optimistic about the prospects of Rambo: The Video Game. It's not exactly visually stunning, but its unerring faithfulness to the source material—Jerry Goldsmith's rousing scores and all—should at least give rise to some major nostalgia in fans of the franchise. From the small town madness of First Blood through the one-man Vietnam War of Rambo: First Blood Part II and Rambo III's rumble in the Middle East, it looks like we're in store for a real hands-on highlight reel. Let's just hope it actually comes out this time.
Publisher: Reef Entertainment
Developer: Teyon
System(s): PC, Xbox 360, Playstation 3
Available: 2014
---
Homefront 2
It was back in the June 2011 issue that we first took a look at THQ and Kaos Studios' Homefront in review form, and you know what? It wasn't that bad. Time may not have been kind to both it and its creators—THQ has since gone bankrupt, Kaos shut down, and rights to the property now belong to Crytek—but Homefront is getting another shot with a sequel planned for 2014 on as-yet-undetermined platforms.
The first Homefront put players in the role of former U.S. Marine Corps combat helicopter pilot Robert Jacobs, who joins American resistance fighters in a battle against the Korean People's Army, which has established one hell of a military occupation of the United States. Things certainly could change by the time it sees release, but initial rumblings had the follow-up's story taking place after the final battle of the first game. From there, the action would continue to South Asia and Japan, with the player once again taking on the KPA as a U.S. rebel.
We closed our review by saying the folks responsible have "something solid to build on here should they decide to escalate their fright-night future war story," and we'll see if that holds any weight once Homefront 2 steps further into the light.
Publisher: Crytek
Developer: Crytek UK
System(s): TBA
Available: TBA