By Christopher Miskimon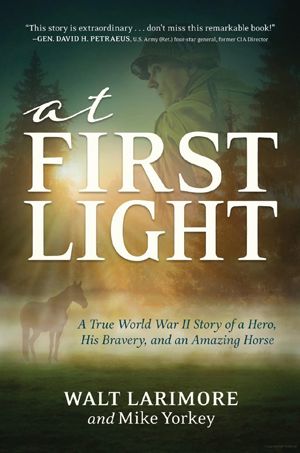 Phil Larimore grew up in Memphis, Tennessee. A Boy Scout, he learned a lot of outdoor skills, including horsemanship. His parents sent him to military school, and he entered the army soon after Pearl Harbor, becoming the youngest person to ever graduate Officer Candidate School, three weeks before his 18th birthday. Phil entered the war at Anzio in February 1944, leading an Ammunition and Pioneer Platoon in the 3rd Infantry Division. Over time he fought with the division through Italy, France, and into Germany, earning decorations for valor along the way. Near the end of the war, he was assigned a last, covert mission to find the famed Lipizzaner horses before they were lost. After the war, he came home and resumed his life, refusing to consider himself a hero. The heroes were the ones who did not come home.
The story of Phil Larimore is well told in this new book. The authors highlight their subject's courage and ability to endure the hardships of war. Phil's love of horses and interactions with them in North Africa and Europe add to the narrative, making this a story of equestrian as well as military action.
At First Light: A True World War II Story of a Hero, his Bravery, and an Amazing Horse (Walt Larimore and Mike Yorkey, Knox Press, New York, NY, 2022, 446 pp., maps, photographs, appendices, notes, bibliography, index, $35.00, hardcover)