By Mason B. Webb
For most people, British Prime Minister Winston Churchill stands today as the towering epitome of the ideal wartime leader: tough-talking, unflappable, judicious. His jaunty "V for Victory" sign and inspiring rhetoric did much to harden Britain's resolve when the island nation faced nearly alone an overwhelming German force.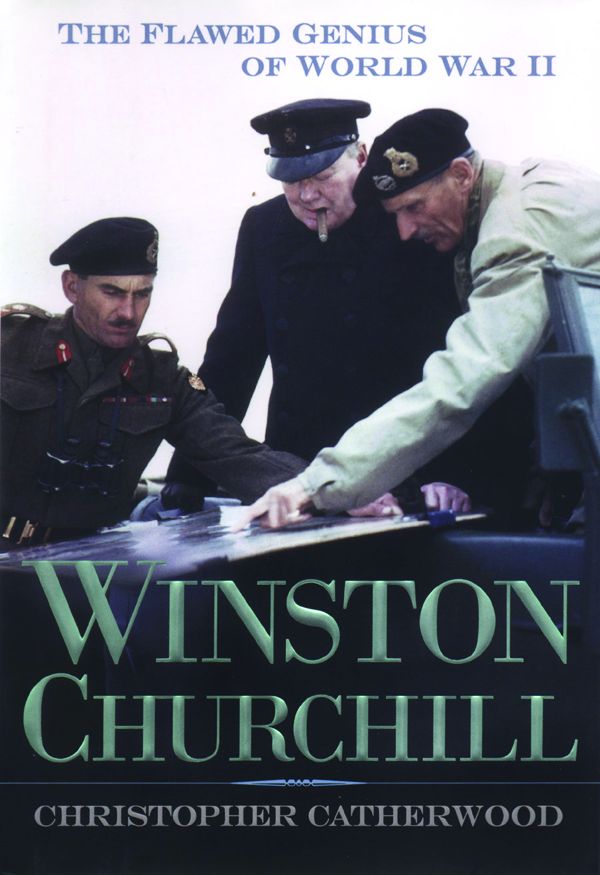 It is easy, therefore, to overlook Churchill's faults and foibles which, according to author Christopher Catherwood, were many and had a devastating legacy all their own.
In Winston Churchill: The Flawed Genius of World War II (Berkley Caliber, New York, 2009, 326 pp., photographs, bibliography, index, hardcover, $25.95), a new account of Churchill's public life, actions, and decisions, Catherwood examines the PM's policies that took effect between June 1940 and December 1941–– policies that the author convincingly argues actually hindered more than helped the Allied cause.
From dispatching British troops to North Africa, where they successfully engaged the enemy and then diverting many of his forces to Greece and Crete where they met with disaster, Churchill squandered numerous opportunities for victory. He also squandered valuable British and U.S. resources by his stubborn insistence on the Mediterranean Theater's importance while discounting American desires and plans to win the war in 1943.
Churchill's directives not only extended the conflict but also destabilized several regions in the Middle East that remain in chaos even at the dawn of the 21st century.
Further, Catherwood asserts that Churchill was fond of "doctoring" the wartime history he authored to make himself look even more heroic than he was. Whether one agrees with the author's conclusions or not, the book makes for fascinating and provocative reading.
---
World War II 365 Days, by Margaret E, Wagner, Harry N. Abrams, New York, 2009, 752 pp., photographs, bibliography, index, hardcover, $29.95.
Drawn from the vast collections of the Library of Congress, World War II 365 Days is a unique compilation of riveting text and more than 500 images, many in color, that reveals the drama and complexity of the greatest conflict in human history. Photographs, lithographs, political cartoons, maps, on-the-scene combat art, and other visual materials from all the major combatants, including much material rarely seen, combine to tell the interlocking stories of people caught in the global, man-made catastrophe.
Quotes from letters, diaries, speeches, and memoirs are included in the text and help capture the drama and scale of the war: the carnage and desperate bravery on battlefields from Normandy to Iwo Jima, the epic air and sea battles, the unparalleled brutality of the major Axis nations, the homefront sacrifices made by people in all walks of life and in all combatant countries, and the miracle of mobilization that made the United States the "arsenal of democracy."
The handsome, hefty, 752-page book is organized into 12 chronological and thematic chapters that extend from prewar events that led to the conflict, through a year-by-year examination of the war itself, and into its aftermath. A timeline running throughout the book highlights pivotal events. 
World War II 365 Days is much more than a gallery of major figures and events; it is a vivid mosaic of the battlefield and home front experiences of the ordinary people who endured years of destruction and uncertainty.
All in all, a stunning publishing achievement.
---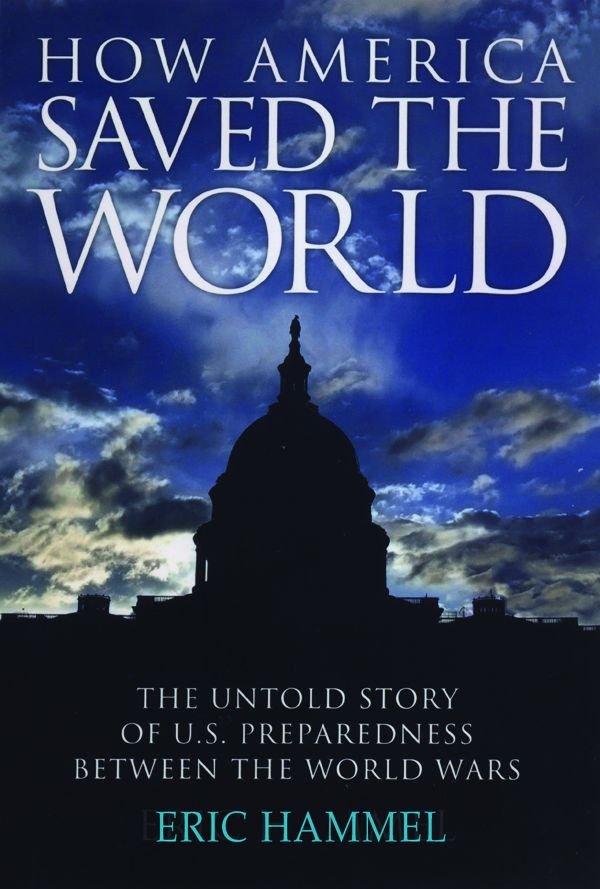 How America Saved the World: The Untold Story of U.S. Preparedness Between the World Wars, by Eric Hammel, Zenith Press, Minneapolis, 2009, 392 pp., photographs, bibliography, index, hardcover, $29.95.
Although perhaps best known as a specialist chronicling U.S. Marine Corps operations in the Pacific, Eric Hammel has shown himself to be an accomplished general historian as well.
Because the U.S. military which, until Pearl Harbor, had been portrayed as a weak, third-rate world power, suddenly became transformed into a superman capable of leaping wide oceans with a single bound, most historians and readers of the war's history depict that transformation as a something of a miracle. Poof! Here's your army, here's your navy, here's your air force; now go and thrash the enemy with them.
In the familiar narrative Americans have written for themselves, Uncle Sam, that peace-loving and ill-prepared sleeping giant, is suddenly and unexpectedly attacked for no reason at all, while his tiny force of gallant soldiers, sailors, and airmen hold the line with obsolescent equipment so that the draft boards and factories can cobble together an unbeatable military force.
As with most myths, this one is particularly false. Author Hammel's cool appraisal of the facts reveals that America's stunning and powerful moral response to German and Japanese aggression in the mid- and late 1930s was far less a miracle than an inexorable force of nature.
Long before the attack on Pearl Harbor, an alliance of the American government, American industry, and the American military community was already three-quarters along the road toward complete preparedness, a journey that began in November, only a little late.
This program to prepare for a war that almost everyone saw coming was overseen by the best minds the nation had in place. It was a human endeavor so, naturally, mistakes were made, things did not always go right, and plans and visions had to be scrapped or changed as obstacles and opportunities presented themselves. But there is nothing in the conduct of war that has ever run so well, so true, and so straight to the heart of victory.
Hammel's well-written, orderly narrative explains clearly how the U.S. military geared itself up for the biggest, widest ranging fight in the nation's history long before the first bombs fell on Pearl Harbor, and thus how American saved the world. Highly recommended.
---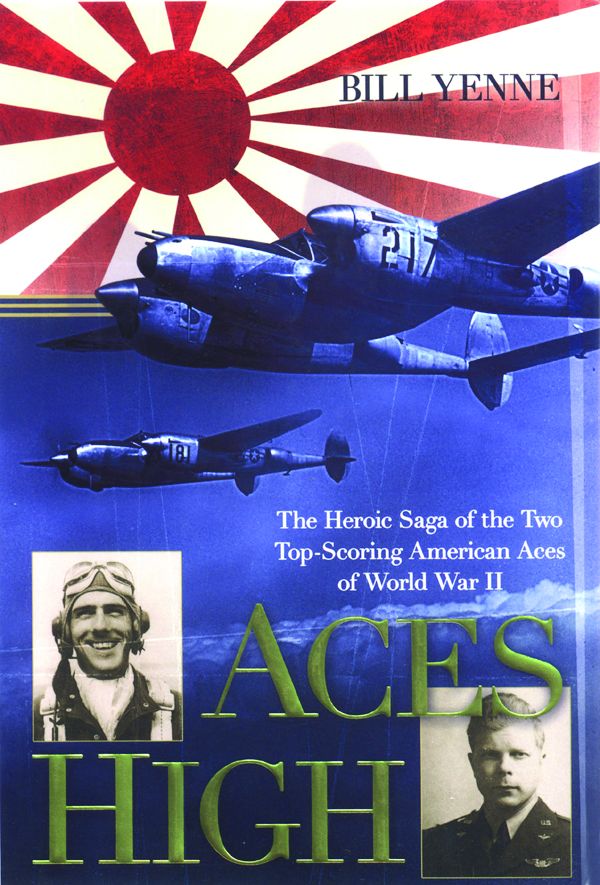 Aces High: The Heroic Saga of the Two Top-Scoring American Aces of World War II, by Bill Yenne, Berkley Caliber, New York, 2009, 348 pp., photographs, bibliography, index, hardcover, $25.95.
They could not have been more dissimilar. Richard "Dick" Bong was a shy, pink-faced farm boy from Wisconsin. Thomas "Tommy" McGuire was a wisecracking, fast-talking, street kid from New Jersey.
What they shared was an extraordinary skill at piloting combat aircraft, the legendary Lockheed P-38 Lightning fighter, in the skies over the Pacific. So much did they achieve (Bong shot down 40 enemy aircraft, McGuire 38) that both were awarded the Medal of Honor.
Between them, Bong and McGuire, in different squadrons, shared an intensely followed rivalry to see who would tally the most kills––and see if either of them would live to enjoy victory and peace.
The prolific Bill Yenne has drafted a remarkable dual biography of these two intrepid aviators, taking the reader through their formative years when both were inspired to become pilots by following the exploits of Charles Lindbergh, their military flight training, and their deployment to a combat zone where they honed their craft.
Tragically, McGuire disappeared on a mission over the Philippines in January 1945, while Bong, although he survived the war, died in California testing a P-80A jet fighter for Lockheed on August 6, 1945, the same day that an atomic bomb was dropped on Hiroshima.
Yenne's book is an outstanding tribute to two American heroes whose lives were cut much too short.
---
Faithful Warriors: A Combat Marine Remembers the Pacific War, by Dean Ladd and Steven Weingartner, Naval Institute Press, 2009, 304 pp., photographs, index, hardcover, $29.95.
As a junior officer, Dean Ladd (Lt. Col., USMC, Ret.) saw combat in the Pacific with the 8th Marines, 2nd Marine Division, and survived, barely, the Battles of Guadalcanal, Tarawa, Saipan, and Tinian.
As such, he is eminently qualified to write a leatherneck's-eye memoir about the savagery of island fighting. For example, here he gives the reader an insightful, up close and personal account of the tension that accompanied the Marines' seaborne invasion of Saipan:
"When my amtrac reached the reef we were all crouched below the sides. There was too much metal flying through the air to risk popping up for a look around. The guys had their heads pulled down between their shoulders, and they stared at each other with big eyes and said nothing.
"The veterans of Tarawa had been through this before and were probably having a harder time of it precisely because of the prior experience–– because they knew how bad things could get. The new kids were mostly better off, because they didn't have a clue. Certainly they were scared, but they were also fascinated and awestruck by all the noise and commotion, and these emotions blunted their fear."
From Ladd's clear and concise narrative, the reader gains a new appreciation of the incomparable character of men who mustered the courage to scramble down the nets into the bobbing landing craft, all the while knowing the ferocity that was about to be unleashed and facing the fear that one's luck in surviving the next battle must surely run out.
A description of the hell of combat has never been more accurately conveyed than in Faithful Warriors. A definite must-read.
---
Operation Plum: The Ill-Fated 27th Bombardment Group and the Fight for the Western Pacific, by Adrian R. Martin and Larry W. Stephenson, Texas A&M University Press, College Station, 2009, 364 pp., photographs, bibliography, index, hardcover, $29.95.
The U.S. Army Air Corps' 27th Bombardment Group arrived in the Philippines in November 1941 with 1,209 aviators. At war's end, only 20 returned to the United States. The rest were either dead, missing, or struggling to stay alive in horrendous enemy POW camps.
The story of the 27th's ordeal begins with the Japanese raid on the Philippines designed to knock out American bases in the western Pacific on the same morning as the attack on Pearl Harbor. While about half of the 27th's pilots went to retrieve their planes that had been diverted by the attack to Australia, their comrades left behind in the Philippines found themselves fighting as infantrymen on the retreat to the Bataan Peninsula.
Allied air routes to the Philippines were soon cut by the Japanese, and the men on Bataan were taken prisoner and forced into the infamous Death March. Those who survived this ordeal spent the rest of the war in POW camps. But the 27th, and other such units, were pivotal in delaying the Japanese timetable for conquest, a delay that undoubtedly changed the course of the war in the Pacific.
Co-author Stephenson's uncle, Glenwood Stephenson, was a squadron leader in the 27th and managed to be evacuated before the fall of the Philippines, but died in an aircraft crash in April 1942.
Based largely on primary materials, Operation Plum is a heart-pounding account of a little known aspect of heroism above and beyond the call of duty.
---
To Keep the British Isles Afloat: FDR's Men in Churchill's London, 1941, by Thomas Parrish, Smithsonian Books, New York, 2009, 336 pp., photographs, bibliography, index, hardcover, $26.99.
In the dark days of 1940 and 1941, after the fall of France and before the Japanese attacked Pearl Harbor, London was the center of world political theater. The great question was: Could Britain, with the help of officially neutral America, hold out against the might of Nazi Germany?
To keep the antiwar U.S. Congress happy, President Franklin D. Roosevelt had to walk a fine line between neutrality and all-out involvement in the conflict. His solution was ingenious: a "Lend-Lease" program that provided Britain with the arms and other supplies she needed to defend herself.
But was Prime Minister Winston Churchill, widely regarded as a reckless politician and perhaps even a drunkard, a good bet? To find the answer, Roosevelt dispatched his closest associate, Harry Hopkins, to Britain. Hopkins' endorsement of Churchill ended all of FDR's doubts and, after the passage of the Lend-Lease Act, the President sent Averell Harriman, a wealthy financier and entrepreneur, to London "to keep the British Isles afloat."
Filled with vivid details about what went on behind the scenes of this all-important alliance, Parrish's book explores, by focusing on Harriman's and Hopkins's diplomatic efforts, the still misunderstood beginnings of British-American friendship that exist to this day, as well as offering an intriguing new perspective on the personal relationship between Churchill and Roosevelt.
---
The Hornet's Sting: The Amazing Untold Story of World War II Spy Thomas Sneum, by Mark Ryan, Skyhorse Publishing, New York, 2009, 368 pp., photographs, bibliography, index, hardcover, $24.99.
James Bond, Ian Fleming's famous character, was fiction. Thomas Sneum, the hero of Mark Ryan's book, outdoes Bond, but is every inch a real person.
Danish-born Tommy Sneum was an enigma to Britain's shadowy Secret Intelligence Service (SIS) for which he worked. Assassination by crossbow, refueling battered planes in midair, escaping across a frozen sea, mother and daughter seduction––Sneum did it all, and it made him a legend in espionage circles.
After years of interviews with Sneum, author Ryan describes the spy's incredible escape from Nazi-occupied Denmark in a beat-up old Hornet Moth aircraft, which he had to refuel in midair by climbing onto the wing. Later, having returned again to Denmark for the Allies, he escaped to freedom a second time by walking across a treacherous frozen sea upon which two of his companions perished.
Sneum's sleuthing gave the Allies precious intelligence about Nazi radar stations and the Germans' efforts to develop an atomic bomb. His reward, though, was imprisonment in England and a threatened execution for being suspected as a double agent.
As Ryan says, "Was Sneum a hero or a traitor; a scapegoat or a villain? When it comes to the dark world of spooks, where does perception end and reality begin?"
Anyone who loves a good spy story will love this book.
---
Short Bursts
Hell's Highway: The True Story of the 101st Airborne Division During Operation Market Garden, Sept. 17-25, 1944, by John Antal, Zenith Press, Minneapolis, 2009, 160 pp., photographs, bibliography, index, hardcover, $24.99.
With the release of Brothers in Arms: Hell's Highway, millions of computer gamers are putting their virtual boots to the ground during Operation Market Garden, the September 1944 aerial invasion of Holland, and author John Antal has compiled the ultimate supplement for gamers looking for the true story behind their onscreen adventures.
Combining over 150 archival images, reenactor photos, battlefield diagrams, personal vignettes, and realistic video game screenshots from Gearbox Software, this book takes the reader/gamer onto the Dutch battlefield to recreate in stark detail all the carnage and courage that made the real battle infamous.
Death from the Heavens: A History of Strategic Bombing, by Kenneth P. Werrell, Naval Institute Press, 2009, 400 pp., photographs, index, hardcover, $49.95.
During World War I, the concept of bombing enemy military formations, ships, factories, and cities from the air became a practical reality. Today, such strategic aerial attacks are still being carried out by aircraft, but "smart bombs," rockets, guided missiles, and pilotless drones are taking over more and more of that role.
Starting at the beginning, when the Austrians dropped small bombs from hot air balloons in 1849, author Kenneth Werrell, a former U.S. Air Force pilot, traces the history and future of the still controversial concept of strategic bombing.
Death from the Heavens is the most complete book yet published on the subject and places a heavy emphasis on the World War II era, when whole cities were smashed by conventional and atomic bombs and when long-range missiles were first employed to devastating effect.
We Who Are Alive and Remain: Untold Stories from the Band of Brothers, by Marcus Brotherton, Berkley Caliber, New York, 2009, 294 pp., photographs, index, hardcover, $24.95.
Marcus Brotherton, co-author of Call of Duty, the memoir of Buck Compton (featured in WWII History, January 2009), has crafted a fine collection of war stories as told by 23 men who served in Easy Company, 506th Parachute Infantry Regiment, 101st Airborne, the famed "Band of Brothers."
Following the late author and historian Stephen Ambrose's dictum to "always let the men speak for themselves," Brotherton does exactly that. Virtually the entire book is made up of quotes from the veterans, without any polishing or editorializing by the author. The effect is a startlingly personal one, as though one has been invited to sit around the bar at a VFW or American Legion hall or at a unit reunion and listen to the grizzled veterans "shooting the breeze."
Without holding anything back, the men trace their military careers from the time they joined up, their training, their trans-Atlantic voyage to England, their baptism of fire at Normandy, the frozen hell of the Battle of the Bulge, and their drive deep into Bavaria and the taking of Hitler's Eagle's Nest at the end of the war.
Their reflections on military service and the meaning of heroism are refreshingly candid and sure to bring a tear to the eye of many a reader.