By Joseph Luster
To be properly excited for the upcoming release of ARMA Tactics, created by the folks at Bohemia Interactive, it helps to also be a little pumped for NVIDIA's Android-based Project Shield handheld. The portable game system essentially takes a traditional-style controller and marries it with the Tegra 4 system and a 5-inch clamshell 720p "retinal" display.
ARMA Tactics
Project Shield offers up plenty of enticing features for people who prefer to game portably, and one of the key hooks is that it can run any Android app, and has one-touch access to NVIDIA's "Tegra Zone," which offers a curated selection of apps that are tweaked specifically for NVIDIA's processors. There's also the ability to play any compatible game that's on Steam, and Project Shield can easily act as a controller for normal PC gaming, as well.
That's where ARMA Tactics comes into play. Of course, the ARMA franchise already has a pretty storied history behind it, starting with ARMA: Combat Operations, which the Czech Republic-based developer originally released in that territory in 2006 prior to a wider release the following year. Serving as a spiritual successor to Operation Flashpoint: Cold War Crisis, ARMA introduced a revamped game engine with improvements in pretty much every department. The series has since seen a handful of expansions and sequels, and gameplay aspects have been cherry-picked and enhanced for implementation in ARMA Tactics on Project Shield.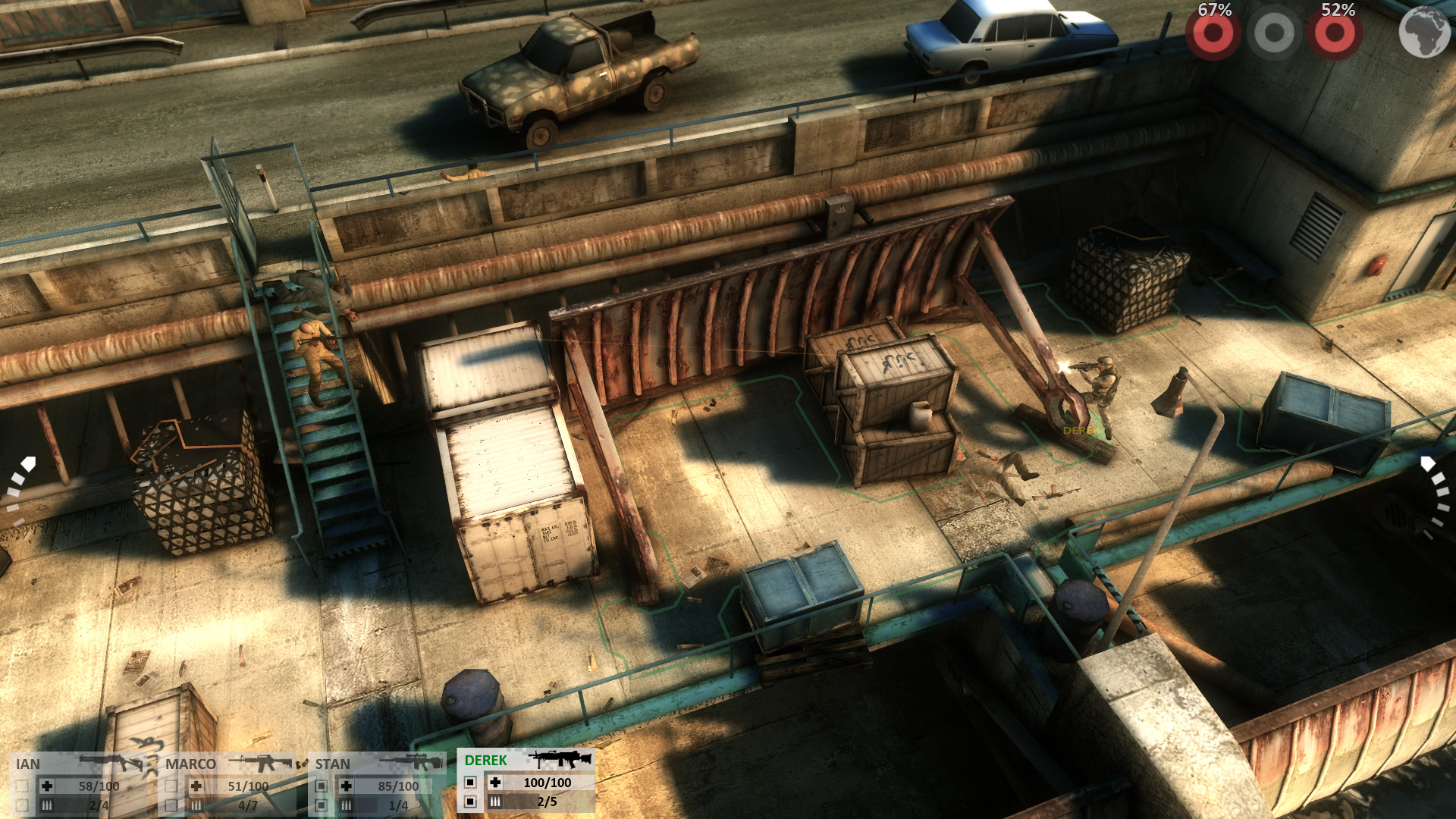 Tactics is a turn-based, close-combat strategy game that has players taking control of a four-member Special Forces unit. One of the chief features here is putting the development and execution of strategy in each situation firmly in the hands of the individual player. As a result, ARMA is pretty hands off when it comes to direction and predetermined paths throughout missions. This approach applies to both story-based missions and missions with randomly generated objectives, and it allows players to choose how stealthy they are, or if they just want to run in directly and take the enemy on full force.
The enemies themselves vary, from local militia with less organization to their tactics to mercenaries at the top of their respective skill ladders. As you progress, though, you should be able to tackle tougher missions thanks to a leveling system that upgrades characters and weapons, and unlocks special equipment. It's all tied together with multiple difficulty levels to suit both casual and more seasoned players, and can be played by either using the touchscreen or standard gamepad controls. At this point ARMA Tactics looks like an interesting way to give Project Shield a proper test run. It's tough to tell how fully it will blossom as a viable gaming platform, but the pieces are certainly in place for something fine-tuned to portability and playability.
Tom Clancy's Splinter Cell: Blacklist
Tom Clancy's Splinter Cell is getting ready to return once again with Blacklist, which is gunning for an August release on PC, PlayStation 3, Xbox 360, and Nintendo Wii U. This time around Sam Fisher is even more agile, and throws down against his foes using a new "killing in motion" mechanic. This new addition, while adding fluidity to combat, opened up a whole can of controversy among longtime fans of the franchise when first announced.
As a result of Ubisoft's new motion capture technology, famed Fisher voice actor Michael Ironside is not reprising his role for Blacklist. This rubbed quite a few fans the wrong way, as Ironside is pretty much synonymous with Sam Fisher at this point. Instead, the Top Gun and Total Recall actor is passing the torch to Eric Johnson, who is also performing the demanding motion capture duties.
The story of Blacklist follows the events of 2010's Splinter Cell: Conviction, with Sam Fisher now appointed as commander of the newly formed Fourth Echelon, which has elite operatives discretely performing missions for the president. However, as Third Echelon shuts down and Fourth Echelon begins operation, a group of 12 terrorists kicks off an escalating series of terrorist attacks on the United States known as The Blacklist. It's up to Fisher and his team to take down this group before their terror countdown comes to an end.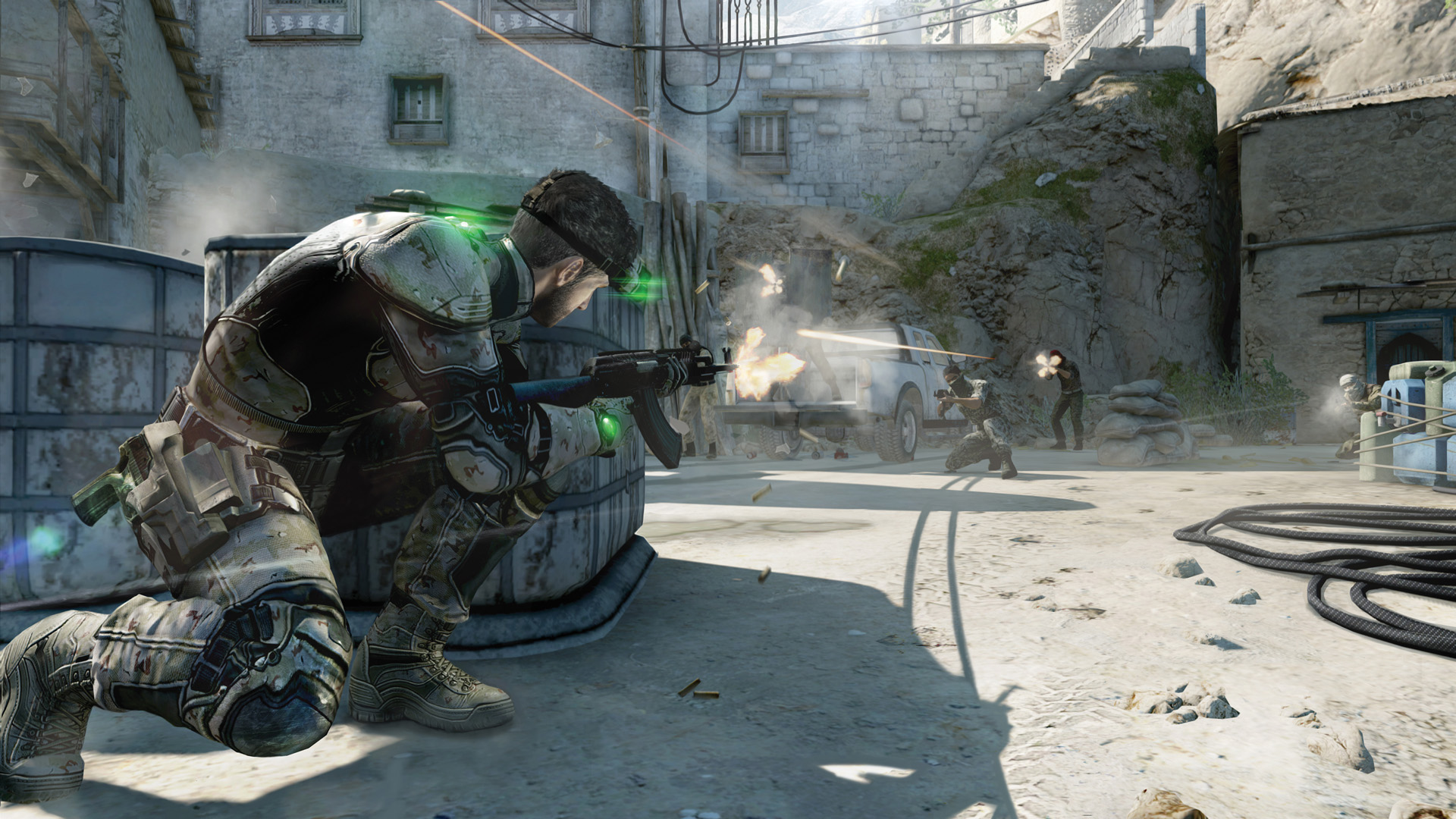 While Nintendo's Wii U console has kind of been struggling with third-party support early into its life cycle, the platform-specific features added to the Wii U version are actually really cool. Playing Blacklist on Wii U turns the GamePad—Nintendo's impressive controller that sports a touch screen in the center—into Sam Fisher's OpSat: Operational Satellite Uplink. Thanks to this, players will be able to easily switch between gadgets, control drones, use spy cameras, and dig through the inventory. It's the kind of nongimmicky addition that more developers should take advantage of when Nintendo's console is factored into a game's creation.
For the best and most ridiculous aspect of Blacklist, however, look no further than the stealth game's collector's edition. This whopper of a package, dubbed The Paladin Multi-Mission Aircraft Edition, comes with a copy of the game, the 88-page Splinter Cell Echoes graphic novel, a poster, the "Billionaire's Yacht" co-op map, the Upper Echelon Pack with the "Dead Coast" co-op map and some in-game items, and the true centerpiece: A radio-controlled version of Fourth Echelon's aerial base of operations, the Paladin airplane. The RC toy, which, of course, actually flies, is a "custom three-channel, dual-motor plane modeled after the in-game mobile headquarters," says Ubisoft. The whole package is priced at $169.99
for Xbox 360 and PlayStation 3, so hopefully the really serious Splinter Cell fans out there have been saving up.
It's been a few years since Conviction, and while Blacklist looks like fun, it will definitely take something special to woo the devoted players turned off by some of the changes, both in gameplay and casting. We'll see if the team at Ubisoft Toronto can pull it off this fall.