By Herb Kugel
World War II came to the Hollywood motion picture studios, the "Dream Factories" as they were sometimes called, the day after Pearl Harbor.
"Hollywood became a military camp. Within a day … studio trucks and drivers were transporting army troops and equipment, studio arsenals were stripped of prop (weapons) and ammunition to fortify undersupplied posts along the West Coast …" wrote Bruce T. Torrence, in his book, Hollywood: The First Hundred Years.
Hollywood Hunkers Down for War
Movie studios mobilized their firefighting equipment, and the beautiful sands in front of Hollywood's luxurious Malibu Beach homes were soon overrun with soldiers as Hollywood's yachtsmen donated their entire fleet to the Coast Guard. The physical resemblance of several of the Dream Factory studios with their large complexes of buildings to nearby aircraft factories was suddenly a cause for frightening concern. Warner Brothers Pictures took a unique if not too patriotic action in an effort to prevent Japanese bombers from mistaking Warner's Burbank lot for nearby Lockheed Aircraft Company buildings. Studio set painters were ordered to paint a 20-foot arrow on the roof of a soundstage that lined up toward Lockheed. Next to the arrow, the painters inscribed in large letters: LOCKHEED THATAWAY.
There were rapid studio changes dealing with civil defense. Most of the studios quickly erected sandbag air raid shelters. Some of these were equipped with cards, dominoes, and dart games, a few were equipped with pianos and even wired up for jukeboxes. What went into a bomb shelter was often determined by who was to use it. Many of the studios had segregated shelters separating executives, stars, technicians, and extras, but a Warner Brothers executive, when asked about an early studio air raid drill, replied, "Oh, it was a big success. The Life [magazine] photographers were there and got swell pictures," related Richard Lingeman in his book, Don't You Know There's a War On? The American Home Front, 1941-1945.
Fighting for Copyrights
While this was going on, studios rushed to copyright titles such as Sunday in Hawaii, Wings Over the Pacific, Yellow Peril, Yellow Menace, and The Stolen Bombsight. While the studios haggled over V For Victory, Metro-Goldwyn-Mayer rapidly renamed its new Eleanor Powell-Red Skelton musical from I'll Take Manila to Ship Ahoy, and Paramount quickly cancelled Absent Without Leave, a film about an AWOL soldier. Six studios competed for ownership of the title Remember Pearl Harbor.
Filming Under Wartime Regulations
The studios began to learn how to deal with the military as the rules for filming quickly changed. Although the rules relaxed somewhat later in the war, initially no cameras were permitted near military reservations, dams, or war plants. Filming from the sea was forbidden in all harbors from Seattle to San Diego. Filming on a train became suddenly impossible as the government requisitioned all available rolling stock. Night filming was made impossible by air raid blackout regulations.
Paramount's filming of the war film Wake Island illustrated the problems the studios suddenly faced. The Japanese first attempted to invade Wake Island on December 11, 1941. Paramount began filming Wake Island, even while the outnumbered U.S. Marines' heroic defense of the little island was still in progress. Paramount's camera crews studied U.S. government photos of Wake Island taken before the war and concluded that California's Salton Sea and the land around it was the ideal location for filming Wake Island. However, Paramount now had to deal with a naval air facility near the Salton Sea. Although this meant the studio had to comply with naval air security regulations, Paramount managed to make a deal with the Navy. Studio technicians constructed a 4,000-foot clay airstrip in the desert, one mile west of a Navy seaplane base. Paramount then relinquished the base to the Navy after finishing filming. The runway and buildings were used by the Navy for several years.
The studios were used to filming all war scenes in and around Los Angeles, territory that the military now had to protect. Keeping track of Hollywood war photography against the real possibility of Japanese attacks forced the Army to decree that all battle scenes, especially those involving air combat, were to be filmed in Utah.
Hollywood Magic on the Cheap
On May 6, 1942, the studio executives and stars received a body blow. The War Production Board issued an order setting $5,000 per picture as the limit that a studio could spend on materials for the creation of a new set. The studios had always spent lavishly on their sets. Now they had to change quickly. Scenes were rehearsed off camera, cutting down the number of retakes and hence the amount of film used. Still photographs were used instead of movies for wardrobe, makeup, and other tests. Movie credits were reduced and advertising trailers eliminated. The reprinting of approved takes was forbidden. Scriptwriters rewrote scripts to include as few different background locations as possible, and their scripts were often stamped with SAVE PAPER, SAVE YOUR JOB. Even nails were straightened and reused.
The changes were prolific in all areas. Wood replaced concrete and masonry. When a fire scene was filmed, asbestos was made to look like wood. Hidden gas jets were then ignited and, with no damage, the film director had what appeared to be a very realistic fire with which to work. Multiple-use sets were created. While their framework was permanent, windows, doors, and fireplaces were removable. Studios swapped expensive movable sets, such as ship replicas. Hardware fixtures were replaced with glass or plastic, and expensive car chase scenes that wasted rubber tires and gasoline were stopped. The government had ruled that each studio was limited to the purchase of two pounds of women's metal hairpins per month. Hairpins were checked out of the dressing room, used, then checked back in, sterilized, and reused. The list of changes went on and on, but they did the job. New movies kept coming throughout the war.
Nevertheless, there was one government change that caused panic among the stars and executives. On October 27, 1942, the Government Economic Stabilization Office's director, James F. Byrnes, announced legislation to freeze wages. Salaries were to be limited to $25,000 a year beginning on January 1, 1943. A total of $67,000 per year was allowed with expenses. However, to the relief of many, this action was rejected by Congress. In 1944, as many as 250 Hollywood employees were earning more than $100,000 per year, and 50 of these were making more than $200,000 per year.
"So They Bombed Pearl Harbor, Did They?"
There were other studio changes, some going back to before America went to war. In July 1941, five months before the attack on Pearl Harbor, a multipart adventure serial appeared in the Saturday Evening Post magazine. The serial, Aloha Means Good Bye, was intriguing. It began aboard a fictitious Japanese freighter sailing from Vancouver, British Columbia, to Hawaii. The story, about a Japanese espionage plot, served as a basis for the Warner Brothers film, Across the Pacific. The film began preproduction in early December 1941, just before Pearl Harbor. The original script featured a Japanese attack on the Hawaiian Islands, but after the real attack the film's settings were quickly moved to the Atlantic Coast and Panama.
Charles Einfield, Warner Brothers' director of advertising and publicity, summed up the studio's reasons for changing the locale, reasons that reflected the hurt of many Americans: "We felt it wise to leave Pearl Harbor out of it, for all this can do is remind us of defeat."
The American public did not hear Pearl Harbor mentioned on the screen until the early 1942 release of A Yank on the Burma Road. The reference to Pearl Harbor takes place in a scene obviously added after the film was completed. The hero, reading a letter from home, mutters, "So they bombed Pearl Harbor, did they?" The line is quoted in the online New York Times Film Review archives.
Personnel Problems
However, there were more than just name and script changes. Japanese-American studio employees, many of them with years of fine service, were summarily ordered not to report for work until the government ruled on their status. They never came back to work again. They were forcibly pushed from their homes to inland relocation camps.
The studios also faced other changes related to personnel. They began to feel a shortage of veteran male actors when men like James Stewart, Clark Gable, and Henry Fonda enlisted. In general, those who complained about actors enlisting belonged to one of two small groups. There were those who complained that the actors did more good for the nation by providing fine entertainment to boost morale. The second group, complaining quietly, was much more mercenary. They were the enlisting stars' agents who lost large commissions when their clients gave up their salaries to join the Army or Navy. The manpower losses were somewhat alleviated by new actors, often men whose only real claim was that they were unfit for military service and could, thus, stay and work through the war.
Casting the Villains
The studios faced the additional problem of obtaining enough competent actors to play the many German and Japanese villains in the war films that were going into production. Much was on the line because "Hollywood's story editors … [were preparing] … a schedule of Pacific War movies reaching well into 1945," wrote Alistair Cooke in his book, The American Home Front 1941-1942.
German villains proved no problem. There were many European refugees in Hollywood, many fine actors, most but not all of them Jews, who managed to escape the Nazis. For example, in the classic film Casablanca (1942), Peter Lorre played Ugarte, the man who murders two German couriers, an event that gets the story going. Lorre, a Jew and a successful actor, left Germany when Hitler came to power. There were other émigré actors in Casablanca. S.Z. Sakall, who played the waiter Carl at Rick's Café, was a Jewish refugee, and Conrad Veidt, who played the key Nazi officer. Major Heinrich Strasser, was also a refugee. Although not a Jew, Veidt was in love with a Jewish woman. They married, escaped to England, and then came to America where Veidt made a living playing, among others, both World War I and World War II German villains. Another émigré appearing in Casablanca was Paul Henried, an Austrian actor who left Europe in 1935. He played Victor Laszlo, the underground leader married to Ilsa Lund (Ingrid Bergman).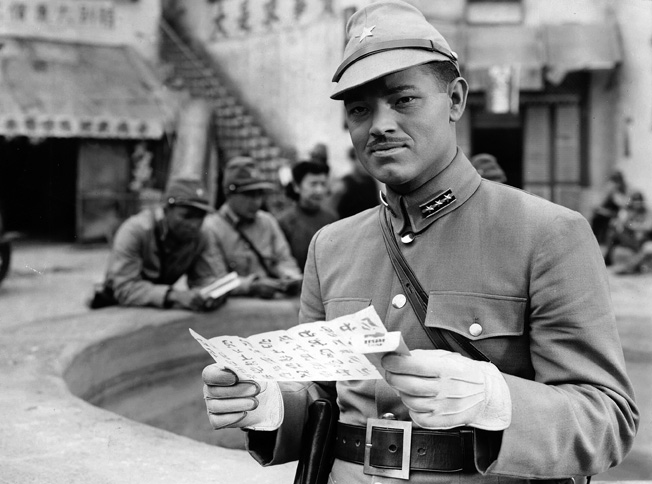 The situation regarding actors to play the Japanese villains was sadly different when the Japanese-Americans were herded together and expelled from their West Coast homes. The studios searched everywhere for actors who could play Japanese soldiers, sailors, and spies. Many hand-to-mouth Chinese-American bit players suddenly became well-paid actors. Caucasians sometimes played Japanese roles. In the same year he worked on Casablanca, Peter Lorre played the sadistic Japanese agent Baron Ikito in Universal's Invisible Agent. In Behind the Rising Sun (1943), actor Tom Neal, his eyes carefully slanted by the RKO makeup department, played the Americanized son of a Japanese diplomat. There were fine Chinese actors who could have played these parts, but Asian actors were never cast in significant roles.
The Role of Women in Hollywood
The studios radically changed the public's perception of their glamour girls. They wanted their lead actresses to be viewed as doing their bit for the war, which, of course, many of them gladly did. Bette Davis was a driving force in the creation of the Hollywood Canteen. The glamour girls did everything from collecting typewriters for the military (Maureen O'Hara) to making posters about saving scrap metal (Rita Hayworth). However, Veronica Lake, an actress famed for her long hair, performed what was probably the most unusual service. The government asked Lake to cut her hair short. Too many young women working in defense plants modeled their hair after Lake's and were being seriously injured when their long hair caught in the machinery they operated. By cutting her hair, Lake ruined her career.
Many of Hollywood's glamour girls were involved in the war in another way. They became the pinup girls, the girls whose photos were pinned to walls and lockers wherever Americans were serving. These pinups, while sometimes a link to a wife or girlfriend, were often just a serviceman's link to home and women in general. Hollywood was more than glad to supply pinup photos, which were good publicity. Ingrid Bergman, for example, was on the cover of Yank magazine.
Keeping a Nation at War Amused
No matter what else, however, Hollywood made its living through entertainment. Especially in late December 1941 and early 1942, people needed to laugh, and Universal Studios found a format for much World War II comedy with two former burlesque and radio stars, Bud Abbott and Lou Costello, and their slapstick brand of humor. Abbott and Costello starred in the zany movie, Buck Privates, a film in which they become trapped in an Army induction center and ended up enlisting. There was Abbott and Costello's slapstick comedy, spiced with the music of the three Andrews Sisters, suitably dressed in Women's Army Auxiliary Corps (WAAC) uniforms and singing "Boogie Woogie Bugle Boy from Company B." Abbott and Costello completed four movies for Universal within 10 months. In that period, together with Buck Privates, they "served" In the Navy and Army Air Forces, respectively with In the Navy and Keep 'Em Flying. The fourth movie, Hold That Ghost, carried the same blend of comedy and music but had nothing to do with the military.
Comedian Bob Hope's wisecracks were very popular. In Caught in the Draft (1941), Hope played a famous Hollywood star who wants to get married in order to avoid being drafted. However, he falls for a colonel's daughter, played by Dorothy Lamour. To impress her, he pretends to enlist in the army but soon learns he has really enlisted his agent and his assistant as well as himself.
Not all attempts at comedy succeeded. To Be or Not To Be (1942) was a farce about a troupe of Polish actors trapped in the Nazi occupation of Warsaw. It was a fine film starring Carole Lombard and Jack Benny, but it did not please many people who found little to laugh about in the Nazi takeover of Warsaw. The film was Carole Lombard's last movie. She died in a plane crash on her way home from a war bond rally. Left desolate by her death, Clark Gable, her husband, joined the United States Army Air Forces and served as a gunner on bombing missions over Europe.
In World War II, the value of the movie cartoon was considerable. Its role in comedy was obvious, but Hollywood soon learned that it could also be used for propaganda and training. One especially fine cartoon was Walt Disney and RKO's Academy Award-winning Der Fueher's Face (1942), in which Donald Duck dreams he is a Nazi. The Disney organization produced a great many military training cartoons.
By 1943, nearly 40 percent of the films Hollywood produced were musicals, and this percentage remained constant for the duration of the war. However, musicals had changed. They were not the 1930s "clambake shows" in which little if any plot existed except as an excuse to hold the songs together. In the 1940s musicals, the songs were an integral part of the story, and this was a format that was well received. Dark, film noir movies were popular as well.
A Meeting Between Frank Capra and George Marshall
If Hollywood was in the entertainment business, it also went into the propaganda business. In early April 1942, 45-year-old Frank Capra, formerly a famous Hollywood film director and now Major Frank Capra of the Army Signal Corps Reserve, was nervously getting ready for his Pentagon meeting with the United States Army chief of staff, General George C. Marshall. Capra was escorted to his meeting by his immediate superior, Colonel Lyman Munson, Jr., the man who had just been made head of Information Services, a unit composed of sections for news, radio, pamphlets, and film. Marshall wanted to talk to Capra alone. As the Italian-born Capra later wryly recalled in his autobiography, The Name Above the Title, An Autobiography, "Not being a military man, I didn't fully realize this was tantamount to a private audience with the Pope."
Capra and Munson stopped at a hall door with the sign CHIEF OF STAFF over it. Capra recalled Munson laying down the rules of the meeting: "Give your name to the guard inside …When he says go in, walk into Marshall's door without knocking. And don't salute. If he's busy, walk over to the chair at the right of his desk and sit down. Shoot straight, Frank, and with a few words."
Capra recalled that his mouth was "cottony." He did not salute Marshall, a man he later described in his autobiography as "gray, spare …[and physically] undistinguished." However, Capra, ever the movie director, did add that he thought Marshall "could be cast as a sad-eyed Okie watching his soil blow away."
Capra and Marshall spoke for an hour. Capra remembered it as an unnerving conversation, especially when he was told what his assignment would be. Marshall began by informing him that the United States was going to raise a citizen army of about eight million men. Although this citizen army would outnumber the regular army's professional soldiers by about 50 to one, it was the critical job of the professionals to turn these eight million uncertain rookies into soldiers. They would have to train young men who had been uprooted from civilian life and who, for the most part, had seen guns only in magazines and movies.
Most important, many of these young men were uncertain why America was in the war, so more than just training was involved. Capra recalled Marshall telling him, "They [the American citizen army] will prove not only equal but superior to totalitarian soldiers if … they are given answers as to why they are in uniform, and if the answers they get are worth fighting and dying for. I think films are the answer, and you are the answer to such films … I am asking you to tell our young men why they must be in uniform and why they fight."
Why We Fight
Capra was ordered to make a series of documented factual-information films to explain to America's soldiers why they were fighting. He had just two problems with his order. He had never made a documentary, and at that moment he was the only man in the film section of his unit. He was troubled. How could he compete with a documentary like Leni Riefenstahl's Triumph of the Will, a record of the Nazi Party Congress in Nuremberg in 1934 and an acknowledged masterpiece of filmmaking?
Then, in a stroke of absolute brilliance, he realized that although he could never make a better documentary than Triumph, he could use the film against itself by changing its soundtrack: "Where Riefenstahl had the Nazi hordes marching … to the beat of synchronous military band music, Capra … used the same footage to urge American soldiers on to victory over Hitler's demonic legions (Nazi knife rips into another country) …" wrote Thomas W. Bohn and Richard L Stromgren in their book, Lights and Shadows, A History of Motion Pictures.
Capra, in spite of Army Signal Corps politics and considerable resistance from the Signal Corps officer bureaucracy, succeeded in making the Why We Fight series of propaganda films.
De Rochemont and the Newsreel
Capra was not the only fine American documentary filmmaker. Among others, Louis De Rochemont's The Fighting Lady (1944) was an Academy Award-winning documentary film dealing with life aboard an unnamed aircraft carrier before and during its conflict in the Pacific.
De Rochemont was one of the pioneers in newsreel photography, and he carried newsreel techniques into his "Newsdrama of the Pacific." The carrier, the Fighting Lady in the film, is unidentified because of Navy wartime security restrictions, but it was the USS Yorktown (CV-10). At the end of the film, some of the sailors who appeared in it are introduced, but the narrator then informs the audience that they died in action after the motion picture was completed. The film received the Academy Award for Best Documentary (1944).
Banned Documentaries
The powerful documentary, The Battle of San Pietro, directed and narrated by John Huston, who like Capra was serving in the U.S. Army Signal Corps, was uncompromising in its reality. According to Time magazine, May 21, 1945, "San Pietro is in every respect as good a war film as any that has been made; in some respects it is the best."
The film is a 30-minute record of one of the bitter and bloody battles for the Liri Valley in Italy in late 1943. It is a story told chiefly in terms of what the soldiers of one infantry regiment went through. As Time reported, the film has no flag waving, no claims of victories, only the grim truth that there would be just a thousand more "after shots of soldiers' dog tags nailed to rough wooden grave markers."
"We see survivors smiling wearily, but the voice-over undercuts the relaxed moment," continued Time, which then went on to quote the soundtrack. "Many among those you see alive here have since joined the ranks of their brothers-in-arms who fell at San Pietro…. Ahead lay … more San Pietros, greater or lesser, a thousand more."
The Army brass, unhappy with the film, complained it was pacifistic and ordered the attachment of a two-minute introduction by the commander of the Italian campaign, General Mark Clark. The uncomfortable looking Clark was photographed insisting that San Pietro was "key" to the region and that the cost in deaths "was not excessive." Huston responded to Army criticism by stating that he made the film in profound admiration for the courage of the foot soldier, but Time reported that he then added, "Well, sir, whenever I make a picture that's for war—why, I hope you take me out and shoot me."
The Army banned the film. Later, it also banned Huston's Let There Be Light, these being the only two films banned by the Army during World War II. Time reported that in 1945 General George C. Marshall reversed the ban, stating, "This picture should be seen by every American soldier in training. It will not discourage but rather will prepare them for the initial shock of combat."
Post-War Films
There were two significant service-related films released after the war, both made in 1946. In Let There Be Light, Huston and a team of cameramen spent three months at New York's Mason General Hospital, documenting an intensive eight-week, mass production program of therapeutic treatment for what were then described as "psychoneurotic" illnesses. The first release of this poignant and stark film was suppressed by the Army until 1980, when pressure by Huston and others forced its release.
The second film, The Best Years of Our Lives, was an honest Hollywood effort to tell the story of three veterans struggling to readjust to civilian life. Supporting actor Harold Russell, who had lost both hands while serving in the Army, was given two Academy Awards, one as Best Supporting Actor and the other was a special award for giving hope and courage to fellow veterans. Russell had trained himself to use two hooks as hands.
The Hollywood Victory Committee
On December 10, 1941, the Hollywood Victory Committee was founded. Its purpose was to provide a platform to allow stage, screen, television, and radio performers not in military service to contribute to the war effort. This contribution was made primarily by going on the road and providing entertainment to military people wherever they might be. As there was racial segregation in the services during World War II, black actress Hattie McDaniel became the chairperson of the Negro Division of the committee, which organized events from January 1942 through August 1945. During its four years, it arranged for celebrities to travel more than five million miles to entertain soldiers.
The committee's final report took credit for providing 56,037 free appearances by 4,147 artists in 7,700 events. This included 13,555 playing days by 176 artists on 122 overseas tours. Hollywood entertainers worked regularly at United Service Organization (USO) centers throughout the world.
The Hollywood Canteen was a unique creation designed to offer food, conversation, dancing, and entertainment to visiting servicemen and servicewomen. Many actors, together with craftspeople and artisans of all types, supported the canteen's building, maintenance, and operation. Actors Bette Davis and John Garfield, together with composer and businessman Jules Stein, were the driving forces behind its creation. Various unions and guilds in the entertainment industry paid for all costs of renovation and construction, and the canteen was operated entirely by people who worked in one way or another in the entertainment industry.
Glamorous stars volunteered as servers, cooks, and dishwashers, to say nothing of dancing with soldiers and sailors. Other stars entertained regularly. While the Hollywood Canteen was mostly visited by Americans, military personnel from any Allied country were welcome. The only price of admission was wearing a uniform. Everything else was free. The canteen opened in October 1942, and in September 1943, its one millionth guest, a sergeant, walked in and received a kiss from glamour girl Betty Grable. The Hollywood Canteen entertained more than three million servicepeople before it closed on Thanksgiving Day, November 22, 1945.
Bringing a Nation's Spirits Up
The Hollywood Dream Factory accomplished a great deal more as its stars directly and indirectly helped sell billions of dollars in war bonds. Perhaps as important as anything the Dream Factory accomplished, it made room for escapism and entertainment in the lives of a great many soldiers, sailors, and civilians during grim times.