By Eric T. Baker
The latest game in the Ghost Recon franchise is called Tom Clancy's Ghost Recon Advanced Warfighter, and is out on the PC, PS2, Xbox, and Xbox 360. For players who own an HDTV and are looking for an excuse to pick up an Xbox 360 for reasons beyond its techie niftiness, GRAW might be it. On an HDTV, GRAW looks as good as it does on a computer monitor, and a 360 plays it as smoothly as high-end computer would. In addition, the internet multiplayer modes are less trouble to join over Xbox Live than they are over a PC's connection.
On whatever platform you choose, GRAW is a solid sequel to one of the premier tactical shooter franchises in gaming. Set in 2013, it takes its rather clunky name from the integrated battlefield combat system the Ghosts now use. Through goggles and radio, the entire force is now in constant contact, including a little widow in the HUD that shows video of other important goings on that the player might be missing. What this means for the player is that they will be able to command not just their character and his squad, but also support units and other squads as well.
Working backward in time from 2013, we come next to August and September of 1813. If the reader saw that date and thought: Napoleon, or better yet, Dresden, then Four Lost Battles: Grossbeeren, Katzbach, Kulm and Dennewitz, a board game from Operational Studies Group, might be for you. Readers who don't know any of those names might be just as interested for the chance to learn them.
The major difference between FLB and other simulation board games is that it uses cards to affect the arrival and deployment of troops, and their status from turn to turn. While this makes for battles that are less historical, it also makes for ones that have more variety, and where outcomes are more up in the air.
Going back a little further on our timeline brings us to Birth of America, a new computer game from AGEOD. BoA covers the years of 1755-1783, and is set on the East Coast of North America in 10 scenarios. The game is broken up into month-long turns, with each player entering their moves separately before the computer resolves them simultaneously. The scenarios vary in length from few months to nine years. Players control the armies, commanders, and logistics of each side, and are impacted by the politics of the times.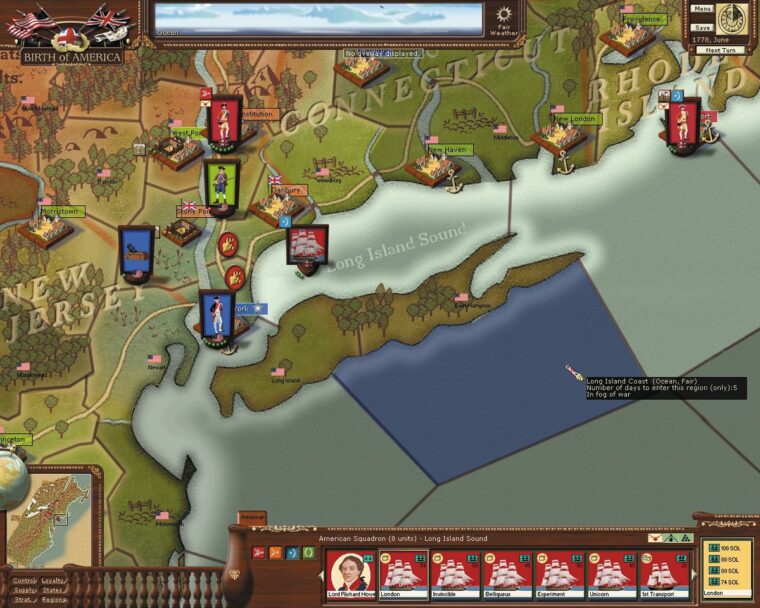 The map in BoA is divided into 700 provinces. There are multiple troop types and 100 historical leaders. With its interface and rules, BoA could easily have been a board game, but putting it on a computer keeps the counter stacks from being knocked over and lets all the mechanics happen behind the scenes so that players can concentrate on their forces without worrying that they have forgotten to make an important roll.