By Al Hemingway
When people mention President Harry S. Truman, they instantly think of him as the president who made the monumental decision to drop atomic bombs on Japan. They also have an image of him as a no-holds-barred politician who displayed his famous "The Bucks Stops Here" sign on his desk in the Oval Office. What many Americans do not remember is Truman's time in the military during World War I. As the commanding officer of an artillery battery, Truman made battlefield decisions that would shape his political thinking when he ascended to the nation's highest office.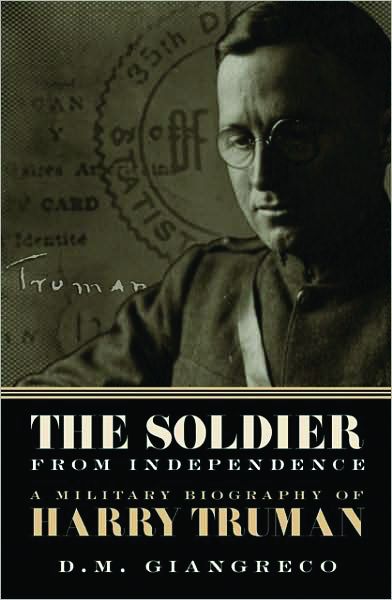 In his latest book, The Soldier From Independence: A Military Biography of Harry Truman by D. M. Giangreco (Zenith Press, Minneapolis, MN, 2009, 286 pp., notes, index, photos, $28, hardcover), the author concentrates solely on Truman's military career and how his combat experience in France affected his later decision making after he saw firsthand how idiotic orders resulted in the needless deaths of soldiers.
Truman learned at an early age about his military background. When he first enlisted in the 1st Battalion, Missouri Field Artillery, the young private was justifiably proud of his new blue uniform and went to his grandmother's house to show it to her. Truman did not realize that the ladies of the family, mostly diehard Confederates, were not keen on his enlisting in the United States Army. "Harry, this is the first time since 1863 that a blue uniform has been in this house," his grandmother remarked. "Don't bring it in here again."
Despite his grandmother's disapproval of his choice of uniforms, Truman did exceptionally well in the Army, although he had to memorize the eye chart because of his poor vision. He left the service after six years to help with the family farm and go into the haberdashery business.
At the outset of World War I, Truman managed to slip past the eye exam once again and was appointed a lieutenant. While serving in France, he assumed command of Battery D, 129th Field Artillery, 60th Brigade, 35th Infantry Division. His battery, dubbed "Dizzy D" because many of its members were Irishmen with a penchant for hard drinking and hard fighting, was constantly in trouble. Truman was stern but fair with his men, who quickly realized that he truly cared about their welfare.
During one battle, Truman and several other soldiers from his battery crawled ahead of the lines and observed German howitzers setting up to fire on a neighboring infantry unit. With his phone lines down, Truman took it upon himself to order his battery to fire outside its assigned sector. With a mere 49 shells, "Dizzy D" obliterated the enemy's guns. For his combat decision, Truman was later reprimanded by his commanding officer, Colonel Karl D. Klemm. He probably would have been court-martialed if not for the timely intervention of American Expeditionary Forces commander General John J. Pershing, who commended the young lieutenant for his timely decision and saving the lives of numerous American soldiers.
Giangreco relies heavily on Truman's letters to his future wife, Bess, and the excerpts provide excellent descriptions of his men, the countryside, and the war itself.
"When the moon rises behind those tree trunks I spoke of awhile ago you can imagine that the ghosts of the half-million Frenchmen who were slaughtered here are holding a sorrowful parade over the ruins," he wrote. "Trees that were once most beautiful forest trees are stumps with naked branches sticking out making them look like ghosts. The ground is simply one mass of shell holes."
Truman experienced a great measure of satisfaction leading men in combat. His years in the Army, especially his service in France, would remain with him forever. It weighed heavily on him while he agonized over whether or not to unleash atomic bombs on Japan in August 1945. The vivid memories of American soldiers killed and wounded in the previous war prompted him to give the final order. Nearly 30 years earlier he was castigated for disobeying orders and firing "out of the sector." In a way, he would do so again to save countless American lives and end World War II.
---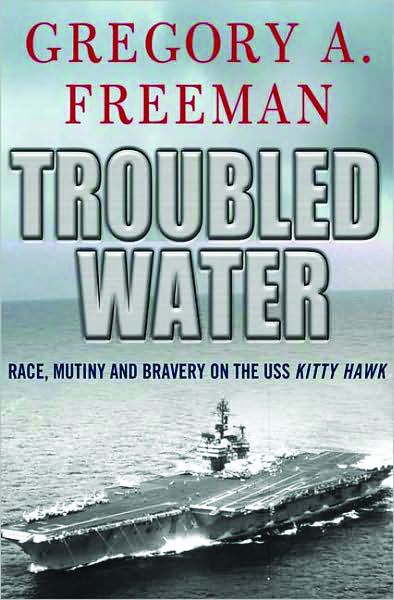 Troubled Water: Race, Mutiny, and Bravery on the USS Kitty Hawk by Gregory A. Freeman, Palgrave Macmillan, New York, 2009, 246 pp., notes, index, photos, $27, hardcover.
In October 1966, as the Vietnam War was heating up, Secretary of Defense Robert McNamara decided to assist the underprivileged youth of America by instituting an affirmative action policy in the military. Known as "Project 100,000," prospective recruits who scored lower on their tests were allowed entry into the service, but were assigned to "soft skill jobs" that required minimal training.
By the time the policy ended in December 1971, more than 350,000 men had gained admittance into the military who would have been barred under normal conditions. The program was an unmitigated disaster, and was one of the causes of the racially motivated outbreak of hostilities aboard the aircraft carrier USS Kitty Hawk on October 12-13, 1972.
The unpopularity of the Vietnam conflict and the ongoing racial upheaval inside the United States were certainly evident during those years. An aircraft carrier is a floating city with a crew of 5,000 sailors. However, white and black sailors aboard the vessel lived in self-imposed segregation. Trouble had been brewing for months when Kitty Hawk did an extended tour of duty on Yankee Station, in the waters off the coast of North Vietnam.
A spark was ignited when three Marines attempted to break up a group of black sailors. The mood turned ugly and racially motivated fighting broke out aboard ship. Commander Benjamin Cloud, Kitty Hawk's executive officer, tried to diffuse the situation by talking to the angry men. Cloud, a rising star in the Navy, was African American himself. In spite of this, many of the rioters did not heed his pleas to stop the violence. Only when Cloud tore off his shirt and dared anyone to beat him into submission did the fighting stop.
Although a congressional investigation was held, the Navy refused to call the riot a mutiny, a serious charge under naval law. Cloud's and Captain Marland Townsend's careers were ruined as a result of the incident. Cloud testified that, although his methods had been "unorthodox and unmilitary," he would have done so again to stop the rioting. He sacrificed his career to save his men—both black and white.
---
For Country and Corps: The Life of General Oliver P. Smith by Gail B. Shisler, Naval Institute Press, 2009, Annapolis, MD, 2009, 323 pp., notes, index, photos, maps, $39.95, hardcover.
They were known as the "Chosin Few." Any Marine who served in Korea during the brutal winter of 1950 has earned a prestigious place in the Corps' history. After their amazing landing at Inchon, the leathernecks drove the North Koreans from the capital city of Seoul and chased them northward. As their supply lines became increasingly stretched, many top commanders grew worried, including the 1st Marine Division leader, Maj. Gen. Oliver P. Smith.
Born and raised in Texas, Smith was commissioned a second lieutenant during World War I, but instead of duty in France, he was sent to Guam. He saw action in Haiti during the so-called "Banana Wars." He was an assistant division commander of the 1st Marine Division on Peleliu in 1944. On Okinawa in 1945, he was assigned to the staff of the Tenth Army, but he "tread carefully" as a lone Marine in a predominately Army world.
Smith's moment of glory would come during the Korean War. When the Chinese Communists entered the conflict in November 1950, they quickly surrounded the units that had snaked their way to the Chosin Reservoir near the Chinese border. When ordered to destroy all his equipment and retreat toward the coast, Smith quietly assessed the situation and decided to fight his way out with all his dead and wounded—and his equipment. It was the stuff of legend. The Marines made it to the coastal city of Hungnam as a cohesive fighting outfit.
Written by his granddaughter, the book is able to get deep inside the man and allow the reader to gain much insight into Smith's thoughts and actions. The quiet Texan was a person of great moral courage with a strong devotion to duty that endeared him to everyone. Unlike Marine legends "Chesty" Puller and "Red Mike" Edson, Smith is sadly overlooked. As the late author David Halberstam noted: "[Smith] was one of the great, quiet heroes of the Korean War."
---
The War of 1812 in the Age of Napoleon by Jeremy Black, University of Oklahoma Press, Norman, 2009, 286 pp., notes, index, $32.95, hardcover.
Of all the conflicts that the United States has fought it seems the War of 1812 may be the least understood or remembered. Although it began primarily over the impressments of American merchant seamen by British warships, it was a war of much larger concerns that could—and did—affect world history.
Jeremy Black, a British historian, provides a fresh outlook into the ramifications of the war, not only for the United States, but for Canada as well. Canadian soldiers fought alongside their British counterparts in an effort to halt the radical expansionist views of their southern neighbor. Many Americans saw "the 'liberation' of Canada as unfinished business from the previous conflict," according to Black. If the United States had conquered Canada, the entire history of the North American continent would have been dramatically altered.
Already embroiled in a war with French emperor Napoleon Bonaparte in Europe, Great Britain was stretched thin. Napoleon, then exiled on the island of Elba after his defeat at Waterloo, told one British visitor that "peace with America should have been made sooner, as it would have given us [British] greater influence in the Congress."
Whether or not the "Little Corporal's" defeat would have shortened the War of 1812 is pure speculation. Black does a masterful job, however, of combining the military, political, and economic aspects of the conflict to paint a truly global picture of a much neglected war.
---
Orlando M. Poe: Civil War General and Great Lakes Engineer by Paul Taylor, Kent State University Press, Kent, OH, 2009, 354 pp., notes, index, maps, photos, $65, hardcover.
Orlando M. Poe, chief engineer under Maj. Gen. William Tecumseh Sherman during his legendary March to the Sea, was one of the most underrated Union generals of the Civil War. Author Paul Taylor was able to gain access to Poe's personal letters to his wife, Eleanor, and this has enabled him to write an excellent account of Poe's career, both before and after the conflict.
In public Poe was unpretentious, serious, and very professional. In his private life, however, he was the exact opposite—proud, ambitious, and carefree. Although a brigade commander at the Battles of Second Bull Run and Fredericksburg, the Senate failed to confirm his promotion to brigadier general and he reverted to his Regular Army rank of captain of engineers, where his extensive training earned him accolades from the exacting Sherman. His defense of Knoxville was pivotal during the Confederate siege by Lt. Gen. James Longstreet's forces. When Sherman was driving toward Savannah, Poe functioned as his eyes and ears and provided Sherman with accurate and valuable information. At war's end, he was finally appointed brevet brigadier general of Regulars, although it was still an honorary rank.
Taylor's narrative adds a new element to the exemplary career of a fine officer who, despite the severe disappointment of not attaining the rank he so richly deserved, still had an outstanding record. Taylor's first-rate biography of Poe earned him the Library of Michigan's 2010 Notable Books Award.
---
The Enemy I Knew: German Jews in the Allied Military in World War II by Steven Karras, Zenith Press, Minneapolis, MN, 2009, 320 pp., photos, $28, hardcover.
Imagine fleeing Nazi Germany because of one's Jewish faith and then returning during the war as a member of the Allied forces. Author Steven Karras began interviewing Jewish refugees in 1999 who had fled Nazi persecution because of their religion and come to the United States and Great Britain, only to find themselves being inducted into the military and returning to their homeland.
Following the oral-history format, Karras selected 27 individuals to interview for his book. One became a U.S. commando and actually liberated his own parents from a Nazi concentration camp. Another soldier was assigned to military intelligence and later questioned a former classmate who was serving in the German Army. Each vignette describes the individual's early life in Germany or Austria and his subsequent military service.
"In some small measure, those of us who played a part in all of this can have the satisfaction of knowing that our efforts and sacrifices were not in vain," said Seventh Army veteran Jack Hochwald. Thanks to Karras, their efforts will be remembered.
---
The Wars of Alexander's Successors, 323-281 B.C., Volume II: Battles and Tactics by Bob Bennett & Mike Roberts, Pen & Sword, England, 2009, 202 pp., notes, map, index, $30, hardcover.
Before Alexander the Great died at the tender age of 33, it is reported that when asked to whom he would leave his enormous empire, he said: "To the strongest." The authors focus their efforts on Alexander's successors, commonly referred to as the Diadochi. Little has been written about the period following Alexander's untimely death. The authors attempt to rectify this wrong by describing the armies, tactics, and battles that took place at that time.
The Diadochi were professional soldiers who honed their craft under Alexander and his father Philip. They enlarged their forces and implemented new strategies to defeat their enemies. Campaigns such as the Lamian War, the Eumenes' War, and Ispus are discussed in great detail and accompanied with maps, allowing the reader to follow the action. Individual chapters are devoted to the daily life of the soldier, weaponry, and siege and naval warfare.
Instead of consolidating their forces and following in Alexander's footsteps, the Diadochi fought among themselves. Their splintered armies were easy prey for other invaders, and the vast empire that Alexander had amassed before he died simply passed into history.
---
The Glory Guys: The Story of the U.S. Army Rangers by Mona D. Sizer, Taylor Trade Publishing, New York, 2010, 288 pp., index, $24.95, hardcover.
Ask any soldier about the immense pride he felt when he graduated from U.S. Army Ranger School and earned the right to wear the prestigious Ranger Tab on his shoulder. It is a legacy that has been in existence for more than 250 years, ever since Robert Rogers organized the very first Ranger battalion during the French and Indian War.
Rogers wrote the "Rules of Discipline" and "Standing Orders" that are still followed in the U.S. Army to this day. Sizer's book does a fine job in highlighting the careers of some of the officers who have left their mark on the venerable organization, men such as Francis "Swamp Fox" Marion, whose hit-and-run tactics in the swamps of South Carolina during the Revolutionary War completely befuddled the British. Confederate Ranger John Mosby, known as "the Gray Ghost," engaged much larger Union forces during the bloody and unforgiving Shenandoah Valley Campaign during the Civil War.
The pride and professionalism demonstrated by U.S. Rangers is still evident today in the global war on terrorism. Robert Rogers would have been proud.
---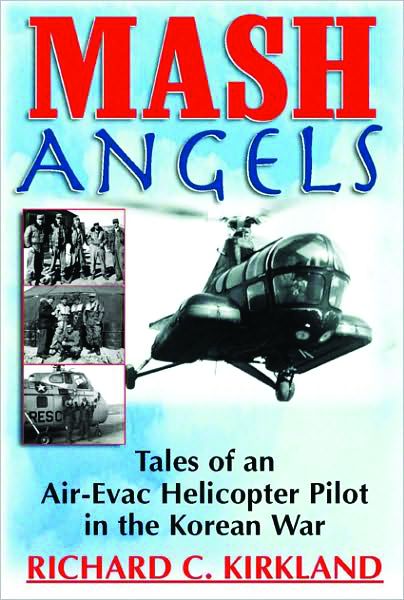 MASH Angels: Tales of an Air-Evac Helicopter Pilot in the Korean War by Richard C. Kirkland, Burford Books, Springfield, NJ, 2009, 288 pp., photos, $18.95, softcover.
World War II and Korean War veteran Richard Kirkland has authored an incredible account of a subject that is rarely mentioned by military historians: the evolution of the helicopter. When it emerged on the scene during the Korean conflict, some of the top brass referred to it as a "worthless contraption." How wrong they were.
The chopper, as it was immediately called, performed yeoman's duties during the "Forgotten War," rescuing downed airmen and wounded soldiers who might have died or become prisoners of war otherwise. Realizing its value, military commanders quickly did an about-face and changed their opinion. During the Vietnam conflict, the ubiquitous helicopter became an enduring symbol of that war, not only in medical evacuation but also in carrying troops to and from the battlefield.
Taking a cue from the military, civilian authorities saw the tremendous advantage of the helicopter and are using it to transport patients to area hospitals. LIFE STAR, in operation since 1985, has saved countless lives by arriving on the scene with an emergency medical team and getting a person to an emergency room within minutes. Patients who have survived such a harrowing ordeal have men like Richard Kirkland to thank for it.
---
The Rise and Fall of the Second Largest Empire in History: How Genghis Khan's Mongols Almost Conquered the World by Thomas J. Craughwell, Fair Winds Press, Minneapolis, MN, 2010, 272 pp., index, photos, maps, $19.99, softcover.
Like a huge horde of locusts, the ferocious Mongols emerged from Central Asia in the early 13th century, and before they were finished, they would control nearly one-sixth of the continent and rule more than 100 million inhabitants. Led by their ruthless but pragmatic chieftain, Genghis Khan, the Mongols were both feared and respected.
Genghis Khan realized that the nations he subjugated had numerous citizens well versed in a wide variety of necessary occupational skills. Artisans, engineers, and builders were spared death to instruct the nomadic Mongols in their specific crafts for use in future conquests. The Mongol invasions altered the future of many nations, including China and Russia.
Although it is estimated that 40 million may have died as a result of the Mongol incursions, they unknowingly helped in nation building. "There is no denying the carnage and wholesale destruction wrought by the Mongols," writes Craughwell. "But once the conquest was over, the Mongols set about building a civilization."
---
I Am Soldier: War Stories from the Ancient World to the 20th Century edited by Robert O'Neill, Osprey Publishing, New York, 2009, 224 pp., index, photos, $19.95, softcover.
Every soldier in every war who has experienced the horrors of combat and lived to talk about it has a story to tell. It does not matter what period of history we are discussing, from ancient times to today's fighting in Iraq and Afghanistan, human emotions and fears remain the same.
The editor of this book has compiled a group of fascinating stories to illustrate this point. One of the most interesting is the tale of Marie Magdelaine Mouron, a young woman who ran away from home and enlisted in the Royal Walloon Regiment. From there she joined the Morsan Regiment as a dragoon. Using the sobriquet of "St. Michel," Mouron saw action in Spain at the siege of Rosas in the summer of 1693. Her secret, however, was revealed when she became embroiled in a fight with another soldier, who inflicted a deep saber wound.
The regimental surgeon quickly discovered her gender, and she was handed over to the wife of an officer. Unfortunately, Marie had been with the dragoons too long. She had lost most of her feminine qualities and was soon arguing with the officer's wife. She deserted and was later captured and spent many years in prison.
I Am Soldier is an intriguing account of how a frontline combatant copes with war. There is no doubt that those who survive such an ordeal undergo a life-changing metamorphosis—good as well as bad.
---
The American Military Frontiers: The United States Army in the West, 1783-1900 by Robert Wooster, University of New Mexico Press, Albuquerque, 2009, 361 pp., notes, index, photos, maps, $39.95, hardcover.
As territorial gains expanded the original 13 colonies into the burgeoning United States of America, the country's northern and southern borders stretched for thousands of miles. The thankless job of guarding them and protecting the lives and property of American citizens fell to the U.S. Army. As the title indicates, for more than a century infantry and cavalry units patrolled the vast area along the western frontier.
In addition to its role in keeping the peace, the Army was instrumental in fostering national development. Many soldiers were heroic and devoted to their duty. Others, sadly, were cowards and inflicted acts of cruelty on enemies and civilians. Racism, especially toward Native Americans, was prevalent during the period.
Wooster points out that with or without a military presence, settlers, miners, and the like would have traveled westward. Despite the ever-present danger of Indian attacks, reports of gold, silver, and rich farmland fueled the expansion of the nation. Although undermanned, the U.S. Army endured incredible hardship to ensure the safety of its citizens during that expansion.
---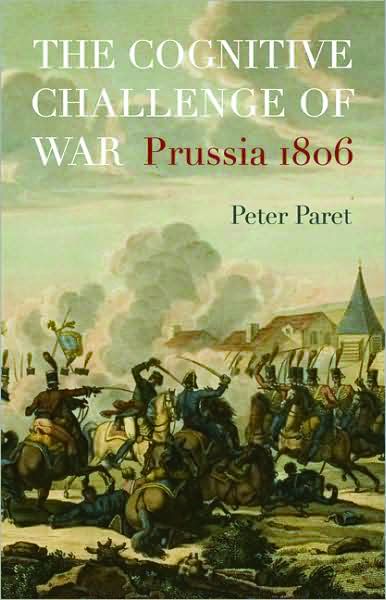 The Cognitive Challenge of War: Prussia 1806 by Peter Paret, Princeton University Press, Princeton, NJ, 2009, 176 pp., notes, index, maps, illustrations, $22.95, hardcover.
In August 1806, Prussian ruler Friedrich Wilhelm III made the misguided decision to fight Napoleon Bonaparte's Grand Armée without the assistance of Austria and Russia. Wilhelm's forces were soundly defeated at Jena and Auerstadt that October. In just 19 days Napoleon captured Berlin and inflicted thousands of casualties on the Prussians.
The author, a professor emeritus at the Institute for Advanced Study, examines Prussia's disastrous defeat and its impact on warfare in general. This campaign would forever alter how future conflicts would be waged. Eighteenth-century warfare was "limited armed conflict," but it was soon replaced by total war. From the Prussian defeat emerged a new and innovative way of waging war. It also had a profound effect on the civilian population, says the author. Society began to view armed conflict in a different light, involving not just soldiers on a battlefield, but also the civilian residents of the countries involved.
Participating in the fighting was a young Prussian soldier named Carl Von Clausewitz. Taken prisoner, he spent a year in France before returning to his native land. He immediately began to assist in the complete reformation of the Prussian Army, becoming an elite military theorist. His book, On War, is still read today and has become the virtual handbook for military strategists around the globe.