By Joseph Luster
In the grand scheme of things, World War II games tend to stick to a similar aesthetic regardless of genre. Hyper realism is often implemented in place of a more stylistic presentation, but that's not the case with Warsaw, the latest from publisher gaming company and developer Pixelated Milk (Regalia: Of Men and Monarchs). Due out in the third quarter of 2019, Warsaw offers up tough turn-based combat dressed up with beautiful hand-painted 2D graphics, and the results are an entry in the genre that definitely stands out on visuals alone.
Warsaw puts players in the boots of the leader of a small, dedicated outfit of civilians and soldiers, each with their own unique skills that will help them take down the occupying forces that surround them at any given moment. The Nazi oppressors standing in the way of this band of accidental heroes present situations of varying difficulty, as players must survive in and defend their home city by any means necessary. The resources at your disposal are completely up to you, so you can use any outing as an opportunity to scour the ruined streets for historically accurate uniforms, ammunition, and other essential items. Scouts will need to be properly equipped for these situations, and it's important to know when to fall back to your shelter to regroup before or after battles of all sizes.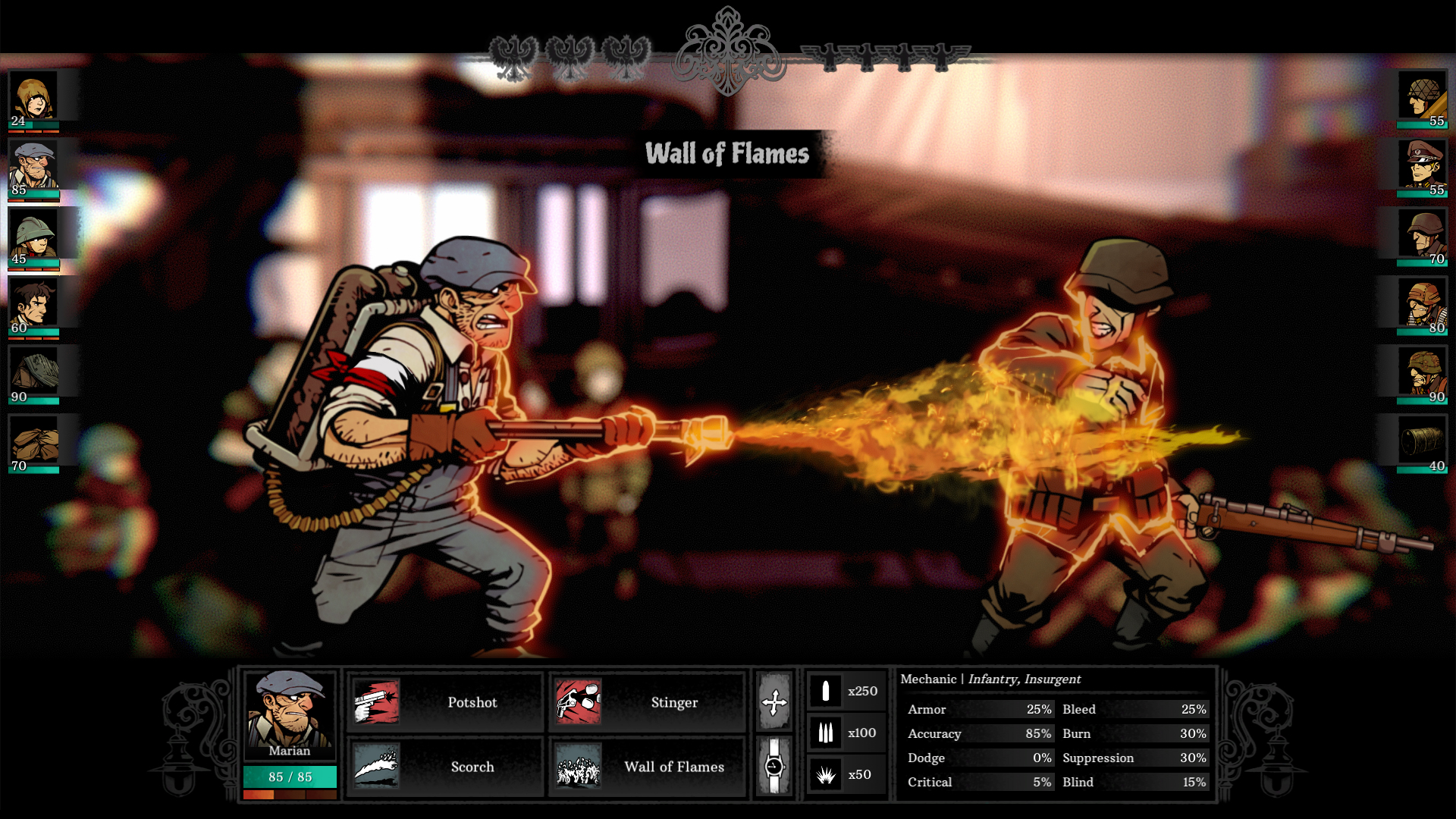 The Secret Army members at your disposal run the gamut from rescued civilians to underground army members, scouts, and even criminals. Regaining the city takes top priority over whatever past incidents led each member to this point in history, but you'll also be able to take some time to explore those histories in a few different ways. In addition to a mix of historical and fictional events happening around your squad, gameplay is used to convey character backstories to the player. In practice, this will hopefully take various members of your team out of their rote class role and into a more interesting three-dimensional territory.
Tactical RPGs may not be a rarity within the realm of World War II, but those that can boast a style like Warsaw are few and far between. Occasionally we'll run into outliers; Ubisoft's Valiant Hearts: The Great War—which used inspiration from World War I letters to weave a touching and gorgeously presented narrative—comes to mind. Hopefully Warsaw falls into a successful category of its own when it makes its way to PlayStation 4, Nintendo Switch, and PC later this year.
Publisher: gaming company
Genre: Shooter
System: PS4, Switch, PC
Available: Q3 2019