By Mason B. Webb
In mid-December 1944, between Guam and the Philippines, the greatest enemy Admiral William F. "Bull" Halsey's Third Fleet encountered was not the Japanese but a monstrous typhoon—the largest storm the U.S. Navy had ever faced.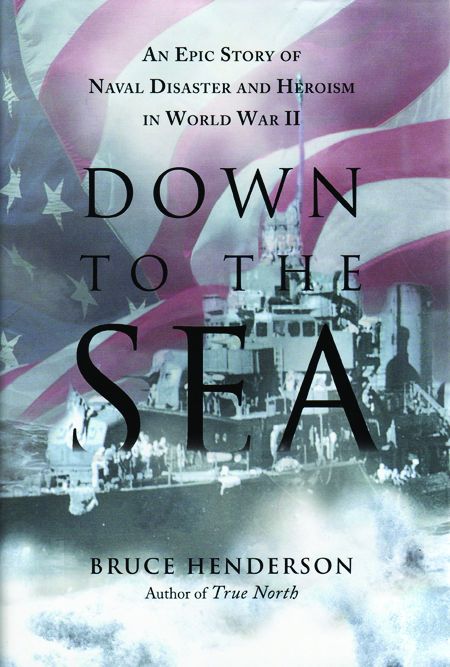 It was not that the maelstrom was unexpected; the storm had been predicted and plotted, but Halsey had a timetable to keep. He was positioning his fleet to support General Douglas MacArthur's invasion of the enemy-held Philippine island of Mindoro. To meet his schedule, he needed to refuel his ships at sea and continue pressing forward. The typhoon was a damnable obstacle in his way, but one that could not be ignored.
In Down to the Sea: An Epic Story of Naval Disaster and Heroism in World War II (Smithsonian Books/Collins, Washington, D.C., 2007, 368 pp., photographs, map, bibliography, index, hardcover, $26.95), author Bruce Henderson chronicles the battle the Third Fleet waged to survive the onslaught of the elements. Halsey's meteorologists and staff advised that, by turning south, the fleet just might avoid the worst ravages of the storm, but, as Henderson writes, "Continuing to the south, while it might be the safest 'in a weather sense,' would put them farther from Luzon, which his carrier-based planes were supposed to strike. Also, spending time to search for calmer conditions in which to fuel would take up valuable time and delay the planned air strikes. Halsey expressed his determination 'not to be feinted out of position' for the Luzon strikes by bad weather."
But prudence overcame his sense of duty, and Halsey decided to turn away from the storm. With his destroyers dangerously low on fuel, Halsey ordered the refueling process to begin on the morning of December 18—at the very moment the storm changed course and began charging directly for the Third Fleet. Howling winds of 160 miles per hour and great mountains of water 90 feet high slammed into Halsey's ships, tossing carriers, battleships, cruisers, destroyers, oilers, and other supply ships about like plastic toy boats in a bathtub.
Three ships (the destroyers Hull, Spence, and Monaghan) were sunk, 28 others damaged, 146 aircraft destroyed, and 756 men lost at sea—losses that were more than had been suffered in many naval battles in the Pacific. In all, 92 survivors from the three sunken ships (each carrying a crew of about 300) were rescued, some after spending up to 80 hours in the water. Scores more had made it off their sinking ships only to perish in the pitching seas; some from injuries and exhaustion, others devoured by circling sharks before the eyes of their horrified shipmates.
During the far-flung rescue operations, other sailors valiantly risked their own lives to save shipmates and strangers. The skipper of one badly damaged vessel disobeyed an admiral's order to abandon the search and was credited with saving 55 lives.
The whole heart-wrenching story of the Third Fleet's battle with the forces of nature is masterfully told in this superb new book by Henderson. Down to the Sea recounts the heroism of sailors and commanders faced with an entirely new foe and how they battled the elements to save their ships and their shipmates.
Drawing on extensive interviews with survivors and rescuers, the families of lost sailors, plus memoirs, letters, diaries, official records, and court-of-inquiry transcripts, Henderson, who served as an aircraft carrier weatherman during the Vietnam War, brings to vivid life one of the greatest naval dramas in history. An unqualified "must read."
---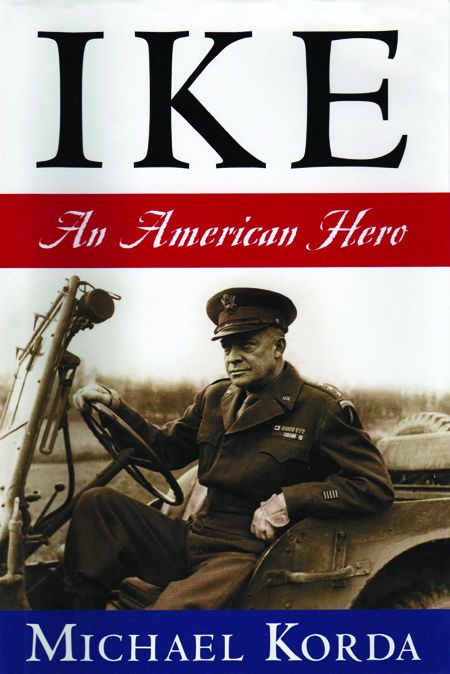 Ike: An American Hero, by Michael Korda, Harper, New York, 2007, 779 pp., photographs, maps, bibliography, index, hardcover, $34.95.
Of all the American heroes who emerged from the aftermath of World War II, none approached the stature of Dwight David Eisenhower, the Supreme Allied Commander. Perhaps only Roosevelt and Churchill eclipsed him as a genuine "giant of history."
Although he had never commanded so much as a platoon of men in combat, Ike's gifts for leadership and coalition building earned him the respect of his superiors and the undying admiration of his countrymen and led to his being placed in overall command of millions of troops in three major amphibious invasions: Torch (North Africa), Husky (Sicily), and Overlord (northern France), not to mention two terms as president of the United States.
In this brilliant new biography of Eisenhower, Michael Korda paints a fresh, frank, revealing, and admiring full-length portrait of one of America's greatest generals and one of its best presidents. This is not simply the smiling, amiable Ike of legend but the real man, a daring, gifted, intelligent, courageous, superlatively trained, and tough-minded soldier, a perfectionist with a hair trigger temper kept under precarious control.
Ike certainly had his critics and detractors, most notably British General Sir Alan Brooke, Chief of the Imperial General Staff, and Field Marshal Sir Bernard Law Montgomery, both of whom thought Eisenhower knew nothing of strategy or tactics and was hopelessly in over his head as Supreme Allied Commander. But through sheer force of will and an innate diplomatic skill he managed to hold the delicate, fractious multinational coalition together and ensure victory for the Allied side.
As Korda writes, "Ike's own war memoirs are notably fair-minded, even on the subject of people he had every reason to resent, and he did not attempt to refute criticism of himself, or encourage others to do so on his behalf."
Tracing Ike's life from his rural Kansas upbringing, through his West Point years, his staff jobs during World War I (when his immense organizational and administrative abilities first showed through), and the interwar years of slow promotion, Korda grasps and fully exposes the quiet genius that was Eisenhower.
Korda also discusses in depth Ike's determination to win the war in Europe with his own strategy; his difficulties in reining in and separating the clashing personalities of Patton and Montgomery; his unselfish willingness to take the blame in the event operations did not go well; the reasons for his decision not to take Berlin or Prague before the Soviets; his reluctant rise to the presidency; and the many crises he faced a president from McCarthyism to the very real likelihood of the Cold War going nuclear.
As a war hero, an international statesman, and president of a nation undergoing tremendous social changes, Ike always remained a man who maintained the unshakable values learned in his youth—honesty, courage, loyalty, love of country, and basic human decency.
Korda's superb biography will undoubtedly make many readers ache for a time gone by in America—the "Eisenhower Era." This is a book not to be missed.
---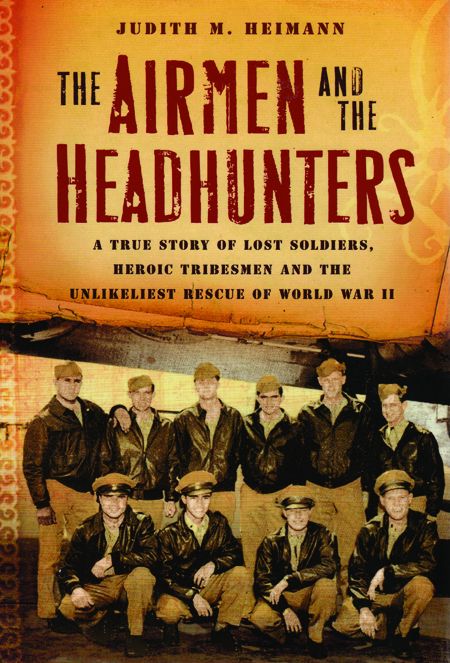 The Airmen and the Headhunters: A True Story of Lost Soldiers, Heroic Tribesmen and the Unlikeliest Rescue of World War II, by Judith M. Heimann, Harcourt, New York, 2007, 289 pp., photographs, bibliography, index, hardcover, $26.00.
On November 16, 1944, an air armada of 40 Consolidated B-24 Liberator bombers and 15 Lockheed P-38 Lightning fighter bombers lifted off from their air base on the Dutch East Indies island of Morotai on what was thought to be an easy, routine bombing mission along the Borneo coast. It turned out to be anything but.
The mission of the American force was to hit a small concentration of Japanese ships at anchor. But instead of the expected lone carrier or cruiser, the flight spotted a huge assemblage of enemy ships. Worse, the Japanese fleet also spotted them and began throwing up a curtain of antiaircraft shells.
Ripped by shrapnel, the B-24 piloted by 2nd Lt. Tom Coberly quickly began to sputter and smoke, with several of its crew members hit and badly wounded. There was no other option than to bail out over the dense jungle of northern Borneo and hope for the best.
After the men floated into the trees and managed to cut themselves out of their parachutes, they found that they were scattered across the island's mountainous interior. Then a fierce- looking group of loin-clothed natives—the Dayaks—silently emerged from the thick jungle.
Would the tribesmen kill the airmen or turn them over to the Japanese? Or would the Dayaks risk reprisals to help the airmen get home? The tribal leaders' ultimate decision would lead to a desperate game of hide-and-seek and a return of a long-renounced ritual: the triumphant and bloody taking of heads.
Judith Heimann's book reads like an improbable movie script: a bamboo airstrip built on a rice paddy, a mad British major, and a blowpipe-wielding native army that helped destroy one of the last Japanese strongholds. Yet, it is all true. Her clear prose presents a gripping, you-are-there journey into a remote world and the forgotten heroism of the Dayaks.
---
Endgame 1945: The Missing Final Chapter of World War II, by David Stafford, Little, Brown, New York, 2007, 581 pp., photographs, bibliography, index, hardcover, $26.99.
Although the fighting in Europe ended in early May 1945, a series of dramas still needed to be played out. David Stafford's Endgame chronicles the experiences of nine individuals—from soldiers to POWs to war correspondents—who witnessed the Allies' struggles to bring the war to an end during the final weeks of the conflict and in the first few months following VE Day.
Through their eyes, Stafford traces the elaborate web of events that brought about the war's real resolution and set in motion the post-war world to follow: the deaths of Hitler and Mussolini, the liberation of Buchenwald and Dachau, and the Allies' competition with the Soviets to see which side would control Europe.
As Stafford writes in the introduction, "Wars do not end when the fighting stops, and military victory in itself is no guarantor of peace. The wounded continue to die. The dispossessed still seek a place to call home. Parents search for lost children among the ruins, and families and friends try desperately to be reunited. The victors do not suddenly turn their swords into plowshares. They hunt down enemy leaders, confront those who wish to continue the fight, and wrestle hard to establish law and order. Only then can peace come. For this requires more than the absence of conflict, and is harder to build than battering cities to rubble."
From his descriptions of Hitler's April decision to never surrender, to the fateful Potsdam Conference when the new American President Harry Truman came face to face with the West's newest and most dangerous arch rival Josef Stalin, Stafford has produced a work that will be hard to put down and even harder to forget.
---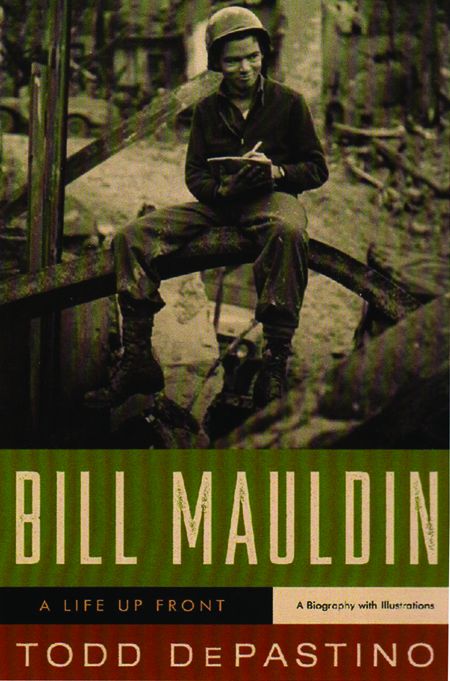 Bill Mauldin: A Life Up Front, by Todd DePastino, W.W. Norton, New York, 2007, 320 pp., photographs, illustrations, bibliography, index, hardcover, $27.95.
It is safe to say that nearly every student of World War II is familiar with Willy and Joe, two grizzled cartoon "dog-faces" that brought black humor to the front lines in the pages of the G.I.'s newspaper, the Stars and Stripes. Perhaps less familiar is the life of their creator, Bill Mauldin.
In this first-ever biography of the cartoonist and commentator, Todd DePastino shows how Mauldin's cartoons, which often lampooned self-important officers and bungling strategists, first saw the light of day in the 45th Infantry Division's newspaper before his talent was recognized theater-wide and he was promoted to the staff of Stars and Stripes.
In partnership with Mauldin's family and estate, DePastino pays loving homage to the complex artist whose craft not only angered generals such as George Patton, but also shocked and educated the American public by giving voice to the dreams, fears, and grievances of the lowly foot soldier.
Infused with Mauldin's sometimes impish, sometimes bitterly funny look at war and the human condition, the book also reveals lesser-known aspects of the artist's life, such as his ventures into memoir-writing and news journalism, his political aspirations, and the challenges he faced in civilian life, including working as a political cartoonist, trying his hand at acting (as a Union soldier in The Red Badge of Courage), and his frequent attempts at marriage and fatherhood.
Many of Mauldin's 600 wartime cartoons, over half sketched in combat, are reproduced within and stand as genuine masterpieces and an essential chronicle of citizen-soldiers—from peace, through war, to victory. A thoroughly enjoyable and revealing work about an American genius.
---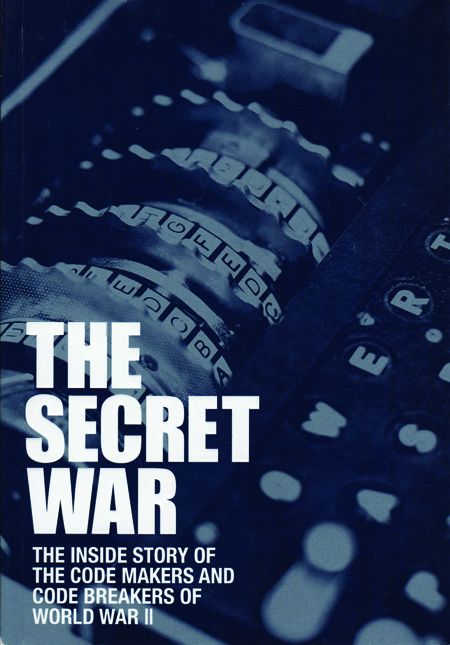 The Secret War: The Inside Story of the Code Makers and Code Breakers of World War II, by Michael Paterson, David & Charles Ltd., 2007, 288 pp. London, photographs, bibliography, index, softcover, $16.95.
Nations at war rely not only on ships, planes, tanks, weapons, and trained combatants but also on people skilled at encoding their most closely guarded secrets—and breaking the secret codes of the enemy.
World War II ushered in an era of code makers and code breakers as never before. Back and forth across battlefields, oceans, airwaves, deserts, and highways during the war flowed messages of all kinds—all of it fiendishly coded to prevent prying eyes and ears from knowing what the messages contained, even if the messages seemed of absolutely no value at all.
Not only was it vital to know what the enemy's intentions were, but also to prevent the enemy from knowing that his codes had been broken. Such knowledge was often a two-edged sword; on many occasions, one army or another would know that the enemy was planning an attack but could not alert the units about to be hit for fear that such a move would tell the enemy that his ciphers were no longer secure.
Several books have been published on this topic in the past, but one of the newest and best is Michael Paterson's The Secret War. In this work the author, going back to before the Great War, lays out for the reader exactly the lengths each nation went to keep their secret signals from being read by the enemy and how they simultaneously attempted to crack their enemy's codes in a high-stakes game of cat and mouse.
A better, more easily understood overview of the business of code making and breaking than The Secret War will be hard to find.
---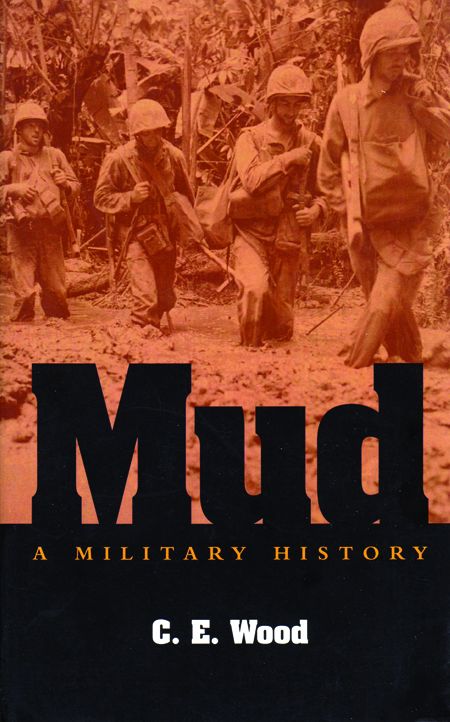 Mud: A Military History, by C.E. Wood, Potomac Books, Dulles, Va., 2007, 190 pp., photographs, bibliography, index, softcover, $15.95.
To give his fellow countrymen safe at home an idea what life at the front was like, World War II soldier and cartoonist Bill Mauldin came up with this recipe: "Dig a hole in your back yard while it is raining. Sit in the hole until the water climbs up around your ankles. Pour cold mud down your shirt collar. Sit there for 48 hours."
Since the very first battle millennia ago, mud has been the curse of the soldier. Author C.E. Wood has written the first book-length treatise on this most common of substances, reflecting upon how for centuries the gooey mess has altered tactics, slowed cavalry charges, stopped cannonballs, gummed up weapons and equipment, halted vehicles, irritated skin, destroyed uniforms, and generally made life miserable for the field soldier.
Although not confining himself strictly to World War II (there are passages dealing with mud from Waterloo to the Great War to Vietnam, among others), Wood manages to convey just how deleterious mud has been and can be to military operations and to the health and welfare of troops that must contend with it.
As a Marine says in the book, "It has always puzzled me that this important factor in our daily lives has received so little attention from otherwise excellent personal memoirs by infantrymen."
After reading Woods's enlightening and entertaining observations, chances are good that readers will never look at mud in quite the same way again.
---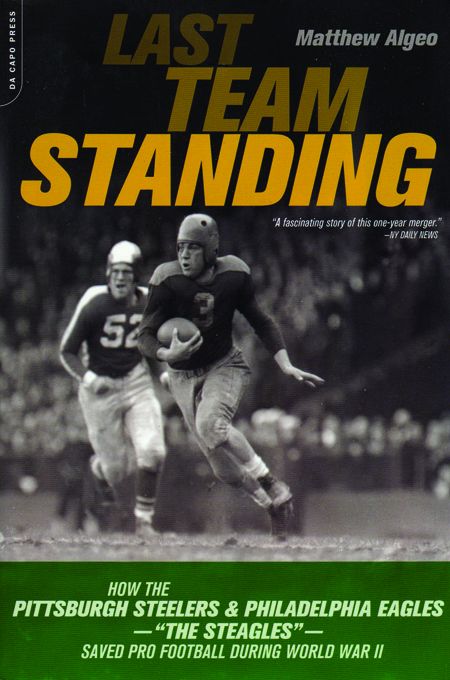 Last Team Standing: How the Pittsburgh Steelers and Philadelphia Eagles—"The Steagles"—Saved Pro Football During World War II, by Matthew Algeo, DaCapo Press, Cambridge, Mass., 2007, 270 pp., photographs, bibliography, index, softcover, $14.95.
During World War II, the National Football League faced a crisis unimaginable today, a shortage of players. By 1943, so many players were in the armed forces that the eight-team NFL was on the verge of collapse. Some teams did not even have 11 players on their entire roster; faced with this problem, the Cleveland Rams folded.
Seeking a way to salvage the 1943 season and save the league, the team owners were forced to merge two teams, the Pittsburgh Steelers and Philadelphia Eagles. Thus the "Phil-Pitt Steagles" were born.
The Steagles' roster included military draft rejects, an aging superstar lured out of retirement, and even a couple of active-duty servicemen who got leave to take part in games. The star receiver was half blind, the center was deaf in one ear, and the quarterback had ulcers. The team's two coaches could not stand each other.
Yet, somehow this motley bunch posted a winning record (5 wins, 4 losses, one tie)—the first in Eagles history and just the second in Steelers franchise history. More than that, during America's darkest hours, they and the rest of the league captured the hearts of the fans and gave people something to cheer about. Their accomplishments exemplified the never-say-die spirit that won the war. Highly recommended.
---
Short Bursts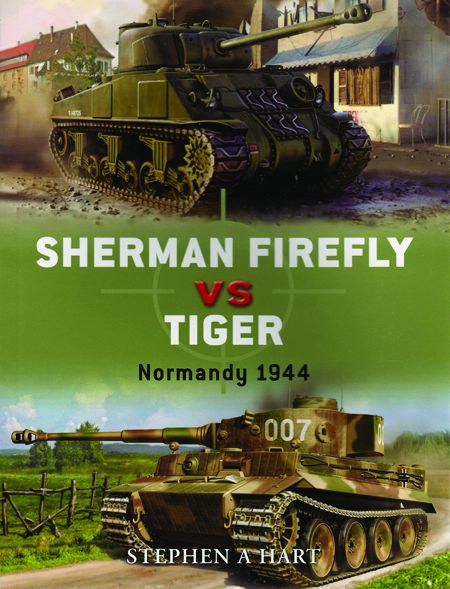 Sherman Firefly vs. Tiger: Normandy 1944, by Stephen A. Hart; P-51 Mustang vs. Fw 190: Europe 1943-45, by Martin Bowman; Panther vs. T-34: Ukraine 1943, by Robert Forczyk, Osprey, Botley, Oxford, U.K., 2007, each book 80 pp., photographs, illustrations, maps, bibliography, index, softcover, $17.95.
A series of three fully illustrated Osprey books provides the aficionado with a wealth of detail and comparisons of the capabilities and characteristics of six of the most legendary weapons of war.
Covered in these informative volumes are the British Firefly tank (an up-gunned Sherman with a 17-pounder main gun that made it a formidable foe); the German Tiger heavy tank, virtually immune to any weapon except the Firefly; the North American P-51 Mustang that enabled Allied bombers to have fighter cover all the way to the deepest targets inside Germany and was more than a match for the much-feared Focke-Wulf Fw-190; the famed Russian T-34 tank that was so devastating that the Panther was hurriedly developed to counter it.
These books describe in detail the design and development of opposing machines, analyze their strengths and weaknesses, assess their tactics, weaponry, and training, and give brief biographies of many of the "aces" who mastered them.
Innovative digital artwork and first-person perspectives place the reader alongside the pilots and tank commanders to give an unparalleled view into what combat on the ground and in the air was like. An exceptional new series from Osprey.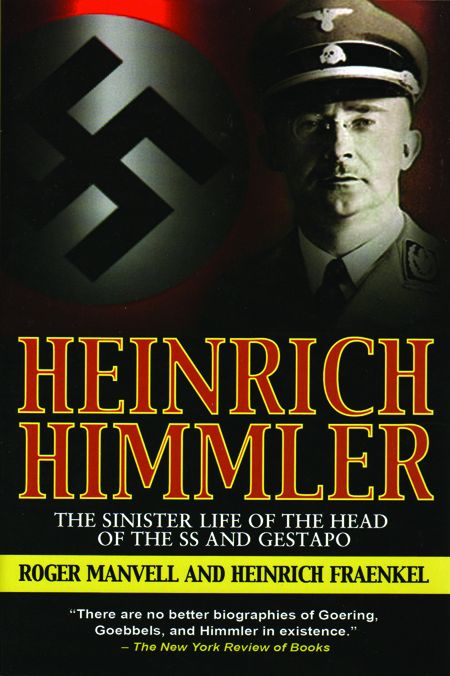 Heinrich Himmler: The Sinister Life of the Head of the SS and Gestapo, by Roger Manvell and Heinrich Fraenkel, Skyhorse Publishing, New York, 2007, 285 pp., photographs, bibliography, index, softcover, $14.95.
From his improbable transformation from a meek, devout Catholic and Bavarian chicken farmer to the dreaded head of two of the world's most evil organizations, Heinrich Himmler is a person who continues to fascinate long after his suicide in 1945.
Roger Manvell and Heinrich Fraenkel's classic study of Himmler traces his rise from an ordinary boy to a superstitious man who ventured into herbalism, astrology, and homeopathic medicine before hitching his wagon to Adolf Hitler's star and becoming obsessed with racial purity and the superiority of the Aryan race.
A master of intrigue, Himmler, with Hitler as his protector, rose to become the second most powerful figure in the Third Reich and one of the chief architects of the "Final Solution" that would cost millions of human beings their lives. Understanding this diabolical leader will help readers further understand a political party and a nation that committed the most horrendous crimes against the world and humanity.
This 2007 reprint has lost none of the chilling nature of the 1965 original.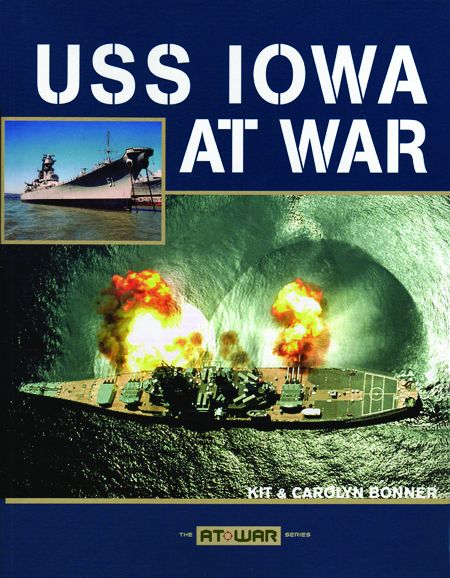 USS Iowa at War, by Kit and Carolyn Bonner, Zenith Press, Osceola, Wis., 2007, 128 pp., photographs, illustrations, index, softcover, $19.95.
The complete history of the USS Iowa, the flagship of the last battleship class and one of the mightiest warships to ever sail into combat, is superbly told in this visually stunning book by Kit and Carolyn Bonner.
The authors do an excellent job in tracing the history of battleships in general and discussing how the Iowa-class in particular was the epitome of warship design and technology.
Having fought in three wars (World War II, Korea, Vietnam) and used to enforce the peace in other parts of the world until she was decommissioned in 1990, the Iowa has been a symbol of American naval power as well as one of the last remnants of a history that has seen battleships become obsolete.
Full of fascinating facts, figures, and details (such as holding the record for firing a 16-inch shell the longest distance—23.4 miles), USS Iowa at War is a fine tribute to a great ship and the men who sailed in her.