By Flint Whitlock
There is such a treasure trove of fine military museums in Normandy—perhaps more than anywhere else in the world—that we could devote an entire issue to nothing but them.
These include the Musée Mémorial d'Omaha Beach (Omaha Beach Memorial Museum) in Saint-Laurent-sur-Mer; La Musée du Débarquement at Utah Beach (La Madeleine); the Musée D-Day Omaha in Vierville; the Airborne Museum in Sainte-Mère-Église; the Musée des Rangers (Rangers Museum) at Pointe du Hoc; the Musée du Débarquement No. 4 Commando (No. 4 Commando Museum) at Sword Beach/Ouistreham and the Musée du Mur de l'Atlantique (Grand Bunker and Atlantic Wall Museum) also at Ouistreham; Centre Juno Beach (Juno Beach Museum) in Courseulles-sur-Mer; Musée Mémorial de la Bataille de Normandie (Battle of Normandy 1944 Memorial Museum) in Bayeux; Musée des épaves sous-marins du Débarquement de Port-en-Bessin (Museum of Undersea Invasion Wrecks) in Port-en-Bessin; Overlord Museum in Colleville-sur-Mer; and the Arromanches 360 (D-Day Circle Vision Cinema) at Arromanches-les-Bains.
Since we can't cover them all here we've selected one at random: the Musée du Débarquement (D-Day Invasion Museum) that opened in 1954 at Arromanches-les-Bains, on the shore of what was Gold Beach. Here is a wide variety of uniformed mannequins, artifacts (such as an original "Rupert" dummy parachutist that doesn't look anything like the ones in The Longest Day), a film presentation, a sound-and-light diorama of the landing, and a working model of the artificial "Mulberry B" harbor.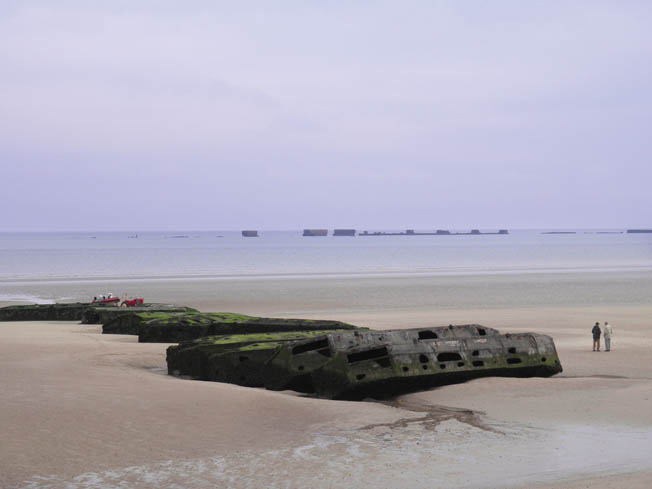 Just outside the museum are the remains of Port Winston, aka "Mulberry B." When the tide is out, you can walk right out and closely inspect the 20 huge concrete caissons that, for 70 years, have been battered by the sea.
After an unequaled engineering and construction project, cargo ships began unloading here on June 14—just eight days after the first troops had set foot on the beach.  Mulberry B managed to withstand the severe June 19-21 storm that wrecked a similar anchorage (Mulberry A) at Omaha Beach.
This and the other museums will ensure that you never forget one of history's most pivotal battles. Musee-Arromanches.fr