By Sam McGowan
Most historical accounts of World War II aviation relate the experiences of commissioned officers, men who obtained their wings through completion of a military pilot training program. Yet, throughout World War II large numbers of pilots served in the military who either weren't commissioned or had received their aeronautical rating as a military pilot without having completed a military undergraduate pilot training course. Others, including several thousand women, were employed or contracted by the military as civilians.
There were several categories of pilots who served in some form with the military who were either not commissioned as officers upon completion of their training or did not complete an undergraduate military pilot training course. Sergeant pilots completed the same training as aviation cadets and were issued the same wings but were awarded non-commissioned officer status at the completion of their training rather than commissions as officers. Service pilots were officers and NCOs who were brought into the military and awarded aeronautical status as military pilots based on previous civilian flying experience, but whose duties were restricted to non-combat flying.
Both the Army and Navy trained enlisted men as pilots as early as 1912. The Army alone awarded pilot wings to 2,693 enlisted men between 1912 and 1943, when enlisted pilot training was suspended. Of that number, 2,472 served during 1939-1945. Another 1,100 or so were trained as limited-duty liaison pilots, while an undetermined number served as glider pilots before they were commissioned. The Navy trained a little over 1,000 enlisted pilots during the war, including Marines. It had been training sailors and Marines as pilots in limited numbers since 1916. Although the ranks of prewar enlisted pilots were comparatively small, they made a substantial contribution.
Sergeants John H. Williamson, Ray Clifton, and William C. McDonald flew with Captain Claire Chennault and Lieutenant Haywood "Possum" Hansell as part of an Air Corps aerial demonstration team in the 1930s. They were the only pilots who could stay on Chennault's wing. Seven prewar enlisted pilots became general officers.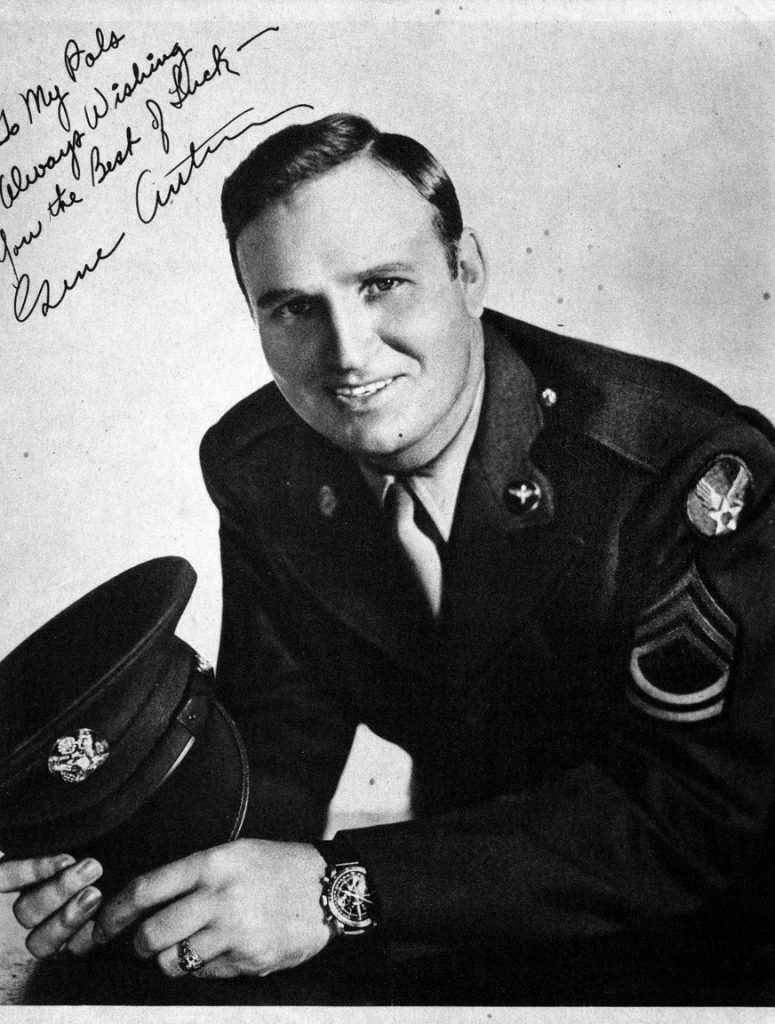 In 1940, as America geared up for war, the Air Corps expanded. Requirements for aviation cadet training included completion of two years of college, but there was a shortage of qualified applicants. To meet its need, in December the Army lowered the educational requirements and began accepting enlisted men for pilot training, with the first classes scheduled to graduate in early 1942. Initially, they trained in the same classes with cadets and officer trainees but retained their enlisted rank. Once the enlisted pilot training program got underway, classes were segregated by rank.
At the completion of training the enlisted pilots were promoted—in some cases demoted—to the non-commissioned officer grade of staff sergeant. Assignments to advanced training for enlisted pilots were the same as for cadets; they were based on overall flying proficiency, class standing, and military needs. Many enlisted pilots trained on fighters and went overseas with fighter squadrons as NCO pilots. The Lockheed P-38 equipped 82nd Fighter Group included a number of NCO pilots when it went overseas in the fall of 1942 with Twelfth Air Force.
The first enlisted pilots to move overseas were members of the 6th Troop Carrier Squadron, which departed from Williams Field, Wisconsin, for a classified destination in the summer of 1942, which turned out to be the Southwest Pacific. Fifteen of the squadron's 26 pilots were NCOs, including two first pilots, Staff Sergeants Ernest C. Ford and Wibbur H. Weeden. All of the copilots were NCOs; Ford and Weeden commanded all-NCO crews.
Ford described his experiences in his book My New Guinea Diary. After completing advanced training in P-40s, he was assigned to the 6th TCS at Williams Field in late July. He completed an airline training course in Pittsburgh to learn to fly the DC-3, then was assigned as a first pilot and given a crew consisting of another NCO as copilot, a crew chief, and radio operator.
The squadron was initially alerted to move to Europe with Eighth Air Force, but the movement was canceled and the men soon found themselves headed to Australia. They arrived in Brisbane on October 9, then flew north to Jackson Field at Port Moresby, New Guinea, four days later and began combat operations the following day.
NCO pilots flew all types of aircraft in combat, including fighters, transports, and bombers, particularly the Martin B-26 Marauder. As enlisted men, the NCO pilots were not subject to additional duties as officers were and were supposed to be exempt from details such as KP and policing the grounds that other enlisted men were required to pull. But due to their small numbers, they often ran into problems because it did not seem to be common knowledge in the Army that NCOs had been rated as pilots, much less that they had been granted certain privileges.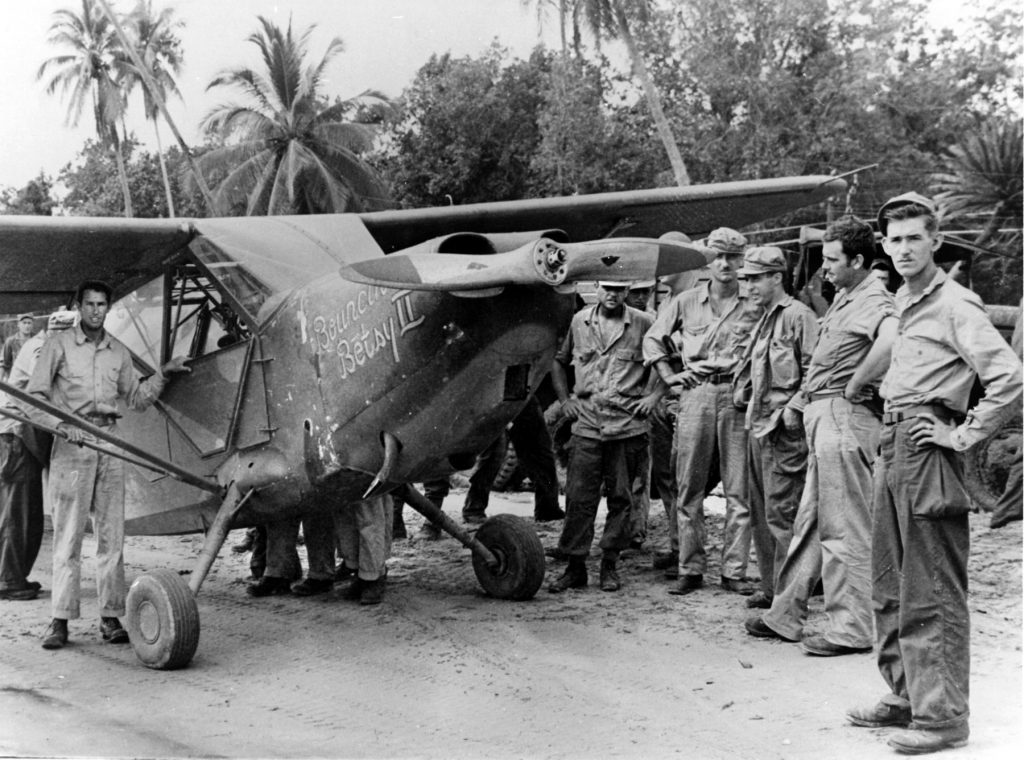 In late 1942, a new rank called Flight Officer was established, basically as a warrant officer position. Warrant officers are given a "warrant" rather than a commission and are considered as an in-between rank between the enlisted noncommissioned officer and commissioned officer ranks. With the change in regulations, most NCO pilots were awarded either commissions or warrants.
The sergeant pilots gave a good account of themselves. Eighteen became aces, and four reached star rank, including Charles E. "Chuck" Yeager, who later famously broke the sound barrier. Noted air show pilot Robert "Bob" Hoover was a sergeant pilot.
The use of gliders to transport squads of men and their equipment, vehicles, and artillery into landing zones on the battlefield demanded pilots, and most were drawn from the enlisted ranks. Upon completion of training, they were awarded wings with a "G" on the shield. Initially, glider pilots were given NCO rank upon completion of glider pilot training, but most were elevated to flight officer rank and some were commissioned before they went overseas. Liaison pilots or L-pilots, however, were in a class by themselves.
Liaison pilot training commenced in September 1942, as a separate program to train pilots for low-powered airplanes to serve as artillery spotters. The initial group of 50 was sent to the artillery school at Ft. Sill, Oklahoma. Some of the first liaison pilots had been trained to fly gliders, while others were washouts from other pilot training programs. The light aircraft they would fly were equivalent to primary trainers and thus required less skill and experience than higher-performance aircraft. Soldiers with limited flying experience—minimum requirements called for 60 hours of flight time—were selected for the program and sent to training schools, where they were given 40 hours of additional training in light aircraft before they were rated as pilots and sent to operational assignments.
Although the program was initially established to train pilots for artillery spotter duty, it was soon expanded to include other duties, including battlefield transportation for senior officers and evacuation of casualties. Upon graduation from the training program, graduates were awarded wings with an "L" on the shield in the center designating their status as liaison pilots. Except for a few officers in leadership positions, all L-pilots were NCOs.
Although liaison pilots were trained for "non-combat" duties, the pilots of the tiny "L-birds" often found themselves in hazardous situations. During the battle for the Philippines in 1945, pilots from the 25th Liaison Squadron performed what is perhaps their most famous feat. Elements of the 11th Airborne Division were surrounded and cut off on Leyte. Due to a shortage of troop carrier aircraft on Leyte at the time, the 25th Liaison Squadron was called on to fly supplies into the mountains. Liaison pilots, often associated with the artillery-spotting role, soon proved effective in evacuating casualties.
When Lieutenant Colonels Philip Cochran and John Allison were putting together the 5318th Provisional Air Unit to support British General Orde Wingate's Chindits on an expedition into Burma, they included liaison aircraft and pilots on their list of must-haves. Liaison squadrons made up a substantial portion of the strength of the air commando groups which followed.
In March 1942 the Army authorized a new category of pilot designated as a "service pilot." Service pilots were men who were offered positions as limited-duty pilots with the Army on the basis of their civilian flying experience after evaluation of their flying skills and, usually, a period of duty as a civilian contract pilot. Unlike civilian contract pilots and the famous WASP (Women's Air Service Pilots), who were not military pilots, they had full military status. Some, such as future Senator Barry Goldwater, were commissioned while others were given warrants as flight officers. Still others were initially given NCO rank.
No doubt the most famous of the service pilots was western singer/actor Gene Autry, who enlisted in the Army on July 26, 1942, as a technical sergeant. In a promotional move requested by the War Department to encourage volunteers, Autry, a private pilot, took the oath of enlistment during a broadcast of his popular radio show, "Melody Ranch." He had obtained a multi-engine rating on his own prior to enlistment. After training to fly military aircraft, T/Sgt. Autry was assigned to the 91st Ferrying Squadron at Love Field in Dallas. After two years as a sergeant pilot, Autry was given a warrant as a flight officer in July 1944.
By far, the largest user of service pilots was the Air Transport Command. Established in June 1942, from the headquarters of the former Ferry Command, the ATC's initial role was to serve as a clearinghouse for the award of military contracts to the nation's airlines and other civilian aviation concerns to ferry military aircraft and transport military cargo and passengers. As the nation geared up for war, ATC began expanding beyond its original purpose and started operating its own aircraft, some of which were former airline aircraft while others were airline types that had been diverted for military use.
To operate its growing fleet, ATC initially contracted with the airlines for flight crews but soon was establishing ferry and transport squadrons staffed with military personnel. Due to the demand for pilots in combat units, ATC turned to sources other than the military pilot training programs. The initial pilots were mostly reservists who had been called to active duty, many of whom had been flying for an airline, but demand soon exceeded the numbers of reservists who were available for transport duty so ATC looked toward the civilian pilot community to meet its needs.
Before the war the Civilian Pilot Training Program had turned out large numbers of qualified pilots. Many went into military pilot training programs to be trained as combat pilots, but others with significant flying experience were brought in as service pilots to serve as ferry pilots and fill the right seat on ATC transports as copilots. In February 1943, ATC assumed responsibility for the India-China Ferry, an operation between rear area bases in India and airfields in China, which was cut off from all surface means of supply.
By 1944, the command had also begun scheduled passenger operations between the United States and Europe. All the while, ATC ferry pilots were delivering airplanes from U.S. factories to air bases throughout the world. Until late in the war when the need for combat pilots decreased and overseas returnees were released for non-combat duty, ATC depended heavily on service pilots to staff its squadrons. Some 40 percent of service pilots were assigned to ferry duty.
The Army also used a great many pilots who remained in civilian status. The first use of civilians was in the pre-war Ferry Command. As the Air Corps prepared for war the demand for military pilots led the War Department to authorize the contracting of civilian pilots for ferrying operations. The factories themselves had their own contract ferry pilots but as the demand increased, the Army began contracting both with the airlines and with individual pilots to ferry aircraft. The Navy also employed civilian instructors in its primary pilot training program and offered limited-duty commissions to civilians in transport squadrons.
It was in the civilian contract realm that female pilots found a role. Prior to the war prominent aviatrixes such as Jacqueline Cochran, used their connections to press for a role for the nation's female aviation community. Cochran became the self-appointed spokeswoman for women pilots.
In 1940, Nancy Harkness Love, a commercial pilot from Boston, sent a written proposal to Army Ferry Command commander Lt. Col. Robert Olds advocating the employment of experienced female pilots to ferry military airplanes. Love, who had delivered aircraft to Canada for the British in her capacity as an aircraft dealer, had identified 49 women, each with more than 1,000 hours of flight time, as candidates for employment. Olds sent the proposal to Army Air Force General "Hap" Arnold, but he turned it down because he had promised Cochran, who had gone to England to work for the British, that he wouldn't act on anything related to female pilots without her approval.
Love applied for and received a Civil Service position with the Ferry Command's Northeast Sector where she worked directly for Colonel William H. Tunner, who at the time commanded Ferry Command's domestic division. Love was appointed Executive of Women Pilots in the Air Transport Command's Ferrying Division.
Love recruited the most qualified women pilots she could find to staff the new Women's Auxiliary Ferrying Squadron. Her first recruit was Betty Gilles, an experienced pilot with 14 years and over 1,400 hours to her credit. The second was Cornelia Fort, a Nashville socialite who had been working as a flight instructor in Honolulu when war broke out and had been the first American pilot to encounter Japanese aircraft.
When Cochran returned to Washington, Arnold, honored his word and establish a new organization under her direction. It was not, however, the kind of organization Cochran wanted, but was actually a clearinghouse for the employment of female ferry pilots. The new organization was designated as the 319th Women's Flying Training Detachment with Cochran as "commander," although she was actually a civilian.
In August 1943, the WAFS and the WFTD were combined into a new organization that was labeled as the Womens Airforce Service Pilots, WASP for short. Cochran was appointed executive director while Nancy Love was given the title of executive for WASP ferrying.
Ferrying of aircraft was carried out largely by civilian contract pilots for the first two years of the war. Some were employed directly by the Ferrying Division of the Air Transport Command, which was established in June 1942, while others were airline employees. Overseas deliveries in particular were through contracts with either the airlines or companies that had been established specifically to ferry military airplanes. When ATC took over the India-China Ferry operation in February 1943, the first transports assigned to the route were C-87s operated by civilian crews under contract from American Airlines.
By the latter part of 1944, the Army Air Forces had ceased activating new combat squadrons. With the lessening need for experienced pilots to serve as squadron and group commanders, the Army began releasing pilots who had entered service prior to the outbreak of war under the condition that they gain immediate employment with the airlines. All of these pilots seem to have been men who had served overseas in the Pacific in 1941 and 1942.
There is a footnote to the story of the civilians who flew for the military. The civilian pilots, male and female alike and regardless of where and in what capacity they had served, were government employees, not veterans, and were thus not eligible for benefits under the Veterans Readjustment Act, more commonly known as the GI Bill. Their service had been either under Civil Service or contract, both as individuals and as civilian aviation concern employees.
In 1977, Congress granted former WASP full veteran status and eligibility for veteran's benefits and in 1981, four years after the women, male civilian ferry pilots were granted veterans status. Nine years later, men who had flown ATC contracts while employed by American Airlines were granted veteran status. Almost two years later, in May 1992, employees of United, TWA, Northwest, and Pan Am were granted the same status, along with Consolidated Aircraft's CONSAIR division employees.
The following year veteran status went to Northwest Airlines employees and, finally, in 1997 former employees of Braniff and Northeast Airlines received veteran's benefits. Americans who flew for CNAC have never been recognized as veterans, nor have the men and women who worked as instructors in the Army and Navy training programs, or the male civilian pilots who towed targets, performed maintenance and acceptance test flights and did all of the jobs the WASP pilots did.
---
Author Sam McGowan is an experienced pilot and long-time contributor to WWII History. He resides in Missouri City, Texas.