By Michael E. Haskew
The image of the Scottish piper standing erect under fire was commemorated in the film The Longest Day nearly two decades after the D-Day landings of June 6, 1944. Truth is often, as it turns out, stranger than fiction. To the surprise of many, the incident actually occurred.
At the age of 21, Private Bill Millin played the bagpipes on Sword Beach, walking along and skirling "Heilan' Laddie" as bullets splashed into the water around him. The man behind him was hit, but Bill was undeterred. He was following orders.
Millin had trained as a commando at Achnacarry and by chance met Simon Fraser, 15th Lord Lovat and commander of the 1st Special Service Brigade. When he was offered a position on Lovat's staff, he refused. Instead, Lovat did persuade him to become the commander's personal piper. Following World War I, the British Army had banned pipers from the battlefield due to fearful casualties. When Millin pointed out that fact, Lovat replied, "Ah, but that is the English War Office. You and I are both Scottish and that doesn't apply."
On D-Day, the only weapon Millin carried was a ceremonial dirk tucked into his stocking. His pipes began to blare as the invasion armada left port in England, and those soldiers who heard the music raised a cheer. When they reached the beach, the piper did his duty, miraculously remaining unhurt. Several captured German soldiers later stated that they had not shot at Millin because they believed he had lost his mind.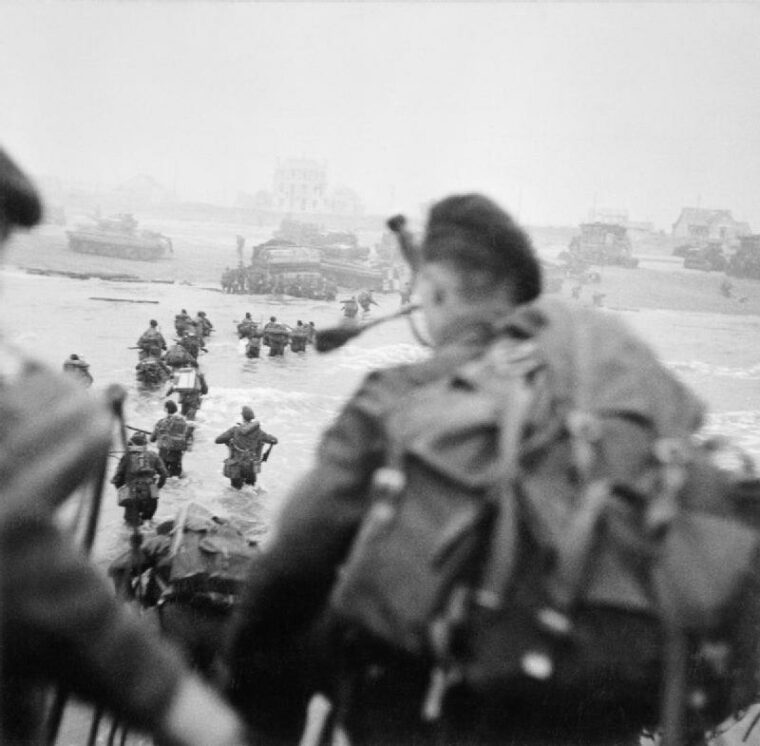 "He was what we would nowadays call a celebrity," Ken Sturdy, a 90-year-old Royal Navy veteran of D-Day and chairman of the Torbay and South Devon Normandy Veterans Association, told Guardian News and Media. "Among all the noise and bedlam going on I could hear bagpipes. I thought I had imagined them, and it wasn't until later that I realized I really had heard them. Bill marched boldly with his pipes in a situation that was quite unbelievable. It was in the heat of battle, there was a lot of gunfire, and he was unarmed except for his pipes and his dirk. It was certainly heroic. People were dying around him and he was in the most alarming situation, so he must have been a very cool young fellow."
Another D-Day veteran, Tom Duncan, acknowledged, "I shall never forget hearing the skirl of Bill Millin's pipes. It is hard to describe the impact it had. It gave us a great lift and increased our determination. As well as the pride we felt, it reminded us of home and why we were there fighting for our lives and those of our loved ones."
"It Seemed Like a Very Long Bridge"
According to Telegraph Media Group, Millin was called upon several additional times to raise the morale of the men and steady their nerves. On the road to the village of Benouville near Pegasus Bridge, snipers fired at the British troops, and Lovat himself killed one of the Germans. When two soldiers confirmed that the enemy soldier was dead, Lovat leaned toward Millin and said, "Right Piper, start the pipes again."
Once inside the town, Millin was asked to play for the men of 6 Commando as they advanced down the main street. One officer advised the piper to run, but Millin played "Blue Bonnets Over the Border" and walked ahead at a normal pace. Once they had reached Pegasus Bridge, Lovat ordered the piper to lead the men across. Knowing that the span was under sniper fire, he again stepped forward. Later, he remembered, "It seemed like a very long bridge."
Millin participated in operations in Holland and ended the war in the town of Lubeck, Germany. He returned to Britain and worked on Lovat's estate for a time, performed with a theater company, and trained as a psychiatric nurse. For the next 26 years, he worked at Langdon Hospital, Dawlish. Following his retirement in 1988, he returned to Normandy several times. In 1995, he played the bagpipes at Lord Lovat's funeral. Piper Bill, as he was affectionately known, passed away in a nursing home in Dawlish, Devon, in 2010 at the age of 88.
In 2013, a statue of the famed D-Day piper was unveiled near the beach where he landed long ago. Such a permanent remembrance is fitting for a man who was indeed larger than life in 1944.