By Michael E. Haskew
Paul Allen is one of the wealthiest men in the world. In fact, Forbes magazine ranks him 51st with a net worth of approximately $17.5 billion. The reason? He cofounded Microsoft with Bill Gates 40 years ago. Allen's great wealth has allowed him to pursue his dreams. Among them, in 1994 his SpaceShipOne was the first privately financed spacecraft to reach suborbital space. He is now working on a program to deliver cargo and people into space at a reasonable cost. He has also supported numerous charities through the years and is well known for his philanthropy.
Another of Allen's dreams has been to locate the wreckage of the Imperial Japanese Navy World War II-era battleship Musashi. Along with her sister, Yamato, Musashi was the largest battleship ever constructed. Fully loaded, she displaced 74,000 tons with a beam just over 121 feet, a draft of nearly 36 feet, and a top speed of 27.46 knots. Musashi was launched on November 1, 1940, nearly three years after the massive battleship's keel was laid down in March 1938 at the Mitsubishi Shipyard in Nagasaki. The launching itself was quite an event, displacing so much water in the harbor that it created a small tsunami, flooding nearby land and capsizing some fishing vessels. Musashi was armed with nine 18.1-inch naval cannons mounted in three triple turrets. Her secondary weapons included a dozen 6.1-inch guns and many others of smaller caliber.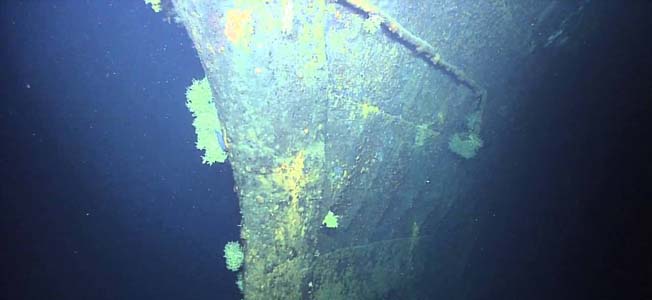 Laid to Rest for 70 Years
By the autumn of 1944, World War II was going badly for Japan, and on October 20, American forces landed on the Philippine island of Leyte. While General Douglas MacArthur's troops fought on land, the epic Battle of Leyte Gulf was fought at sea. American forces were pressing relentlessly toward the Japanese home islands, and Japanese commanders decided on a desperate gamble to inflict serious losses on their enemy. Their plan committed Musashi to her final voyage.
On October 24, 1944, Musashi was sunk in the Sibuyan Sea after enduring heavy air attacks. Scores of dive bombers and torpedo planes launched from the decks of no fewer than six American aircraft carriers hit the immense battleship with at least 17 bombs and 19 torpedoes.
For more than 70 years, the wreck lay 1.6 miles beneath the ocean's surface. Then, in March of this year Allen's undersea exploration vessel, M/Y Octopus, located the grave of the great ship. Allen tweeted news of the discovery along with numerous photos of the wreck that he believes conclusively identify the battleship as Musashi. One of these appears to show the location on the warship's prow where the chrysanthemum emblem of the Japanese nation was once proudly displayed.
Kazushige Todaka, director of Japan's Kure Maritime Museum, hailed the discovery. "There have been so many efforts over the years to locate Musashi, but they all failed," he commented. "I feel like the warship might have been destined to show itself this year, the 70th anniversary of the end of World War II. With the memory of war slipping further and further from people's minds, I hope this discovery will help make the public think about history."
The Tangible Legacy of the Greatest War in Human History
Allen told reporters, "I am honored to play a part in finding this key vessel in naval history and honoring the memory of the incredible bravery of the men who served aboard her. The Musashi is truly an engineering marvel, and as an engineer at heart, I have a deep appreciation for the technology and effort that went into its construction. Since my youth, I have been fascinated with World War II history, inspired by my father's service in the U.S. Army."
The apparent location of Musashi's resting place has once again aroused the interest of enthusiasts around the world in discovering the tangible legacy of the greatest war in human history. As time, technology, and interest in the topic grow, other discoveries are waiting.