By Blaine Taylor
Few mortals commanded such intense devotion from their troops as did French Emperor Napoleon I, and fewer soldiers still can claim to have had a direct hand in helping to save the life of their commander. General Count Jean Rapp is one of those soldiers found occasionally throughout military history who had a chance to shield his commander and did so at the risk of his own life. He did this not just once or twice, but three times.
Joining the Ranks as Aide-De-Camp
Working his way up the ranks during the bloody French wars against Austria and Prussia, Rapp showed substantial courage in battle, eventually rising to the rank of general of division. Over the course of his long career, Rapp would be wounded 25 times. He saw combat along the Moselle and Rhine Rivers and served as an aide-de-camp to General Louis Desaix during General Napoleon Bonaparte's Egyptian Campaign of 1794-1798. The impetuous former lieutenant achieved glory at the Battle of Sediman in Egypt fought on October 8, 1798, wherein he captured an enemy battery. Given a cavalry squadron and later a brigade to command, Rapp was again at Desaix's side on June 14, 1800, at the Battle of Marengo in Italy where his commanding officer was slain.
Impressed by the young officer, Bonaparte afterward attached him to his own staff as aide-de-camp, a post that Rapp retained until the fall of the First Empire in 1814. The emperor also entrusted Rapp with secret missions in the Royalist French Vendee department in Switzerland and in Belgium.
Through these campaigns, Rapp forged a reputation as one of Napoleon's most valuable officers. However, his posting to the staff failed to keep the hothead out of direct combat with the enemy time after time.
The posthumously published Memoirs of General Count Rapp, First Aide-de-Camp to Napoleon recounts the heroic deeds Rapp performed for Bonaparte. His role in saving the First Consul's life the first time was, in reality, a matter of delaying his departure from the Tuileries Palace, albeit unwittingly, more than anything else.
The First Attempt: Escape By Chance
There are two good accounts of this first assassination attempt. One is Rapp's own account. "It has been affirmed that Napoleon was not brave," wrote Rapp. "He was well aware how numerous were his enemies among the Jacobins and the Chouans; yet, every evening he walked out in the streets of Paris, and mingled with the different groups, never accompanied by more than two individuals. Lannes, Duroc, Bessieres, or some of his aides-de-camp usually attended him in these nocturnal excursions. This fact was well known throughout Paris.
"The affair of the Infernal Machine has never been properly understood by the public. The police had intimated to Napoleon that an attempt would be made against his life, and cautioned him not to go out. Haydn's Oratorio was to be performed that evening [December 24, 1800]; the ladies were anxious to hear the music and [the officers] also expressed a wish to that effect. The escort picket was ordered out."
What delayed the party from leaving immediately, as was Napoleon's personal practice upon deciding to go somewhere, was a playful discussion between Rapp and Madame Josephine Bonaparte over exactly which shawl she would wear that evening.
"While I was engaged in this operation, we heard Napoleon depart," Rapp wrote. "'Come, sister,' said Madame [Caroline] Murat, who was impatient to get to the theater, 'Bonaparte is going.' We stepped into the carriage: the First Consul's equipage had already reached the middle of the Place Carrousel. We drove after it, but we had scarcely entered the place when the machine exploded.
"Napoleon escaped by a singular chance. Saint-Regent, or his French servant, had stationed himself in the middle of Rue Nicaisse. A grenadier of the escort, supposing he was really what he appeared to be, a water carrier, gave him a few blows with the flat of his saber, and drove him off. The cart was turned around, and the machine exploded between the carriages of Napoleon and Josephine.
"The ladies shrieked on hearing the report, the carriage windows were broken, and Madame Beauharnais [Josephine's daughter by her first marriage] received a slight hurt on her hand. I alighted and crossed the Rue Nicaise, which was strewn with the bodies of those who had been thrown down, and the fragments of the walls that had been shattered by the explosion.
"Neither the Consul nor any individual of his suite sustained any serious injury. When I entered the theater, Napoleon was seated in his box, calm and composed. 'The rascals,' said he, very coolly, 'wanted to blow me up. Bring me a book of the Oratorio.'"
The second account, which was published in Paris during 1830-1831, basically confirmed Rapp's account, but it also adds some more interesting details. This was a ghostwritten book of memoirs by several authors, but listed under the sole name of Napoleon's first valet, Constant Wairy.
The Second Attempt: A Knife in the Crowd
The second assassination attempt, in which Rapp played a much more direct role, was by German Friedrich Staps on October 23, 1809, in the wake of the defeat of the Austrians at Wagram and the subsequent occupation of Vienna in which Napoleon took up temporary residence at Schonbrunn Palace.
Following a partial review of the French Army by Napoleon, the 18-year-old Staps approached the emperor as if to present a petition. When only a mere yard stood between him and Napoleon I, Staps attempted to draw his knife and was only prevented from doing so by Rapp, who was vigilantly standing by.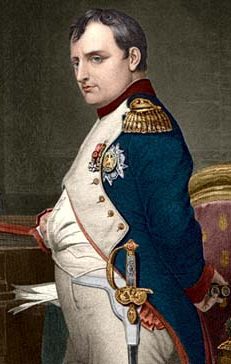 "His right hand was thrust into a side pocket under his greatcoat, and he held a paper, one end of which was visible," wrote Rapp. "I was struck by the expression of his eyes when he looked at me: his decided manner roused my suspicions. I ordered him to be put under arrest."
The emperor decided on a personal interrogation and asked Staps directly in the presence of his guards and aides, "What did you intend to do with the knife?"
"To kill you," said Staps. After declaring that he was neither sick nor mad, Staps asserted further that his intended assassination of Napoleon was "because you have caused the misfortune of my country. You have done harm to me as well as to all Germans. I determined [alone] to take your life from the conviction that I should render the highest service to my country and to Europe."
The emperor ordered him examined by his own physician, who affirmed that Staps was, indeed, neither sick nor mad. Napoleon, impressed by his conviction, ardor, and patriotism, offered him a pardon.
"I want no pardon!" said Staps. "I feel the deepest regret for not having executed my design. To kill you would not have been a crime, but a duty!"
Again, the emperor sought a way out of a situation that clearly distressed him: "Would you not be grateful were I to pardon you?"
"I would notwithstanding seize the first opportunity of taking your life," said Staps.
Four days later, still refusing to recant, Staps was duly executed.
"His last words were, 'Liberty forever! Germany forever!'" wrote Rapp in his memoirs. "'Death to the tyrant!' I delivered the report to Napoleon. He desired me to keep the knife that had been found on the criminal: it is still in my possession."
The Third Attempt: Cossack Attack
The third assassination attempt took place in the final days of the disastrous Russian campaign of 1812, as the once-proud French Grande Armée made its way back from Moscow that fall across the steppes of European Russia to the comparative safety of Western Europe. Rapp helped, in concert with other staff officers, fight off marauding Cossacks, who nearly captured Napoleon at Gorodnya on October 24.
There are at least three good accounts of this little-known but colorful incident. The first is that of The Memoirs of Sgt. Bourgogne, 1812-13, the second is General Count Philipe de Segur's History of Napoleon's Expedition to Russia, and the third is Rapp's own account.
"I was suffering greatly from my wound, but I would not leave Napoleon," wrote Rapp. "We took horse at half past seven in the morning, to visit the ground on which the battle had been fought; the emperor was placed between the Duke of Vicenza, Prince de Neufchatel, and myself. We had scarcely quitted the huts where we had passed the night when he perceived a cloud of Cossacks; they proceeded from a wood in advance on our right. They were drawn up in pretty regular files: we took them for French cavalry.
"The Duke of Vincenza was the first who recognized them: 'Sire, these are Cossacks!' 'That is impossible,' replied Napoleon. They rushed upon us, shouting with all their might. I seized the emperor's horse by the bridle; I turned it round myself. 'But these are our troops?' 'They are the Cossacks! Make speed!' 'They are Cossacks, indeed,' said Berthier. 'Without doubt,' said Mouton.
"Napoleon gave some orders and withdrew. I advanced at the head of the squadron on duty; we were overthrown; my horse received a wound six inches deep, from a lance, and fell, with me under him. We were trampled underfoot by these barbarians. Fortunately, they perceived at some distance a troop of artillery; they ran towards the spot.
"Marshal Bessieres had time to come up, with the horse grenadiers of the Guard. He charged them, and retook from them the wagons and the pieces of cannon, that they were carrying away. I raised myself again on my legs. I was replaced in my saddle and proceeded as far as the bivouac.
"When Napoleon saw my horse covered with blood, he feared that I had again been wounded; he asked me whether I was. I replied that I had got off with a few contusions. He then began to laugh at our adventure, that, nevertheless, I did not find very amusing.
"I was well repaid by the account that he published of this affair; he loaded me with eulogiums: I never before experienced pleasure compared to that which I felt on reading the flattering things he said of me."
"General Rapp had one horse killed under him in this charge," wrote Napoleon. "The intrepidity of which this general officer has given so many proofs is manifested on all occasions. I repeat with pride the praises of this great man: I shall never forget them."
After Napoleon's 100 Days
Back in Germany, Rapp in 1813 defended the port of Danzig as its governor, was subsequently captured, and passed a year as a Russian prisoner of war. When Napoleon returned to France from his exile on Elba in March 1815, Rapp immediately rallied to his side. Napoleon gave Rapp command of French V Corps of the Army of the Rhine, which was responsible for guarding the French frontier in Alsace. With his V Corps, Rapp won the Battle of La Suffel against the Austrians on June 28, 1815, which occurred 10 days after the emperor's loss at Waterloo.
When allowed to return from exile in 1817, Rapp became a peer from the Haut-Rhine Department and later was appointed a treasurer in 1819 by Bourbon King Louis XVIII.
The soldier-turned-politician then authored his famed memoirs. He died from cancer at age 50 at Rheinweiler in Baden in 1821, the same year that Napoleon died on St. Helena in the South Atlantic Ocean. Napoleon might have died earlier if Rapp had not been present to save his life on those three occasions. Rapp's proud hometown of Colmar still boasts a statue in the hero's honor on its own Champs de Mars. The statue bears the inscription, "My word of honor is sacred."
Had Rapp himself fought at Waterloo successfully, or extended his military career under the second Bourbon Restoration, he might well have received his own coveted marshal's baton, as did so many soldiers of the empire and kingdom. Nevertheless, his name is recorded for posterity on Napoleon's Arch of Triumph in Paris.