By Mason B. Webb
Ask anyone today to name the three toughest, most important battles of World War II and chances are good that the name "Iwo Jima" will be at, or somewhere near, the top of the list.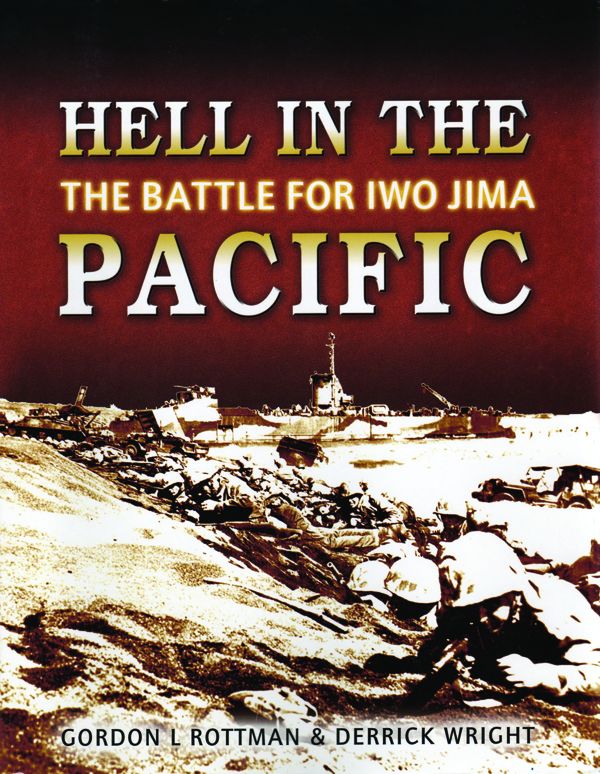 And no wonder. The Battle of Iwo Jima, a 36-day slugfest that involved 100,000 determined men and saw no quarter being asked or given, has gone down in the annals of history as one of the most vicious fights ever recorded.
The fight for the tiny, eight-square-mile glob of volcanic ash was of supreme strategic importance to both sides. The United States wanted it as an air base from which its Boeing B-29 Superfortress heavy bombers could land in the event they had been damaged during one of the frequent raids against Japanese cities. Realizing that same fact, the Japanese were determined to prevent the Americans from taking the island—even if it meant all 20,000 of its defenders would die trying. Surrender was not an option.
So savage was the fighting that over 99 percent of the Japanese force was wiped out, while nearly 7,000 Americans were killed and more than 19,000 wounded. As a testament to the courage required to secure the island, 27 Marines and Navy personnel earned the Medal of Honor—a figure that represents a third of the total number of Medals of Honor presented to the Marine Corps during all of World War II.
A great many books have already been written about Iwo Jima but the struggle has never been better captured than it has by Gordon Rottman and Derrick Wright in Hell in the Pacific (Osprey Publishing, Oxford, United Kingdom, 2008, 224 pp., photographs, illustrations, maps, bibliography, index, hardcover, $24.95). Their book covers the campaign in great detail but it does much more than that.
Hell in the Pacific literally covers everything from conscription to Marine Corps boot camp to uniforms, weapons, and equipment to the preliminary Pacific battles that led to the savage shootout at Iwo Jima.
Nor do the authors stop with just the Americans. Nearly half the book is taken up with studying the Japanese side—their training, uniforms, weapons, equipment, leaders, tactics, and much more—a rarity in most accounts of the battle.
A handsome, hardcover volume with dozens of photos, color illustrations, maps, and four appendices, Hell in the Pacific is a superb achievement that is unlikely to be surpassed but is likely to be regarded as the definitive account of that costly and heroic battle. Highly recommended.
---
Secret Germany: Stauffenberg and the True Story of Operation Valkyrie, by Michael Baigent and Richard Leigh, Skyhorse Publishing, New York, 2008, 378 pp., photographs, maps, bibliography, softcover, $14.95.
The plot by German officers to kill Adolf Hitler in July 1944 was one of the most daring and dangerous operations in history. Although carefully planned to the last detail, it went terribly wrong at the ultimate moment. The price paid by the conspirators—and thousands of innocent others—was high and, it can be argued, the abortive act prolonged the war by another 11 months.
But the selfless bravery of Count Claus von Stauffenberg and the others showed a different face of German military officers to the world—men who recognized the terrible crimes the Third Reich's leaders had perpetrated against mankind and resolved to end them.
To capture the life and personality of Count Claus von Stauffenberg and detail many of the unknown aspects of Operation Valkyrie, authors Michael Baigent and Richard Leigh (authors of Holy Blood, Holy Grail) uncovered untapped sources and interviewed many people—including the son of Stauffenberg—for their personal accounts and reminiscences. The result is a book that reads like a page-turning spy thriller that is virtually impossible to put down.
As Baigent and Leigh write, "Claus von Stauffenberg … is an heroic figure of particular relevance to our century: a man whose capacity for action is equalled, yet not inhibited, by his capacity for thought. In his own personality, he reconciles political commitment with moral vision, and with Goethe's ideal of dedication to culture and the spirit. To that extent, he embodies a resolution to Germany's collective identity crisis. To that extent, too, he exemplifies what the German people at their best can be—and not just the German people, but all of us, and our civilisation as a whole."
Secret Germany is a book that raises important questions about honor, duty, and the risks which some people will take to stamp out evil in service to a larger ideal.
---
Italy's Sorrow: A Year of War—1944-1945, by James Holland, St. Martin's Press, New York, 2008, 640 pp., photographs, index, bibliography, hardcover, $26.95.
Italy today is a land of stunning beauty and surprising prosperity. But just six decades ago it was a shattered land, a place of nightmares, violence, war, abject poverty, and destruction. The last year of World War II was especially difficult.
Although Italy capitulated upon the Allied invasion of the peninsula in September 1943, the Germans chose to occupy the land of their one-time ally and turn the country into a battlefield and charnel house. James Holland's monumental work captures the desperate times endured by the Italians—and the combatants —during the final year of war.
Holland's brilliantly researched study reveals the true nature of the war in Italy. Few people know, for example, that more Allied troops and Germans were killed in Italy than in all the fighting in northwestern Europe, or that 700 separate civilian massacres were carried out by the Germans.
Recounting the appalling partisan and civilian slaughters at the hands of the Germans, Holland focuses on such tragedies as the three-day rampage at Monte Sole, one of the largest and most horrific civilian atrocities committed by the Nazis in western Europe.
Italy's Sorrow follows the lives and fortunes of commanders and ordinary men alike, Allied and enemy, making up a collection of personal stories that demonstrates that very human dilemmas were suffered by all. It is a sobering, thoughtful work that should be read by anyone with an interest in military history.
---
Steeds of Steel: A History of American Mechanized Cavalry in World War II, by Harry Yeide, Zenith, Oscewola, Wisconsin, 2008, 320 pp., photographs, index, bibliography, hardcover, $27.95.
World War II was the last great conflict that involved the widespread use of horse-mounted troops, but the times were changing. Although combatants such as Germany still relied on animal power until the end (many of their vehicles, short on fuel, were pulled into place by horses prior to the Battle of the Bulge), the late 1930s saw soldiers in every army turning in their saddles for steering wheels.
When the European war broke out in 1939, the U.S. Cavalry was still mainly the proud, horse-mounted force it had been since America's founding. Within a year, however, the cavalry branch had lost its horses—and very nearly its mission.
But the U.S. Army's newly mechanized cavalrymen soon carved out a new and critical role on the modern battlefield, serving in an astounding variety of ways. Mechanized cavalrymen scouted and fought in tanks, armored cars, and jeeps; churned into beachhead battles in landing craft and tracked amphibians; slipped ashore in rubber rafts from submarines; climbed mountains; battled hand-to-hand; and, yes, even occasionally rode horses.
Historian Harry Yeide captures the elan of the mechanized cavalry and its varied missions —landing in North Africa during Operation Torch, fighting in the jungles of Guadalcanal, climbing Italian peaks, and charging through French hedgerows.
Through the author's use of official documents and first-person accounts, the reader is placed onto the battlefields to witness the heroics of the mechanized cavalry troops to sniff out the enemy and often become the first recipients of hostile fire. A definite "must-read" about an often overlooked force.
---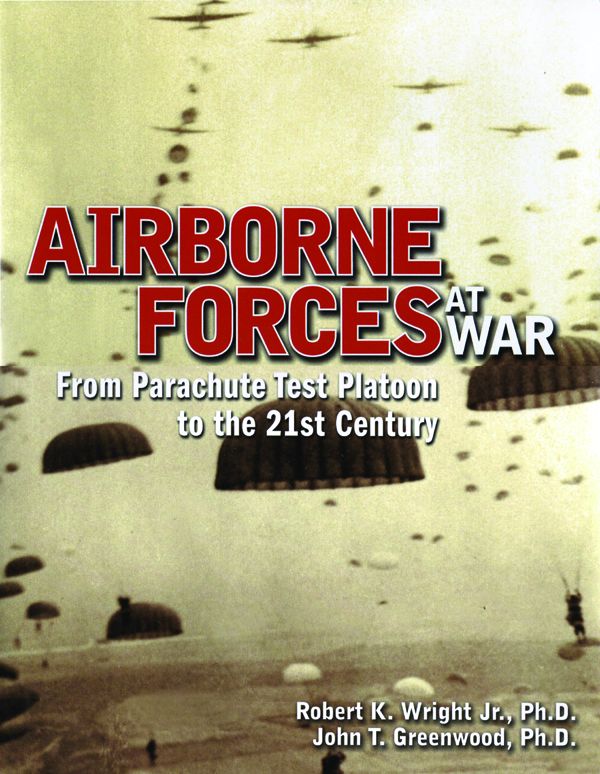 Airborne Forces at War: From Parachute Test Platoon to the 21st Century, by Robert K. Wright, Jr. and John T. Greenwood, Naval Institute Press, Annapolis, Maryland, presented by the Association of the United States Army, 2008, 214 pp., photographs, maps, bibliography, index, hardcover, $36.95.
Ever since the early days of World War II, airborne forces have been considered elite troops, for it takes a special kind of warrior to leap from an aircraft (or ride into battle inside a glider or helicopter) into enemy-held territory.
Capturing all the spirit of the airborne troops, Wright's and Greenwood's oversized (9×11) book uses over 150 photos, many in color, to detail the nearly 70-year history of men who come to fight from the sky. The first six of the 11 chapters deal with prewar airborne formation, organization, training, and operations, while the last five cover the Korean War, Vietnam, and the challenges since 1975.
In clear prose the authors lay out how the success of the U.S. Army's original Parachute Test Platoon in 1940, spurred on by the Germans' swift and audacious victories by parachute and glider troops in Denmark, Holland, and Belgium, ultimately led to the formation of five American airborne divisions in World War II. These units, the 82nd, 101st, 11th, and 17th Airborne Divisions (a fifth division, the 13th, did not see action), took part in some of the fiercest fighting and most daring operations of the war: North Africa (Operation Torch); Sicily (Husky); Salerno, Italy (Avalanche); Southern France (Dragoon); Normandy (Overlord-Neptune); Eastern Holland (Market-Garden); the Battle of the Bulge and the defense of Bastogne; and the biggest airborne operation of the war, Varsity.
Nor is the Pacific Theater ignored. A chapter covering that theater of the war chronicles the airborne drops and ground operations on New Guinea, Bougainville, Noemfoor Island, and Los Baños in the Philippines.
As a detailed overview from the earliest days of airborne operations to American airborne and air-mobile forces deployed to trouble spots around the world today, this book will probably never be superceded as the ultimate source of information about these special troops.
---
Flying For Her Country: The American and Soviet Military Pilots of World War II, by Amy Goodpaster Strebe, Praeger, Westport, Connecticut, 2008, 109 pp., photographs, index, bibliography, hardcover, $39.95.
One group of World War II participants that has been sorely overlooked is female military pilots. Only a few books on the subject exist, but a new book has come along that gives these women their proper due.
Amy Goodpaster Strebe has penned a fine history of women military pilots, beginning with the story of Jacqueline Cochran, who formed the WASPs—the Women Airforce Service Pilots. The main role of the WASPs was to ferry aircraft from the factories to bases across the U.S. and Canada, thus freeing up male pilots for instructional and combat duties.
The WASPs operated from 110 facilities and logged more than 60 million miles in 78 different types of aircraft—everything from small trainers to the fastest fighters and the biggest bombers. The WASPs performed every duty inside the cockpit (except combat) that their male counterparts performed, and 38 women pilots gave their lives in service to their country when their aircraft crashed.
In the Soviet Union, women had an even greater role, including being part of all-female aviation regiments that saw battle against the Germans. More than a thousand Soviet women flew a combined total of 30,000 combat sorties, producing at least 30 Heroes of the Soviet Union. Included in their ranks were at least two fighter aces. More than 50 Soviet women pilots were killed in action.
Until now, the role played by women in the air forces of the U.S. and the Soviet Union has gone largely unrecognized. Flying For Her Country goes a long way in correcting this oversight. Highly recommended.
---
Hitler's Alpine Retreat, by James Wilson, Pen & Sword Military, Barnsley, United Kingdom, 2008, 208 pages, photographs, map, bibliography, softcover, $24.95.
For a multitude of reasons, the places and personalities of the Third Reich continue to fascinate us more than 60 years after the war. And, given the complete devastation of Germany by Allied bombers and the postwar efforts of the West German government to obliterate all traces of the Nazi regime, it is surprising that so many places associated with Adolf Hitler and his criminal gang are still in existence. And the fact that so many of them are tourist destinations today speaks to the ongoing mystical power of Hitler and the Nazis.
James Wilson's stunning Hitler's Alpine Retreat provides a visual insight into Berchtesgaden and the Obersalzburg, Hitler's retreat in the Bavarian Alps. Within its pages readers will find hundreds of views (mostly from Wilson's extensive personal collection of German postcards) of Hitler's home there (the Berghof), as well as the homes of his closest cronies—Göring, Himmler, Bormann, and others—plus the vast complex of hotels, SS barracks, and other structures that once existed.
Dozens of photos of an amiable Hitler chatting with children, youth groups, and ordinary German and Austrian civilians who flocked weekly to the Berghof in the 1930s in hopes of catching a glimpse of the Führer fill the book. Even today, tens of thousands of tourists visit the Obersalzburg area annually, not only to take in the spectacular scenery but also to stand on the exact spots where some of the most notorious characters in history once stood.
The book also contains many views of various rooms at the Berghof—photos that have rarely been seen by outsiders. But it is not all about the Obersalzburg. Included, too, are photos of the building and room in which Hitler was born, scenes of Munich where Hitler's plans to conquer the world were launched, and even his comfortable cell at Landsburg Prison where he was incarcerated and wrote Mein Kampf after the failed Munich putsch in 1923. Many of the photos are of the "then-and-now" variety, so the reader and tourist can see what still exists from the 1930s and 1940s.
All in all, Hitler's Alpine Retreat is an extremely intriguing and fascinating look at how Hitler and his henchmen lived before they touched off the most destructive war in history.
---
Escape from Auschwitz, by Andrey Pogozhev, Casemate, Drexel Hill, PA, 2008, 174 pp., photographs, maps, index, hardcover, $32.95.
Memoirs of Soviet soldiers are very rare in the West. Even more rare is a memoir by a Soviet soldier who escaped the death camp at Auschwitz. This remarkable book tells the tale of Andrey Pogozhev, a soldier in the 252nd Rifle Division, who became a prisoner of the Germans following the July 1941 invasion of the Soviet Union.
After being shunted from one POW camp to another, Pogozhev found himself, along with 20,000 other Soviet soldiers, locked up in Auschwitz, the Nazis' main killing factory in southwest Poland; a year later, barely 100 of these men were still alive.
Pogozhev's harrowing account of his experiences adds new understanding of the Nazi death camp system. He recalls the details of his time in the camp, the sickness and malnutrition, the appalling conditions, and the cruelty that killed all but a few of his comrades.
The fact that Pogozhev survived at all is remarkable in itself. That he also took part in one of the few successful escapes from the camp makes his narrative a historical document of extreme importance. His description of the escape and his subsequent journey eastward as a fugitive through the Carpathian Mountains into the Ukraine and his eventual meeting with the Red Army makes for unforgettable reading.
Yet Pogozhev's gripping story does not end there. In 1967, he was called to give evidence in a West German courtroom against his former Auschwitz guards, thereby bringing to justice some of the perpetrators of Nazi evil.
---
Short Bursts
Allied Bombers, 1939-1945, and Allied Fighters, 1939-1945, by Chris Chant, both from Zenith, Osceola, Wisconsin, 2008, 192 pp., photographs, index, softcover, $19.95 each.
Anyone seeking the definitive reference work on Allied bombers and fighters will be hard pressed to find any better resource than these two books—the latest addition to Zenith's "Essential Aircraft Identification Guide" series—from historian and aviation expert Chris Chant.
Lavishly illustrated with black-and-white photos and color artwork, both books contain a wealth of information for the World War II aviation buff and serious historian. Organized by theater of operation, each book describes in depth the various units that were fighting on all the fronts and notes the models of aircraft in service with each unit along with their individual and squadron markings.
The number and varied applications of different aircraft flown by the Allied air forces during World War II is impressive. From heavy bombers and seaplanes to escort fighters and tactical fighter bombers, the diverse armada of aircraft proved to be one of the keys behind decisive Allied victories across the globe.
With charts, graphs, and organizational tables accompanying the artwork and photos, these books are essential reference guides for modelers and any enthusiast with an interest in the aircraft of the period.
Order of Battle: German Infantry in WWII, by Chris Bishop, Zenith, Osceola, Wisconsin, 2008, 192 pp., photographs, maps, index, softcover, $19.95.
The previous issue of WWII History carried a review of Chris Bishop's detailed study of German armored formations, Order of Battle: German Panzers in WWII. Following closely on the heels, or treads, of that book is his equally impressive Order of Battle: German Infantry in WWII.
As with his previous book, this one uses a lavish array of maps, charts, and photographs to provide an overall history of the deployment and employment of Wehrmacht and SS combat units in every theater in which the German military fought. As with German Panzers in WWII, Bishop's newest offering shows how the ground force organizations worked, from the Blitzkrieg victories in 1939 and 1940 until Germany's defeat in 1945.
Illustrated with over 150 photos of German troops in action, this fact-filled book will be an essential resource for anyone with an interest in World War II in Europe, North Africa, and the Mediterranean.
Atomic Tragedy: Henry L. Stimson and the Decision to Use the Bomb Against Japan, by Sean L. Malloy, Cornell University Press, Ithaca, New York, 2008, 264 pp., photographs, bibliography, index, hardcover, $24.95.
As Secretary of War during World War II, Henry L. Stimson oversaw the American nuclear weapons program which brought about a swift, if tragic and controversial, end to the conflict. In Atomic Tragedy, author Sean L. Malloy, an assistant professor in the School of Social Sciences, Humanities and Arts at the University of California, Merced, explores Stimson's relationship to the atomic bomb program, the scientists and officers behind it, and his own struggle to reconcile his responsibility for "the most terrible weapon ever known in human history" with his longstanding convictions about war and morality.
As Malloy argues, Stimson's story is one of ultimate failure. Despite his beliefs, he reluctantly acquiesced in the decision to use the bomb against the heavily populated Japanese cities of Hiroshima and Nagasaki in August 1945. Malloy has also uncovered evidence illustrating the origins of Stimson's commitment to eliminating or refining the conduct of war against civilians—information that makes clear the agony of Stimson's dilemma.
A thoughful book that should be studied during this time of heightened fears about nuclear proliferation in Asia and the Middle East.
Warman's World War II Collectibles, by John F. Graf, Warman Publishing, 2008, 256 pp., photographs, softcover, $24.99.
Many readers of WWII History are also collectors of military artifacts. To serve this group, Warman Publishing Co. has created a welcome, indispensable guide to World War II collectibles written by John F. Graf, a master in the field and editor of Military Trader magazine.
Collecting artifacts, while enjoyable and rewarding, can also be frustrating and expensive. There are many replicas and reproductions being passed off as originals, and unscrupulous sellers can often take advantage of the unwary. Graf's monumental work will help expert and novice collectors alike identify and price militaria and avoid the frauds and rip-offs.
Included in the book's 256 pages are 3,000 listings with current prices and over 900 color photos showing the artifacts that were used by the major combatants—everything from uniforms, headgear, equipment, and footwear to weapons, medals, insignia, personal items, and much more.
The U.S. Navy Against the Axis: Surface Combat 1941-1945, by Vincent P. O'Hara, Naval Institute Press, Annapolis, Maryland, 2008, 364 pp., photographs, maps, bibliography, index, hardcover, $36.95.
Naval history buffs will find a special place on their bookshelf for this invaluable reference work. Author Vincent O'Hara meticulously researched 49 naval encounters in the Pacific, Atlantic, and Mediterranean in which American surface ships took part and puts them into proper context.
Here the reader will find all the facts and figures plus tables, charts, and a taut narrative that explain the battles and more. O'Hara covers the actions that demonstrate how U.S. battleships, cruisers, and destroyers played a decisive role at critical junctures in the war and made significant contributions to the Allied victory. He deftly documents with clarity and precision the performance of weapons systems, shows how doctrine developed as the war progressed, and examines the roles played by new technologies.
Besides refreshing the reader's understanding of such familiar surface encounters as Guadalcanal and Leyte Gulf, the author also highlights lesser known battles, such as Vila-Stanmore, Horaniu, and Ormoc Bay—battles that required no less bravery and seamanship to win than did those that made the history books.