By Kevin M. Hymel
"The lieutenant said for everyone to lay your arms down," a fellow paratrooper told Pfc. Bob Nobles, who had been fighting for six grueling days in the hedgerows following his unit's jump into Normandy.
Nobles and his comrades of Company C, 508th Parachute Infantry Regiment, 82nd Airborne Division, were surrounded by Germans. After a short firefight, their lieutenant put out the word and Nobles, an elite warrior with one of the most storied units of World War II, was now a prisoner of war.
Qualifying For the Airborne
Back in early December 1941, 21-year-old Nobles was eating dinner at his sister's house in Ithaca, New York, when he learned the Japanese had bombed Pearl Harbor. "I knew it was coming," he explained. He had already registered for the draft and lost his job at an adding machine company that was converting to make war materials. He grew up in a family of six, with three older siblings and two younger. He had a newspaper route to help his family's finances, but it was not enough. "Every time the rent came due, we moved," he recalled.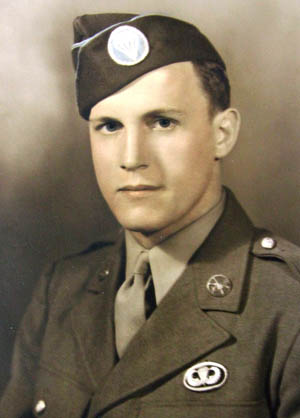 When Nobles' draft notice arrived, he and his best friend headed to Fort Niagara, New York, for induction, leaving behind Nobles' girlfriend, Bette Ridley, whom he had been dating for the past five years. He signed up for the paratroopers, having seen the 1941 movie Parachute Battalion starring Robert Preston and thinking, "That looks like fun." His friend, however, thought the paratroopers were too dangerous. Nobles' friend opted for the Air Corps and later died in a plane crash at Fort Bragg.
Nobles did his basic training at Camp Blanding, about 50 miles southwest of Jacksonville, Florida, where he was assigned to Company C of the newly formed 508th Parachute Infantry Regiment, under the command of Lt. Col. Roy E. Lindquist; out of 4,500 men who originally joined the unit only 2,300 would pass the airborne requirements. The maximum age limit for airborne recruits at that time was 32, resulting in a lot of the older soldiers washing out.
Nobles enjoyed the camaraderie and work schedule of the camp, remembering it as "kinda like college." The 508th, also later known as the Red Devils, became part of Maj. Gen. Mattew B. Ridgway's 82nd Airborne Division.
The training introduced Nobles to the M-1 Garand rifle, of which he took particular care; he developed the habit of cleaning it whenever possible. Whenever he waded through a stream, he would strip it down and clean and oil the parts. "Inspectors didn't have to check it," Nobles said proudly.
After basic training at Blanding, it was off to Fort Benning, Georgia, to learn to be a paratrooper. To qualify for silver wings on his chest, Nobles had to make five jumps from a Douglas C-47 Skytrain.
For the first jump, the men had to pack their own chutes. "Boy, were we careful," recalled Nobles. "By the fifth jump we just threw them together." On his first jump, he and his fellow paratroopers missed the landing field. The second jump was harder; Nobles was the first man out the door and could see how high he was. "Looking down at the ground, that was scary," he admitted. But the drop went beautifully. "We were jumping from 700 feet. It was nice and quiet."
The fourth jump was a real challenge. As Nobles' plane approached the drop zone, one paratrooper in the middle of the line (also called a stick) froze and refused to jump. The plane circled over the drop zone a second time and a third time, but still the man refused. As the rest of the men in the plane became nervous from the pent-up anxiety and the false jumps, some began vomiting. As the smell permeated the cabin, others succumbed.
By the time the plane reached the drop zone for a fourth pass, everyone was throwing up. "That stuff was running down on the floor," remembered Nobles, "and that was not a good feeling." The man finally jumped, followed immediately by the whole stick. "We were anxious to get out of the plane." Luckily, the fifth jump went off without a hitch.
Now fully parachute qualified, Nobles and the rest of his regiment were sent to Camp Mackall in North Carolina for 13 weeks of intense unit training. Anyone who fell out of a daily exercise had to remain in the camp and salute those who made it. When an especially cruel sergeant fell out on the last day of a 33-day exercise, the men cheered. "It lifted everyone's spirits," said Nobles.
The Newly Married Nobles
It was at Camp Mackall that Bette finally got to see her longtime boyfriend again. She visited with Nobles' friend Charlie Howe's girlfriend. With three-day passes, the two couples headed off to Charlotte and checked into separate rooms at a local hotel. They were enjoying each other's company when military policemen knocked on the door. "They were protecting us from hookers," recalled Nobles.
After the weekend, the two girlfriends stayed in nearby Hamilton and came to the post to watch the parachutists in their airdrops. On one jump, Nobles told Bette which plane he would be in and even dropped a roll of toilet paper out the door before he jumped so that the women would know where he and Howe were landing. But the two women, as paratroopers dropped around their car, forgot to count the planes and missed Nobles' paper streamer.
Nevertheless, Nobles and Howe visited their girlfriends at night, and since Howe had a car they could be back on base in time for reveille.
On Easter Sunday, April 25, 1943, Nobles and Howe married their girlfriends in a double wedding ceremony. After a quick honeymoon, they returned to their regiment, which soon shipped out to Cheraw, South Carolina, for large-scale war games, followed in August with more war games in Tennessee.
On December 19, the well-trained and newly married Nobles headed next to Camp Shanks, near Orangeburg, New York, with the rest of the 508th's 1st Battalion. Once billeted, the men were given final examinations and inoculated for typhus and other diseases. Three days later, they boarded the U.S. Army transport James Parker and headed to sea.
Would they be headed to the Mediterranean, where elements of the 82nd Airborne were fighting in Italy, or head south through the Panama Canal, destined for the islands of the Pacific? Would they dock in England and await the invasion of France? If their battalion commander, Lt. Col. Herbert Batcheller, or company commander, Captain Walter Silvers, knew, they weren't talking.
Awaiting Operation Overlord
Until they were at sea, the Army did not divulge their destination for security reasons. While sailing east across the Atlantic, the men learned their destination was Northern Ireland and that they eventually would be part of the invasion of France. "We arrived in the snow," recalled Nobles.
From there, the regiment transferred by train and ship to Wollaton Park near Nottingham, England. The devil-may-care Americans were a breath of fresh air for the war-weary British. "We had a motto of 'Live today, die tomorrow,'" said Nobles. "The women loved it."
Wollaton Park is a large country estate that was created in the 16th century. Wollaton Hall, the main manor house, which today is a museum, bears a vague resemblance to the sumptuous home in the PBS series Downton Abbey. The grounds surrounding the manor house were converted into an Army camp.
Another 508th paratrooper noted, "Nottingham was a modern city with theaters, excellent restaurants, and fine public buildings. The population was about 250,000. It was more than we expected or could have possibly hoped for. [Our camp was in] a gorgeous location with manicured greens and lots of trees…. Although we were living in tents, it wasn't primitive. All the floors were paved with concrete stepping stones and each tent contained a very suitable heat-stove set in its center."
While Nobles and his comrades trained for the airborne drop into France, the two American airborne divisions in England, the veteran 82nd and green 101st, were going through changes. Originally, both were composed of two parachute infantry regiments and a glider regiment, but a third parachute regiment was added to each for Normandy.
Ridgway's 82nd had proven itself in heavy fighting in Sicily and Italy with the 505th and 504th Parachute Infantry Regiments. But, while the 505th reached Ireland in December, the 504th remained in Italy and did not return to England until April, a scant two months before June 6, 1944—D-Day. With its numbers reduced by combat and the men exhausted, the 504th would sit out D-Day, replaced by Colonel George V. Millett Jr.'s 507th and Colonel Lindquist's 508th.
The Allies planned to drop the 82nd and 101st Airborne Divisions behind Utah Beach, on the western flank of the Normandy invasion. Both divisions would hold bridges, causeways, river locks, towns, and road intersections to support the American 4th Infantry Division's amphibious assault.
Lindquist's 508th would be dropped west of the Merderet River on the 82nd's far west sector. Its mission: protect bridges over the Douve and Merderet Rivers and the road intersections near the towns of Brienville and Beuzeville-la-Bastille, blocking the Germans from pushing the 4th Infantry back into the English Channel. Nobles' company would be protecting a road intersection.
Now it was a matter of waiting. Physical conditioning was stepped up, and the practice jumps ended. No one was told when the operation would start or where it would take place. Most of the soldiers correctly guessed it would be in northern France, but that's all they knew. At the end of May, the parachute divisions were trucked from their encampments and locked into tightly guarded airfields where row after row of C-47s and gliders were parked. The 508th's 1st and 3rd Battalions were taken to RAF Station Folkingham, 31 miles southeast of Nottingham. There, paratroopers studied detailed maps, aerial photos, and sand tables showing villages, coastlines, rivers, and roads, but there were no identifying names on any of the information.
A couple of days before Operation Overlord was scheduled to begin, a powerful storm was predicted to blow across Britain and the English Channel. The weather prediction was frightening enough to cause General Dwight D. Eisenhower and SHAEF to postpone the start of the invasion for 24 hours; it was reset for the early morning hours of June 6, and the paratroopers would lead the way.
Dropping Into Normandy
D-Day arrived. In the late-night darkness of June 5, after receiving doughnuts and coffee from Red Cross Doughnut Dollies at RAF Station Folkingham, Nobles and the rest of the men in the 508th's 1st and 3rd Battalions strapped on their gear and weapons; Nobles also packed four letters from Bette. The men in Nobles' stick then loaded onto a C-47 that belonged to the Ninth Air Force's 313th Troop Carrier Group and roared off the tarmac shortly before midnight, heading for Normandy along with hundreds of other planes.
The flight over the English Channel was uneventful. "We were all thinking," Nobles said. A lieutenant walked the aisle, talking to everyone, trying to both cheer the men up and calm them down, but Nobles did not appreciate it. "I almost told him to sit down."
When the red light by the fuselage door lit up the cabin shortly after midnight, Nobles and his 16-man stick stood up and hooked their static lines to the anchor cable running the length of the cabin and checked the preceding man's equipment. Then the red light went off, replaced by a green one, and the men charged out the door. Nobles could see tracers coming up and trees below him, but he did not have time to take it all in. "By the time my chute opened up, I was on the ground," he said.
Nobles landed in a farmer's field all alone and immediately unhooked himself from his parachute. He then removed the reserve chute on his chest, which was blocking him from his rifle. He threw away his gas mask, correctly thinking he would never need it. Relieved of this equipment, he took off on foot until he came across another paratrooper. "Don't shoot! Don't shoot!" shouted the man. "I'm from Kokomo, Indiana! I forgot the password!" Nobles just laughed at the panicked soldier.
Nobles had no idea where he was, but he was not alone. Most of the 508th paratroopers had missed their drop zone because the unit's pathfinders had run into trouble. Pathfinders were specially trained paratroopers who jumped prior to the bulk of the unit to set up guiding lights and Eureka transponders that communicated with the aircraft-mounted Rebecca airborne transceiver sets that told the pilots carrying the follow-on troops when and where to drop them.
But the 508th's pathfinders had jumped into the midst of the German 91st Infantry (Air-Landing) Division and took heavy casualties. The surviving pathfinders managed to set up only two signal lights and a single Eureka. As a result, the regiment—like virtually every other airborne unit—was wildly misdropped; Nobles and his stick landed 10 miles from their designated drop zone.
More disaster befell the 1st Battalion. The 33-year-old commander, Lt. Col. Herbert Batcheller, West Point Class of 1935, was killed by a German machine gunner on June 6 or 7; a few days later, command of the battalion passed to Major Shields Warren, the unit's executive officer.
Warren said later, "I heard by word of mouth on [June 9 or 10] that Lt. Col. Herbert Batcheller's body and that of his radio operator had been found together next to a hedgerow. Apparently he had absorbed a 30-40 round MG 42 burst in the chest…. To the best of my knowledge, no one in the 508th saw Herb Batcheller or his radio operator alive after the drop."
The handful of men with Nobles gathered themselves and headed off in search of the intersection, stopping to cut telephone wires and skirmishing with German infantry along the way. Nobles' campaign started off ingloriously. "I stumbled into a pit used for a bathroom," he recalled. When asked if there were any members of the 101st Airborne intermixed with Nobles' group of about 20, he recalled, "There may have been one or two here or there."
Late on the afternoon of D-Day, as the sun began to set, C-47s flew over Nobles' head, releasing gliders. "We didn't see them land," he said. They landed too far away, behind numerous hedgerows. But that was it for Allied air cover. "Before we left England, someone told me, 'There are gonna be planes above you, on your sides, everywhere.'" Where were all the planes? Nobles never saw any Allied air cover the entire time he fought in Normandy.
Surrounded in a Farmhouse
For six days, Nobles and his group roamed the hedgerows looking for the road intersection they were supposed to hold. At one point he tried to climb a steep, nine-foot-high hedgerow while a paratrooper holding a bayoneted rifle stood behind him, ready to follow. But Nobles slid back and nicked his buttocks on the bayonet.
To hide from the Germans, the paratroopers moved at night and slept during the day. They asked local French farmers where their intersection might be, but the language barrier made communicating difficult. "One guy spoke Latin and conversed with the French," Nobles recalled, but it did not help. The men never found their intersection, and they never came across any other Americans—only some French farmers burying dead paratroopers. The Americans did manage to capture a few Germans.
The whole time, though, Nobles never thought about the amphibious forces on Utah Beach—the 4th Infantry Division. All he knew was, "If the invasion on the beaches failed, we were on our own."
At first Nobles and his lost comrades survived on K-rations, which no one liked, except for the chocolate D-Bars. Once the food ran out, they killed a cow and ate it. The men drank from streams and accepted food from local farmers, but it was never enough. "We were looking for crumbs," recalled Nobles. Whenever the men had free time, they picked lice off their bodies and cracked them between their fingernails. "Our pastime," Nobles called it.
On June 11, Nobles and his group clashed with a larger enemy force. He spied a group of Germans walking across a field, raised his trusted M-1 Garand, and aimed at a soldier. "I fired, and he fell," he said, simply. The paratroopers managed to nab a few prisoners during the skirmish.
Soon thereafter, a German "potato-masher" grenade exploded in the tree above Nobles, but he escaped harm. The Germans attacked and the Americans pulled back to a farmhouse. With the Merderet River to their backs, they could not retire any farther.
While the Americans put their German prisoners into the farmhouse, one American climbed into a wine barrel and fired on the encircling enemy. Things looked bad for the Americans. "We were surrounded," said Nobles.
Nobles was lying on the ground next to the farmhouse when a German shell screeched overhead and smashed into the structure. "It was a hell of a scary sound," he recalled. A few minutes later a paratrooper told him the lieutenant had ordered everyone to lay down his arms. The fight was over.
Captured by the Germans
The Germans emerged and began disarming the Americans. Nobles thought they looked odd. "They looked like gypsies," he said. "They didn't have usual uniforms." An English-speaking German officer oversaw the surrender. One German took Nobles' rifle while another took his watch. Angry about the robbery, Nobles tapped the officer on the shoulder and told him what happened. The officer made the man give back the watch.
It was dark once the Germans finished organizing the Americans into ranks and marched them to some waiting trucks. The next day as the trucks headed into the interior of France, American P-47 Thunderbolt fighters swooped down on the caravan. Some of the men dove into a roadside ditch while others remained in the trucks as the planes opened fire.
"Those .50-calibers made some sound," recalled Nobles. "We didn't know if they were trying to help us get away from the Germans." Unfortunately, the planes killed some of the American POWs.
The trucks arrived at the city of Alençon, where the Germans put Nobles to work carrying burn victims into a hospital operating room. He and his comrades were then placed in a boxcar and shipped to Paris by rail. There, as the train waited at a station, American planes bombed the rail yard. The German guards scrambled to escape, leaving the prisoners in their locked car. "We could hear them [the bombs] going off," recalled Nobles. "We didn't know if the car was marked as POW, but they didn't hit us."
After the raid, the train continued its journey. For bathroom facilities, the Germans set a bucket in the middle of the boxcar, but there were too many prisoners for it. Nobles spent most of the trip looking at the countryside through a small window until someone urinated through it. "It got pretty smelly in there," he remembered.
The train crossed the border into Germany and, after several days, arrived at Oflaf XIII-B, a POW camp in Hammelburg. German civilians lined the way as the men dismounted from their car and marched into the camp. German men with missing limbs stared at them with hatred in their eyes. "Good thing they didn't have guns," said Nobles.
The camp contained British, Polish, and Russian prisoners and boasted a library and a swimming pool. The POWs even formed soccer teams, but Nobles never got a chance to enjoy the amenities or the camaraderie of sports as he and his comrades were soon transferred to a coal mine in the Sudetenland area of Czechoslovakia.
Life in the Coal Mine
For the next nine months, Nobles toiled in the mine with his fellow POWs and Czech civilian prisoners. The civilians would drill holes in the coal veins and then blast them with explosives. The POWs then shoveled the loose coal into rail cars.
The men had to walk an hour back and forth from their barracks to the mines, which were lit only by small lamps. But the men could escape work by covering the lamp with a cloth, leaving the tunnels in complete darkness. "If you wanted to goof off," explained Nobles, "[you could] go into a tunnel and no one could find you."
The work was dirty and dangerous, both because of its nature and the management. The coal was stored in underground rooms with 12-foot-high ceilings. "You could hear the creaking of the coal," Nobles recalled of the unsteady room.
One paratrooper from Nobles' company was killed when a huge chunk of coal broke off the mine's ceiling and crushed him. When the other prisoners found out, they refused to work and remained in their barracks until a guard walked in and shot one of the protesters as he lay in his bunk. The men then went back to work.
In another incident, a prisoner tried to escape, but the Germans shot him dead. As an example to the other prisoners, they laid out his body in the camp yard.
Nobles' POW number was 743, which he had to learn in German for roll calls. Once, when the guards read off numbers to assign men to a double shift, Nobles did not answer, not wanting to return to the mine. When they realized what he had done, they sent him below for 18 hours. It was enough to teach him a lesson. "So I started doing what I was supposed to do," he explained.
Nobles worked with Czech civilian prisoners, some of whom came from their homes every day. One Czech wore good clothes, but once in the mine he changed into his mining clothes and sent his good clothes up on a pulley. When the shift ended, his clothes were lowered back down, and he would shower and change. Nobles eventually made friends with the Czech, who would sometimes bring him food from home. "He'd bring an apple and I'd eat it, seeds and all," said Nobles.
He needed all the nourishment he could get. The daily meal was a single bowl of thin soup with, if he were lucky, a piece of rotten meat in it. On rare occasions, round bread loaves—often made with sawdust—were distributed to the prisoners, one loaf for every eight men. Nobles would cut it into eight slices and hand each slice to a fellow prisoner who stood with his back to him and called out names. "That way if someone got a piece bigger than another [prisoner's], no one could complain about favoritism."
Food became an obsession and the main topic of almost every conversation among the prisoners. "I'm never going to walk by a bakery shop and not go in," Nobles would say about the future.
The men scrounged food. They often collected vegetables from nearby fields surreptitiously because guards would beat or shoot a man caught stealing food. When marching back to his barracks from the mines one day, Nobles grabbed some potatoes, but they did not agree with him. "I got heartburn so bad I didn't think I could breathe." He lost more than 40 pounds over nine months.
The only prisoners who never seemed to lose weight were the German-speaking prisoners working in the kitchens. "How come you guys are getting fat and we're getting skinny?" he asked the cooks. Nobles kept a diary of his time as a prisoner, but when the well-fed cook noticed it, he made Nobles an offer: "I'll take care of it for you." Thinking that the prisoner had a better chance of protecting the diary, Nobles gave it to him. He never saw it again.
The only relief came in the form of Red Cross parcels, which included canned, dry, and powdered foods, as well as cigarettes and soap. Nobles used his package to make his best meal of the war. "I made a sundae with snow and powdered milk and a little jam." Since he did not smoke, he traded his cigarettes for food and used some contents for unique purposes: "I washed my teeth with soap."
"They Never Said 'Retreat'"
The weather turned cold. "I remember the frost was real heavy," he recalled, only having his thin cotton jump jacket for warmth. Working in the mines, most men wore through their socks. As a remedy, the Germans showed the men how to fold a piece of cloth over each foot before slipping on their boots. "And that was your sock," he explained.
The prisoners were also left in the dark about the progress of the war. The Germans would sometimes report that their troops had made a strategic withdrawal. "They never said 'retreat,'" recalled Nobles.
At Christmastime, a wounded German who was once a guard visited the barracks and sang Christmas carols with the prisoners but said nothing about the German offensive in the Ardennes. "We didn't hear much about the Battle of the Bulge." The prisoners actually felt sorry for the recuperating German because they knew he would eventually be sent back to the front.
With a lack of news, warm clothing, or decent food, Nobles relied on something else to get him through the war. "I had four love letters [from Bette] I got before D-Day," he said. He had somehow kept them from all the searches. "I don't know how I held them."
He read his wife's letters constantly whenever he had a private moment, even as they became covered in coal dust. He loved reading and rereading them, though they made him homesick. After Nobles' jump into Normandy, Bette had received a missing-in-action notice from the War Department. Three months later, she received a notice that he was a prisoner of war. "For three months she didn't know if I was dead or alive," he said. He recalled that while he felt the physical strain of war, "she got the mental."
After a while, the POWs were allowed to write home and receive mail. "What could you say?" Nobles asked. "'I'm doing well.' I never got sick. I was in good shape but was losing weight." Bette eventually sent him a picture of herself sitting on a chaise lounge chair, wearing shorts. "It didn't help my homesickness," he said. "What a picture to send me in a prison camp!" Nobles determined to make it back to her. "I always had it in my mind that I would be going home."
Nobles' Escape
There were signs that the war was coming to an end and that he might just make it home. American fighter planes began flying near the camp. "We knew the front was getting close," said Nobles. When the planes got too close, the Germans marched the prisoners out of camp.
On one march when they passed a farmhouse, Nobles and another soldier broke away from the column and hid in the basement. The farmer and his wife protected the two Americans even after German soldiers later occupied the first floor. Their food situation improved as the farmer's wife brought down home-baked goodies.
One day at the end of April 1945, the farmer's wife walked down the basement steps and reported that the Germans had left. The men hustled up the stairs and out of the house, where they encountered American soldiers who had already liberated their slave-labor camp. "I heard that when the Americans got to the camp they asked, 'Is there someone we should take care of?'" The prisoners told their liberators about the German who had killed the protesting prisoner who refused to work. "I heard they shot him," Bob Nobles said.
The first thing the liberated Nobles ate was white bread. "It tasted good," he recalled, reliving the moment. He stayed up all night reading magazines. Soon, he was sent to a hospital to gain back his weight. "They told us, 'Take what you want but eat what you take.'" They didn't have to tell him twice.
He was in an Army hospital when he learned about Germany's capitulation on May 8, 1945—VE-Day. "There wasn't much reaction," he said. "We were still in the service," and there was still a war raging in the Pacific.
The End of the War For Bob Nobles
Once Nobles was well enough, he was sent to Camp Lucky Strike in Janville, France, the first leg in the trip back home for many Americans. From there he returned to Nottingham, England, for the boat ride back home. He had been reissued a paratrooper's jump uniform, but only regular infantry boots. "Everyone had jump boots but I could not get a pair," he groused.
When Nobles arrived in New Jersey in June, he went to call his wife in Ithaca but changed his mind when he saw the long line of soldiers waiting to use the phones. Had he called, he would have found out that his mother-in-law had died that day from high blood pressure. He had missed the chance to support his wife for her mother's death, but he was determined to make it back to Ithaca for the funeral.
After finally contacting Bette and learning about her mother's death, Nobles hopped on a northbound bus. After a long ride, the bus pulled into the Ithaca station and he stepped off to see his wife, his mother, and members of his own family. His mother looked resigned but his wife had a big smile; his sister snapped pictures of the reunion. Bette told him it looked like he had put on a little weight. "Yeah," he agreed with a smile, "I do look a little pudgy."
Two months later, Nobles lost his worry about again having to leave Bette and take part in the invasion of Japan. The radio announced Japan's surrender on August 14, 1945, and Ithaca exploded in celebration. Citizens packed the downtown area, cheering any and all servicemen. Nobles attended the joyous ruckus in his uniform with the 82nd Airborne patch on his shoulder; everyone offered the veteran a drink. The happiness had its effect. "I passed out from drinking too much," he said with a grin. Bob Nobles' war was at last over.
After returning to civilian life, he went to work for the U.S. Postal Service in Ithaca––a career he held for 32 years. Bob and Bette Nobles had three children, two grandchildren, and one great-grandchild; they remained married for 66 years, until Bette passed away in 1997. He still has her coal-covered letters and reads them from time to time.
Since that moment when a fellow paratrooper told Nobles that his lieutenant had issued the order to surrender, he has felt guilty that after years of intense training he surrendered after only six days of fighting. He also feels bad that during the Battle of the Bulge the 508th was rushed into the line with the rest of the 82nd Airborne Division  while he was working in a relatively warm coal mine. "Anyone would feel that way," he admitted.
When asked if he was proud of his service, his answer was surprising: "It took three years out of my life, but it was worth it." He enjoys shoveling snow in the winter and says it is no worse than shoveling coal. He also spends a great deal of time reflecting on his past, but there is one promise he made to himself during the war that he no longer feels compelled to follow. He can walk by a bakery shop and not go in.