By Christopher Miskimon
Corporal Manning Haney sat atop a dike near Randwijk, Holland, on October 7, 1944, manning a .50-caliber machine gun. The young paratrooper had found the gun earlier and set it up, thinking it might come in handy. From the dike he could cover a large field of fire, which interlocked with several .30-caliber weapons nearby.
A Kentucky native, Haney frequently wore a raccoon skin cap under his helmet or instead of the helmet when he could get away with it. The machine gun soon proved its worth when German troops advanced against his company's position. Pressing the butterfly triggers, he sent round after round of thumb-sized bullets sailing into the enemy group, turning the attack back almost as it started. The Germans returned the next night, this time with mortars. Haney opened fire again, but this time his efforts drew the response of every German soldier in range. Still, he kept up a brisk fire, tearing into the enemy until a direct mortar hit on his position killed him. Haney was just one of several casualties that day for Fox Company, 506th Parachute Infantry Regiment, a sister unit to the now famous Easy Company.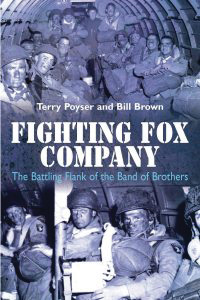 The book and subsequent miniseries Band of Brothers created a contemporary surge of interest in World War II, particularly in the paratroopers. Several Easy Company veterans have written their own books, and fans follow them on websites. Easy was one of three companies in its battalion and one of nine in its regiment. While the men of Easy Company did their jobs and deserve gratitude, other units performed their duties equally well. Fox Company was one such outfit. It went everywhere its sister companies went throughout the war, fought the same battles, and made the same sacrifices. Its story is told in Fighting Fox Company: The Battling Flank of the Band of Brothers (Terry Poyser and Bill Brown, Casemate Publishing, Philadelphia, PA, 2014, maps, photographs, appendices, bibliography, index, $32.95, hardcover).
In many ways, this book is familiar to any who have read Stephen Ambrose's bestseller Band of Brothers. The men of Fox Company were a cross-section of America. They trained at Toccoa, Georgia, after volunteering to become paratroopers. During this time they learned the basics of soldiering and parachuting before moving on to Fort Benning, Georgia, for jump training and more advanced infantry tactics. Eventually, they boarded ship for England, where their training stepped up in anticipation of the invasion of Normandy. Along the way the company bonded into the tight-knit team it had to be to survive what was coming.
On June 6, 1944, Fox Company parachuted into the Normandy countryside and entered combat for the first time. Like other airborne units, the men found themselves scattered across a wide area where they fought singly and in small groups until the company could reform days later. After several weeks of fighting, they were finally withdrawn from the front and returned to England to prepare for their next action. That battle came in September 1944, with Operation Market-Garden, the ultimately failed attempt to pierce deep into Germany and end the war before Christmas 1944. Fox Company suffered more casualties there than in Normandy, including the loss of Corporal Haney. After a miserable time in the sodden mud of Holland, it again withdrew to reconstitute.
In France the company absorbed replacements, trained, and took furloughs to Paris. All that came to a halt in December with the German offensive in the Ardennes, the Battle of the Bulge. Hastily thrown into action in the defense of the key crossroads town of Bastogne, Belgium, Fox Company suffered through armored attacks, artillery bombardment, and a bitterly contested counteroffensive in January 1945. From then on the unit spent most of its time in the final Allied advance into Germany, ending its war in the Alps at Berchtesgaden.
This book's general similarities to Band of Brothers are admittedly apparent, as it tells the same story with a different company of the same battalion. However, this is also one of this work's strengths. The authors intentionally rely heavily on first-person accounts of Fox Company veterans to tell the story. Some battles are recounted through several participants, each with their own perspective. They went the same places as Easy Company, but Fox's war was uniquely its own. The focus is kept on the soldiers and their experiences during one of history's greatest conflicts.
---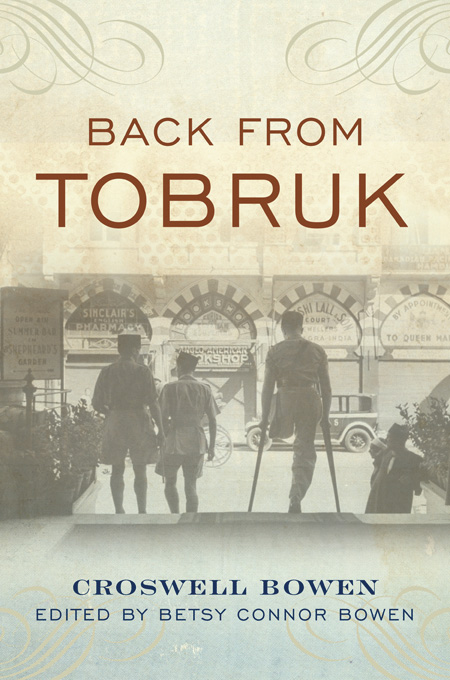 Back From Tobruk, Croswell Bowen and Betsy Connor Bowen, Potomac Books, Washington, D.C., 2013, 221 pp., photographs, appendices, $29.95, hardcover)
Before America's entry into World War II, Croswell Bowen, a writer and photographer, left New York City for the deserts of North Africa. He had volunteered to go with a unit of Americans willing to act as ambulance drivers for the British Army then embroiled in bitter fighting across the sands of Egypt and Libya. A train took the men to Halifax, Nova Scotia, and a ship transported them to the war. Leaving port in November 1941, the ship's crew and passengers learned of the attack on Pearl Harbor as they sailed across the Atlantic, taking the long route around the Horn of Africa to India and eventually Egypt.
By May 1942, Cowen and his camera were on their way to the front. Training in desert warfare and a leave in Cairo ensued. Within days, he was in Tobruk, mixing with soldiers from across the Commonwealth. Tankers, infantrymen, medics, and sappers all told the young journalist of their experiences, giving him a broad look at the war he was so eager to cover. As the fighting around Tobruk continued, Cowen began to experience pains and illness, which the doctors decided was a case of "combat exhaustion." As it seemed Tobruk would fall to the enemy, he was evacuated east to Bardia and then Mersa Matruh. As the trip back to Egypt continued, Bowen shared an ambulance with a 19-year-old German prisoner. The American writer came to see this enemy as a man much like himself.
In time Cowen returned to America and tried to publish his memoir of North Africa without success. Apparently, his portrayal of a German soldier as just another person caught up in the war was not a characterization wartime America wanted, so Cowen went on with his life as a writer. As attitudes have softened with the intervening decades, his daughter Betsy believed the time had come to share this account of one man's experience of war and how it affected him.
---
Unsung Eagles: True Stories of America's Citizen Airmen in the Skies of World War II, Lt. Col. (Ret.) Jay A. Stout, Casemate Publishers, Havertown, PA, 2013, 288 pp., photographs, index, $32.95, hardcover)
On October 25, 1942, Lieutenant Julius Jacobson, U.S. Army Air Corps, took off from Henderson Airfield on Guadalcanal. He was part of a flight of five Bell P-39 Airacobra fighters assigned to attack the Japanese light cruiser Yura near the island. The sleek aircraft was not the best American plane of the war, but in 1942 it was available and Jacobson found it an easy plane to fly. That would help him this day. The first four planes made their diving runs, but all of them missed the target.
Jacobson began his own dive but quickly realized his attack was ill conceived. He half rolled out of his dive and came around for another try. As he went into a near vertical dive, he discovered he was far too low. The cruiser loomed large in his sights as he released his 500-pound bomb and frantically pulled back the stick to get his plane level and away. The aircraft recovered but flew so low that his cockpit filled with condensation, clouding his vision. Luckily, the speed the P-39 built up during the dive kept enemy antiaircraft guns from finding their mark.
As Jacobson flew away, his flight leader called out a hit. The young pilot's bomb had struck the Yura in the stern. This added to damage the cruiser suffered earlier from other air attacks. Later the ship was scuttled after the crew abandoned ship. Jacobson went on to fly on the mission that shot down the bomber carrying Japanese admiral Isoroku Yamamoto in 1943.
Such stories fill the pages of this book, telling the experiences of average American airmen fighting in all theaters of the war. Each chapter covers a different flyer, providing rich detail on their lives before the war and service during it. While full of technical detail, it is written in a clear, easy to follow style, making the book fun to read.
---
The Fifth Field: The Story of the 96 American Soldiers Sentenced to Death and Executed in Europe and North Africa in World War II, Colonel (Ret.) French L. Maclean, Schiffer Publishing, Atglen, PA, 2013, photographs, notes, appendices, bibliography, $39.99, hardcover)
During World War II the United States Army executed 96 soldiers for various crimes, mostly murder, rape, and desertion. The best known is perhaps Private Eddie Slovik, a soldier from the 28th Division who went before a firing squad in January 1945 for desertion. He had apparently left his unit as a replacement before entering combat, was caught, and turned over for trial. Since he was the only American soldier executed for desertion since the Civil War, his case stands out.
There were many other executions. However, most of them were for far more infamous crimes than Slovik's desertion. These are relatively unknown today. The case of each soldier executed is summarized in this book to provide insight, spelling out crimes not very different from those of civilian offenders. One drunk soldier murdered an MP who had angered him. Another, also drunk, shot his British girlfriend after discovering she was seeing other men. A third raped a French woman in front of her husband.
This book is an interesting glimpse into the military justice system of the war. Most of those convicted came from rear-echelon units, in particular quartermaster outfits. Of the 96, a disproportionate number came from the 92nd Infantry Division—an all African-American unit, providing commentary on the state of race relations and justice at the time. Several appendices provide interesting information that rounds out this fascinating study of the Army dealing with crime during the largest war in its history.
---
Warsaw 1944: Hitler, Himmler, and the Warsaw Uprising (Alexandra Richie, Farrar, Strauss and Giroux, New York, 2013, 738 pp., maps, photographs, notes, bibliography, index, $40.00, hardcover)
The Warsaw Uprising is a tragedy that stands out even among the innumerable calamities of World War II. It is a microcosm of Poland's history. Centered on the northern European Plain between Germany and Russia, bereft of geographic defenses, for centuries Poland has been fought over and conquered by its neighbors to the east and west. This came to a horrible climax in Warsaw in August 1944, as two ideological juggernauts—Nazi Germany and the Soviet Union—brought their war to the city gates. The Poles within the city, desperate to throw off the fascist yoke, rose up against the Germans, expecting the approaching Soviets to aid in their liberation.
The Soviets, however, stopped short of the city, leaving the Polish Resistance on its own. Hitler saw a chance to strike down the Poles and destroy their small home army of resistance fighters. For their part, though unassisted by the Soviets and with only token aid from the Western Allies, the Poles fought back in a heroic though ultimately futile effort and faced utter brutality from their occupiers. Horrible reprisals and petty vengeance followed.
The strength of this new work on a famous battle is its rich detail and background information. The author strives to relate the big picture while telling the small stories of the combatants and their experiences, blending them in a flowing narrative. A complete picture of the Warsaw's fateful fight for its life can be gained through this book.
---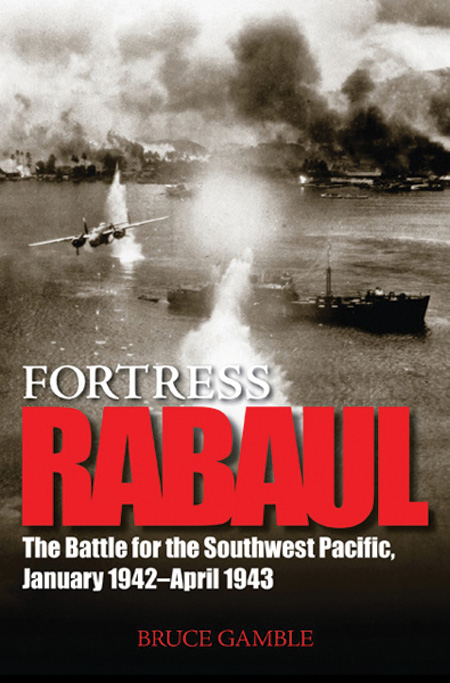 Fortress Rabaul: The Battle for the Southwest Pacific, January 1942-April 1943 (Bruce Gamble, Zenith Press, Minneapolis, MN, 2013, 416 pp., maps, photographs, notes, bibliography, index, $19.99, softcover)
Without a doubt, Rabaul was Imperial Japan's greatest bastion in the Southwest Pacific. After seizing the island of New Britain in January 1942, the Japanese quickly built Rabaul into a major base supporting thousands of troops and hundreds of warplanes. It was a key supply base and defensive position in Japanese strategy and planning for the region. Eventually, the Allies chose to encircle the fortress, leaving it to wither.
This is the second volume in Bruce Gamble's trilogy on Rabaul's history. Beginning with the ill-fated Australian defense of the port in the first days of 1942, this edition carries through to the death of Japanese Admiral Isoroku Yamamoto in April 1943. The book tells of the bitter struggle of the Japanese, Australian, and American warriors who flew and sailed around this strategically vital port, locked in mortal conflict as the Japanese advance across the South Pacific was slowly blunted.
---
Mission at Nuremberg: An American Army Chaplain and the Trial of the Nazis (Tim Townsend, William Morrow Publishing, New York, 400 pp., photographs, notes, bibliography, index, $28.99, hardcover)
Henry Gerecke joined the U.S. Army as a chaplain in 1943 at the age of 50. Sent to England, he was assigned to tend the spiritual needs of thousands of wounded American soldiers in hospitals near London. When the war ended Gerecke was transferred with a hospital unit to Munich, Germany. Soon after, the fluent German speaker was asked to take on another harrowing assignment: acting as a chaplain for the high-ranking Nazis facing trial at nearby Nuremberg for the war crimes.
During the famous trial Gerecke tended to such infamous figures as Hermann Göring, Albert Speer, Joachim von Ribbentrop, and Wilhelm Keitel. He spent time talking to these men, once potent figures but now powerless and in fear for their lives. After their convictions he remained as they prepared for death or imprisonment. Witnessing Göring's emotional last meeting with his family left Gerecke dizzy and sweating. He was listening to a baseball game when Göring committed suicide in his cell and rushed in to see Göring's final moments. It was a difficult duty in the midst of historic events.
---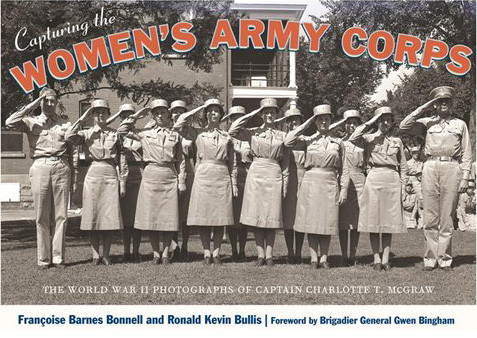 Capturing the Women's Army Corps: The World War II Photographs of Captain Charlotte T. McGraw (Francoise Barnes Bonnell and Ronald Kevin Bullis, University of New Mexico Press, Albuquerque, 2013, 90 pp., photographs, maps, appendix, $39.95, softcover)
The Women's Army Corps, frequently known as the WACs, was a new organization during World War II. Though women had been involved in warfare throughout human history, it was during this conflict that they began to see wide service. The WACs had one official photographer, Captain Charlotte McGraw. She traveled across the globe during the war documenting what women in uniform were doing in service to their nation. She took over 73,000 pictures, which were seen in official publications, newspapers, and magazines of the period. While some show scenes of civilians in a given theater, her prime focus is on the women themselves, both on duty and off, doing the work that earned them their place in the United States military.
---
Accused American War Criminal (Fiske Hanley II, Texas Tech University Press, Lubbock, 2013, 280 pp., maps, photographs, appendices, bibliography, index, $24.95, softcover)
Texan Fiske Hanley was a flight engineer aboard a Boeing B-29 Superfortress bomber during the final year of World War II. On March 27, 1945, his aircraft was shot down on its seventh bombing mission over the Japanese mainland. Eight of the crew perished; Fiske parachuted to the ground but was quickly captured by an enraged Japanese mob. This was the beginning of a harrowing five-month ordeal for the young American. As a member of a B-29 crew, he was considered a war criminal by the Japanese, a "special prisoner" rather than a prisoner of war. He was told he would be tried and executed for attacks against civilians. Confined under horrible conditions, mistreated, and starved, Fiske and his fellow prisoners endured horrible suffering until the Japanese surrender brought liberation. Though not the only story of the brutal treatment prisoners experienced under Imperial Japanese control, this firsthand account sheds a personal light on it.
---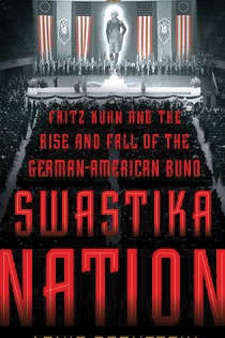 Swastika Nation: Fritz Kuhn and the Rise and Fall of the German-American Bund (Arnie Bernstein, St. Martin's Press, New York, 2013, 368 pp., notes, bibliography, index, $27.99, hardcover)
The Nazi Party's rise in Germany is well documented, and literally hundreds of books exist to educate the world on the topic. There was a Nazi party in America as well, however, slowly rising from the same inauspicious beginnings as its German cousin. Taking its lead from Hitler and his followers, the American version used much of the same pomp and ceremony. Its leader, Fritz Kuhn, was a German who had come to America through Mexico in the late 1920s.
Despite the movement's dedicated inner membership, Americans opposed to the Nazis banded together and destroyed the movement, crushing its hopes. An amalgam of politicians, journalists, lawyers, and even Jewish gangsters ended the threat and sent Kuhn packing back to Germany. How it happened is a fascinating and at times humorous tale.
---
New and Noteworthy
The New York Times Complete World War II 1939-1945 (Edited by Richard Overy, Black Dog and Levanthal Publishers, 2013, $40.00, hardcover) This is a compilation of New York Times newspaper articles covering the war. A DVD with digital copies of 98,367 articles is included with the book.
The Battle of the Bridges (Frank Van Lunteren, Casemate Publishing, 2014, $32.95, hardcover) During Operation Market-Garden, the 504th Parachute Regiment fought for several bridges in Holland. This account uses participant interviews to cover the battle.
Jagdpanther vs. SU-100: Eastern Front 1945 (David R. Higgins, Osprey Publishing, 2014, $18.95, softcover) These vehicles were successful tank destroyers of similar design. Their development, performance, and effectiveness are compared.
Death of the Leaping Horseman: The 24th Panzer Division in Stalingrad (Jason D. Mark, Stackpole Books, 2014, $39.95, hardcover) This is the story of the division's role during the Stalingrad campaign. Well illustrated, this new history contains many veteran accounts.
He Gave the Order: The Life and Times of Osami Nagano (F.J. Bradley, Merriam Press, 2014, $44.95, softcover) This biography reveals the life of the man who ordered the Pearl Harbor attack. His life began during the end of the Shogunate era and ended in a prison cell after World War II.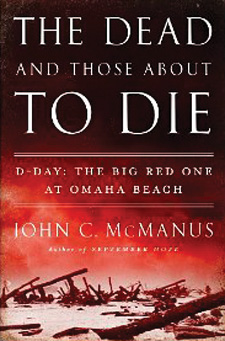 The Dead and Those About to Die, D-Day: The Big Red One at Omaha Beach (John C. McManus, Penguin Books, 2014, $27.95, hardcover) The 1st Infantry Division's D-Day assault is well known, but this book includes new veteran interviews and source material to shed new light on the battle.
D-Day in History and Memory: The Normandy Landings in International Remembrance and Commemoration (Michael Dolski, Sam Edwards, and John Buckley, University of North Texas Press, 2014, $24.95, hardcover) Participants remember the invasion of Europe in various ways. Each nation's particular ceremonies and views are covered here.
Fatal Dive (Peter Stevens, Regnery Publishing, 2014, $24.95, hardcover) The submarine USS Grunion disappeared in July 1942 in the North Pacific. The story of its discovery decades later is revealed along with theories on its fate.
Panzer Divisions of the Waffen-SS (Rolf Michaelis, Schiffer Publishing, 2014, $45.00, hardcover) The SS raised seven armored divisions during World War II. The formation, operations, and fate of each are given attention.
War at Sea: A Naval Atlas 1939-1945 (Marcus Faulkner, Naval Institute Press, 2012, $35.98, hardcover) Maps of the war at sea are divided into sections on each major theater. Specific battles receive more detailed attention.