By Kevin M. Hymel
Paratrooper Ed Mauser never forgot the first thing he saw when he leaped from the doorway of his C-47 transport plane in the opening hours of D-Day, June 6, 1944. It was another plane, holding Lieutenant Thomas Meehan, the commander of Easy Company, 506th Parachute Infantry Regiment, 101st Airborne Division, and 18 other paratroopers. "I thought the plane was going to make a landing, it hit the hedgerow and exploded. I knew all the fellows on it."
Mauser had little time to think about what he had seen. After his parachute deployed, the strap of his leg bag yanked down to his ankle. "I thought I was going to break my legs," he recalled. He reached down to adjust the strap, but the bag fell off. Within seconds he hit French soil. "It was one of my better landings."
Immediately, a cow came by, which cheered him because it meant he was not in a minefield. Mauser noticed the cow moving its lips and imagined it was saying: "What's this midnight stranger doing here?" He wasted no time getting out of his chute and climbing atop a hedgerow to get his bearings.
From the Cavalry to the Airborne
Mauser, who fought with Easy Company's 2nd Platoon from Normandy to Austria, never spoke about his war odyssey. For decades he kept a promise to his wife to stay silent. He first learned about the Pearl Harbor attack over the radio, while sitting on the sunporch of his LaSalle, Illinois, home. He was 23 years old and worked at a clock-making company. Two weeks later he was drafted and entered the cavalry in 1942 even though he "didn't know nothing about horses."
By the time he learned, the cavalry had become mechanized.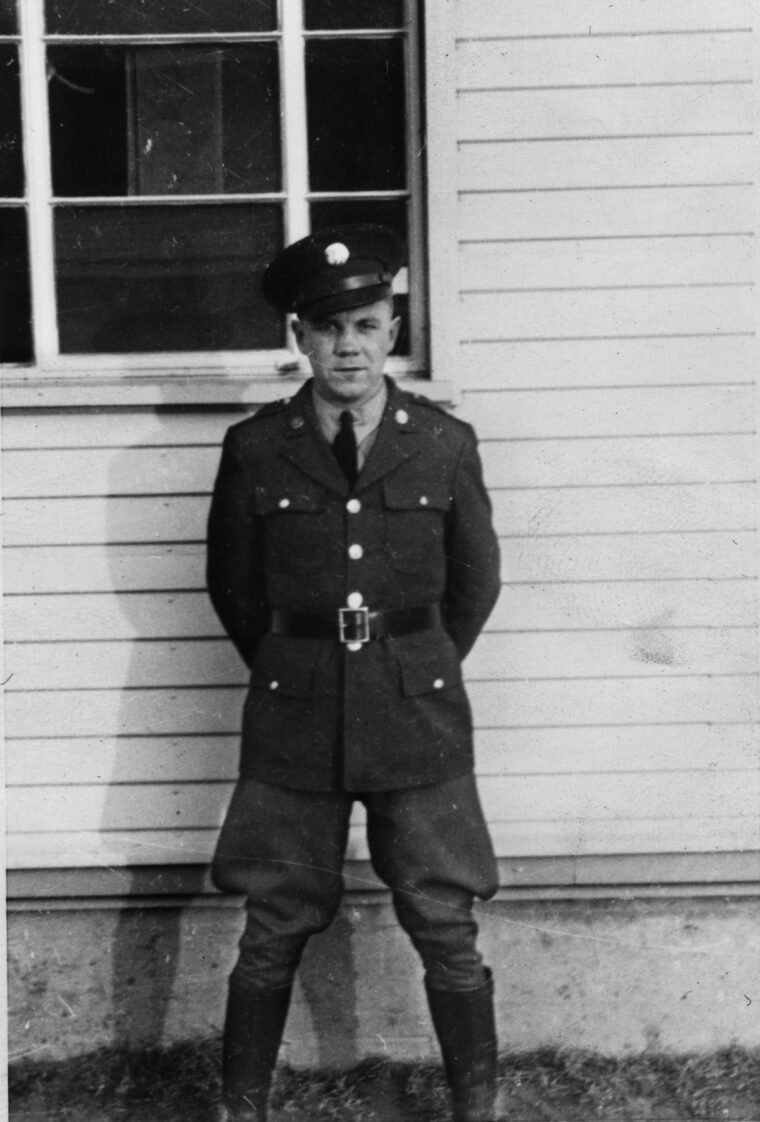 Sent to Fort Benning, Georgia, Mauser was waiting to be assigned to a unit when he saw paratroops jumping out of planes. "I wondered if they would take me," he said. One week later, he was in the airborne. Once he earned his jump wings, he transferred to Fort Bragg, North Carolina, where he joined Easy Company.
Once with the unit, Mauser and his new comrades spent the next nine months training, doing a lot of running, walking, push-ups, pull-ups, and climbing over fences. He made friends, including Sal Bolino from Brooklyn, and Eddie Sabo, from Utica, Illinois, near Mauser's hometown.
His stateside training complete, Mauser and the division shipped out for England. His new homes was the town of Aldbourn, where he continued training and jumping from planes. While there, he got a letter informing him his 32-year-old sister, Mary, had died of cancer. He showed the letter to his company commander, Captain Herbert Sobel, who gave him a pass to a Red Cross station in nearby Swindon, where he could send money home for Mary's funeral.
Sobel, who Mauser thought was a good company commander, did not last long with Easy Company. In late November, after his noncommissioned officers all wrote letters refusing to serve under him and sent them to the battalion and regimental commanders, Colonel Robert Sink transferred Sobel to a training camp and placed Lieutenant Meehan in command.
As training continued, there were constant reminders of the war. Once, while passing by the latrine, Mauser spied a German V-1 unmanned jet flying overhead. "I could see the flash from the tail and I knew it was a buzz bomb. It seemed like it ran out of gas and fell down." He hugged the latrine wall as the bomb exploded. "I could feel the wall shake."
Landing in Normandy, France
As the date of the D-Day landings approached, the 101st transferred to Oppottery, in southern England, to prepare for the jump into France. The men spent a week sequestered in tents near an airfield, with guards inside and out of the marshaling wire. On June 3, Mauser and his comrades learned about their objectives when officers displayed maps and sand tables of the region inland from Utah Beach. He also learned, by way of rumor, that the hedgerows in France were going to be tough.
Despite the bad weather on June 4, Mauser prepared for his jump. He was suited up completely when word came that Operation Overlord had been delayed because of storms over the English Channel. "We were disappointed," admitted Mauser about the 24-hour delay, "but we knew there was no way we were going to get out of it."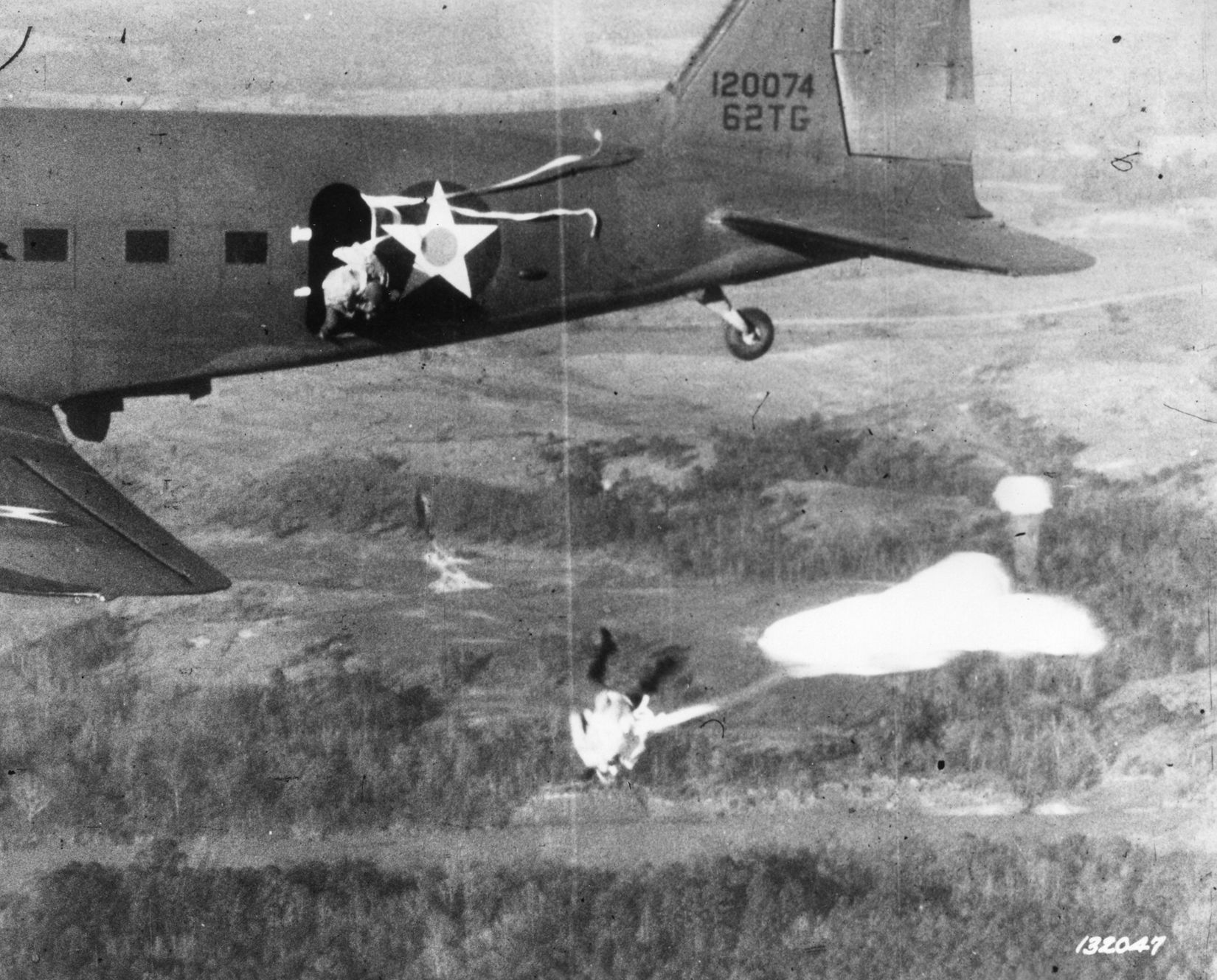 The next day was the real thing. The men were issued motion sickness pills, but Mauser refused to take his. He packed his M1 Garand rifle diagonally across his chest and stuffed his leg bag with a box of ammunition and grenades. Included in his equipment was a toy "cricket" that had been issued to signal other airborne troopers upon landing in the dark. His parachute, reserve chute, and all his equipment weighed about 80 pounds. It took two or three guys to help get him on the plane, "pushing my rear end the whole way." Once seated in the plane, he took off his reserve chute to lighten his load.
The planes began roaring off their air strips at 10:30 pm, with about 18 troopers per plane. It took two and a half hours to reach the Normandy coast. The whole time Mauser braced himself for fire from the Channel Islands, which intelligence had reported contained German antiaircraft batteries. But the islands were silent. "The Air Corps must have taken them out," recalled Mauser.
Mauser's plane hit the French coast after 1 am. His plane was flying the rear of a diamond formation with three others. "Plane 66 was in front of me, 67 was to the left, and 68 was to the right. I was in plane 69." German flak began hitting Mauser's plane, but fortunately no rounds penetrated the fuselage. The fire had an electric effect on the paratroopers. Men began shouting, "Let's get the hell out of here!"
Everyone stood up and hooked up while the pilot tried to maneuver away from the tracers. "We went from 1,500 feet to 400 at high speed," Mauser said. When the green jump light went on, Mauser jumped out. The prop blast from the propellers snapped his neck back.  "My neck still hurts," he joked more than 65 years later. Because of the rough exit, he faced backward as he floated to the ground, witnessing the crash of plane 66. "Meehan never should have been in that plane," Mauser said with regret. "The noncoms get rid of Sobel, and Meehan got killed. He was only 21 years old."
"Join the Club"
Sitting on top of a hedgerow after his mine-detecting cow had wandered off, Mauser saw a figure walking toward him. Not knowing if the man was friend or foe, he pulled out his cricket and clicked it once. It was Sergeant Robert Smith, who told Mauser, "Join the club."
He was no longer alone. The two soldiers began walking inland, away from Utah Beach, and inaccurate mortar fire began to fall. "It was good that the Germans fired so soon," explained Mauser. They left that area quickly.
The next paratrooper they ran into was a surprise — Captain Sobel. "Everybody says he didn't jump, but I can verify that he did," insisted Mauser. He is correct. General Order No. 12 from the 506th's headquarters lists Sobel as one of the officers receiving the Combat Infantryman Badge for exemplary conduct in the face of the enemy. Sobel was direct with Mauser and Smith. "Follow me," he said. The two men fell in line. "He was the captain," recalled Mauser, "so you did what he told you."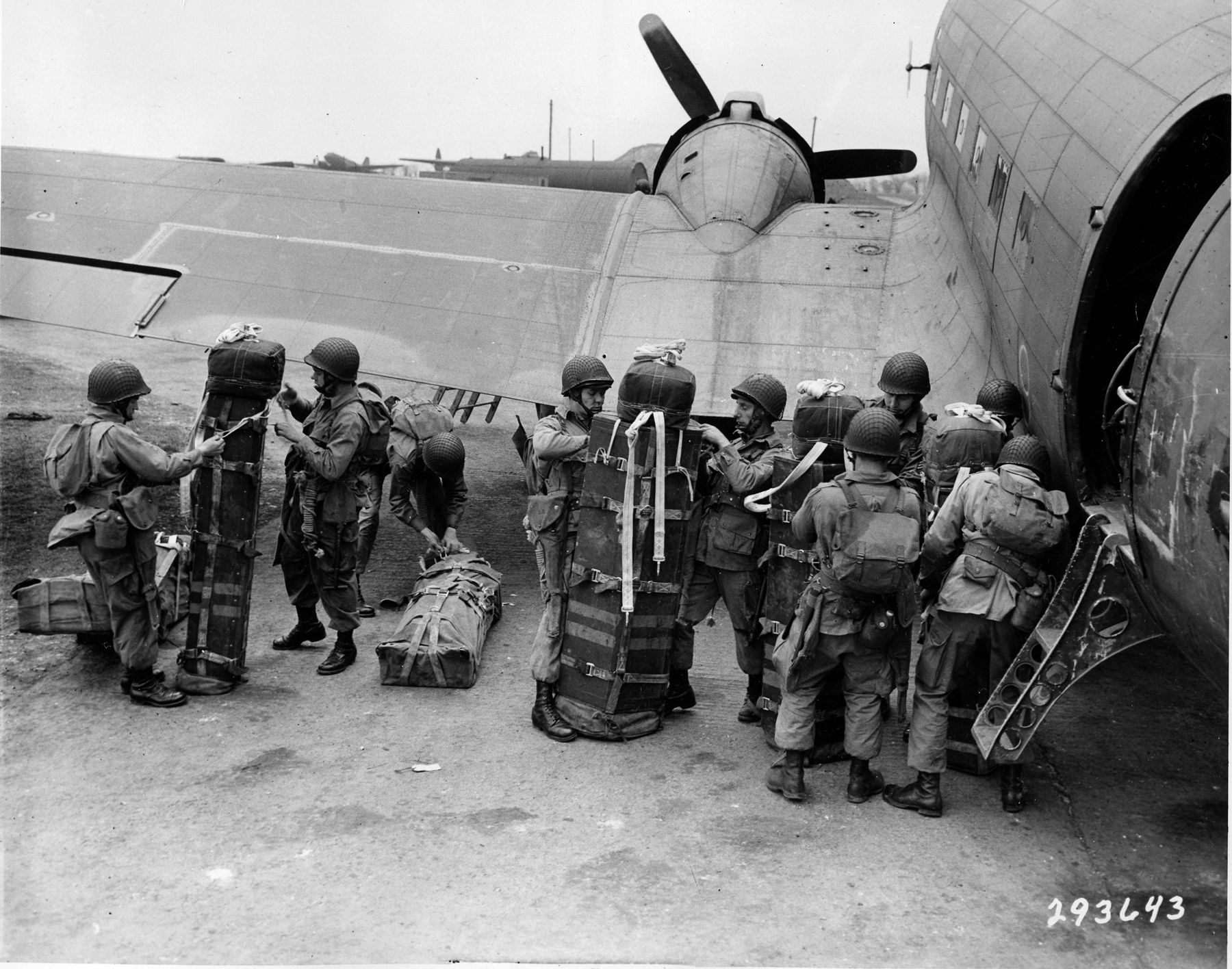 As they walked, Mauser came upon a camera. He went to grab it, but Sobel told him, "Don't touch that camera, it may be booby trapped." Instead, Mauser attached a string to the camera and pulled it away from its resting spot. Nothing happened. "I think Sobel ended up with camera."
The three men walked to the town of Vierville where Mauser saw about 15 paratroopers firing into a house. He got down on his hands and knees and was crawling along a short stone wall when he noticed a body with a blanket over it. He asked the paratroopers who it was, and they told him it was Benjamin Stoney. "I knew him pretty well." Some historians have argued with Mauser that Stoney was killed on June 8, but Mauser has always been adamant. "I know what I saw and when I saw it."
Mauser's First Action
Mauser then joined the fight. The paratroopers threw grenades into the house, causing it to catch fire. The Germans came running out with their hands up. Even though the paratroopers gathered them up, Mauser knew there were too few Americans to guard them and there was no place to keep them. "We were told no prisoners on the first day," recalled Mauser. "I can just imagine what happened to them."
For his first meal in Europe, Mauser dined on steak. Soldier Cleveland Petty had killed a cow and cut it up for his friends. The men built a small fire to cook their dinner. Mauser told his comrades about the crash of plane 66. As the sun went down a few mortars exploded nearby, but they did not interrupt the meal. For his D-Day bed, Mauser slept in a hedgerow.
A few nights later, Mauser and two other men were cleaning out a village when they entered a house and discovered it empty. Mauser went out back where a few chickens clucked around the yard. He noticed a small barn with a loft. Then he heard something from the barn and noticed a flashlight coming down from the loft. He immediately recognized it as a German pump flashlight. A German exited the barn, shined the flashlight in Mauser's face, and ordered "Halt! Hands up!" Mauser had other plans. He dove to the ground and fired one round from his rifle. The German dropped dead. The episode left Mauser upset. "I jumped right down in the middle of a bunch of chicken crap." It took him almost a week to get the chicken residue washed out of his uniform.
"That's Going to Cost You $15"
Mauser spent the rest of the month fighting around the hedgerows and swamps of Normandy. "I went 20 days without a shower," he confessed, "I never took off my boots." When the division was ordered off the line, the men were shuttled back to England in a large boat. "It felt good to be back in England." Everyone received a week-long furlough to London. Mauser was disappointed that the pubs closed at 10 pm, but he enjoyed that everyone went out singing for the rest of the night. "I didn't meet any women, though," he admitted. "I was bashful back then."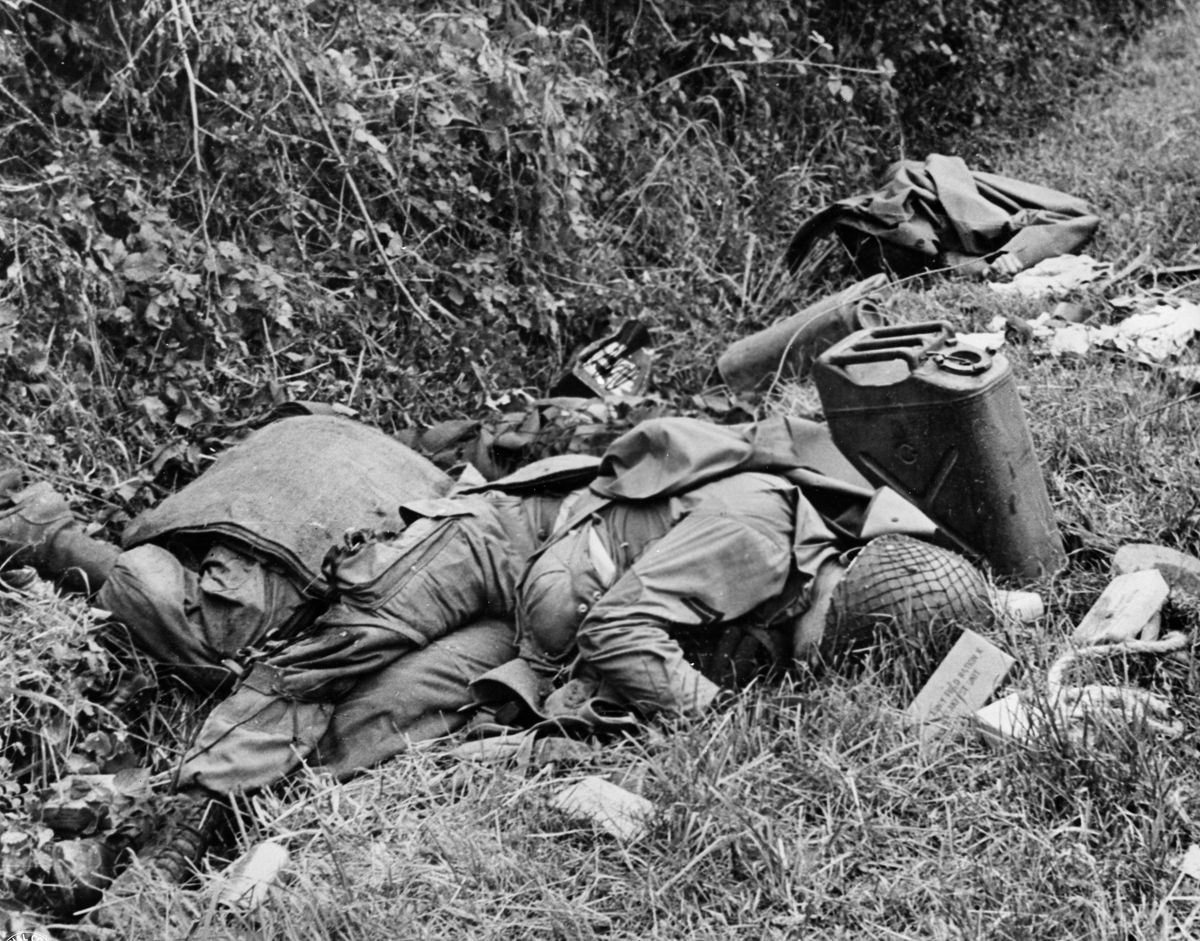 It was while on furlough that Mauser got into trouble. Two MPs confronted him for walking around with an unbuttoned blouse. They brought him back to their headquarters and told him to report back to his unit. When he returned to Easy Company, he reported to Captain Dick Winters, who had taken over the company after Meehan's death. "What happened in London?" Winters asked. Mauser explained and Winters's order was direct: "That's going to cost you $15."
Mauser thought it was unfair that he should be reprimanded for such a small offense after surviving the Normandy campaign. "It's not fair," he told Winters, who was unwavering: "It's still going to cost you $15." Mauser paid up.
Easy Company in Operation Market-Garden
The unit went back to training until Operation Market-Garden, the liberation of Holland. "We had just a couple of days to prepare," explained Mauser. For the September 17, 1944, drop he kept his reserve chute but packed lighter than he had for the D-Day jump. The troopers in his plane passed the time smoking cigarettes. "I thought they were going to burn the plane down." He said a few prayers for his own safety.
At about noon Mauser jumped out of his plane. "It was a beautiful day," he recalled. Everything seemed silent, save the rustling of his opening chute. "You could hear a pin drop." He looked down and saw he was headed to a freshly plowed field. "Oh, what a marvelous feeling!" After the soft landing, he formed up quickly with his company and marched down the highway to Eindhoven. People emerged from their homes to pass out food, wine, and beer. "Young girls came out to hug and kiss you," remembered Mauser. "I got a hug but not a kiss."
Once inside Eindhoven, Mauser went on a patrol. He was standing near a building when he saw a German running about 200 yards away. Mauser took aim and shot at the soldier but missed, revealing his position. The Germans, now alerted to the patrol's presence, opened fire. "We ran back," explained Mauser. "I could hear the bullets flying past us." They jumped over a fence into an orchard, but one Easy Company man, Vernon Menze, got hit by a mortar shell before he could make it to safety. "I kind of felt guilty about it," confessed Mauser. "But that was war."
With Eindhoven secure, Mauser and his buddies bedded down for the night in a building with cots. The men were resting when an officer came in and shouted, "First squad get on your feet."
Mauser thought, "Where the hell are we going to go?" The men marched out of the building and ended up in a Dutch dentist's office where Mauser had a decayed tooth filled. "Other than that, there was no action." The Germans bombed the area but did little damage.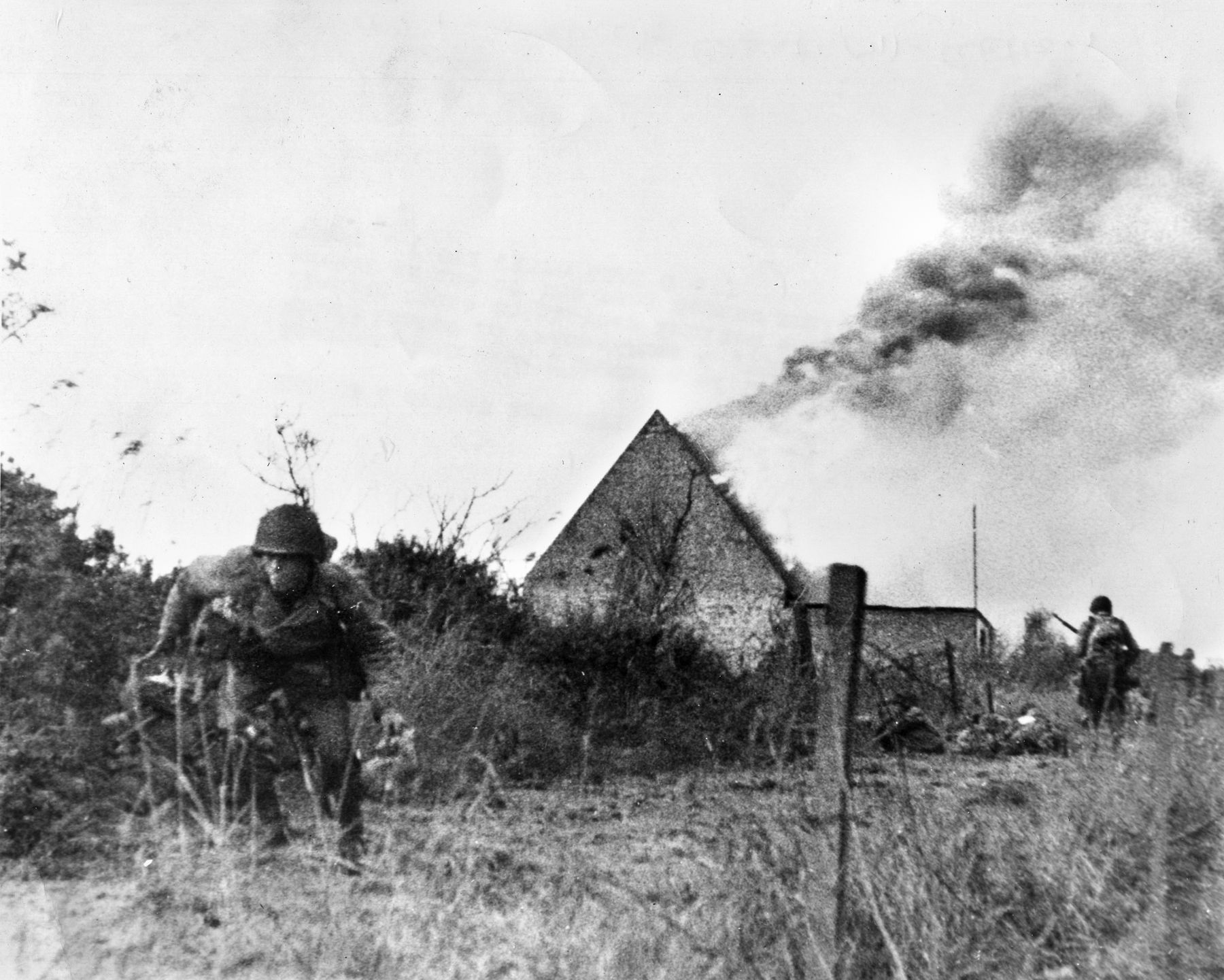 On "the Island"
Once the operation failed to capture the vital bridge at Arnhem, Easy Company was transferred northwest to a slice of land between two rivers, referred to as "the Island." On October 22, Easy Company was tasked with rescuing about 100 British pilots and paratroopers still stuck behind enemy lines near Arnhem. In pitch-black darkness, the men pushed off in British assault boats with about six troopers per boat. Captain Fred "Moose" Heyliger, the company's new commanding officer, took the boat to the right of Mauser's.
"We went across and set up our .30-caliber machine gun for protection," Mauser said.
Guarding the flank, Mauser could not see any of the Britons he had come to rescue; it was just too dark. The whole operation lasted a couple of hours. "I later heard that one of the pilots told Heyliger, 'You're the best-looking Yankee I've ever seen.' The operation was over before daylight, which was fortunate. The next day, the Germans bombed the boats on the south side of the river. Mauser received the Bronze Star for his role in the mission.
After the mission, Easy lost another soldier. "I remember this one kid in training who talked so tough that we thought he'd win the war." But one night, out on the dikes of Holland, Mauser heard someone moaning and crying. It was the tough-talking soldier, shaking in his foxhole. Mauser asked him what was the matter, but he could not answer. "We had to take him out of there."
During Mauser's stint on the Island, he had a few good nights of rest. In one instance, he went into a mattress store to bed down. "The owner of the store probably did not like that, but we didn't ask for permission." Later, he took up residence in a barn filled with hay, where he dug a hole in the hay and lived like a mole. One night, an NCO ordered everyone out of the barn and into a garden. The men spread out and lay down.
As morning came, the men were ordered to get up and wake up any sleeping soldiers. Mauser got up and shook the man who had been lying next to him all night. It turned out to be a dead German soldier. "I got the hell out of there."
From Holland the entire division transferred to Mourmelon, France, to absorb replacements and prepare for their next mission, which was expected that spring. Mauser received a four-day pass to Paris. "I had no money, but I had candy bars and cigarettes, and they were better than money." He stayed in a seven-story hotel where he poured cups of water down on unsuspecting passers by. "I had never been that high before." He also enjoyed his first subway ride and visited a nightclub.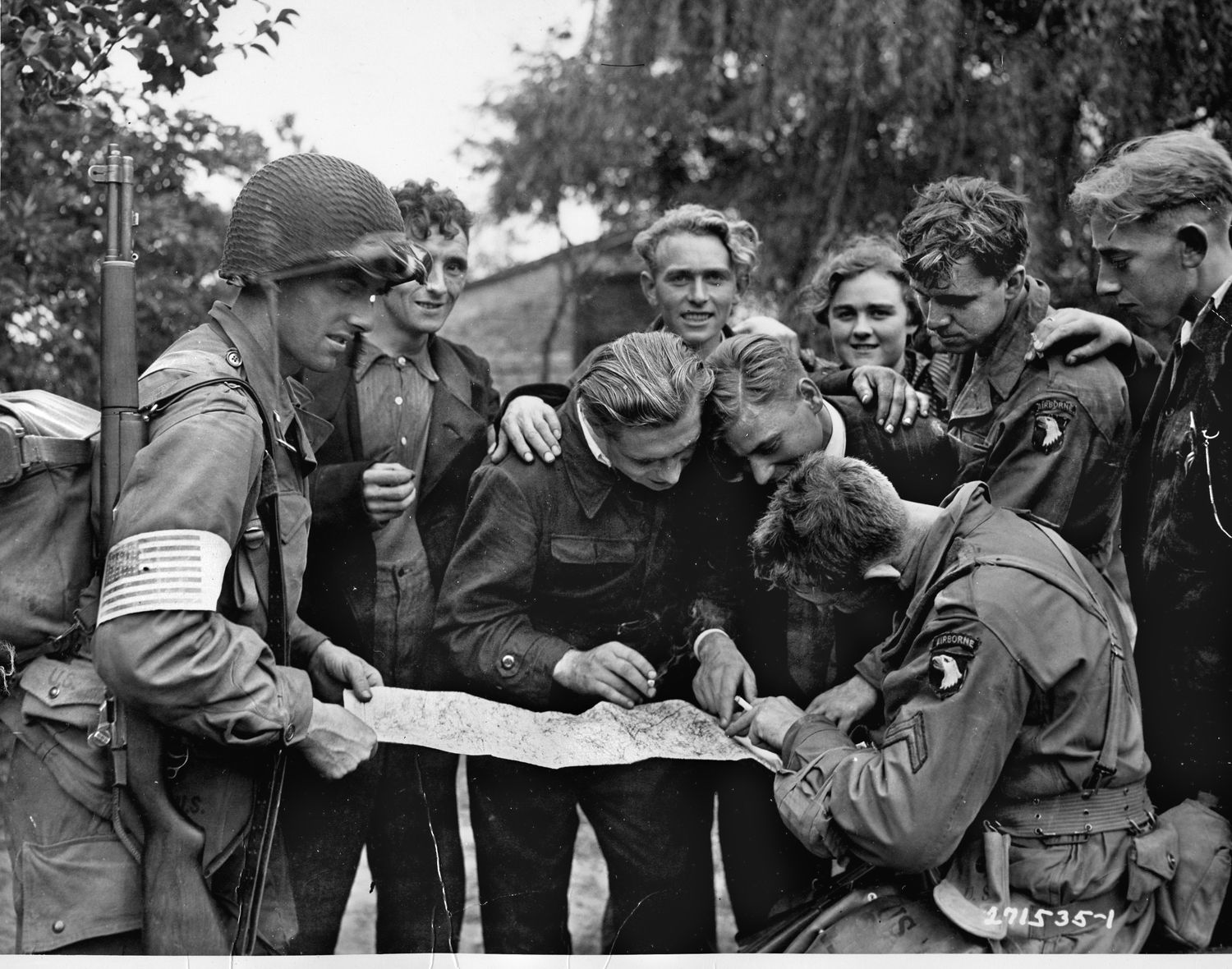 Back in Mourmelon, Mauser received an odd "Dear John" letter. His girlfriend sent him back his picture. "I knew something was wrong because I gave her a picture of me and she gave me a picture of her." She never sent him a letter, but he had little time to dwell on it. Soon after the picture arrived, word went out for the division to pack up and head out.
Ed Mauser at the Battle of the Bulge
The Germans had broken though First Army's front line, and the result was the Battle of the Bulge. The 101st was put on trucks and rushed north to Bastogne. They drove all night and arrived to see American soldiers retreating. "You'll never stop them," the soldiers told Mauser. "You'll never stop them." Some of them gave up their ammunition; some did not. "We could hear shelling now and then."
On December 18, 1944, Easy Company occupied the Bois Jacques in already-dug foxholes, three men to a foxhole. "We got surrounded on my birthday," he recalled wryly, "a good present." He could see German tanks, but was confident they could not get through the woods. Life in the foxholes was tough and cold. Rubbing hands together was the only possibility for warmth. Some men put gunny sacks on their feet for warmth, but Mauser could not find any. The men were shelled constantly.
"Some guys refused to leave their foxholes to answer the call of nature," he explained. "They would forget what they had done when jumping back into their holes—resulting in some shouts of 'Oh my God!'"
With fog socking in the battlefield, the only things in the air were buzz bombs, which the men could hear at night. When the fog finally cleared, aircraft began dropping supplies to the besieged paratroopers. Mauser and some comrades ran out and retrieved one tube that landed between the lines. The airdrops brought much needed supplies, especially K rations.
On December 22, a German officer came through the lines with a surrender request for Brig. Maj. Gen. Anthony McAuliffe, the division's temporary commander. When McAuliffe's famous answer, "Nuts!" made the rounds to the troops, Mauser cheered. Despite McAuliffe's tough words, there were times when Mauser worried that the Germans just might overrun Bastogne.
"They had more equipment than we did, but they must have thought we had more equipment than we had." Still, there was hope on the horizon. "I heard Patton was on his way, but we didn't know when he was going to come."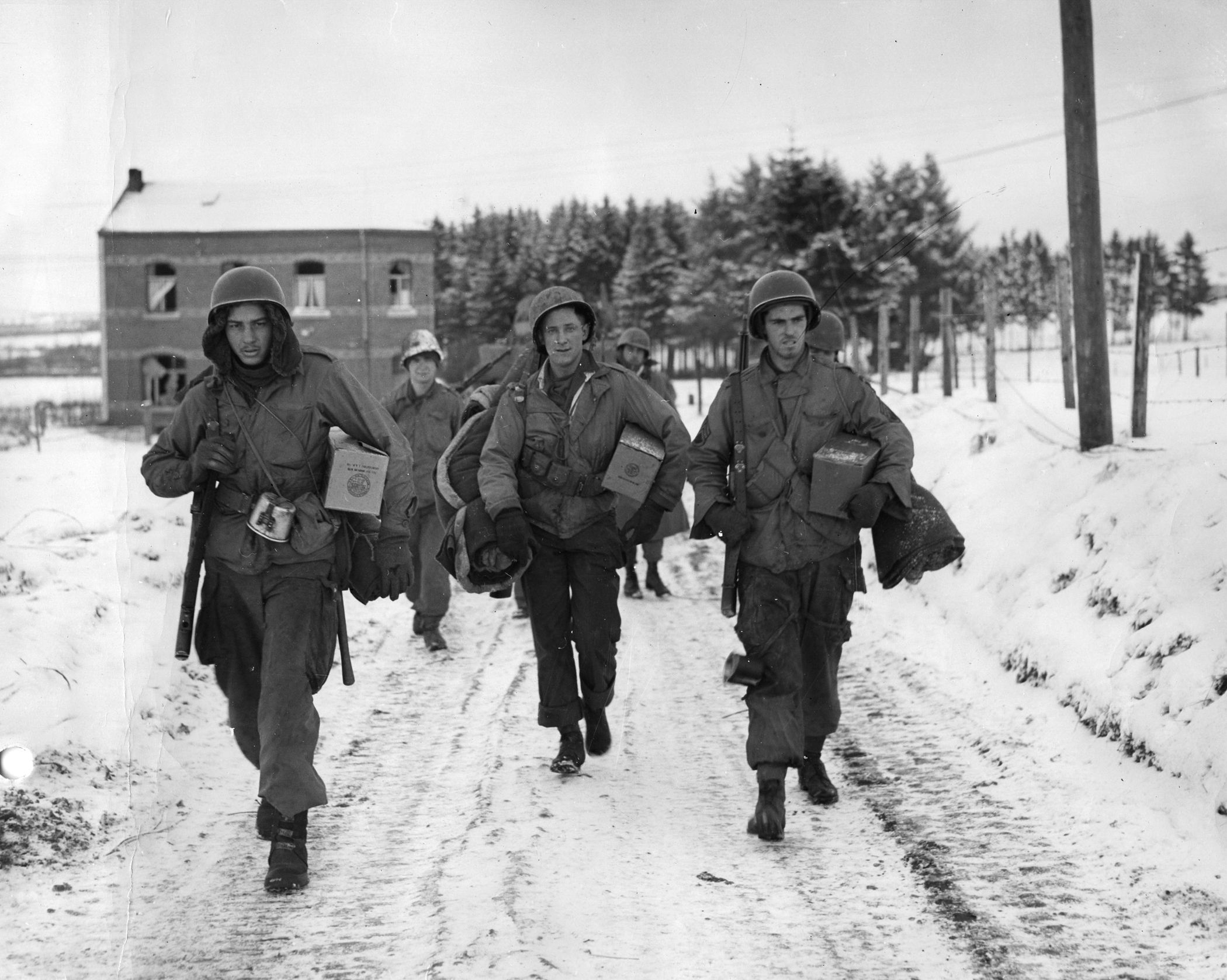 Even though Patton's 4th Armored Division broke the Bastogne siege on December 26, more tough fighting was ahead. The Germans continued to blast the Bois Jacques with artillery, killing Mauser's friends Warren "Skip" Muck and Alex Penkala. "Muck was friendly kid," remembered Mauser. "My foxhole was pretty close to him."
One day when Mauser was standing guard in his foxhole, he put his rifle down and stepped out to relieve himself. Just then a German reconnaissance plane flew low over him. "If I had my gun I could have knocked him down," he asserted. But then he noticed the pilot smile and wave. "I waved and smiled back."
One night Mauser participated in a patrol into Foy, a town northwest of the Bois Jacques. After trekking more than 500 yards over open, snow-covered ground, Mauser's patrol walked two and a half blocks into the town without encountering a German. They decided not to press their luck and headed back to the woods. But as they approached their front lines, they came under fire from Fox Company, on the left of Easy. Mauser could hear bullets zinging over his head. "Stop shooting, we're Americans!" Mauser and his comrades shouted, and the firing stopped.
"That's a Purple Heart"
On January 13, the division pushed into Foy. As Easy Company charged the town, Mauser emptied his rifle at white-clad Germans. "I don't know if I hit any of them." With the town taken, Mauser occupied a shell hole for protection. While in his new home, an enemy round exploded in front of him. Rocks and mud tore into his face. Mauser went to the aid station where a medic cleaned his face. "That's a Purple Heart," the medic told him, but the medal was never issued.
Two days later, Mauser got hit again when he was sitting in a barn with his helmet off. A mortar shell dropped in and exploded. Mauser immediately checked his body for wounds and discovered a piece of shrapnel had cut his right wrist down to the bone. A medic wrapped the wrist and, worried it would get infected, sent Mauser to the rear. He ended up in a hospital, ashamed of his status.
"In the operating room, the guy next to me, he was hit in the stomach and hip," recalled Mauser. "I couldn't look at him. I felt silly. I had a small wound and half his body was bleeding."
Mauser got out of the hospital in April and returned to Easy. He reported to the new company commander, Captain Ronald Spiers, who was blunt: "Go back to your unit." Mauser was stunned. "I thought he'd say 'How are you doing,' but nothing! He thought I was a goldbricker, but I kept my mouth shut." Spiers already had a tough reputation within the battalion for shooting prisoners on D-Day. During the Battle of the Bulge, he lined up two young German prisoners and shot them.
"The two kids were bragging," recalled Mauser about the incident. "There were a lot of stories about him killing prisoners. You didn't want to fool with Spiers."
The Occupation of Germany
By this time, Nazi Germany was collapsing and the American Army was advancing at will. As Mauser headed east on the autobahn in an amphibious DUKW, he saw thousands of Germans walking the other way. "We cussed them like hell and shook our fists at them."
On the way into the heart of Germany, Mauser visited a concentration camp. "It was all cleared out," he recalled, "with a wire fence all over the yard, even the children's playground was all gravel." He saw the ovens where the Germans did away with so many Jews and visited the living quarters with bunks without any bedding. "It was all empty, but I knew it was going on," he explained. "It was in the newspapers, and we would get word of mouth from other GIs."
When Easy Company reached Berchtesgaden, Mauser was ordered to take three men and check out a farmhouse. They broke through the front door and found two old women. One woman clutched her stomach and said "Krank, krank." Mauser realized she was afraid he would rape her, but he just left. He walked outside and saw a man running from the house to the barn. "I said, 'Let him go, the war's over.'"
Mauser reported that there was nothing in the house.
Mauser then went to an officers' barracks and began rifling through drawers and came away with two swastika flags. "What the hell am I going to do with these?" he thought, but took them anyway. He gave one to Eddie Sabo. Another soldier desperately wanted the other one. Mauser offered to sell it to him for $100. "He couldn't say yes fast enough."
The division ended the war in Austria, where life became routine. Mauser had enough points to go home, so he was not worried about being sent to Japan. He was shocked to hear about the atomic bombs leveling Hiroshima and Nagasaki, but he cheered the end of the war.
Ed Mauser Returns Home
Mauser shipped home and arrived in Boston in October 1945. He had no girlfriend to return to in Illinois, but he met a girl named Irene at the local bowling alley.  "One Sunday I went to church and I said, 'Irene would you like to go out for dinner and show?'" They married the next year.
Despite the happy marriage, Irene never wanted Mauser to talk about his experiences with Easy Company. "My wife hated war." Mauser agreed and never attended any of the unit's reunions. He once tried to get her to watch the miniseries Band of Brothers, but she fell asleep during the first episode.
When Irene passed away in 2008, Mauser began revisiting the past. He reunited with his buddies and returned to Europe twice as a guest of Stephen Ambrose Historical Tours. He was treated as a celebrity everywhere he went and was thanked by locals who survived the war.
When asked today about his most distinct war memory, Mauser quickly recalled the crash of plane 66. "I knew all 18 on board. That lives with me today."
Note: Edward Mauser passed away in his home in Omaha, Nebraska, on January 21, 2011. When he heard that Major Dick Winters had passed away 11 days earlier, he commented, "He's leading the way for me … one last time."