By William E. Welsh,
Illustration by Johnny Shumate
The British Air Ministry established the British Airborne forces on June 22, 1940, at the request of Prime Minister Winston Churchill. Training took place at the Airborne Forces training school at Manchester's Ringway Airport, where the paratroopers learned to jump from converted Armstrong Whitworth Whitley medium bombers and Hotspur Gliders.
Paratroopers initially jumped without weapons and had to retrieve their weapons from supply containers once on the ground. The British Royal Air Force established the 1st Parachute Brigade on September 15, 1941, and added another the following year. The 1st and 4th Parachute Brigades participated in Operation Market Garden with the 1st Airborne Division in 1944.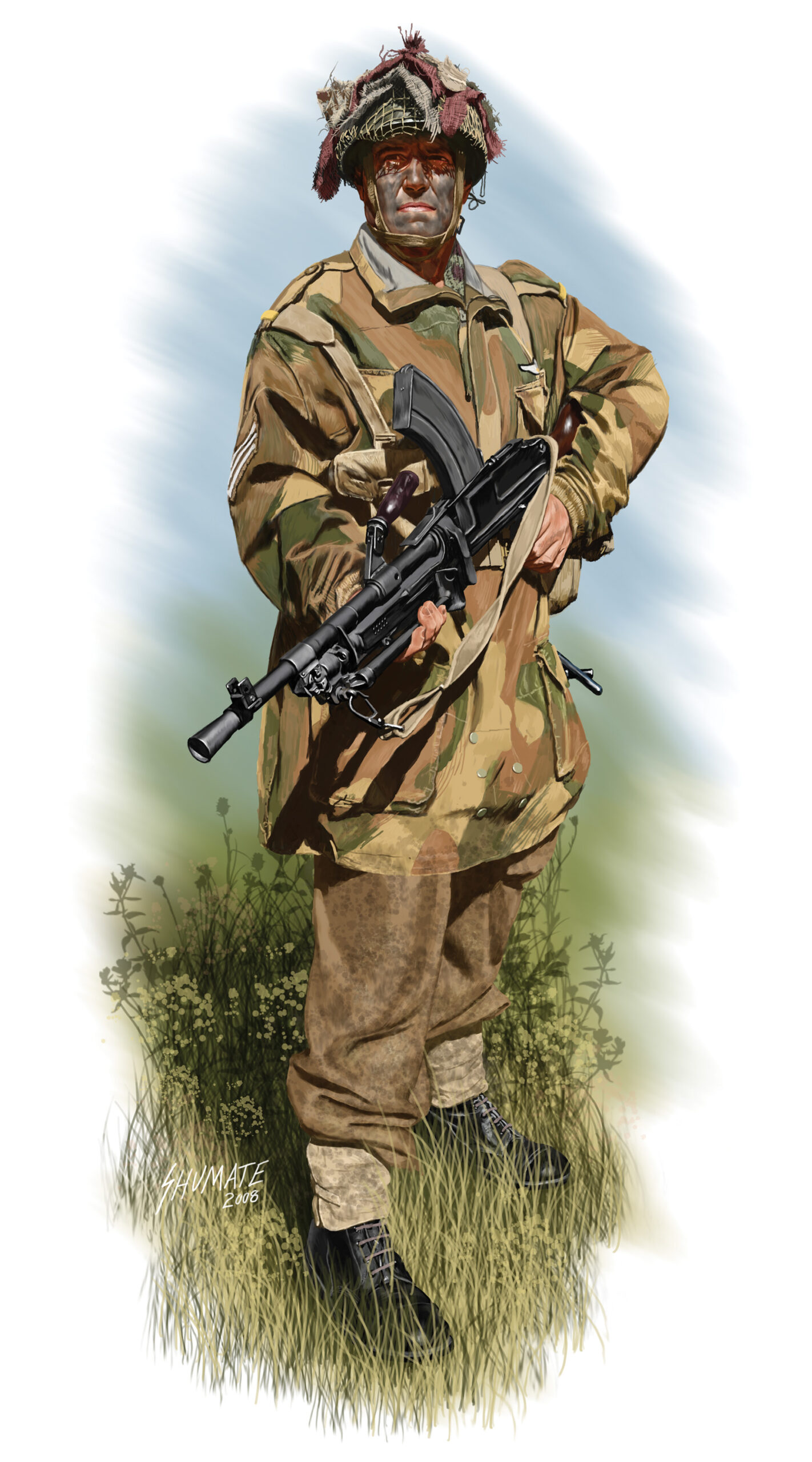 Helmet: The rimless steel helmet was routinely fitted with camouflage netting.
Webbing: Paratroopers wore the standard issue 1937 pattern cotton webbing, which consisted of cross straps, belt, and two large pouches. The pouches could hold a water bottle, compass, ammunition, and hand grenades. A pack could be attached to the back.
Uniform: The long-sleeved Dennison jump smock, which was patterned on the German version, consisted of windproof cotton printed with brown and green camouflage. The airborne battledress trousers had chamois-lined pockets.
Hand Grenade: Airborne troops carried the No. 82 grenade, which was commonly referred to as the Gammon Bomb. It consisted of an elasticized knitted bag, metal cap, and fuse. The paratrooper tailored the amount of explosive and shrapnel in the bag to the target.
Firearm: The British army modeled its .303-caliber Bren light machine gun after the Czech-made ZB vz. 26. The gunner carrying the gas-operated, magazine-fed weapon anchored the army's eight-man infantry section. Known for its incredible accuracy and reliability, the Bren gun had an effective range of 600 yards and a maximum range of 1,850 yards. It could be fired prone with a bipod or from the hip.
Knife: The Fairbairn-Sykes double-edged fighting knife with its foil grip resembled a dagger. A paratrooper carried the knife in a special pocket in his pants. This gave him easy access to the knife so that he could free himself if he became caught on a tree while landing.
Boots: The British paratroopers had standard-issue jump boots with extended lacing from the instep to the calf and reinforced toe caps.