By Nicholas Varangis
The Vietnam War ended in 1975, yet it has taken decades for the heroism and sacrifices of many of the men who fought and served to be recognized. Such is true for Jim McCloughan, whose brave acts at the Battle of Nui Yon Hill were finally acknowledged with the Medal of Honor in 2017. 
During 48 hours of close-combat fighting, McCloughan would distinguish himself and save the lives of 10 of his fellow soldiers.
Battle of Nui Yon Hill
The Battle of Nui Yon Hill was fought during Operation Frederick Hill (March 18, 1969-February 28, 1971). The Operation, led by the 196th Infantry Brigade and the ARVN 5th Regiment, was a clear and search operation in the Quang Ti and Quang Ngai Provinces in the wake of the Tet Offensive. Taking Nui Yon Hill became a key objective for the soldiers tasked with capturing one of the first villages of the operation: Tam Ky. From May 5, 1969 soldiers of the 23rd Americal Division fought to secure the Tam Ky area, ultimately succeeding on May 19.
Nui Yon Hill was host to a former South Vietnamese outpost. Overrun by the Vietcong and the North Vietnamese Army, the hill was well defended and the enemy repulsed the first American attempt to dislodge them. On May 13, Company C of the 3rd Battalion, 21st Infantry Regiment, 196th Light Infantry Brigade of the Americal Division were tasked with assaulting the hill. Two days of heavy combat led to victory for the men of 3/21 atop Nui Yon Hill.
48 Hours of Close-Combat Fighting
Jim McCloughan was a combat medic with 'Charlie Company' of 3/21 when the company began its assault on Nui Yon Hill on May 13th. Two helicopters were immediately shot down during the assault, crashing 100 meters away from Charlie Company's position. Pfc. McCloughan's squad reached the crash site perimeter and sighted an injured soldier 100 meters away. Under heavy crossfire between Charlie Company and an advancing NVA platoon, McCloughan ran to the wounded soldier and rushed him back to the company, saving his life.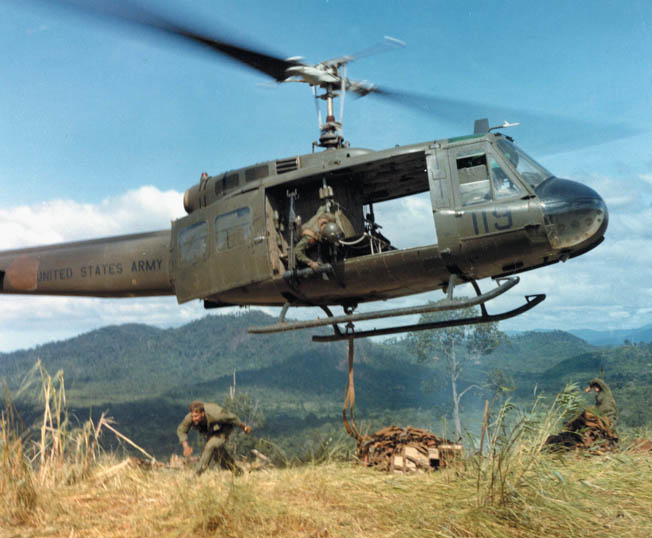 Later in the day, McCloughan rescued two unarmed soldiers in a platoon caught in an NVA ambush. Leaping from Charlie Company's trench line, McCloughan, himself unarmed, made his way to the injured men and immediately began treating their wounds. That was when McCloughan took shrapnel from a rocket-propelled grenade. Yet the young medic was unfazed and managed to extract the two men. He would make four more ventures into the combat zone. Knowing his value to Charlie Company, McCloughan opted to remain with his company, while the men he rescued were evacuated.
The assault on Nui Yon Hill began in earnest the next day. McCloughan was again injured by RPG shrapnel and small arms fire while treating two wounded soldiers in an open rice paddy. Later in the day, 700 VC and two companies of NVA assaulted Charlie Company's position. McCloughan continued his rescue efforts, charging into the crossfire to aid wounded soldiers while fighting off the enemy. In the early hours of the next day, McCloughan eliminated an RPG position with a grenade and continued to fight while treating wounded soldiers.
The full account of Jim McCloughan's actions in the battle of Nui Yon Hill can be found on the U.S. Army's website.
A Long Time Coming
The Medal of Honor is typically granted only within five years of the action. 235 of 260 Vietnam Medal of Honor recipients received the award during the war or within 12 months of its conclusion. However this time constraint can be waived by Congress in special circumstances. For McCloughan, this waiver was granted in 2016.
A Humble Recipient
In total, McCloughan has been credited with saving the lives of ten members of Charlie Company, 3/21.
Like many Medal of Honor recipients before him, McCloughan was humble when he spoke of his award. The Detroit Free Press has quoted him saying: "This is not a James McCloughan award, it's an award for my men, for Charlie Company. We had a horrendous battle, a situation you will never forget. … I wasn't going to leave my men, and they were going to protect me."
After leaving the Army in 1970, McCloughan taught psychology and sociology and coached football, baseball and wrestling at South Haven High School for nearly 40 years.