By Michael D. Hull
A big challenge faced Maj. Gen. Brian G. Horrocks, an infantryman, when he was cross-posted to take command of the British Army's 9th Armored Division in March 1942.
Its standard of individual training was excellent, but the division's mechanized state was another matter. A couple of days after his arrival, Horrocks called the divisional officers to a nearby cinema and addressed them. He told them he had just taken a look at the vehicle park and been shocked to find that only about half of the division's tanks, armored cars, and personnel carriers were in running order.
"You know all about mechanical things," Horrocks told the officers. "I don't. However, in the infantry division I have just come from, almost all the vehicles are serviceable. Perhaps you would care to explain why so many of yours are not." An officer of the Royal Electrical and Mechanical Engineers (a recent offshoot of the Royal Army Ordnance Corps) rose to answer the general's question but was politely told that perhaps he would be better employed making sure that the vehicles would run rather than explaining why they could not.
[text_ad]
A man who minced no words yet radiated vigor, enthusiasm, and good cheer, Horrocks endeared himself instantly to the men of the 9th Armored Division, as he did elsewhere throughout his long career. Some tank officers who had filed into the cinema to see "a bloody infantryman whom they had never heard of" were now telling each other how fortunate they were to have a spirited, no-nonsense general in command. Horrocks overcame any lingering prejudice against infantrymen commanding armor.
Although having barely recovered from severe wounds, and never in robust health after his captivity by the Germans in World War I and then the Bolsheviks, he was a hard-driving and gallant soldier. Horrocks always led from the front and proved to be one of the ablest Allied field commanders of World War II. General James M. Gavin, heroic commander of the U.S. 82nd Airborne Division, who soldiered with him in Holland in September 1944, considered Horrocks "the finest general officer I met during the war, and the finest corps commander."
To Defeat Erwin Rommel
The 9th Armored Division trained in northern England in the spring and summer of 1942. At 7 pm on August 15, Horrocks received a cryptic message ordering him to report to London overnight and telling him that he was going overseas and moving "one up." Within 36 hours, he was the sole passenger in a plane taking off from the Lyneham airfield in Wiltshire. His destination was Cairo. It was a critical time for British fortunes in the Middle East. General Bernard L. Montgomery, Horrocks's mentor since Dunkirk, had just taken command of the weary Eighth Army after its two years of bitter seesaw struggles against the German Afrika Korps and Italian forces.
Monty summoned Horrocks because he considered him "exactly what was wanted for the job which lay ahead"—revitalizing and re-equipping the Eighth Army before delivering a knockout blow to Field Marshal Erwin Rommel's Afrika Korps. Monty urgently wanted someone reliable and loyal, a man he knew and who would work directly under him. Horrocks arrived three days after Montgomery and was placed in command of the infantry-heavy XIII Corps with the rank of lieutenant general. He replaced Lt. Gen. William H. "Strafer" Gott, who had been killed when his plane was shot down en route to Cairo.
Dramatic changes were under way in the Eighth Army with intensified training and the arrival of reinforcements and new weapons and equipment. The brusque, professional Montgomery had issued firm orders that there were to be no more withdrawals. He told Horrocks that he planned to form a strong mobile reserve consisting largely of armored divisions, and then, when this was ready, he would "hit Rommel for six out of Africa." Monty announced that he would defeat Rommel on ground of his own choosing—near the remote railway station at El Alamein in northwestern Egypt. When the Eighth Army, comprising British and Commonwealth units, was at top fighting pitch it would attack. "We are going to finish with this chap, Rommel, once and for all," Monty promised.
Surviving a Strafing
The Battle of El Alamein, one of the major turning points of World War II, opened with a deafening thousand-gun barrage on the night of Friday, October 23, 1942. Horrocks led the XIII Corps in heavy fighting at El Alamein and also at the Alam Halfa ridge, where determined German assaults were beaten back by minefields, artillery fire, and Royal Air Force bombers and fighters.
Later, in December 1942, Horrocks was switched to succeed Lt. Gen. Herbert Lumsden as commander of the tank-heavy X Corps, comprising the 1st and 10th Armored Divisions. The gallant, handsome Lumsden had suffered heavy losses and fallen out of favor with Montgomery. At the end of April 1943, Horrocks was reassigned again. This time, he was loaned to General Noel Anderson's British First Army, which, with U.S. Army support, was struggling to defeat Axis forces in Tunisia. Horrocks took over the IX Corps, replacing Lt. Gen. John Crocker, who had been wounded in action and had distinguished himself in the Mareth Line campaign in March 1943.
With Monty's Eighth Army pushing from the east, British and American armies bottled up and crushed the German and Italian forces in Tunisia. The enemy troops surrendered by the thousands, and the Allies were triumphant in North Africa. Meanwhile, preparations were under way for the Allied invasions of Sicily and Italy. The IX Corps was detailed to land at Salerno, Italy, as part of General Mark W. Clark's Fifth Army, and General Horrocks went to Bizerte to watch the British 46th Division rehearse its assault.
Horrocks and the divisional commander stood on a Bizerte street watching the effects of a smoke screen being tried out by the Americans. Suddenly, a German fighter burst through the billowing smoke with its machine guns blazing. Horrocks was struck in the chest, and the bullet passed through his lungs and intestines and came out near his spine. Another round hit his leg. No one else was touched. Horrocks was lucky to be alive, but he had to undergo a series of operations in a Tunisian field hospital and at the Cambridge Hospital in the garrison town of Aldershot, Hampshire. He would be out of action for 14 months.
Horrocks Joins the "Die-Hard" Infantry Regiment
Like many young men of his generation, Brian Gwynne Horrocks had followed his father into the Army. He was born on September 7, 1895, at Ranniket, a British hill station in northern India, the son of William Heaton Horrocks of Little Bolton, Lancashire, and his Irish-born wife, Minna. Brian's father was an Army doctor and later director of Army hygiene during World War I. He was knighted for his services.
The Horrockses were happily married, and young Brian had an idyllic childhood. As he reached school age, his father was posted to Gibraltar, which the lad described as "a small boy's paradise." He was sent to the Bow Preparatory School in Durham and then spent three years at the 16th-century Uppingham School in Rutland. Brian enjoyed his school years and drifted into the Army class at Uppingham. But he was more of a sportsman than a scholar, and cricket and other games took up much of his time. When he passed into the Royal Military College at Sandhurst in Berkshire on February 12, 1913, he ranked one from the bottom of his class.
Meanwhile, mobilization was about to take place on August 4, 1914, with the outbreak of World War I, and all Sandhurst cadets who had completed the course were commissioned and posted to various regiments. Glad to leave the Royal Military College on July 15, 1914, Horrocks found himself a second lieutenant in the proud Middlesex "Die-Hard" Infantry Regiment, which had fought in Canada, India, Spain, and the Crimea. Within two weeks, Horrocks was in France with a draft for the regiment's 1st Battalion.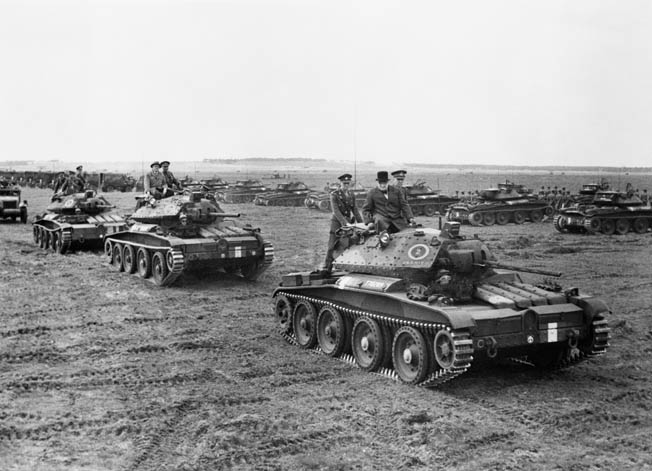 The lean, dynamic young subaltern with a toothy grin led the battalion's 16th Platoon in the Battle of the Aisne. He took part in the famous fighting retreat from Mons in the late summer of 1914, when British infantry were outnumbered 10 to one, and in early actions of the Battle of Ypres that autumn. On October 21, Horrocks's platoon was surrounded by a superior German force, and he was wounded in the lower stomach. He was taken prisoner.
In 1917, while in captivity, Horrocks was promoted to captain. After his wounds gradually healed, he made several unsuccessful attempts to escape, resulting in his transfer to harsher camps—at Custrin in western Poland, and then Aachen, Holzminden, back to Custrin, and Clausthal in the Harz Mountains. Horrocks helped to dig tunnels and continued his escape attempts. He was successful several times, walking toward neutral frontiers, hiding in barns from Germans and their dogs, and scrounging what food he could find. But he was always recaptured.
Interwar: Horrocks at the Staff College
Repatriated in 1919, Horrocks was still young and physically fit, but his nerves were in tatters. After spending four years of back pay in six weeks, he volunteered for service in Russia, where the British were helping the White Russians against the Bolsheviks. He served with the British military mission, was awarded the Military Cross, and was again taken prisoner.
Eventually, Horrocks and his British comrades were repatriated. "Our departure was entirely spoilt for me, at any rate, by the sad, white faces of our fellow prisoners," he reported. "Their fate was all too certain."
Back in England at the age of 26, Horrocks rejoined his regiment, which was busy with security duties before being posted to Aldershot in October 1923. The Army was seriously understrength and ill equipped, and the training was rudimentary. Bored, Captain Horrocks took up the modern pentathlon, which provided an outlet for his energy and his skills as a runner, horseman, and marksman. He represented Britain in the 1924 Olympic Games, but standards were high and he made only a modest showing.
He served as adjutant of the Middlesex Regiment's 9th Battalion, and his father tactfully but firmly urged him to seek admission to the Staff College at Camberley, Surrey, otherwise he was not likely to go much higher in the Army. The athletic but unacademic Brian Horrocks made four attempts before finally gaining entry to the Staff College in 1931.
After serving on the staff at the War Office for two years and as a brigade major with the 2nd Infantry Division, Horrocks received a surprise posting in 1938. He was ordered back to the Staff College as a member of the directing staff under Maj. Gen. Bernard Paget, another officer of strong character and honor. It fell to Lt. Col. Horrocks to anticipate needs for the war threatening in Europe, organizing courses for would-be staff officers drawn from the Territorial Army (National Guard). The work was hard and the hours long, but Horrocks gave his all. His students found him to be "energetic, inquiring, and imaginative."
Serving Under Montgomery in France
Inevitably, war came. Early in May 1940, Horrocks handed over his duties at the Staff College after being told he was to command the 2nd Battalion of his old regiment, the Middlesex, in France. After the inertia of the 1939-1940 "Phoney War," events on the Continent were now moving fast as the German Army swept through the Low Countries in its Blitzkrieg offensive.
On the morning of May 10, Horrocks learned that the enemy had invaded France and the Low Countries. Realizing the urgency of the situation, he sped within a couple of hours to the Southampton docks in the commandant's car. Three days later, he arrived at the front in a dental truck and joined the 2nd Battalion at Louvain, Belgium. About an hour after his arrival, the commander of the 3rd Infantry Division visited Horrocks's headquarters.
Horrocks reported, "I saw a small, alert figure with piercing eyes sitting in the back of his car—the man under whom I was to fight all my battles during the war, and who was to have more influence on my life than anyone before or since." Although Horrocks felt uneasy, his first meeting with General Montgomery went smoothly. The Die-Hards were the division's machine-gun regiment, and Horrocks saw Monty every day. His orders were clear and concise, and Horrocks found him always confident and cheerful.
Promoted to brigadier, Horrocks assumed command of the 4th Infantry Division's 11th Brigade and acquitted himself well during the British Expeditionary Force's (BEF) fighting retreat to the French port of Dunkirk. His service was noted by Monty and General Alan Brooke, commander of the II Corps and later chief of the Imperial General Staff. During the evacuation of the bulk of the BEF from Dunkirk, Horrocks escaped in a small Dutch cargo boat to Ramsgate. He manned the forward Lewis antiaircraft gun during the perilous journey across the English Channel.
After a few days of leave, Horrocks was ordered to take over the 9th Brigade of the 3rd Infantry Division. A German invasion of England was feared, and the brigade was responsible for defending the Channel coastline from Rottingdean in East Sussex to Shoreham in West Sussex. The brigade worked with the ill-equipped but enthusiastic Home Guard, and Horrocks found himself somewhat embarrassed at conferences during joint exercises in Dorset when confronted by rows of bemedaled former officers now serving as privates.
In January 1941, Horrocks was appointed brigadier general staff of Eastern Command, and during a five-month stint organized large-scale maneuvers. That June, he was happy to be promoted to acting major general and given command of the 44th (Home Counties) Division, a well-established territorial unit guarding the area from the Isle of Thanet to Dover and Folkestone, believed most threatened by invasion.
Illness Strikes After D-Day
On July 31, 1944, although he was far from recovered, Horrocks was called upon to command the powerful, five-division XXX Corps in the Normandy beachhead around Falaise. On August 2, Montgomery, now commander of the British 21st Army Group, sent his private airplane to carry Horrocks to France. On the way to Normandy, Horrocks persuaded the pilot to circle over his small cottage at Compton, near Winchester, so that he could wave farewell to his wife and daughter.
The XXX Corps, which had slogged through the difficult Normandy bocage country after landing on Gold Beach at Arromanches, included the 7th Armored Division, the 43rd Wessex and 50th Northumberland Divisions, and the 8th Armored Brigade. Horrocks replaced Lt. Gen. Gerard C. Bucknall, who had fallen out of favor with Monty. Horrocks, nicknamed "Jorrocks" by Montgomery, officially took over the corps on August 1, 1944.
As part of General Sir Miles "Bimbo" Dempsey's British Second Army, the XXX Corps broke out of the beachhead after heavy fighting. Horrocks's 11th Armored Division moved so rapidly in taking the historic cathedral city of Amiens on the night of August 30-31 that it captured General Heinrich Eberbach, commander of the German Seventh Army, in his pajamas. Although often feverish and in pain from his wounds, Horrocks projected fighting spirit and optimism to all ranks. Like his patron, Montgomery, he inspired his men by keeping them informed of situations in forthright, concise terms. Frequently using a tank as his command post, Horrocks led from the front and pushed his corps hard.
After the Germans had been forced back through Falaise, the race through northern France and into Belgium began. But, shortly after giving orders for the crossing of the River Seine at Vernon, General Horrocks became ill and feverish. Bedridden in his caravan, he was soon visited by Monty, who told him, "Ah, yes, Jorrocks, I guessed something was wrong…. But don't worry, I shan't invalid you home." He gave orders for the caravan to be moved alongside his own at his headquarters.
Hope Quashed at Market-Garden
By August 26, 1944, Horrocks was sufficiently recovered to be given the task of again leading the spearhead XXX Corps. The corps, whose insignia was a fierce black boar, fought hard and moved fast. With the XII Corps on its left and an American division on the right, Horrocks's force covered an unprecedented 250 miles in only six days and liberated Brussels, the Belgian capital, on September 3, 1944. Horrocks's columns rolled into the great port of Antwerp the following day. Jubilant Belgians swarmed around the weary British tank crews, gunners, and riflemen.
Meanwhile, Field Marshal Montgomery was planning Operation Market-Garden, a bold and complex operation involving a massive British-American airborne invasion of Holland, scheduled for Sunday, September 17, 1944, preceding a thrust up into the Ruhr Valley, it was hoped could bring about Germany's defeat by the end of the year. As the Allied airborne units assembled on airfields in southern England, General Horrocks—poised with his corps in Belgium—was equally hopeful about Operation Market-Garden. But he had misgivings. "I was uneasy that this vast operation was starting on a Sunday," he said later, "not, I am afraid, on account of any religious scruples, but because no attack which I had launched on a Sunday had ever been completely successful."
On the morning of Saturday, September 16, 1944, the cobbled streets of the grimy little mining town of Leopoldsburg in northern Belgium, barely 10 miles from the front lines, were choked with 2,227 tanks, scout cars, and jeeps of the XXX Corps. Horrocks and his men were eager to get rolling again. From the Seine to Antwerp, their tanks had often averaged 50 miles in a single day, but ever since a disastrous halt on September 4 to "refit, refuel, and rest," the going had been hard. The British momentum had been lost, and the enemy had recovered.
Horrocks had no illusions about the German opposition, but he was confident that his forces could batter through it. He said later, "I knew that it would be a very tough battle; especially so, owing to the nature of the country, with its numerous water obstacles and the single main road available for thousands of vehicles; but failure never even entered my head."
On the following Sunday morning, Horrocks stood on the roof of a factory near the Meuse-Escaut Canal and watched the Allied glider formations thunder overhead. Operation Market-Garden was under way. Led by Sherman, Cromwell, and Valentine tanks of the Guards Armored Division, Horrocks's XXX Corps rolled forward. But its commander's misgivings were to prove prophetic as German artillery soon began plastering the spearhead armored columns. Resistance increased, and delays plagued the corps as it repeatedly came under fire and tried to negotiate around demolished vehicles on the narrow highway. The route was cut several times by enemy attacks.
Ultimately, despite valor and sacrifice shown by the Allied troops, almost everything went wrong and Operation Market-Garden ground to a halt. Horrocks never gave up hope of reaching Arnhem to relieve the Red Devils, but his corps was unable to get there in time. It was a near thing. Horrocks blamed himself for not having had a high-ranking Dutch officer at his headquarters who might have suggested a left hook well west of Nijmegen.
Bringing the War to a Close
Early in December 1944, the XXX Corps was pulled out of the line to prepare for the Battle of the Reichswald. General Horrocks stayed with Queen Elizabeth of the Belgians near Brussels. When German forces broke through thinly held American lines in the Ardennes Forest region on December 16, the XXX Corps, the only strategic reserve available, was rushed behind the River Meuse to cover Brussels. Christmas came, and Horrocks was ordered home on compulsory sick leave. He was taken aback and thought he was being sacked. "Don't be stupid," Monty told him. "You're not being sacked. I want you to go home and have a rest before a big battle I've got in store for you as soon as we've cleared up this mess here (in the Bulge)."
On his return, the interrupted preparations were resumed for the Reichswald campaign code-named Operation Veritable, which was designed to destroy the enemy forces between the Meuse and the Rhine. General Dempsey's British Second Army took part, and Horrocks's corps numbering 200,000 men was attached to General Henry Crerar's First Canadian Army for the battle.
Starting on February 8, 1945, and ending on March 10 with a German withdrawal across the Rhine, Veritable was a bitter struggle fought in atrocious weather. The British and Canadians faced a well-trained enemy in carefully prepared defensive positions, but they defeated three panzer, four parachute, and four infantry divisions. The losses were appalling; the Canadian Army suffered 15,634 casualties, two-thirds of whom were British, while the Germans lost 44,000 men. Horrocks called it a "horrible" battle and the greatest he had ever fought.
Back in Dempsey's army for the momentous Allied crossing of the Rhine, the XXX Corps was beset by fierce counterattacks during the advance into Germany. The corps battled for five days to capture Bremen and secured the great port city on April 27, 1945. Horrocks's troops were clearing the Cuxhaven Peninsula when Germany surrendered.
Knighted in 1945, General Horrocks served as general officer commanding (GOC) of Western Command in 1946-1948 and GOC-in-chief of the British Army of the Rhine in 1948-1949. After becoming ill again, he was invalided out of the service in 1949. Nevertheless, he embarked on an active retirement. Besides serving as Gentleman Usher of the Black Rod in the House of Lords for 17 years, he took up journalism; wrote articles and two memoirs, A Full Life and Corps Commander; edited regimental histories; held a directorship in a construction company; and undertook extensive charity work. His retirement was marred by the death of his daughter, who drowned while swimming in the River Thames in 1979.
While he was not a headline grabber during the war, Sir Brian became famous in the 1960s with a television series in which he analyzed World War II campaigns and battles. His knowledge, wide experience, and cheery, direct manner won him a wide following. He died at the age of 89 on January 4, 1985, and was honored with a memorial service in Westminster Abbey on February 26 of that year.