By Peter Suciu
The scene appears to be one of utter chaos, as several dozen soldiers react to an enemy attack on their troop train. Numerous photos show the level of destruction, along with the soldiers' frantic commotion. But nothing is actually moving except the smoke that passes across the field. Everything is exactly where it should be, down to the smallest detail. What seems to be frenzied activity is in truth a staged scene in 1/6 scale, and the epic recreation, which took weeks of planning, will be virtually gone by the end of the day.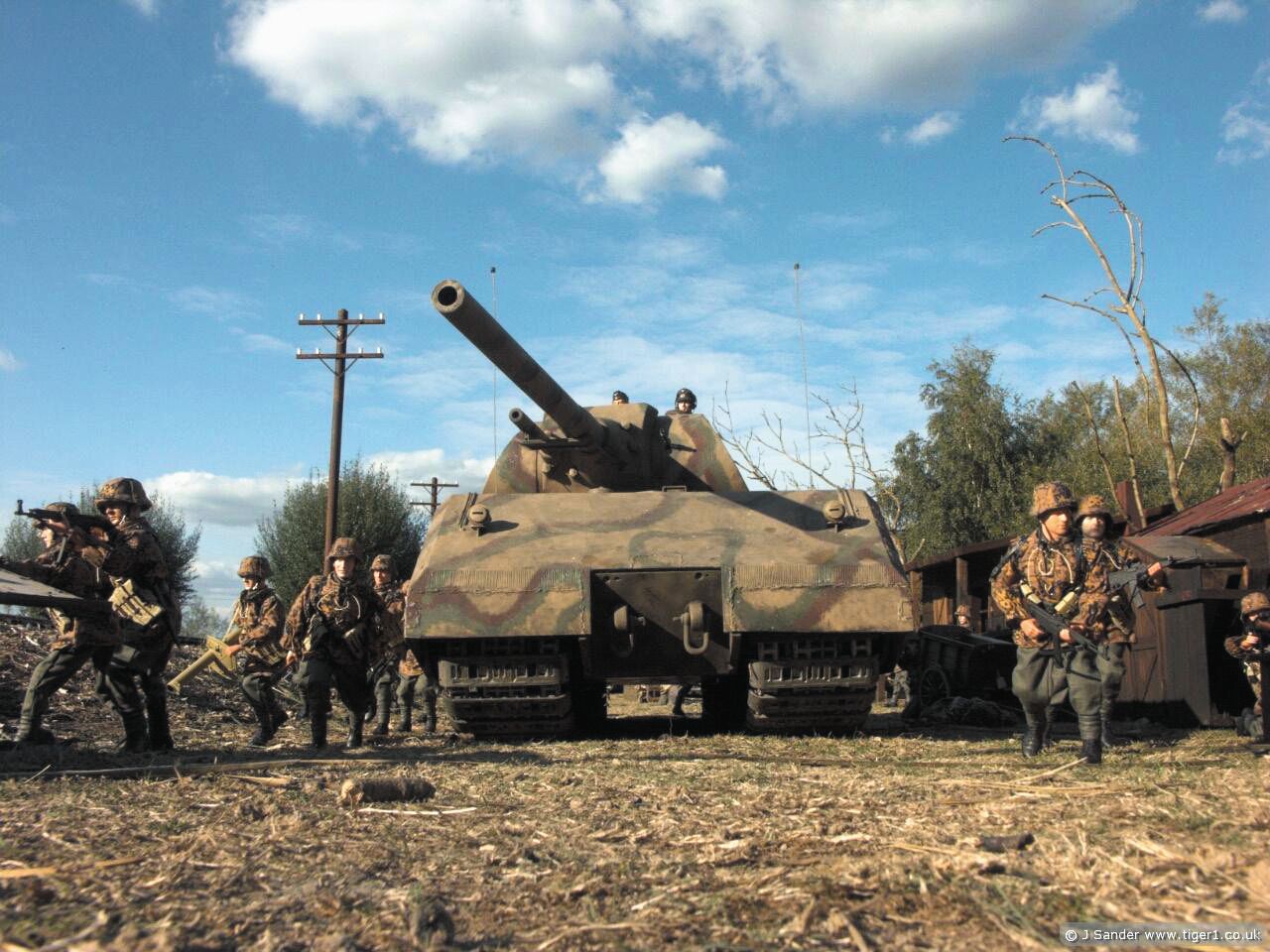 At times it is hard to believe that the epic scenes, which often include vehicles and a not-so-small army of soldiers, are just action figures posed for the camera. But for John Sander, who is part of a small team of military history enthusiasts based in the United Kingdom, these massive dioramas involve much more than just setting up scale-model figures and photographing them. "Part of our focus is to achieve a degree of realism and create as much as we can in a very finite amount of time," says Sander, one of the group's principal photographers. His efforts can be viewed at the group's website: www.tiger1.co.uk.
Sander stresses that he doesn't do this alone. "There is a team of about eight of us. This is very much a joint effort." Those making the effort include Peter Shaw, the man with the land, as Sander explains. An experienced model builder and hobbyist, Shaw is now retired and sometimes spends seven days a week creating the primary elements that will be used to recreate the battlefield. Other team members each have their particular roles, and creating the simulated battle scenes requires almost as much planning as it would take to stage the real thing.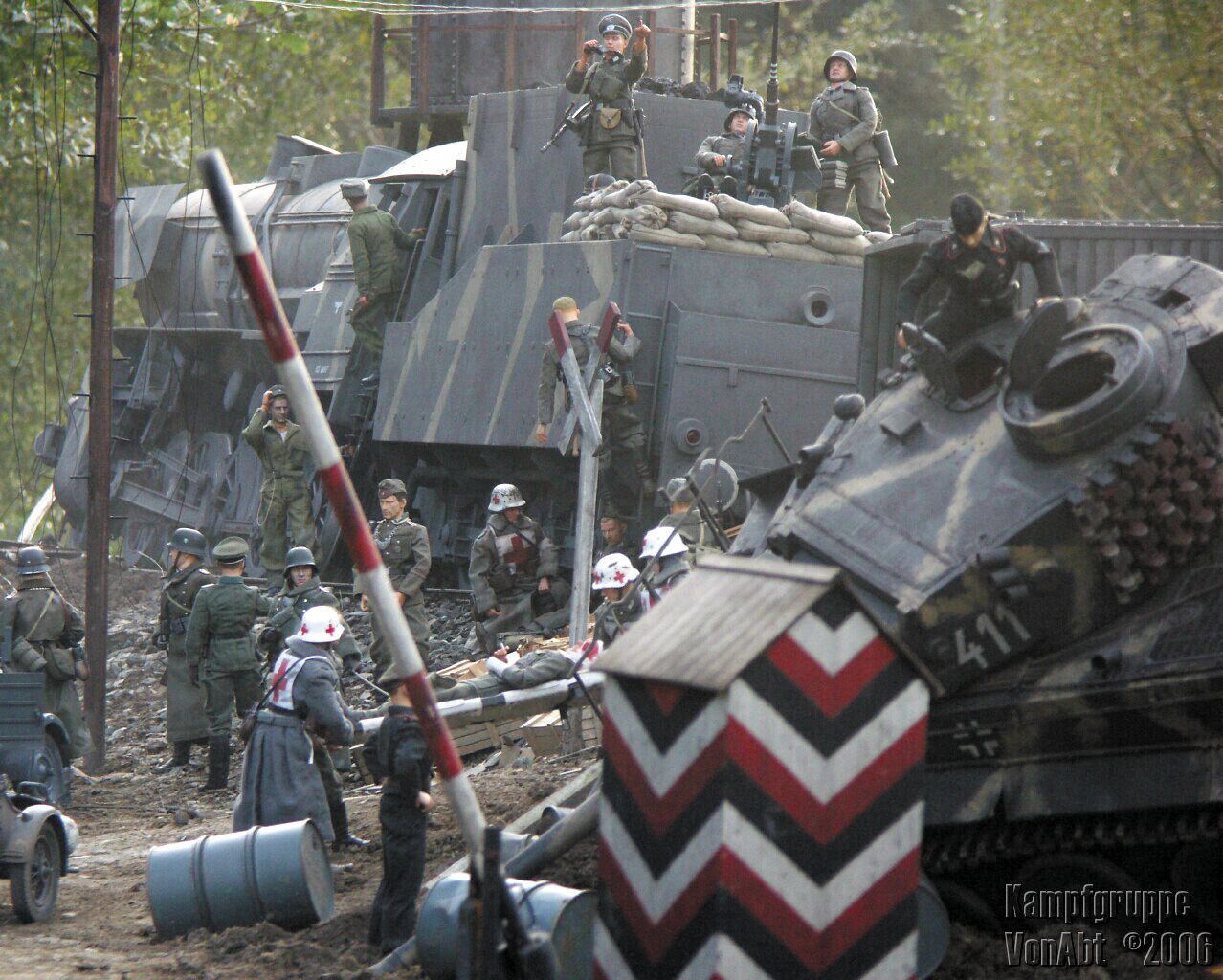 The devil is in the details, as they say, and the group goes the extra mile to ensure that those details would impress anyone. Many modern movie epics should enjoy such dedicated attention to realism. Team member Vince Abbott is known for providing the super-detailed vehicles for the 1/6 scale figures (12 inches tall), while Tim Catton works to ensure that the smaller elements, including weapons and equipment, look as realistic as possible. Hugh Abbot and Mark Winter function as the equivalent of set decorators on a movie set, and take the time to set everything up. Sander and Abbott are the primary photographers.
Everything a viewer sees in the photos is set up, photographed, and taken down in a single day. "We do what we can," says Sander, "without being too obsessive. You could spend months just trying to prepare one figure." Part of what makes the scenes possible is technology. Today's high-end digital cameras allow Sander to photograph the scenes in ways that wouldn't have been possible with SRL cameras a decade ago. The efforts to capture the 1:1 perspective couldn't be done, he explains, without digging a trench and seriously impacting the battle scene, but the latest developments in digital cameras with flip-up LCD displays allow the photographers to get right in the middle of the action and frame the shots as they would with a traditional film camera. The other benefit of digital technology is that team members can quickly preview the results and make adjustments in seconds. This couldn't be done with film.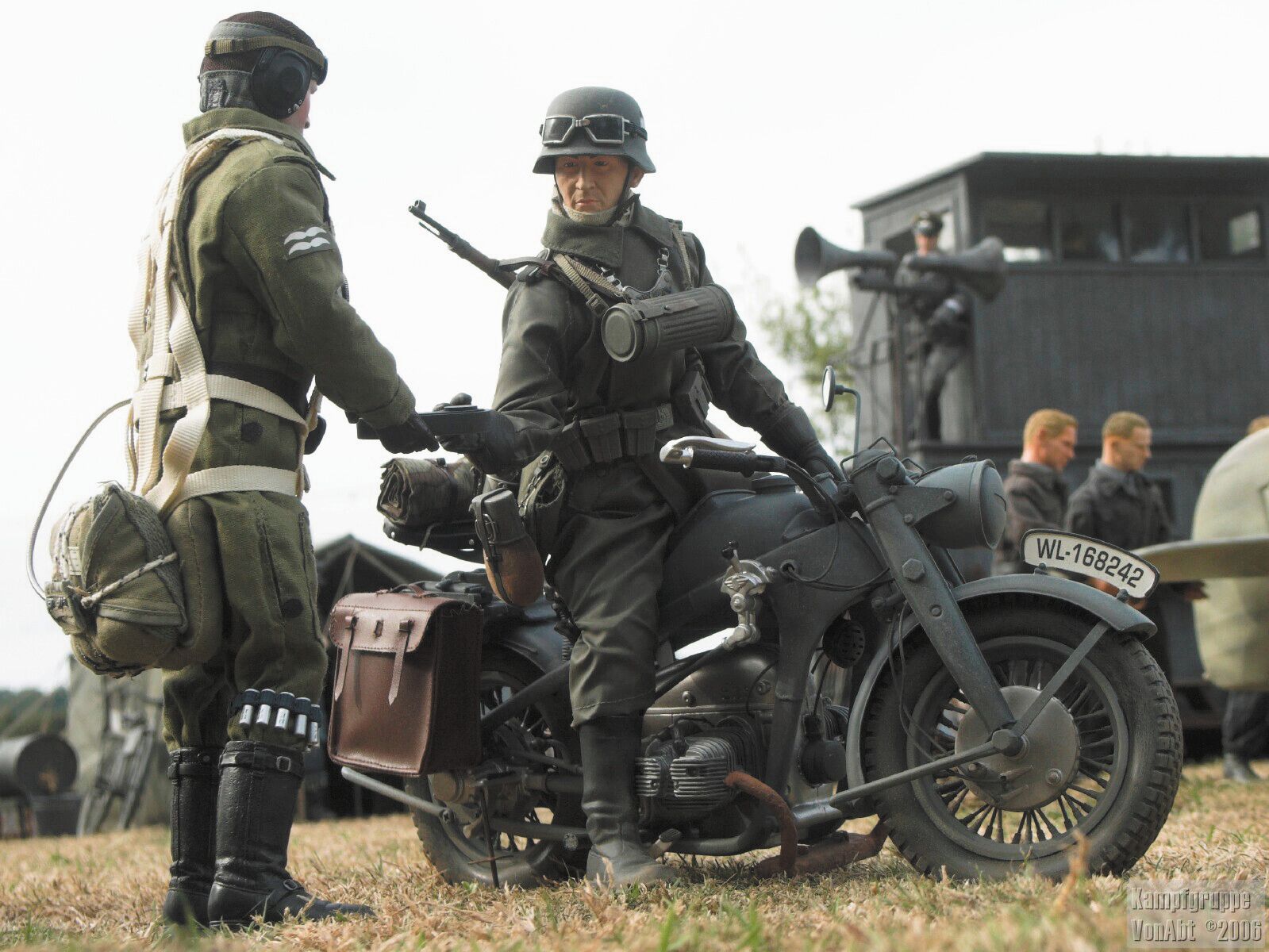 Another primary factor making the dioramas possible is the introduction of high-quality action figures during the past decade. Without these figures and their highly detailed uniforms and accessories, it would be virtually impossible for Sander and the others to even consider creating such elaborate scenes. All of the various members have backgrounds building model vehicles, but the 1/6 scale offers much more in the way of details, particularly in the armaments and vehicles.
While numerous companies produce action figures, Sander says the team is quite picky in its choices. "At this point we're very particular about what we use," he says. "Without exception, I would say we use Cyber-Hobby and Dragon." The Hong Kong-based Dragon Models has been one of the industry leaders, and its online exclusive Cyber-Hobby line offers details that few other companies can come close to replicating. Despite the quality of the figures, however, Sander says that Dragon has its own limitations, notably the company's primary focus on German World War II figures, with far fewer Allied figures to work with. "The range of American and British figures is fairly limited, and that does make it difficult," he says. "As a result, we've only done one Allied photo shoot. There are more Russians, but no French and only now a couple of Italians. If other figures are made we'll certainly consider it."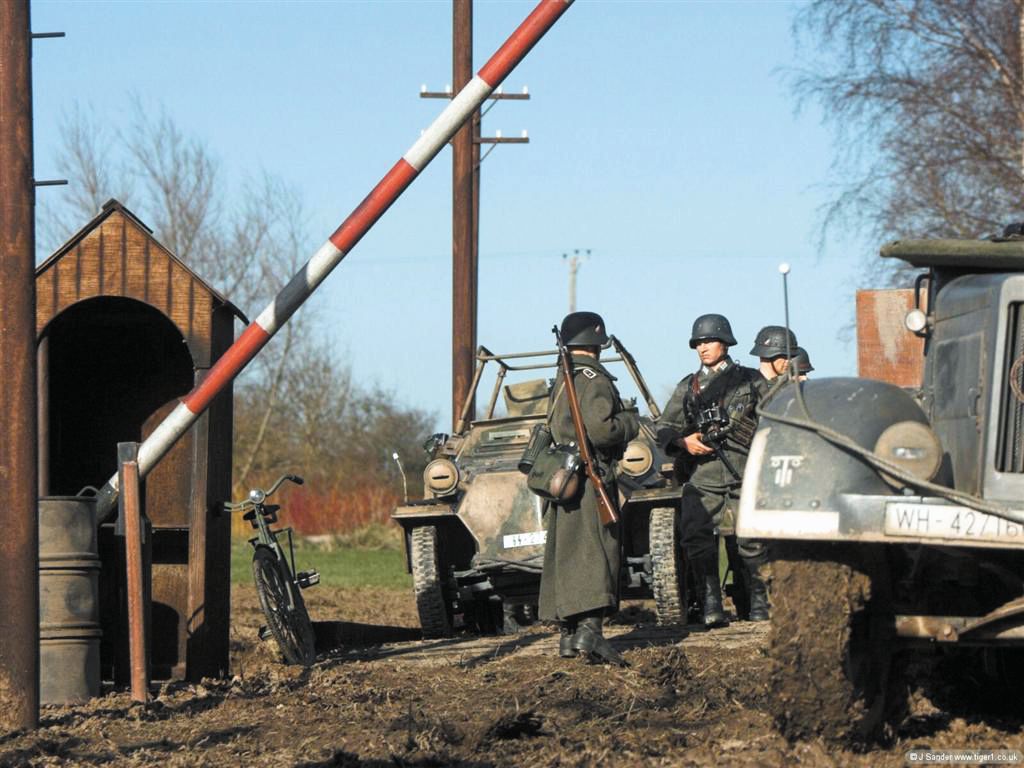 In some ways the company already has taken note, posting links from its official websites to those of the displays. "It has taken a while to make contact, but we're now on their radar," Sander says, adding that this will expose the team's efforts to a wider audience. Possibly getting some corporate sponsorship, or at least the occasional free figure, wouldn't hurt either. Highly detailed action figures such as those from Dragon don't come cheap, costing $50 or more in the United States when first released. Sander says that he and the others each have more than a hundred figures, while Vince Abbott has more than a thousand.
Keeping track of the figures is difficult, and for this reason the group runs a private forum where members can post messages such as "I'm missing a helmet" or "I've found an extra shovel in my kit." After the massive scenes they create, it is a wonder that whole platoons don't go missing. It is primarily for this reason that the setup, photography, and breakdown typically occur in one day.
For each of the larger re-creations, there is about three to four weeks of preparation, with various members preparing different elements of the setting, such as the train locomotives and cars. During this time, Hugh Abbot is able to prepare the ground in advance of the arrival of the little men. Inclement weather is a constant concern, since the dioramas aren't designed to remain outside in the elements for long periods of time.
The group hopes in the future to be able to set up semipermanent displays that can be photographed over the course of days instead of hours. Already, preparation is under way to build an undercover area for use as a photo studio, where the group plans to build a town or village setting that wouldn't be possible in normal open-air settings. This will also ensure that the weather, which isn't always agreeable in the United Kingdom, won't spoil a setup or damage any of the expensive figures and vehicles. "The most frustrating part," says Sander, "is having to disassemble it. We do it in one day because we can and because we have to."
In the meantime, there are plans for a couple of weekend layouts this year, which should let the scenes increase in size. There is also the hope of creating even longer lasting displays. The team has had experience with life-sized 1:1 aspect creations, and team members have been in talks with a local museum about creating semipermanent displays, which would no doubt be updated to keep things interesting. For the time being, however, the scenes will come and go. One thing that everyone wants to avoid is having any two scenes resemble each other too significantly. While it might seem as though Dragon Models has released an army of thousands, there is in fact a limited number of action figures. New scenes take a great deal of careful planning and rotation of the figures.
One of the most important decisions is how and where to set up each individual figure. The dioramas have to be more than just 20 to 40 figures randomly placed or standing in a field. Attention must be paid to make sure that everything is just right, since a whole day's work, not to mention weeks of planning, can be lost if a mistake is noticed after everything is packed up. To accomplish the ultra realism requires a unique talent. It isn't merely a matter of standing up the figures. Tim Catton works with the body structures to craft just the right poses. This involves some tweaking of the figures themselves, such as carving out the hips or necks to create a more lifelike stance or tilt of the head.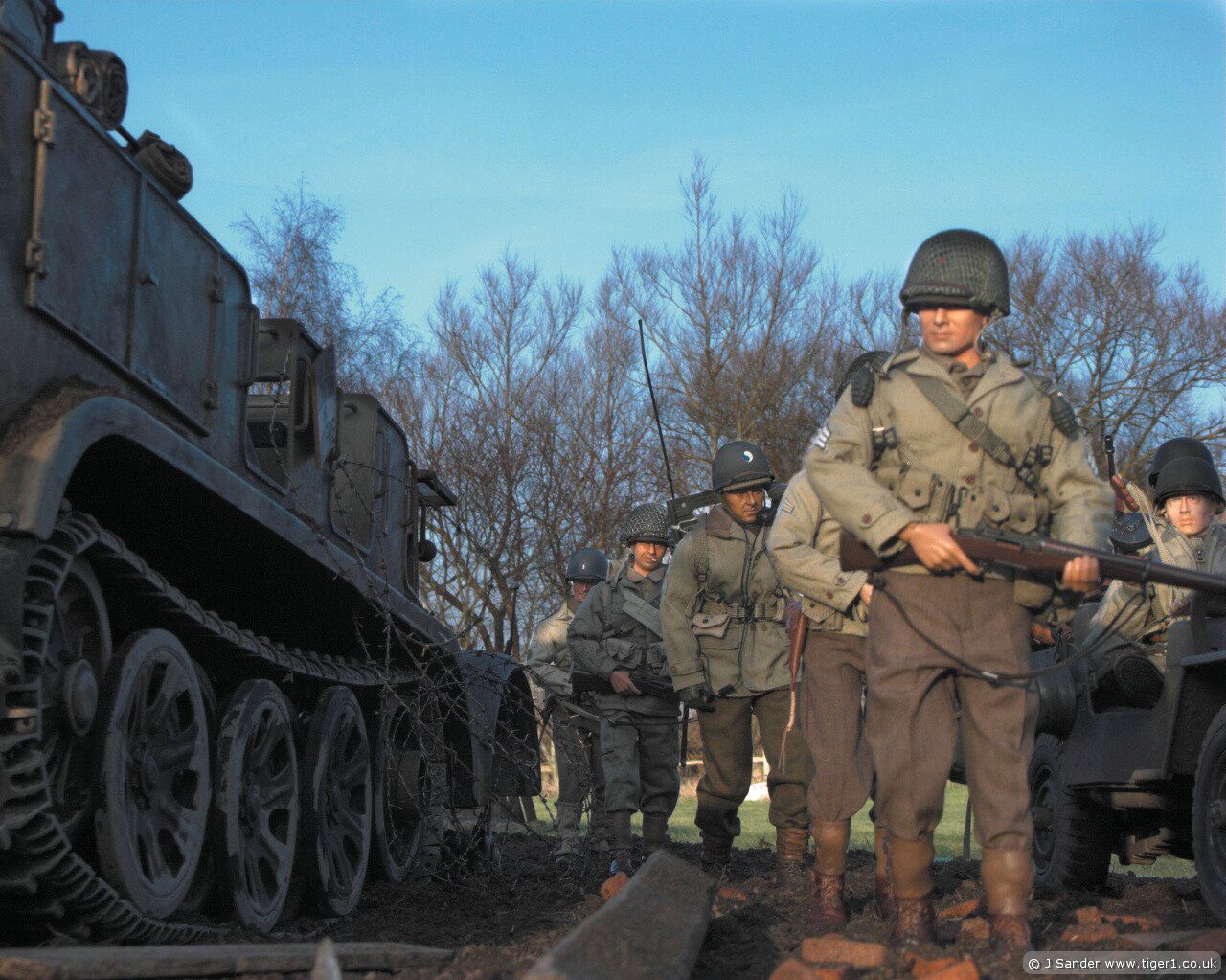 The changes can't be so drastic that the figure has to be retired afterward. A small tear in the fabric of the trousers might look good once, but it would be noticeable if that same infantryman showed up repeatedly with the same tears in the same places. The point of the displays to create a natural-looking battlefield that is populated with anonymous soldiers, and for this reason the team steers clear of figures that are representations from movies or television. Cyber-Hobby has created a line of quasi knock-offs, which look as if they might be officially licensed from movies, but aren't. The popular "Sergeant Steiner" is one example, since the figure closely resembles James Coburn's character from the film Cross of Iron. Likewise, historical characters such as German General Heinz Guderian and Colonel Otto Skorzeny, among others, won't be making an appearance on the miniature battlefields.
Sander emphasizes that the team is careful in its efforts not to cast any stars from the hundreds of figures that are used, but the same figures will occasionally pop up often enough. Such figures tend to get more upfront and foreground exposure, if only because the details in their equipment, uniforms, and head sculptures are so much better. One aspect that has to be addressed often is the smaller details, including webbing, chinstraps, and shoulder straps. Early Dragon models were good, but not at the level of realism required for the massive recreations. A bigger problem thus far has been the lack of variety in the face sculptures and the resultant blankness on the figures' faces. There haven't been enough people laughing, talking, or smoking, says Sander. To get around this, the team often poses the figures with their heads hung low and their shoulders slumped to reveal grim determination.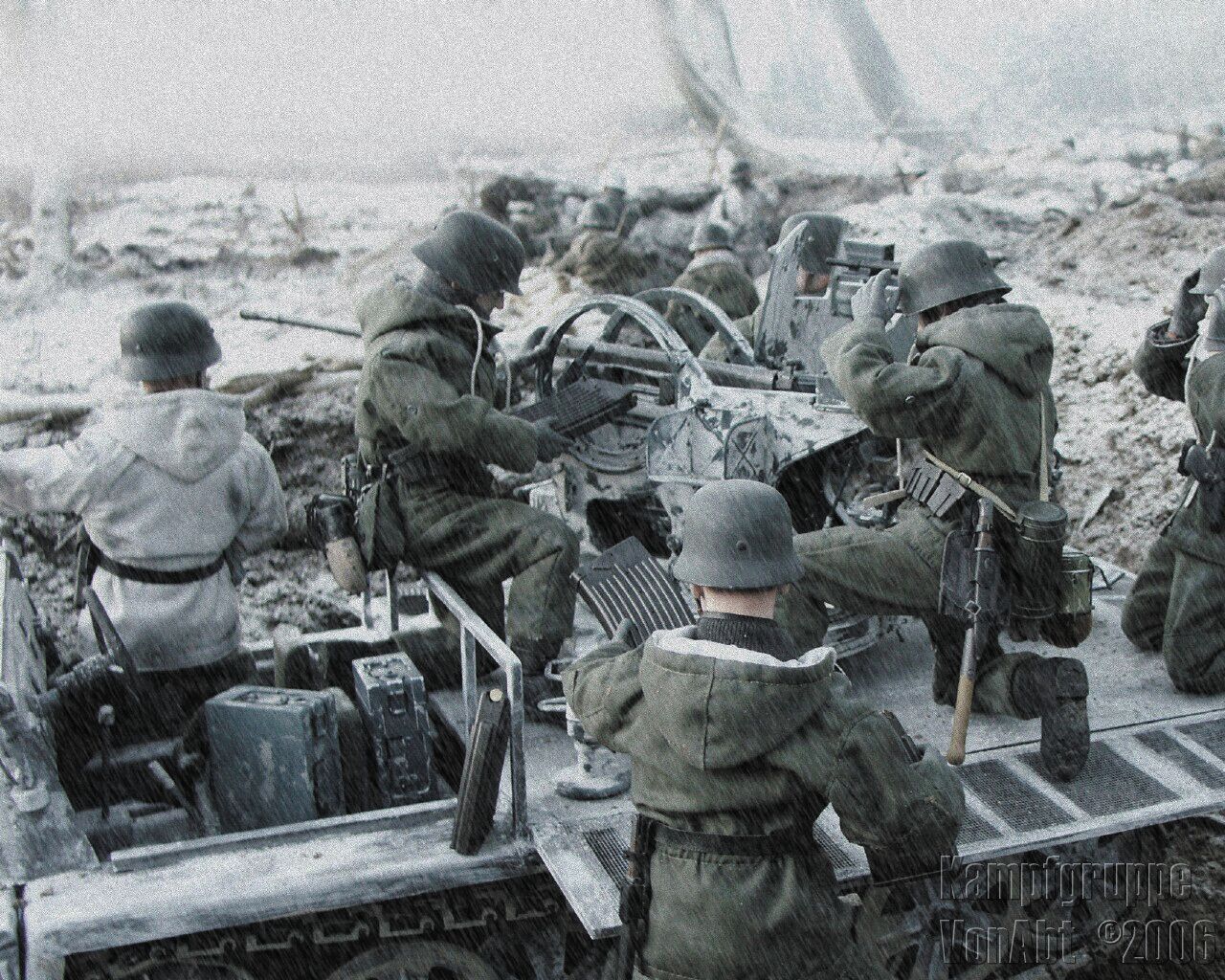 While there are plans for bigger displays, there are no immediate plans to move to another scale. The 1/6 scale is what the team knows and does best. Sander does envision possibly going to the 1:1 ratio, and toward the more traditional military reenactment community. This could entail photographing regular engagements or helping stage smaller settings. For the time being, however, "I absolutely can't see us moving into the smaller scales," says Sander, noting that the smaller figures lack detail, while traditional model dioramas can't be constructed on such a large level. The 1/35 and other smaller scales are more appropriate for a single-model builder, not a full-fledged team of enthusiasts. Plus, the investment in time and material should allow the team to happily craft large scenes for years to come. "We have so much now with the vehicles and the train," Sander says. "I think it is safe to say that we have four or five years worth of work ahead of us at the very least."
Because of the equipment already on hand, World War II will likely continue to be the backdrop for the creations. "The dioramas are just an extension of our interests, but again we're somewhat limited by the figures available," says Sander. "This is the way we've done the settings we've done, and why they have been mostly German focused." Sander says that other settings, such as World War I, are doable, but not in their plans right now. "There are excellent figures from Sideshow Toys for the First World War, but so far we feel that to achieve the focus we want, we're best to stick to World War II, especially since we've come to this place from modeling vehicles."
The group is careful not to tread on other people's history. They hope that veterans and other history buffs will find what they are doing respectful. "We don't want to trivialize wars," says Sander. "The worst thing that mankind has done is to go about and start killing each other. So we don't want to glamorize it, nor do we want to trivialize it." Thus far, the British veterans of World War II who have seen the photos of their dioramas have been impressed. "We were very happy that these chaps had enjoyed it so much," he notes. "That did make us feel good about it."