Founded in 1773, the Charleston Museum in South Carolina dubs itself "America's First Museum." Its new collection, "Unfurled," is a stunning collection of historical flags from American history.
On display from May 5, 2014 to January 4, 2015, the exhibition is on display in its Historic Textiles Gallery.
[text_ad use_post="1890″]
The flag collection is immense, spanning from the early 19th century to the late 20th century, covering a range of functions and styles.
The 48-star American flag shown above was used in World War I. (Both Hawaii and Alaska entered the union in 1959, over 40 years after America's involvement in the Great War.) The one shown below is a Confederate battle flag from c. 1862.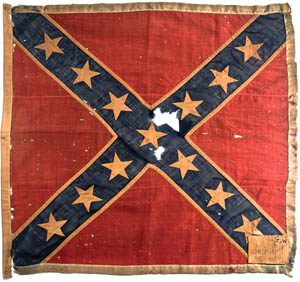 "Most of them are in pretty fragile condition because of the nature of the flag and they have been flown outside or in battle," said Jan Hiester, the curator of textiles at the museum told the News Observer.
Also on display are Coast Artillery flags from World War II, a Calhoun Artillery flag from South Carolina dating from the Civil War, and an 1861 militia flag.