By Michael E. Haskew
It may come as a surprise to many that Nazi dictator Adolf Hitler failed to win the cooperation of all his family members for the dark vision of an Aryan Germany and a new world order.  In fact, one nephew actually joined the United States Navy and fought against the Axis, but it did not happen without some doing.
"Why I Hate My Uncle"
According to released correspondence on the website LettersofNote.com, William Patrick Hitler, the son of the Führer's half brother, Alois Hitler, Jr., and his Irish-born wife, Bridget, petitioned President Franklin D. Roosevelt for the opportunity to enlist in the U.S. armed forces. Patrick was born in Liverpool, England, on March 12, 1911, and subsequently moved to Germany, possibly to take advantage of his uncle's powerful position. Indeed, Adolf Hitler did arrange for William to take a job in a bank in 1933. Later, he worked in an automobile factory and as a car salesman.
Apparently, he was not satisfied with his lot in Nazi Germany and blackmailed his uncle with the threat of revealing to the world that the Führer's paternal grandfather was actually Jewish.  In the mid-1930s he left Germany for London and wrote an article for Look magazine titled "Why I Hate My Uncle."
[text_ad]
By 1938, William had returned to Germany, and there is some speculation that he was in the service of British Intelligence. Then, fearing that the Nazis were suspicious, he fled Germany in 1939 and made his way, with his mother, to the United States to begin a lecture tour at the invitation of newspaper publisher William Randolph Hearst. When World War II broke out, both William and Bridget had no real choice but to remain in the United States.
According to a recent article written by Dylan Stableford of Yahoo News and the ABC News Network, William became passionate in his desire to fight for the Allied cause. In 1940, he had attempted to enlist and been denied.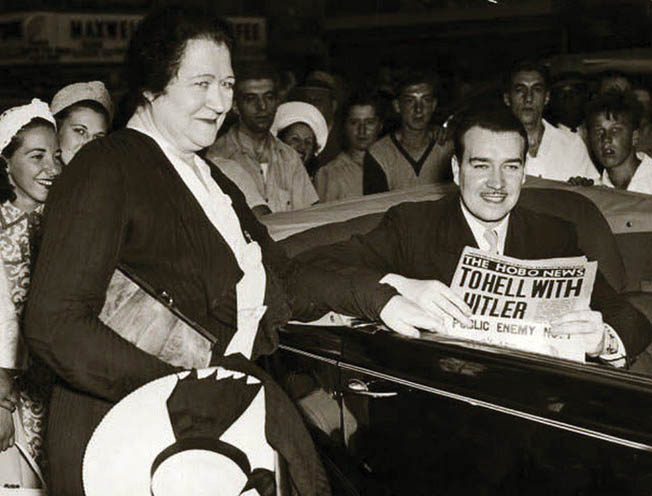 William Hitler's Letter to Roosevelt
A letter from William to President Roosevelt dated March 3, 1942, reads in part: "I am the nephew and only descendant of the ill-famed Chancellor and Leader of Germany who today so despotically seeks to enslave the free and Christian peoples of the globe. Under your masterful leadership men of all creeds and nationalities are waging desperate war to determine, in the last analysis, whether they shall finally serve and live an ethical society under God or become enslaved by a devilish and pagan regime…. All my relatives and friends soon will be marching for freedom and decency under the Stars and Stripes. For this reason, Mr. President, I am respectfully submitting this petition to you to enquire as to whether I may be allowed to join them in their struggle against tyranny and oppression."
William goes on in the letter to describe his attempts to join the armed forces of Great Britain and the apparently cool reception he received from British authorities. "The British are an insular people and while they are kind and courteous, it is my impression, rightly or wrongly, that they could not in the long run feel overly cordial or sympathetic towards an individual bearing the name I do…," he wrote.
William was granted permission to enlist in the U.S. Navy in 1944, served three years as a pharmacist's mate, received the Purple Heart for a wound, and was discharged in 1947. After the war, he changed his surname to Stuart-Houston and established Brookhaven Laboratories on Long Island, New York, residing in the city of Patchogue. He married in 1947 and became the father of four sons.  He died at the age of 76 on July 14, 1987, having largely achieved the post-war anonymity that he sought.