By Joseph Luster
World of Warships: Legends
At the time of this writing we're fresh into the new year, so naturally that means it's time to turn our attention toward a new port of one of Wargaming's biggest titles. Beyond the ever-popular World of Tanks lies the maritime spin on the formula known as World of Warships, which makes its way to consoles this year in the form of World of Warships: Legends. With the PlayStation 4 and Xbox One releases right around the corner, we took a moment to look into what makes these ports unique among previous iterations.
The last week or so of December kicked off the Closed Beta period for World of Warships: Legends, which takes the naval combat game and introduces a refined and improved user interface more directly suited for console play. That adds up to a simplified layout and easier access for both novice and veteran players, many of whom got a chance to test out a variety of Legendary Commanders aboard ships like the Amagi and Iowa during testing. Voice chat has been added into the mix to make it easier to coordinate with friends and strategize throughout each mission, and there are enough visual tweaks to make it worth checking out for long-time players of the PC version.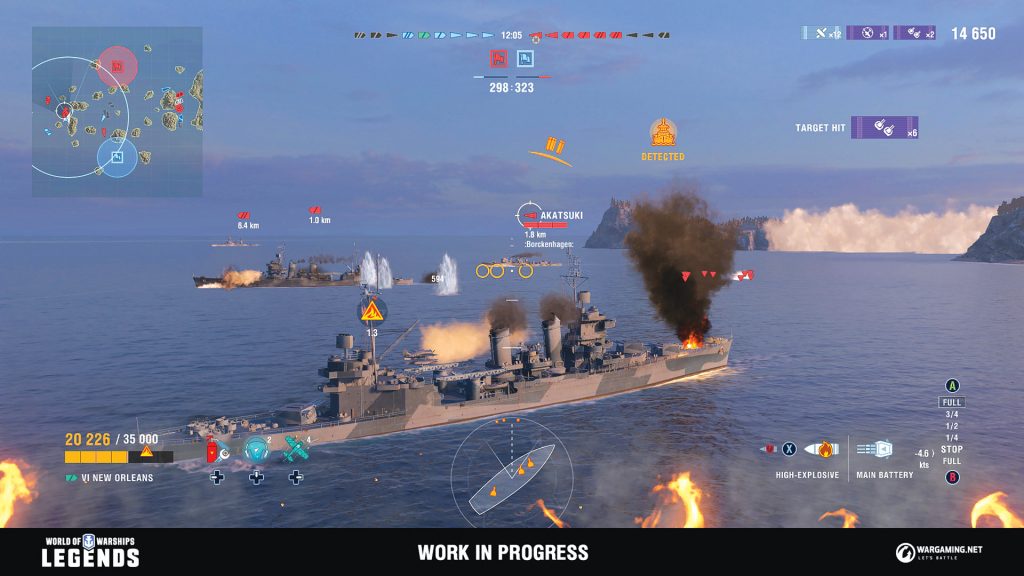 The developer in charge of Legends is Wargaming St. Petersburg, which also handled the original World of Warships on PC. Beyond the initial changes and updates, Wargaming has a lot of exclusive content planned for Legends as it sails onto consoles this year. As long as they maintain a consistent level of quality with all the new features, Legends has the potential to introduce an entirely new community to the massively multiplayer online naval action that has made the series a success in recent years.
Publisher: Wargaming.net
Genre: Action
Platform: PS4, Xbox One
Available: 2019
---
Sid Meier's Civilization VI: Gathering Storm
Sid Meier's Civilization is a series with a history almost as storied as the subject matter on which it hinges. The first entry dates back to 1991, and now Civilization VI: Gathering Storm will carry the torch when it hits PC on February 14, 2019. The world has seen plenty of progress in the intervening years, and it looks like we can expect another leap in the level of content once history's great empires return to take over our computer screens for the foreseeable future.
The list of additions to Civilization VI—which has been teased with a consistent reveal of new leaders as it gradually approaches launch—are numerous and pretty substantial. Chief among them are eight new civilizations and nine new leaders, as well as new units, buildings, districts, World Wonders, advanced technologies, and so on. Those all sound nice, but they're more or less what one would expect from a sequel. The meat of Civilization VI, however, lies in the name itself.
Gathering Storm refers in part to the forces of nature that help bring it to life. Features such as Floodplains have been expanded, both in terms of scale and in the risk they pose to burgeoning civilizations. Thankfully, players will be able to safely enjoy the high yields that come along with these areas by mitigating the potential damage with the help of the new Dam district. Beyond floods, you'll also have to contend with volcanoes, which introduce their own unique risk/reward scenarios. Both these and the floods help fully realize the world along with other weather system factors, from droughts to major storms and natural disasters that make progression a little more unpredictable than before.
This all ties into the bigger picture, which even takes the science of climate change into consideration when dealing with the development of technology and conditions over time. Civilization VI is all about attempting to predict and adapt to the future, and some of the new concepts on display have been woven into the concepts of the Diplomatic Victory and World Congress. Both have been implemented here to allow players to foster diplomatic goodwill and see their ideas take shape and be accepted into the greater world community. Working together is of the utmost importance, and the team behind the Civilization series has taken this truth to heart in what appears to be one of the most intriguing and promising entries to date.
Publisher: 2K
Genre: Strategy
Platform: PC
Available: February 14, 2019
---
UPDATE:

Afghanistan '11

Originally released on PC back in March 2017, Every Single Soldier's Afghanistan '11 is, on the surface at least, a sequel to Vietnam '65. While its release on Steam has been met with a mostly positive response to this day, publisher Slitherine Ltd. hasn't had it quite as easy with the release that ultimately followed on Apple devices. More than a year after the game's initial launch, the developer and publisher were hit with a rejection that resulted in Afghanistan '11 being pulled from the iOS App Store. What could have been so objectionable in what is otherwise a fairly innocuous strategy title?
According to Apple's response to the developer, the game has been rejected because it features "people from [a] specific government or other real entity as the enemies." While that may be the case, Slitherine issued a response via Polygon, saying that Afghanistan '11 is more about infrastructure development and the offering of support to civilians throughout Afghanistan.Combat against the Taliban is certainly a factor, but it's far from the primary focus of the game.
The Slitherine representative continued, saying, "Historical rigor is a fundamental key of Slitherine and Matrix Games DNA.… We never portrayed an 'enemy' for its [ethnic] origin. Our [games] are based on history and we always try and depict realistic historical situations." Apple has taken similar actions in the past, including the removal of Ultimate General: Gettysburg in 2015—a move that was eventually reversed—as well as rejecting other games that made use of the Confederate flag. Hopefully this particular move will be reversed sooner rather than later.
Publisher: Slitherine
Genre: Strategy
Platform: iOS, PC
Available: Now