By Major General Michael Reynolds
British General Sir Bernard Montgomery was given command of two Allied armies for the invasion of Normandy: Lt. Gen. Omar Bradley's First U.S. Army and Lt. Gen. Miles Dempsey's Second British Army. His overall plan for the Normandy campaign, and indeed it was his plan, is well known. Following airborne landings at each end of the proposed beachhead, four Allied corps would land on five beaches; it was intended that they penetrate to an average depth of about 10 kilometers on D-day and capture the towns of Isigny, Bayeux, and Caen. Montgomery then planned to hold Caen and the high ground immediately to its south, while by D+9 an American and a British corps would secure the line of the high ground running from St. Lô through Caumont to Villers-Bocage.
It was also planned that another U.S. corps would capture the major port of Cherbourg in the same time frame. From this firm base, General George Patton's Third U.S. Army, which would by then be operative, would join the First Army and expand south. By D+50, it was hoped that the lodgment area would comprise the Brittany ports and France north of the Loire River and east to the Deauville-Tours line. By D+90 the Allies hoped to reach the Seine River.
This, then, was the plan outlined by Montgomery in front of King George VI, Prime Minister Winston Churchill, Supreme Allied Commander General Dwight D. Eisenhower, and all senior commanders at St. Paul's School, London, on May 15, 1944. All who attended were left with no doubt about Monty's intentions. General Omar Bradley later wrote: "The British and Canadian armies were to decoy the enemy reserves and draw them to their front on the extreme eastern edge of the Allied beachhead. Thus while Monty taunted the enemy at Caen, we were to make our break on the long roundabout road to Paris. When reckoned in terms of national pride, this British decoy mission became a sacrificial one, for while we tramped around the outside flank, the British were to sit in place and pin down Germans. Yet, strategically it fitted into a logical division of labours, for it was toward Caen that the enemy reserves would race once the alarm was sounded."
Montgomery's plan for encircling Caen was based on a major thrust to the west of the city, leading to the high ground northeast of Villers-Bocage and then east to Evrecy on the far side of the Odon River. The strategic importance of this high ground near Villers-Bocage cannot be overstated. Point 213 could be seen for miles, and as such it dominated the surrounding countryside.
This article was first published in 
WWII Quarterly
Order your subscription here!
The threat to the Villers-Bocage area posed a major problem for the German commanders, particularly SS General Sepp Dietrich, because the troops earmarked to fill the widening gap between his I SS Panzer Corps and General Erich Marcks' LXXXIV Corps had yet to arrive. This gap was to be filled with the 3rd Parachute and 2nd Panzer Divisions, though the tanks and wheeled vehicles of 2nd Panzer were not expected to arrive before June 14, or to be ready for action until the 15th at the earliest. In the meantime, the gap would have to be filled by light reconnaissance forces.
Six days after the Allied landings, Dietrich no longer believed a concentrated counterattack against the British and Canadians in the area to the west of Caen was possible. He complained to General Friedrich Dollmann's Seventh Army Headquarters that he had no reserves, forgetting that in fact he had one reserve which was about to arrive in sector and play a dramatic part in forthcoming events: the 101st SS Heavy Panzer Battalion with its superb Tiger I tanks!
"Turning Point in the Battle"
The crisis for the Germans came when the U.S. 1st Infantry Division advanced and captured Caumont on the American left flank. This village stands on a high ridge between Villers-Bocage and St. Lô and was essential to the German defense in that area. General Marcks himself was killed on this day, June 12, in a fighter-bomber attack while leading a group of hastily assembled minor units in a last attempt to defend this vital ground. However, it was too late and by nightfall on June 12, after an advance of eight kilometers, the Americans entered the village.
The news that the Americans had found a gap electrified the British command. The commander of XXX Corps, Lt. Gen. G.C. Bucknall, met his superior, General Dempsey, at the Bayeux railway station at 1145 hours on June 12 and told him that his reconnaissance troops were in contact with the U.S. 1st Infantry Division and all seemed to be going well. Dempsey immediately told Bucknall to switch his 7th Armored Division (the famous "Desert Rats") from its existing front and to push it through behind his armored reconnaissance battalion, which had reached Caumont with the Americans, and endeavor to get to Villers-Bocage that way.
Montgomery told his chief of staff that night that this move could be a "turning point in the battle."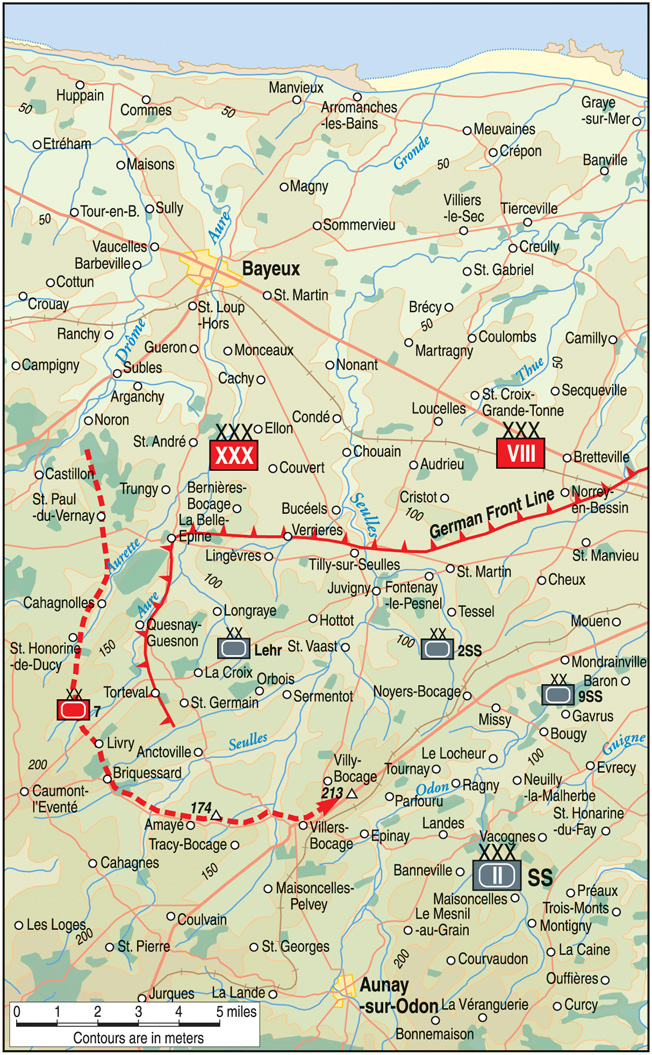 In view of the obvious threat to his left flank, Dietrich decided to use his only reserve as soon as it arrived in sector and before it had time for the urgent maintenance and repairs its Tigers so badly needed. During the move from the other side of the Seine, SS Major Hein von Westernhagen's 101st SS Heavy Panzer Battalion had suffered badly. Damaged in an air attack near Paris, the battalion had been constantly harried from the air and 27 men had been killed or wounded. Many tanks had broken down due to the long move on their own tracks. Even so, while the Headquarters and SS Lieutenant Hanno Raasch's decimated 3rd Company remained in the vicinity of Falaise with only one operational tank, the other two weakened companies were ordered, late on June 12, to move across the Orne and Odon and take up reserve positions behind the Panzer Lehr and Hitlerjugend Divisions.
The 1st Company of SS Captain Rolf Möbius, with nine Tigers, was located  behind the Hitlerjugend in the region of Noyers-Bocage, some nine kilometers northeast of Villers-Bocage. SS Lieutenant Michael Wittmann's 2nd Company, with only five tanks, was to be found behind Panzer Lehr, in a small wood directly south of the tiny hamlet of Montbrocq on the critical Point 213, some two kilometers northeast of Villers-Bocage.
Michael Wittmann and His Tiger Tank
By June 1944, Michael Wittmann was already one of the most famous officers in the Waffen-SS and its greatest panzer ace. He had joined the Leibstandarte Division in 1937. As a sergeant he commanded an armored car in Poland and France, and he went on to earn the Iron Cross 2nd Class in Greece. Wittmann was wounded twice and won the Iron Cross 1st Class in Russia in 1941, before being sent to an SS Officers' School and commissioned second lieutenant in December 1942.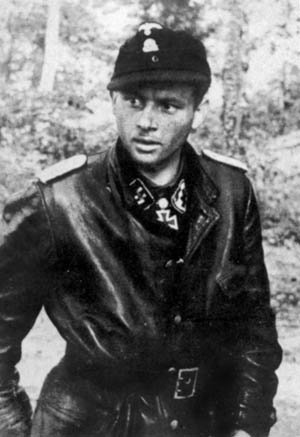 After only one year as a tank commander in Russia, Wittmann was credited with 66 tank kills and had been awarded the Knight's Cross. On Hitler's birthday in 1944,Wittmann was promoted to the rank of SS lieutenant, and 10 days later he received Oakleaves to his Knight's Cross. In April 1944, he was given command of the 2nd SS Panzer Company in the 101st SS Heavy Panzer Battalion. He and his gunner, Bobby Woll, had by then been credited with an astonishing 119 enemy armored fighting vehicles destroyed. Woll, who had also been awarded the Knight's Cross, had now been given his own Tiger.
At this time the panzer and panzergrenadier regiments of General Fritz Bayerlein's Panzer Lehr Division were facing north, successfully defending the Tilly-Lingèvres-La Belle-Epine front, and his reconnaissance battalion was covering, as best it could, the left flank.
Objective: Villers-Bocage
When Maj. Gen. Bobby Erskine, commander of the 7th Armored Division, was given his new orders on June 12, he had to reorganize his division for its planned deep probe around the back of Panzer Lehr. Although Erskine would be advancing on a very narrow front with an exposed left flank, he knew that Dietrich's panzer divisions were fully committed and that there were no immediate German reserves. An Ultra intelligence decrypt on the 12th indicated that 2nd Panzer was on its way to support Panzer Lehr in the neighborhood of Villers-Bocage, but it still had some way to go to reach the battle area. The British generals had every reason to expect success the following day, but then none of them knew about the 14 newly arrived Tigers.
Erskine decided to lead
with his 22nd Armored
 Brigade, which comprised
 two tank battalions, one
motorized infantry battalion,
 one self-propelled artillery
battalion less a battery, and an antitank battery. To provide more infantry for its move through the "bocage" (hedgerow) countryside and, in particular, to help it occupy Villers-Bocage, Erskine reinforced it with an additional battalion from his infantry brigade. The commander of the 22nd Armored Brigade was Brigadier "Looney" Hinde. As his nickname suggests, Hinde was a flamboyant cavalryman, much admired for his personal bravery.
The other half of Erskine's division was Brigadier Michael Ekins' truck-mounted 131st Infantry Brigade, which normally consisted of three battalions and a towed artillery battalion. Ekins, who had been recently appointed to command the brigade, was a much more pedestrian officer than Hinde and was unknown to his officers and men. To balance the division, Erskine took the 22nd Brigade's third tank battalion and gave it to Ekins. In simple terms, the armored brigade had two tank battalions and two infantry battalions, while the infantry brigade had one tank battalion and two infantry battalions, and they were each supported by an artillery battalion.
In addition to these two brigades, Erskine had an armored reconnaissance battalion of which one company was given to 131 Brigade, another told to guard the left rear of the division near Le Pont Mulot, and the remainder given the task of right flank protection under "Looney" Hinde's command. On top of all this, the XXX Corps' armored car reconnaissance battalion was also given the task of guarding the flanks.
What Cost the 7th Armored Division the Battle of Villers-Bocage?
Brigadier Hinde gave his orders at 1500 hours on the 12th. The Stuart reconnaissance tanks were to lead, followed by the Cromwell medium tanks of Lt. Col. Viscount Cranley's armored battalion, with an infantry company and antitank detachment under command. This battle group was to advance, via Livry, to Villers-Bocage and then move on to seize Point 213.
Another tank battalion and infantry company were to take the high ground to the southwest of the town at Maisoncelles-Pelvey and the antitank battery with its splendid self-propelled 17-pounders was to cover the gap between the two groups. The additional infantry battalion allotted to Hinde was to occupy Villers-Bocage itself. As the operation progressed, Erskine planned for 131 Brigade to move forward and occupy the Livry area.
The advance began at 1600 hours on the 12th, but after a short distance a Stuart light tank was lost to a single German antitank gun and a few infantrymen near the hamlet of Livry. It took until 2000 hours to clear this minor opposition, and it was then decided to halt for the night and advance again at first light. Hinde said later, in his official report, that he decided to halt to hide the fact that his objective was Villers-Bocage. This decision was the first in a series of errors, which led, inexorably, to a British disaster.
Most accounts of the battle of Villers-Bocage rely heavily on the memoirs of so-called "eyewitnesses" or participants. Unfortunately, many of these have become embellished with the passage of time, and this has led, in many cases, to an inaccurate or misleading picture of what really happened on June 13. Even the official British history of World War II, Victory in the West, Vol. I, The Battle of Normandy, by L.F. Ellis, published by Her Majesty's Stationery Office in 1962, gives a totally distorted account of events on this critical day.
This author has no intention of trying to rehash the minutiae of the battle, but rather to describe the critical events and to then discuss what went wrong and the repercussions. The bottom line in the Battle of Villers-Bocage is that on the morning of June 13, Michael Wittmann in a single Tiger I, supported only marginally by his other four tanks, brought the 7th Armored Division to a complete halt. How did this happen?
"A Jolly Good Swan"
Hinde's brigade continued its advance at 0530 hours on June 13. No reconnaissance vehicles led the advance. Those of the leading armored battalion traveled behind the tanks and infantry. This significant mistake can be explained only by Hinde and Cranley's attitude to the forthcoming operation. The brigade chief of staff told this author that the latter had used the expression "a jolly good swan" when discussing the advance to Point 213 and beyond!
 The order of march of Hinde's leading battle group was as follows: a tank company with an artillery observation tank, an infantry company and antitank detachment mounted in half-tracks and light tracked vehicles, half the reconnaissance light tanks and four headquarters tanks of the leading tank battalion, accompanied by two more artillery observation tanks, and then the other half of the reconnaissance troop and the other two tank companies.
Following behind this battle group came Hinde's tactical headquarters, the artillery battalion less a battery, an engineer platoon, and then the additional infantry battalion in trucks. The second battle group of the brigade, a tank battalion with an infantry company, came next, with the antitank battery bringing up the rear.
Moving through Amaye, the leading tanks reached Villers-Bocage at approximately 0800 hours and, finding no enemy, continued their advance up the hill toward Point 213. On reaching the high ground, they halted where they could look down the long, straight road leading toward Caen, less than 20 kilometers away. The infantry company and its antitank detachment halted nose-to-tail behind the tanks, and the men dismounted to stretch their legs and have a cup of tea.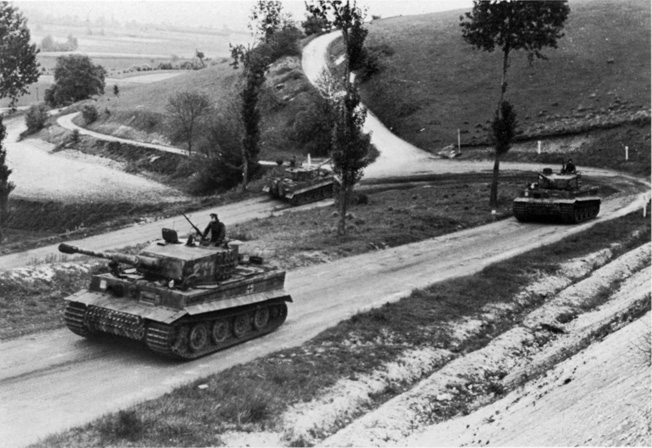 At that moment, Michael Wittmann's Tiger emerged from cover on the south side of the road and, after knocking out the rear tank, drove down the infantry column at a range of about 50 to 80 meters, shooting up the vehicles as he went. Wittmann said later that he had no time to deploy his other Tigers, but ordered them to hold their ground and not to retreat a step. He then drove into Villers-Bocage, knocking out the three light reconnaissance tanks, the four headquarters tanks, which had halted on the eastern outskirts of the town when Viscount Cranley had gone forward in his scout car to see his leading tank company on Point 213; and the two unarmed artillery tanks whose guns had been removed to make room for extra radios. The Brigade War Diary says the headquarters tanks were knocked out by 0830 hours.
Wittmann's Walk Back to Headquarters
At 1000 hours, the tank company on Point 213 reported being surrounded and attacked by Tiger tanks. These were, of course, Wittmann's other four Tigers. Half an hour later, Viscount Cranley reported that his position was untenable and withdrawal impossible, and at 1035 hours all contact with the British tanks on Point 213 was lost.
In the meantime, the second tank company of the leading armored battalion had halted at the entrance to Villers-Bocage and the third was in Tracy-Bocage, two kilometers further east, where the second battle group joined it during the morning. Brigadier Hinde's tactical headquarters was less than four kilometers away to the east of Amaye, and he himself was somewhere in the forward area in his scout car.
At 1000 hours Hinde gave orders for his second infantry battalion to enter Villers-Bocage, but he was not heard from or seen again until he reappeared at his headquarters later that afternoon. In summary, therefore, by mid-morning there were five British tank companies sitting uncommitted just to the west of Villers-Bocage.
Shortly after 1000 hours, Lt. Col. Desmond Gordon, commanding the additional infantry battalion and acting on Hinde's orders, told his reconnaissance and antitank platoons to move into the town, while the rest of his battalion debused from its trucks at St. Germain and advanced on foot.
Not surprisingly, Wittmann now found himself in trouble. He was without infantry support and, as with any tank in a built-up area, highly vulnerable to short-range weapons. He said later that he had lost radio contact with his company and was unable to summon help. His citation for this action says, "In the centre of the town his tank was immobilized by an enemy heavy anti-tank gun." Even so, he and his crew managed to bail out and, after a walk of some seven kilometers, Wittmann reached the headquarters of Panzer Lehr at Orbois, to the north of Villers-Bocage.
Again according to Wittmann's citation: "He reported there to the 1a [Operations officer], turned about with fifteen Panzer IVs from the Panzer Lehr Division and once more headed for Villers-Bocage. His amphibious Volkswagen had caught up with him by that time. In it he drove to the 1st Company [Möbius], which was deployed along the main road toward Villers-Bocage. He briefed them on his impressions of the fighting and the situation and deployed them against the town."
The Mk IVs mentioned in Wittmann's citation did not in fact try to enter Villers-Bocage, but took up a screening position 1,500 meters to the north at Villy-Bocage.
Twenty-Seven British Tanks Lost
Between 1130 hours and noon, Gordon's three infantry companies joined his reconnaissance and antitank platoons in Villers-Bocage.
The 22 Brigade War Diary says that at 1235 hours there were five Tigers and another unspecified tank trying to encircle the leading tank company on Point 213. The history of the Panzer Lehr Division confirms that a few of its Mk IVs, which had been undergoing maintenance at Parfouru four kilometers northeast of Villers-Bocage, took part in this action.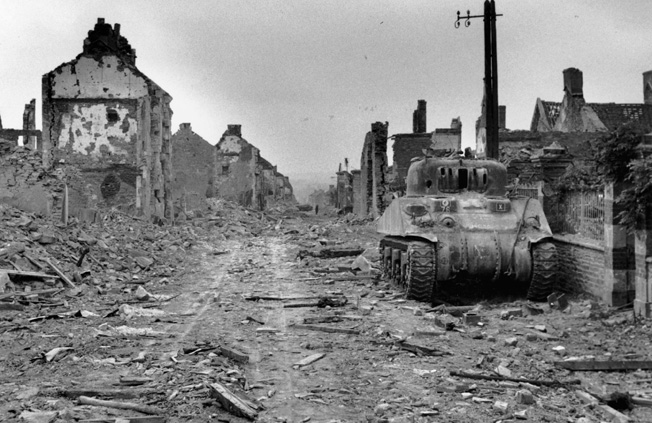 At 1240 hours, Viscount Cranley, the commanding officer of the leading tank battalion— somewhere on Point 213 but out of touch with his companies—radioed for a second time that he was surrounded; and at about 1300 hours the surviving tanks on Point 213 surrendered. Cranley was captured separately and turned up in a German prison camp near Argentan on the 15th.
The leading battle group of the 22nd Armored Brigade had disintegrated. The losses were serious—13 killed, five wounded, 170 missing (nearly all prisoners), 20 Cromwells, four Firefly Shermans, three Stuarts, three artillery tanks, 16 light-tracked vehicles, 14 half-tracks, and two 6-pounder antitank guns. These, however, would pale into insignificance when compared with those that would result from the failure of the 7th Armored Division operation.
German Advance on Villers-Bocage
Sometime after 1300 hours, Möbius ordered his 1st Company Tigers to advance into Villers-Bocage. They were accompanied by the Panzer Lehr Mk IVs. At least one Tiger and one Mk IV were knocked out by infantry antitank weapons and by sticky bombs dropped from upper-story windows or thrown from ground floors. More were claimed by the infantry antitank platoon and second tank company. In 1979, Möbius told the former chief of staff of the Hitlerjugend Division, Hubert Meyer, that his company withdrew after losing three tanks "to close range weapons." Six Tigers and two Mk IVs were found in the town after the battle, and the 1st and 2nd SS Tiger companies suffered a total of 10 killed and 12 wounded during the day.
Following the withdrawal of Möbius's Tigers, the British infantry companies and antitank guns, together with the tanks already in the town, moved to cover the main approaches to Villers-Bocage. Sometime after 1430 hours Brigadier Ekins, commander of 131 Brigade, paid a short visit to Lt. Col. Gordon in the town.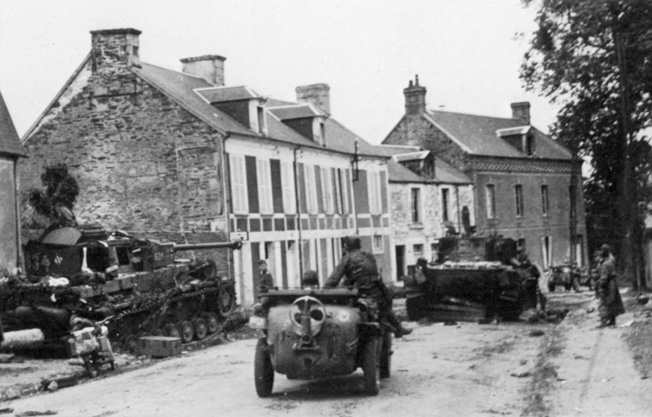 By this time it was raining. Gordon, a highly experienced officer, told Ekins that enemy infantry were beginning to infiltrate his positions. These were in fact from a scratch force hastily put together by Panzer Lehr, possibly reinforced by the leading elements of the 2nd
Panzer Division. Ekins said he thought the situation was hopeless and left, not to be seen again by anyone until the following morning. Exactly what he was doing in another brigade commander's sector at all remains a mystery.
At 1525 hours, Gordon drove back to the 22 Brigade Tactical Headquarters near Amaye. Brigadier Hinde had reappeared there during the afternoon, but he refused to discuss the rapidly deteriorating situation with his staff and issued no orders. Gordon explained to the brigade staff officers that unless his battalion was reinforced it was likely to be overwhelmed.
The 7th Armored Division Withdraws
In the meantime, General Erskine had finally recognized the urgent need for more infantry, and at 1500 hours he placed another battalion from 131 Brigade under Hinde's command. It moved forward from the Livry area at 1515 hours.
At 1600 hours enemy infantry were reported in the southeast corner of Villers-Bocage, and at 1650 hours Hinde told Erskine that the position in the town was "unsatisfactory." A withdrawal was sanctioned, with the proviso that the high ground just to the west, around Point 174, should be held at all costs.
At 1700 hours, only 15 minutes before the extra infantry battalion started to arrive in Villers-Bocage, Hinde at last gave some orders—for the mixed tank and infantry force already in the town to withdraw. At this time, four tank companies, an antitank battery with 17-pounders, the greater part of two armored reconnaissance units, and an artillery battalion were sitting impotently only two miles west of Villers-Bocage.
By 2000 hours, the British defenders of Villers-Bocage, together with the rest of 22 Brigade, were in position on the high ground to the west of the town, which they were forced to defend throughout the following day and evening.
At 1200 hours on June 14, Bucknall decided to withdraw the whole 7th Armored Division to positions northeast of Briquesard during the forthcoming night.
In his personal diary he claimed to have received the Army commander's agreement to this withdrawal at 1400 hours. The move was covered by the noise of 300 RAF aircraft dropping over 1,700 tons of bombs south and east of Villers-Bocage and on Evrecy, where one Tiger of the 3rd Company of the 101st SS Heavy Panzer Battalion was destroyed and three others put out of action. There were 29 casualties, including the company commander.
The 7th Armored Division's Excuses
So ended the battle of Villers-Bocage. The Germans occupied the town and would remain there for another two months. The failure of the British thrust inevitably necessitated a series of extremely costly operations to remove the Germans from the Caen sector.
In retrospect, it has to be said that the 7th Armored Division had been asked to carry out a type of operation for which it was untrained and for which its commanders were not mentally tuned—blitzkrieg. In the event, many of the commanders at every level—company, battalion, brigade, division, and corps—failed Montgomery and, more importantly, failed their men. They displayed none of the panache, drive, imagination, or willingness to take risks that this operation demanded. One can only guess at what might have happened if the roles been reversed and officers in Sepp Dietrich's Corps, men like Kurt Meyer, Jochen Peiper, and Max Wünsche, had been in command, with their tanks operating, like those of the British, under conditions of total air superiority.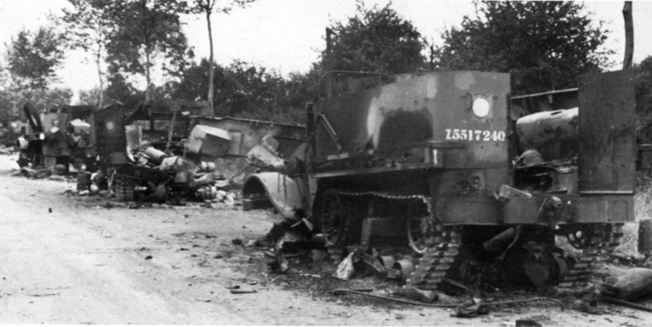 Many excuses have been offered in mitigation of this disaster. One is that the "bocage" made it difficult and dangerous for the British tanks and gave an advantage to the Germans. In his official report after the battle, "Looney" Hinde complained that the country on both sides of the main road from Villers-Bocage to Caen was much closer than it appeared on the map and that it was easy for enemy tanks to remain hidden close to the road. This is an extraordinary complaint since it is a clear criticism of his own command ability and that of his subordinates. If it was true that enemy tanks could easily hide close to the line of advance, why did he not insist upon proper air or at least ground reconnaissance?
Another reason given for the failure is that the 7th Armored Division lacked sufficient infantry for its task. This argument ignores the fact that the majority of the infantry in the 7th Armored Division remained uncommitted on the critical day and that a complete infantry brigade was in corps reserve. In fact, two infantry brigades of another division were also unemployed. Any of these three infantry brigades could have been allotted to Erskine before his division set off on its epic task, and the blame for this failure to concentrate sufficient forces at the right place at the right time must be laid at the door of Bucknall, the commander of XXX Corps.
The Myth of the 2nd Panzer Division Counterattack
But the major reason given, both at the time and since the war, for the failure of the 7th Armored Division operation was the unexpected arrival of the 2nd Panzer Division on the southern outskirts of Villers-Bocage during the late morning of June 13. This is a curious argument—first because 2nd Panzer's tanks were nowhere near Villers-Bocage at this time, and second because, even if both the division's panzergrenadier regiments had arrived together they would still have had only the same number of infantry companies as the 7th Armored Division: 16. Army panzer divisions had only four panzergrenadier battalions, unlike those of the Waffen-SS, which had six.
The whole business of 2nd Panzer counterattacking in the Villers-Bocage area on the 13th is a myth. Dietrich's chief of staff, Fritz Kraemer, in his postwar interrogation, confirmed that the only combat element of 2nd Panzer to arrive in the Caumont sector on June 13 was part of the reconnaissance battalion. The fact that there was only minor sniping and a few patrols against the British positions west of Villers-Bocage during the night of June 13-14 speaks for itself.
Even Hinde admitted in his official report that during the evening of the 13th enemy infantry confined their activities to patrolling and sniping and that enemy shelling was negligible.
The simple fact is that neither 2nd Panzer Division nor Panzer Lehr was capable of launching a decisive blow against the Desert Rats on the night of June 13 or on the day of the 14th.
In a postwar interview, General Heinrich von Lüttwitz, the commander of 2nd Panzer, said that the trains bringing his tanks were hit so many times by Allied aircraft that they had to finish the journey from Amiens by road, and "it was not until 18th June that 80 of the original 120 tanks finally limped into the line around Caumont." Yet, the mere suggestion that 2nd Panzer had arrived in the Caumont-Villers-Bocage area was enough, apparently, to frighten most of the senior British commanders, including Montgomery himself.
Even on June 14, the German offensive capability was very limited. The first attack on the new British positions to the west of the town did not come until 1100 hours; it was from the east and carried out only by infantry. According to the history of Panzer Lehr, it was mounted by their reinforced divisional reconnaissance group. A second attack developed at around 1930 hours on the southern front, and this was almost certainly launched by personnel of 2nd Panzer. They were supported by four Tigers of Möbius's 1st Company.
Exaggerated reports of the strength of the second attack led to urgent requests for additional artillery support leading, according to the British official history, to 160 guns (84 British and 76 American 155s) going into action to support the defenders. Even so, reports of 11 German tanks being destroyed and several hundred Germans killed, mainly by artillery, are certainly much exaggerated. One Tiger was damaged and later recovered.
Even Hinde, in his official report, said, "in view of the enemy's efforts," it was questionable "whether the expenditure of artillery and small arms ammunition was justified." Unfortunately, the call for support from American guns gave the impression that matters were much more serious than they really were and this led to a totally false picture being painted in later years. David Eisenhower, Ike's grandson, in his book Eisenhower at War 1943-1945, wrote in 1986, "U.S. V Corps artillery intervention had prevented a rout, but the British had been forced to retreat."
An Issue With Senior British Command
No, excuses will not do. This was a serious defeat and the real reason for it is very clear: the incompetence of the senior commanders. The whole operation was badly set up and, as already mentioned, some of the officers who led it were unprofessional and mentally
incapable of carrying it through when unforeseen complications arose.
Hinde's initial decision to halt at Livry on the evening of the 12th, instead of advancing the mere 10 kilometers to Villers-Bocage, is incomprehensible. Halting was unlikely to confuse anyone. It was inevitable that British troops would turn east and seek the high ground south of Tilly. Hinde's infantry could have done it on their feet before midnight, and Villers-Bocage could have been made a fortress before first light, making it a perfect platform for further advance.
It was when things started to go wrong that the command system really fell apart.
Hinde and Cranley appear to have issued no orders at all during the most critical phases of the battle. However, because their staffs and subordinates thought, correctly, that they were still somewhere in the battle area, they were naturally reluctant to take over and give orders with which their commanders might disagree.
Erskine's failure to use 131 Brigade which, with a complete tank battalion, two infantry battalions, and an artillery regiment, was sitting doing nothing of value except "holding a firm base" between Livry and Torteval from 1100 hours, must be placed in Montgomery's category of "criminal." Had the divisional commander personally moved forward and taken a firm grip on the situation, the results could have been dramatic. If he had visited Hinde's headquarters near Amaye he would have seen that only half the brigade had been committed. There were in fact more than enough troops available within his division to hold on to Villers-Bocage and Point 174 and to occupy the high ground at Maisoncelles-Pelvey as required in the original plan.
According to the 22 Brigade War Diary, at 2130 hours on June 13, after the withdrawal from Villers-Bocage, the brigade still had 155 tanks operational, well over 100 of which had not fired a shot all day. This figure does not include the Cromwells of the divisional armored reconnaissance battalion or the 17-pounders of the antitank battery, which had taken no part in the battle at all.
At the higher level, Bucknall, commander of XXX Corps, did not seem to comprehend that by withdrawing the 7th Armored Division on the nights of the 13th and 14th, instead of reinforcing or even sacrificing it, he forfeited all chance of Panzer Lehr weakening its front at Tilly, which was clearly its center of gravity. This might have opened the way for his reserves. In other words, it could have stretched the I SS Panzer Corps, and Panzer Lehr in particular, to a point where it would break. His policy was a negation of blitzkrieg.
It is not surprising that after June 13 neither Montgomery nor Dempsey had any real faith in Erskine or Bucknall. Within two months they and Hinde had been sacked.
Michael Wittmann was awarded swords to his Knight's Cross for his amazing performance on June 13 and promoted to SS captain. His citation ended, "With the count of 13th June, Wittmann has achieved a total number of victories of 138 enemy tanks and 132 anti-tank guns with his personal Panzer."
Retired Major General Michael Reynolds is a graduate of the Royal Military Academy at Sandhurst. He served in the British Army around the world and was seriously wounded during the Korean War. He is the former director of NATO's Military Plans and Policy Division and the author of five well-received books.