By Christopher Miskimon
America had been at war for less than two weeks when Claire Chennault watched his American Volunteer Group (AVG) take off for its first combat mission. They were in Yunnan, China; it was about 10 am on December 19, 1941. Chennault had laboriously set up an early warning network, and today it spotted 10 Japanese bombers heading toward Yunnan from the direction of Hanoi. Now he would see if all his efforts would pay off. "I felt that the fate of China was riding in the P-40 cockpits through the wintry sky," he later wrote. He yearned to be with them, but his role was to command the overall effort.
Squadron Leader Robert Sandell led his 1st Pursuit Squadron into the skies, leveling off at 20,000 feet and heading southeast toward the enemy contacts. Soon the fighter pilots were in sight: 10 twin-engine Kawasaki Ki-48 bombers painted pale green. They were Imperial Japanese Army Air Force (IJAAF) planes flying in a tight formation. As soon as they saw the American aircraft approaching, the Japanese jettisoned their bombloads and turned for home; they had no fighter escort. The Americans pursued, initiating a chase that would last 10 minutes before they finally caught up to their fleeing prey.
Pilot Charlie Bond dove on the bomber formation, noting the Japanese were slowing down and targeting the fighters with their rear machine guns. He squeezed his trigger—and nothing happened. He had accidently switched his guns off when checking them earlier! He broke off his attack, turned his gun switch on, and came around for another pass. This time his guns fired, sending a stream of bullets into the fuselage of a bomber. He made more passes as his fellow Americans did the same. Several pilots followed damaged bombers as they descended, watching until they crashed in the mountains below.
Sandell finally realized they were 200 miles from their base; it was time to go home. The squadron broke off its attack and headed for home. One pilot ran out of fuel and had to crash land, but he survived. Three Japanese planes were shot down, with a fourth crashing on the way back to Hanoi. Chennault's system had worked, though the pilots admittedly had forgotten teamwork in the wild melee of the action. Still, his network spotted the enemy flight, and his pilots had intercepted them. He still wanted improvement. "Well, boys, it was a good job but not good enough," Chennault told his flyers. "Next time get them all."
This was to be the ethos of the AVG, which would in time become known as the Flying Tigers, Yankee volunteers who flew for the Nationalist Chinese in the early days of World War II. They were aggressive, daring, and most of all successful. Madame Chiang Kai-Shek referred to the AVG as her "little angels." They helped keep China in the war during a crucial period. Their story is told in Bill Yenne's new work When Tigers Ruled the Sky: The Flying Tigers: American Outlaw Pilots Over China in World War II (Berkeley Caliber Press, New York, 2016, 368 pp., maps, photographs, bibliography, index, $27.00, hardcover). The AVG included two men who later received the Medal of Honor. One of them was Gregory Boyington, who achieved fame as a Marine aviator in the Pacific later in the war. They destroyed hundreds of Japanese planes in the sky and on the ground while losing only a dozen pilots in combat, an amazing result for a group that was always outnumbered and at the end of a tenuous supply chain.
This book's format is practically a staple of military history books, starting with the origins of Chennault and his pilots before moving through their training, recruitment into the AVG, and the journey to China, where they would fight. The rest of the volume is a recounting of their combat experiences. This format is so common to histories of fighting units because it works. The author uses it masterfully, giving readers an exciting, readable work that keeps their interest page after page. Any famous outfit's story is a mix of fact and fiction. This work separates the two, but the author details where the fantastic claims came from and what the AVG was doing in truth. The story of the Flying Tigers has been told in movies and television, numerous documentaries, and countless books, but it is a story worth retelling, and this edition stands on its own as a thorough, well-written, and entertaining account of a group of pilots who went thousands of miles from home and helped defend people they did not know from attack by a ruthless and brutal enemy.
---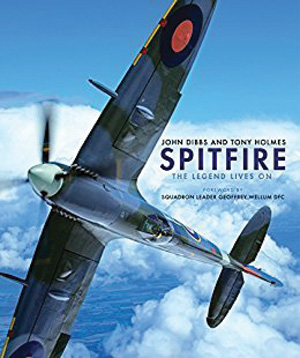 Spitfire: The Legend Lives On (John Dibbs and Tony Holmes, Osprey Publishing, Oxford, UK, 2016, photographs, appendices, index, $45.00, hardcover)
Flight Lieutenant Pat Lardner-Burke was flying an escort mission on August 27, 1943, protecting a group of American Boeing B-17 Flying Fortress bombers on their way to bomb a German rocket weapons site at Watten. He and his fellow Spitfire pilots were covering their third relay of bombers when nine German Focke Wulf FW-190 fighters attacked the formation. The young South African-born Lardner-Burke saw one of the Nazi planes attacking two of his fellow pilots. He quickly maneuvered onto its tail and fired a burst, damaging the aircraft and forcing it to dive away. Flying his Spitfire behind another FW-190, he put a burst into it as well. This plane also dove away, and Lardner-Burke pursued, firing another burst that struck the enemy plane, which went vertical and crashed into the ground. The flyer and his comrades returned to base without loss.
The Supermarine Spitfire is easily the most famous British fighter plane of all time; this new book pays tribute to the aircraft and those who flew it. One of the authors is a professional aerial photographer. This coffee table book is his salute to the Spitfire. Many of these planes still fly, and over time the author has photographed them; the volume is full of modern color images of Spitfires in the air along with period pictures of the plane at war. The text contains numerous firsthand accounts as well as histories of the specific planes in the photographs. The result is a work that can be enjoyed by either a casual flip-through or an intense reading.
---
Among the Headhunters: An Extraordinary World War II Story of Survival in the Burmese Jungle (Robert Lyman, Da Capo Press, Boston, MA, 2016, 304 pp., maps, photographs, appen- dices, bibliography, index, $25.99, hardcover)
The Nagas, a tribe living deep within the Burmese jungle, were notorious headhunters. They were so famous because the British mounted two expeditions against them during the 1930s, burning their village each time in an attempt to convince them to abandon the practice. The Nagas were undaunted and continued headhunting and human sacrifice. A few years later, in 1943, a Curtiss C-46 Commando transport plane went down in the nearby jungle. All but one of the crew and passengers survived by parachuting to safety; it was the largest evacuation of an aircraft by parachute in history. The 20 survivors soon learned they had landed in the midst of Naga territory. Their ordeal had only begun.
This little-known story of World War II stands out for its detailed accounts of the prewar British expeditions against the Naga and the wartime trials of the crash survivors, who spent a month in the jungle fighting not only the Japanese but headhunters as well. The author is an acknowledged specialist on the China-Burma-India Theater with a number of other titles on the region to his credit. That expertise shows through in the book's smooth prose and clear storytelling.
---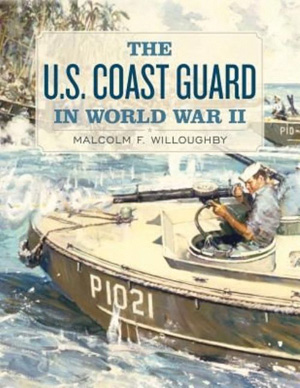 The U.S. Coast Guard in World War II (Malcolm F. Willoughby, Naval Institute Press, Annapolis, MD, 2016, 347 pp., maps, photographs, appendices, index, $36.95, softcover)
The Coast Guard was a jack of all trades during World War II. It performed convoy escort, manned landing craft, patrolled beaches, secured ports, and flew maritime patrols. When troops went ashore at Sicily, Normandy, and the Philippines, Coast Guardsmen ferried them to the beach, taking the same risks and sometimes making the ultimate sacrifice. They chased Nazi weather teams around the coastline of Greenland, often having to use icebreakers to pursue their quarry. For many sailors and merchant seamen, they were a beacon of hope, rescuing them when their ships were sunk.
This is a newly released edition of the Coast Guard's original official report on its service during the war. It is printed in the original type and lavishly illustrated with photographs of the Coast Guard in action across the globe. The book is a handy reference to the exploits of a service that is often overlooked in popular history. It is divided into sections on domestic operations, sea rescue, and combat actions. The text is easy to follow and full of details on actions both large and small.
---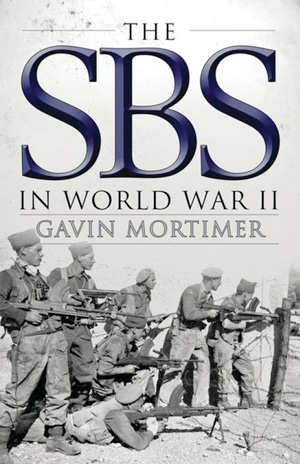 The SBS in World War II (Gavin Mortimer, Osprey Publishing, Oxford, UK, 2016, 255 pp., photographs, glossary, notes, bibliography, index, $15.00, softcover)
During the night of August 27, 1944, a dozen Royal Marine Special Boat Service commandos crossed the Adriatic Sea from Italy to Yugoslavia. Their mission was to blow up a vital railroad bridge. After reaching the coast they met with a small group of partisans who were supposed to bring mules to carry the explosives. They had none, so the SBS men carried them themselves. For several nights they followed treacherous paths through mountainous terrain to the bridge. They had to be careful not only of the Nazis, but their local allies the Ustashi, known even among the SS for their barbarism. Upon reaching the bridge they watched it for a day and then crept down to plant their charges. The British were delighted to discover the Germans had already drilled demolition holes in case they needed to destroy it. Explosives in place, they set them off. Nothing happened. They tried again with the same result. As the British leader began cursing, suddenly the charges detonated, bringing the whole bridge crashing down. Afterward, they struggled for days, avoiding enemy searchers until finally being evacuated by sea.
Such stories are standard fare for the famed SBS, and this book is full of their daring exploits. It is often difficult to penetrate the veil of secrecy surrounding special forces organizations, but the passage of time has allowed the stories to be told in great detail. The personal statements and memoirs of many SBS men were used in the book, adding an authenticity that helps tell the history in a clear way that is enjoyable to read. A large number of archival and personal photographs add to the richness of this edition.
---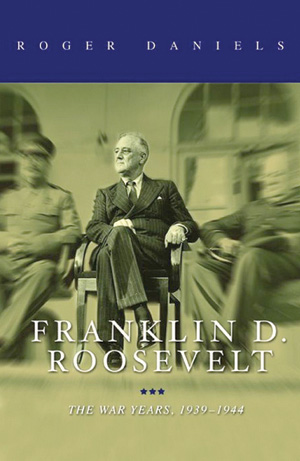 Franklin D. Roosevelt: The War Years 1939-1945 (Roger Daniels, University of Illinois Press, Urbana, 2016, 636 pp., photographs, notes, bibliography, index, $34.95, hardcover)
The famous American president of the World War II years went into the conflict with nearly unprecedented power over his nation's military, industry, information organizations, and diplomacy. He oversaw the creation of the Arsenal of Democracy, devised the United Nations, and fought an often hostile Congress while doing so. Despite these challenges he was able to preserve a great measure of prosperity for America's citizens and continued pushing his liberal reforms despite the war. While he did not live to see the war's end, Roosevelt was a prime architect of Allied victory in World War II.
This is the second volume of a two-book series on the life of FDR. It focuses on the war years, showing how he led the United States during a time of great threat and danger. The author's narrative goes into great detail on the wide range of issues FDR had to deal with, giving an impressive view of the breadth of effort needed by the president during wartime. The book notably provides a look at World War II from the upper level of the Allied leadership.
---
The Devil's Diary: Alfred Rosenberg and the Stolen Secrets of the Third Reich (Robert K. Wittman and David Kinney, HarperCollins Publishers, New York, 2016, 513 pp., maps, photographs, appendices, notes, bibliography, index, $35.00, hardcover)
Alfred Rosenberg is an unknown architect of the Holocaust. He worked closely with Adolf Hitler; the two shared similar viewpoints about Germany, its future, and the anti-Semitism the German leader let forth. Rosenberg authored a book that sold over a million copies in Germany, a number exceeded only by Mein Kampf at the time. He kept an extensive diary, 500 pages long. This diary was examined by the prosecution at the Nuremberg trials but disappeared afterward. A Jewish-American lawyer had taken it along with other documents and secreted them away. It would take decades of detective work to locate and retrieve the diary, which now resides in the United States Holocaust Memorial Museum.
This new work introduces the world to the relatively unknown Rosenberg and his diary, a look at the internal workings of the Nazi hierarchy. It often reads like the detective story it is; the authors are a former FBI agent who specialized in stolen art and a journalist. Together they have produced a book that is readable and scholarly at the same time. Events noted in the diary are placed into their proper context within the larger scope of the war.
---
Behind Nazi Lines: My Father's Heroic Quest to Save 149 World War II POWs (Andrew Gerow Hodges Jr. and Denise George, Berkeley Caliber Press, New York, 2015, photographs, appendices, notes, index, $27.95, hardcover)
Andy Hodges, a young man from Mobile, Alabama, had been rejected for military service; during his college years he suffered a shoulder injury playing football. Determined to serve, he joined the Red Cross and volunteered to serve in Europe. There, in the autumn of 1944, he was asked to assist Allied POWs in German hands by delivering much needed supplies. Andy did far more than that, however. He repeatedly dealt with the Third Reich's officers and by the end of the year had negotiated the release and exchange of 149 prisoners, using only his wits and sense of duty. This included Bernie Rader, a young Jewish soldier from New York. Wounded in an ambush and captured, he buried his dog tags so the Germans would not know he was Jewish.
Written by Andy's son, this work is a tribute to his father's dedication and devotion to both his duty and his fellow man. The story is not entirely his, however. Also covered are the stories of the various prisoners exchanged through Andy's negotiations. Their stories are as varied and fascinating as that of the young man from Alabama who refused to let his injury keep him out of the largest conflict in human history.
---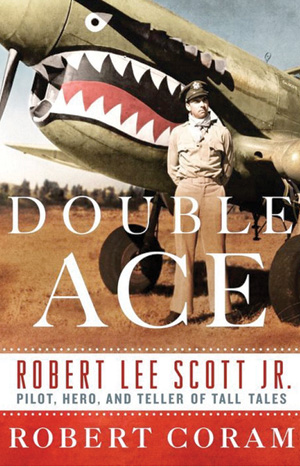 Double Ace: Robert Lee Scott Jr. Pilot, Hero, and Teller of Tall Tales (Robert Coram, Thomas Dunne Books, New York, 2016, 336 pp., photographs, notes, index, $26.99, hardcover)
Robert Scott barely graduated high school, but that did not hold him back. He joined the famous Flying Tigers in China, where he became an ace with 10 confirmed kills to his record. When not taking a P-40 into combat, he often flew cargo missions over the Himalayas, helping keep supplies flowing to the Chinese and American aviators fighting Japan in relative isolation. After the war he wrote a memoir titled God Is My Co-Pilot. The book quickly became a best-seller and was soon made into a movie. Still, he could be a difficult man. This stifled his career and destroyed his marriage. In later life he walked the Great Wall of China and helped found the Georgia Museum of Aviation.
This biography of a complex man is well done. The author does not hesitate to point out Scott's flaws as well as his strengths. The result is an honest look at a human being who was larger than life but paid a price for his brashness. Men of the World War II generation had different attitudes about many things—how to state their opinion, how much to drink, and how to deal with obstacles. In many ways Scott was typical of his era, and this book portrays that well.
---
American Airpower Strategy in World War II: Bombs, Cities, Civilian and Oil (Conrad C. Crane, University of Kansas Press, Lawrence, 2016, 272 pp., photographs, appendix, notes, bibliography, index, $34.95, hardcover)
The American air campaigns against Nazi Germany and Imperial Japan are subjects of some controversy even today. Many decry the campaigns as directly targeting civilian populations for the purpose of destroying their will to fight. This caused widespread suffering among noncombatants. The author has researched the subject for decades and here argues the bombing campaigns were truly focused on reducing the enemy's ability to make war rather than a sole aim of breaking civilian morale. While he agrees there was a widely ranging lack of concern about the civilian casualties that resulted from their efforts, American planners remained focused on German and Japanese war-making capacity. This book takes a particular look at the last three months of the air war against Germany, when radar assisted many of the bombing runs. Also included is a comparison of the campaigns waged by the two major formations in Europe, the Eighth and Fifteenth Air Forces.
---
Short Bursts
The Tank Commander Pocket Manual 1939-1945 (Edited by R. Sheppard, Pool of London Press, 2016, $14.95, hardcover) This is a reprint of a vintage edition laying out the training and experiences of a tank commander during World War II. It uses original diagrams, training manuals, and battle reports.
The Hurricane Pocket Manual: All Marks in Service 1939-1945 (Compiled by Martin Robson, Bloomsbury Press, 2016, $15.00, hardcover) This pocket edition covers the famous British fighter. The volume is a blend of original manuals, tips for pilots, and declassified reports.
Spies in the Congo: America's Atomic Mission in World War II (Susan Williams, Public Affairs Books, 2016, $28.99, hardcover) Deep in the Belgian Congo lay a mine teeming with uranium ore. The OSS went to great lengths to prevent the Nazis from getting it.
1941: The America That Went to War (William M. Christie, Carrel Books, 2016, $34.99, hardcover) Americans had a different mind-set about war before Pearl Harbor. This work presents the year in a series of monthly vignettes leading up to the nation's entry into the conflict.
Retreat & Rearguard: Dunkirk 1940: The Evacuation of the BEF to the Channel Ports (Jerry Murland, Pen and Sword Press, 2016, $39.95, hardcover) The rescue of the British Expeditionary Force was an extraordinary feat of human ingenuity and daring. This new volume digs into the details of the almost superhuman effort.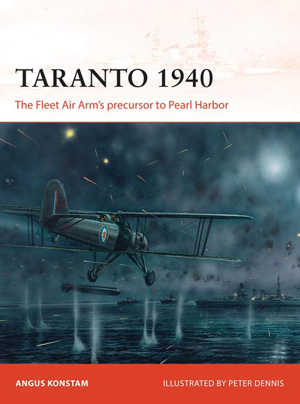 Taranto 1940: The Fleet Air Arm's Precursor to Pearl Harbor (Angus Konstam, Osprey Publishing, 2016, $21.95, softcover) A daring surprise attack by British Fairey Swordfish torpedo bombers crippled Italian naval capabilities in the Mediterranean. It was a harbinger of the rise of air power in the naval domain.
The Dnepr 1943: Hitler's Eastern Rampart Crumbles (Robert Forczyk, Osprey Publishing, 2016, $24.00, softcover) The German effort to prevent Soviet forces from crossing the Dnepr River failed, but at an enormous cost to both sides. This book covers the entire campaign in detail.
Les Parisiennes: How the Women of Paris Lived, Loved and Died Under Nazi Occupation (Anne Sebba, St. Martin's Press, 2016, $27.99, hardcover) This book summarizes the lives of women under the brutal Nazi occupation of Paris. It covers resistors, collaborators, and those trying to stay out of the conflict.
Playing War: Wargaming and U.S. Navy Preparations for World War II (John M. Lillard, Potomac Books, 2016, $39.95, hardcover) After World War I, the U.S. Navy's leadership knew another global war would come to one or both oceans eventually. This book chronicles the service's efforts to prepare through rigorous wargames.
Hitler's Compromises: Coercion and Consensus in Nazi Germany (Nathan Stoltzfus, Yale University Press, 2016, $40.00, hardcover) There were many Nazi proclamations that clashed with German culture or values. The author shows how Hitler navigated these difficulties to maintain his power.