By Alexander Zakrzewski
It is said that hard times create strong men. The first and second centuries bc were certainly a hard time for the diverse peoples of the ancient Near East. The disintegration of the once sprawling Seleucid Empire had fragmented the region into a series of warring states, all vying for dominance amid the creeping influence of Republican Rome and Parthian Persia. A number of strong men arose out of the chaos to seize power and etch their names into the annals of history. Among the most remarkable was from the mountainous Kingdom of Armenia.
In 115 bc Armenian King Tigranes I lost a costly war to the Parthians. He was allowed to keep his crown but was forced to send his son and namesake to the Parthian royal court in Ecbatana to serve as a hostage. For the next 20 years, the young prince wiled away his youth, carefully navigating the often deadly world of Persian court politics, acutely aware that his life could end at any moment depending on his father's actions and the whims of his captors. It was a hard lesson in cunning and ruthlessness that would serve him well later in life.
In 95 bc, Tigranes' luck abruptly changed when his father died and he successfully petitioned the Parthians to allow him to return to Armenia and claim the throne. The Parthians fully expected him to assume his father's role as just another dutiful vassal in their vast empire. Tigranes gave them little reason to suspect otherwise. The 45-year-old ruler had spent most of his adult life in Persia and was more Persian than Armenian in his customs and manners. As a parting show of loyalty, he had even agreed to cede to Persia 70 Armenian valleys, a sizable territorial concession.
The Parthians had uncaged a lion. Unbeknownst to them, the new Armenian king had spent his captivity harboring a burning ambition to avenge his father and his homeland and build an empire of his own. From his precarious but privileged position at the heart of Persian power, he had observed firsthand how the bloated Parthian Empire was plagued by dynastic intrigue and foreign invasions. He had also noted how unstable the balance of power in the region had become, with new upstart rulers constantly challenging the larger empires for supremacy. It was the perfect time to set upon his life's mission.
The newly crowned Tigranes II returned to Armenia to find it in a good position to begin expanding. Despite disastrous foreign wars and costly territorial concessions, the rich and fertile Armenian highland had remained largely intact during his father's reign owing to the jagged mountains and deep valleys that insulated it from the rest of the world. Its capital of Artaxata, named for the Artaxiad dynasty of which Tigranes was a member, sat at a crucial junction on the network of trade routes that became known as the Silk Road. Artaxata was a prosperous center of commerce and culture. Its walls were believed to have been impregnable, having been designed by the Carthaginian general Hannibal when he sought refuge there following his defeat by Rome in the Second Punic War.
The new king's first priority was to consolidate his power at home. Through a combination of skillful diplomacy and brash intimidation, he brought the notoriously quarrelsome and independent-minded Armenian nobility into line. He then marched his forces into the neighboring state of Sophene, which had broken away from the Kingdom of Armenia a century earlier and was ruled by a rival branch of the Artaxiads. Tigranes rapidly reabsorbed the breakaway state and in doing so extended his domain west as far as the Euphrates River.
Emboldened by his success, Tigranes next set his sights on the strategically important Kingdom of Cappadocia, a client state of the Roman Republic. This brought him into conflict not only with Rome, but also with King Mithridates VI of the Black Sea Kingdom of Pontus, another fast-rising, ruthlessly ambitious ruler with his own dreams of conquest in Anatolia and the Eastern Mediterranean.
The two kings saw in each other a kindred spirit with mutual enemies and aligning objectives. Rather than fight over Cappadocia, they wisely formed an alliance that effectively split the Near East into Pontic and Armenian zones of influence. To cement their partnership, Tigranes agreed to marry Mithridates' daughter Cleopatra. As part of the dowry Mithridates, an amateur toxicologist, shared with his new son-in-law a special concoction of toxins and nutrients designed to strengthen the immune system and protect against poisonings. The exact recipe is unknown, but it is interesting to note that both men lived surprisingly long and healthy lives.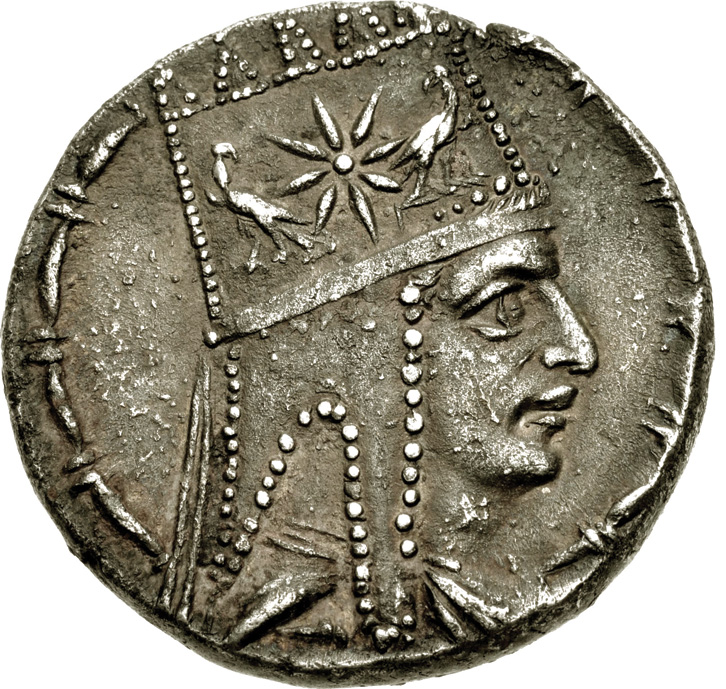 With his father-in-law protecting his western frontier, Tigranes was then free to begin expanding east and south at the expense of the Parthians, who were conveniently hamstrung by a Scythian invasion and yet another dynastic conflict. In a whirlwind campaign, he cleaved from them the vassal states of Gordyene, Osroene, Adiabene, and Media. During his conquest of the latter, he even managed to avenge his long captivity by marching deep into northwestern Persia and plundering Ecbatana.
His military successes were largely due to the high quality of his cavalry. During this time Armenian horses were widely sought after for their strength and hardiness and Armenian horsemen were renowned for their skill. Tigranes' best troops were his heavily armored cataphracts, antiquity's version of the medieval knight. Cataphracts rode into battle with both horse and rider completely encased in armor and carrying long lances for punching through enemy formations. With every conquest, Tigranes also added to his forces new auxiliary units recruited from among his new subjects. His army was soon a well-balanced mix of peoples and specialities, including Gordyene siege engineers, Median horse archers, Pontic charioteers, and axe-wielding Caucasian tribesmen.
Wherever he marched, Tigranes also employed his trademark combination of shrewd diplomacy and brute force. Like Alexander the Great, he offered his enemies the chance to surrender peacefully and rewarded those that did. So long as they paid their taxes and provided soldiers for his growing army, his subjects were left in peace to practice their own cultures and religious traditions. Those who resisted or rebelled were shown no mercy.
In a region wracked by constant wars and shifting allegiances, Tigranes' liberal governance and promises of stability and protection were a breath of fresh air. Many people willingly flocked to his banner. In the northern Caucasus, the warlike Georgian kingdoms of Colchis, Iberia, and Albania all agreed to become his vassals, and in 83 BC, he achieved his greatest diplomatic coup when the rich cities of Syria and Phoenicia, tired of their oppressive, dysfunctional Seleucid monarchs, invited him to be their ruler.
In just 12 years since being released from Parthian captivity, Tigranes had built an Armenian empire that stretched from the Black Sea in the north to Judea in the south, and from the Caspian Sea in the east to the Mediterranean in the west. To better administer his enormous new realm, Tigranes built a new capital that he fittingly named Tigranocerta (Tigranes' Foundation) along the upper Tigris River.
The new city was by all accounts a glittering and cosmopolitan metropolis, specifically designed to eclipse Babylon, Susa, Alexandria, and the other great cities of the age. It gleamed with palaces, temples, gardens, and parks filled with wild game. The walls were said to have been 300 hundred feet high and wide enough to house barracks and stables. An eclectic mix of Armenians, Greeks, and Persians, Arabs, Jews, and other peoples from across the empire bolstered the population. Tigranes' wife Cleopatra was a devoted patron of philhellenic culture and famous Greek playwrights, philosophers, and rhetoricians flocked to the city eager to secure her patronage.
In keeping with his newfound status as a world power, Tigranes styled himself Shahanshah (King of Kings), the Persian title reserved for great conquerors like Darius and Xerxes. His public audiences became awesome displays of wealth and grandeur, deliberately choreographed to inspire awe and obsequiousness. Wherever he went, a retinue of vassal kings trailed behind like living symbols of his power and influence. In the tradition of the Persian kings, he draped himself in purple finery. His hands and neck were adorned with precious jewels and on his head he wore a pearl-edged crown with an engraving of Halley's Comet, which his astrologers would have witnessed in 87 bc and interpreted as a sign of divinity.
Under Tigranes' wise rule, his Armenian Empire thrived and prospered for almost two decades. Relative peace reigned, and trade and cultural exchange flourished. Unfortunately, to the west, his father-in-law badly overplayed his hand with Rome, and by the mid-70s bc, the balance of power in the Near East was shifting dramatically yet again with dire consequences for Tigranes.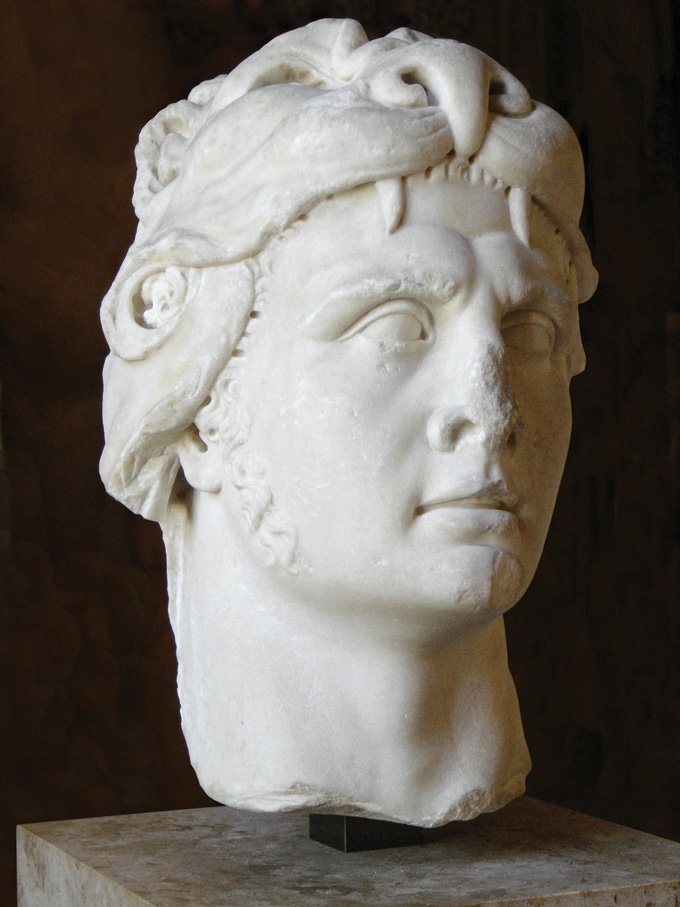 In 88 bc, just as Tigranes was beginning his conquests in Mesopotamia, Mithridates ordered the slaughter of 80,000 Romans living in Anatolia, almost annihilating the Roman presence in the region. The brutal act set into motion the events of the Mithridatic Wars, an almost 20-year-long struggle between Rome and Pontus that eventually embroiled most of the Eastern Mediterranean and Near East. For a time it appeared as if Rome, also wracked by revolts and civil war, had met its match in the wily Pontic king. But in 73 bc, the Senate sent the veteran general Lucius Licinius Lucullus to Anatolia with a powerful army and navy to crush Mithridates once and for all.
Lucullus swept through Pontic territory, razing cities and ravaging the countryside. Mithridates' allies and vassals deserted him in rapid succession. Even his son, the ruler of the Crimean Kingdom of the Bosphorus, struck a deal with the Romans to betray his father. At the Battle of Kabeira in 71 bc, the Romans vanquished the Pontic army. Mithridates fled east over the Taurus Mountains with whatever riches and loyal troops he had left to seek sanctuary in Armenia.
Tigranes was not happy to see his father-in-law and is said to have received him quite coldly. He knew it was only a matter of time before the Romans came to demand his handover, something the Shahanshah could not do no matter how much he resented being dragged into Mithridates' problems. When Lucullus's envoy insolently threatened war if the Pontic king was not surrendered, Tigranes lashed out at him. "I will never surrender Mithridates," he said. "If the Romans begin a war, the King of Kings will defend himself."
Upon receiving Tigranes' response, Lucullus did not wait for official approval from the Roman Senate to invade. In the summer of 69 BC he crossed the Euphrates into Armenian territory with an army of 45,000 and made straight for Tigranocerta with the intention of cutting the Armenian king off from his capital and power center. The speed of his advance was such that Tigranes, busy putting down a revolt in Syria, was caught completely off guard and did not believe the initial reports.
When the reports proved true, he assembled an enormous army drawn from across his empire and set out to repulse the Roman invaders. Mithridates, well aware that numbers meant nothing against Roman training and discipline, pleaded with Tigranes to avoid a direct confrontation. He urged him instead to use his numerical superiority to secure the crucial mountain passes and river crossings and sever the invaders' lines of communication. Tigranes refused. To fight in such a cowardly way was beneath the self-styled King of Kings and would mean abandoning his capital and treasury to the enemy.
On October 6, 69 bc, the two sides met south of Tigranocerta along the banks of what is believed to be the Batman Su River in modern-day southern Turkey. Both sides deployed their forces in a long line with infantry in the middle, cavalry on the flanks, and a thin screen of archers and skirmishers in front. Tigranes' numerical superiority was such that when he saw Lucullus's force he scoffed at it. "If they are coming as emissaries they are too many; if as antagonists, they are very few," he remarked to his staff.
It was perhaps because of this overconfidence in the size of his force that he made no effort to occupy a hill to his rear, overlooking his right flank.
Lucullus immediately recognized Tigranes' tactical oversight and he planned to take advantage of it. While his cavalry drew the enemy out of position with a feigned retreat, Lucullus personally led two cohorts of veteran legionaries in a wide flanking maneuver around Tigranocerta that took them behind the Armenian right flank to secure the hill that Tigranes had so foolishly left unguarded. From there he could see that Tigranes' troops, in their eagerness to come to grips with the enemy, had begun to lose cohesion. Seeing his opportunity, he charged down the hill, straight into the Armenian right flank where Tigranes' cataphracts were positioned.
The horsemen were caught completely by surprise and were quickly overwhelmed by the speed and ferocity of the attack. They tried to retreat but in their haste crashed into the neighboring infantry, causing a general panic that quickly degenerated into a chaotic rout. Tigranes was forced to flee the field, leaving both his baggage train and crown to the victorious Romans. Worse yet, when the defenders of Tigranocerta saw the Armenian army dissolve, they willingly opened the city gates to Lucullus, who generously agreed to spare their lives before allowing his men to plunder the city.
All was not lost, though. Tigranes retreated north to his ancestral capital of Artaxata. Lucullus pursued him but his advance through the mountains the following spring and summer was so slow and gruelling that after the costly and indecisive Battle of Artaxata in September of 68 bc, his troops mutinied, forcing him to call off the campaign and return to Anatolia.
As the Romans withdrew, Tigranes and Mithridates slowly reoccupied some of the territories they had lost. For a time it appeared as if their respective kingdoms might even experience a resurgence. But in 66 bc, the Roman Senate recalled Lucullus to Rome and replaced him with Gnaeus Pompey, a man of considerably greater talents and charisma, and tasked him with asserting Roman control over the whole of Anatolia and the Near East. In the spring of 65 BC, after stamping out the last vestiges of the Kingdom of Pontus, and forcing Mithridates into exile in the Crimea where he ultimately committed suicide, Pompey invaded Armenia.
Pompey's invasion broke what will to fight was left in Tigranes. By then he was 75 years old and exhausted from decades of constant campaigning. His allies had deserted him and he had been forced to put three of his favorite sons to death for trying to seize the throne. When the Romans were within 15 miles of Artaxata, Tigranes rode out to meet them. Eager to spare his people any more needless suffering, the Armenian king climbed down from his horse, removed the crown from his head and presented it to the victorious Pompey.
So struck was Pompey by Tigranes' tired and humbled appearance that he magnanimously insisted that he rise and sit beside him. After conversing for some time, they worked out an arrangement in which Tigranes agreed to pay the Romans the vast sum of 6,000 gold talents and relinquish all of his conquered territories. In exchange, he could keep his crown and continue to rule over a much reduced Armenia as an ally of Rome. Tigranes had no choice but to agree. He reigned peacefully as essentially a Roman vassal for 10 more years before dying quietly of natural causes at the age of 85.
Tigranes' Armenian Empire was ultimately too large, new, and diverse to survive. For all Tigranes' posturing as the King of Kings, the Armenian monarchy simply did not have the history and gravitas—nor did Armenian culture have the assimilating influence—required to rapidly absorb and unite such a disparate population into a cohesive state. So long as his powerful enemies remained conveniently distracted with other problems, Tigranes could masterfully exploit their weaknesses to his own benefit. But once confronted with the full determined force of a military, political, and cultural superpower like Rome, he stood no chance. Regardless, what he did manage to accomplish in such a short time was truly incredible, and for that he deserves the title "The Great."
Tigranes' short-lived Armenian Empire remains the subject of much speculation and theorizing among historians. Following its collapse, Rome extended its frontiers all the way to the Persian border, setting the stage for centuries of conflict between the two powers. If the Armenian Empire had survived, could it have precluded these conflicts? Perhaps Rome would have turned its attentions away from the Near East altogether, leaving Syria, Judea, and Egypt to be absorbed by the Persians or Armenians or even to maintain their independence for centuries to come.