by Joseph Luster
When Damage Inc. was first announced, it went under the title War Wings: Hell Catz, the tail end of which seems very appropriate since the dogfighter is being published by Mad Catz. (Mad Catz is primarily known for the production of peripherals, like fighting game arcade sticks, steering wheels, and other similar—and sometimes expensive—game-enhancing equipment.) Their involvement makes a lot more sense when you get a load of Damage Inc.'s humdinger of a collector's edition.
Throwing down extra on Damage Inc. nets you the fancy Saitek Pacific AV8R Flightstick, as well as a custom decal kit, and an exclusive downloadable content plane, the Reaper Corsair. Damage Inc. will need all the bonus assets it can muster when it comes out in August, because the only genre of World War II games more saturated at the moment than strategy is flight. This used to be the case with first-person shooters, but with modern and future eras overtaking historical spins on war, we're at a bizarre, perhaps temporary juncture where it almost seems novel to set FPS action in World War II again. Competition is high, and those who have kept up with these columns have likely noticed more and more dogfighting games that at least range from decent to great.
Hitting the War's Most Famous Battles With A Nod Toward History
Damage Inc. hopes to tackle some of the war's most famous battles in an accurate manner, with over 100 objectives based on challenges that actual pilots faced. It all starts with the attack on Pearl Harbor on the morning of December 7, 1941. From there, the campaigns expand—defend Wake Island from the Japanese forces, and continue on throughout a variety of real Pacific Theater battlefields. Some of the available planes include the F6F3 Hellcat, B-25 Mitchell, SBD2 Dauntless, P40N Warhawk, J7WI Shinden, F4U Corsair, and A6M2 Zero.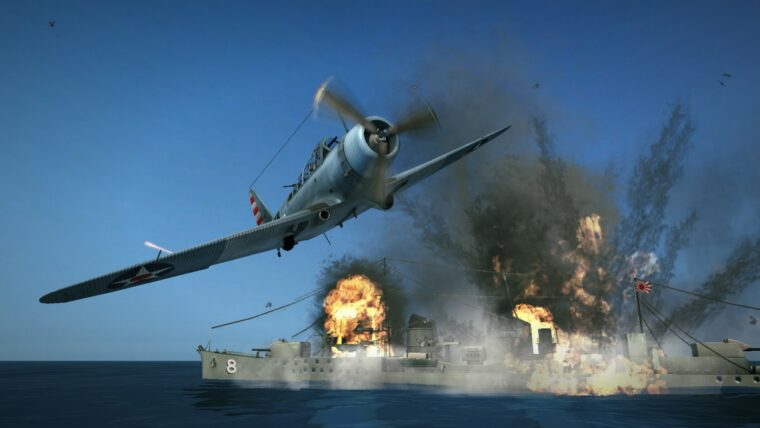 All of the 23 missions can be played cooperatively, as well, with up to four players teaming up to blast through the sorties. Competitive multiplayer covers most of the bases expected, with players able to go head to head in both free-for-all dogfights and team-based battles. The classic deathmatch mode puts up to eight players against one another, allowing for game customization suitable to a variety of skill levels, while Team Dogfight splits fighters into separate squads. Survivor also comes in both normal and team flavors, with the goal centered on being the last plane in the skies.
Handling the Stick
This is all pretty standard stuff, with the exception of one mode that could prove to separate Damage Inc. from the rest of the pack. Scratch One Flattop mode takes two teams and gives them aircraft carriers to attack and defend. Cover your own side while using dive-bombers and torpedo bombers to swoop in and sink the opposition's carrier. While it still holds to the same basic team-based conventions the rest of the multiplayer modes offer, it's certainly the least straightforward dog-fightin' of the bunch. As is always the case, it will end up coming down to the kind of community the game builds and sustains after its release.
As for that stick, it looks like Mad Catz is also trying to keep the peripheral in line with Trickstar's dedication to historical accuracy, at least as far as controllers can do so. The AV8R (sound it out…) is styled after WWII combat aircraft, from the grip to the themed decals. It sports three buttons, a realistic trigger, and a POV analog stick, as well as integrated throttle and aircraft-inspired toggle switches. The Xbox 360 version includes a headset port for use with Xbox Live, but the real clincher is the fact that the stick is compatible with a number of other notable flight games. Damage Inc.'s site lists other titles it works with, including Birds of Steel, Birds of Prey, Hawx 1 and 2, Ace Combat 6, Apache Air Assault, Heroes Over Europe, and both Blazing Angels games. PlayStation 3 compatibility is roughly the same, but PC gamers can also crack at IL-2 Sturmovik, Combat Wings, A-10 Warthog, Flight Simulator, and X-Plane.
Trickstar Games is a relatively new developer, founded in Melbourne, Australia in 2009, but Damage Inc. doesn't represent their first foray into aerial combat. J.A.S.F.: Jane's Advanced Strike Fighters, a modern flight action sim, was released across multiple platforms in 2011. Despite its facade of simulation, J.A.S.F. was closer to an arcade-style flight game, which also appears to be the aim of Damage Inc., so keep that in mind when looking to scratch that aerial itch.