By Joseph Luster
How often do we get to check out strategy games set during the Cold War, especially on multiple platforms? Publisher Good Shepherd Entertainment recently released something to fill this void in the form of Phantom Doctrine, a turn-based tactical espionage game that takes place at the Cold War's peak. Those interested in the period and fond of classic spy thrillers will find the web of paranoia and conspiracy immediately engaging.
Phantom Doctrine
Phantom Doctrine puts players in place as the leader of The Cabal, a secret organization tasked with preventing a wide-spanning global conspiracy. To do so, you'll need to pull off secret missions, interrogate enemy agents, and investigate highly classified files, which will eventually uncover a sinister plot and an appropriately urgent ticking clock to go along with it.
As is fitting of this type of story-driven experience, the meat of the game is focused on an extensive single-player campaign, with both renegade CIA wet work commando and KGB counterintelligence operatives available. The turn-based battle system that bridges the narrative is full of strategic possibilities, from triggering Breach abilities and Overwatch modes to positioning assets around the world so you can call upon assistance when you need it most. The deeper you worm your way into the enemy's inner workings—especially when it comes to meeting up with undercover operatives and finding out more about the enemy's plans—the easier it will be to stay one step ahead of their own traps and reinforcements.
Beyond single player, there are also online multiplayer matches and intense one-on-one skirmishes. Whichever side you choose to tackle, you can create your own fully customizable character, changing appearance, forging documents, and training them in new deadly arts whenever they need a new identity. The unique combination of the setting and the clandestine stealth gameplay make for a unique package unlike a lot of the other war-centric games on the market.
Warface
From the creators of Far Cry and Crysis comes Warface, which will be a familiar name to those who have played the PC version before. This free-to-play first-person shooter previously debuted on Steam, and it recently made its way to PlayStation 4 and Xbox One. For the unfamiliar, Warface offers up faction-based action with a mix of PvP and story-based PVE, so there's something in it for anyone looking to dig their claws into a different war-themed FPS.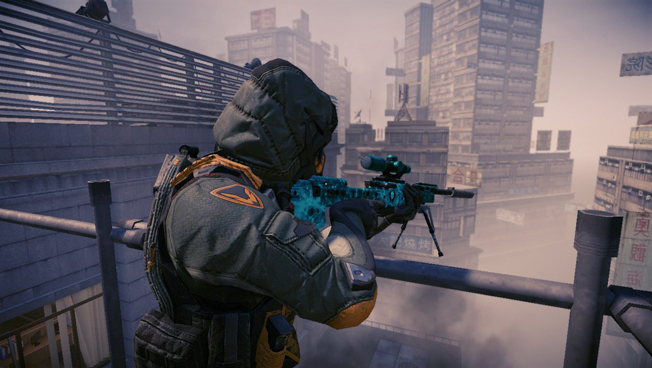 The primary factions at the heart of battle here are Warface and Blackwood, each of which has four simultaneously-leveled classes available for players. These consist of Rifleman, Sniper, Engineer, and Medic, making it easy to put together a varied team for modes like ranked matches and clan wars. Even if you end up in the same class as another player on your team, you can make your character stand out with your own personalized skins and equipment, as well as a bunch of primary, secondary, and melee weapons that are updated on a regular basis.
Outside of the 50-plus maps and all the various modes found on the player-versus-player side of the equation, the player-versus-enemy content includes its own unique foes and environments. There are over eight special operations at the time of this writing, and hopefully Crytek will have even more in the works once Warface finally hits consoles. As it stands, Warface definitely has enough cooperative and competitive content to make it worth the initial download, so we'll have to see how the console community develops over the course of the coming months.
Valiant Hearts: The Great War
Valiant Hearts: The Great War has graced pretty much every platform imaginable since it first launched, including PS4, Xbox One, PS3, Xbox 360, PC, iOS, and Android. Now that Nintendo's latest has been on shelves for a while, though, it's time for Ubisoft's beautiful World War I adventure to wage its heartfelt war on Switch. If you haven't experienced this unique, story-focused trek through the Great War, you owe it to yourself to give it a shot as soon as possible.
Right from the start, the most outstanding feature of Valiant Hearts is definitely its art direction. With the help of Ubisoft's UbiArt Framework engine, the 2D comic-style art comes to life and helps breathe another layer of emotion into the narrative. The team handling this art is full of all-star talent, too, including key level designers from Rayman Origins and Rayman Legends, as well as the audio and art directors from games like Peter Jackson's King Kong and fan-favorite Beyond Good & Evil. This aesthetic doesn't trivialize any of the related events. Rather, it enhances each moment and helps create memorable characters you'll want to follow through to the bitter end.
Despite its somewhat grim setting, the story itself revolves around romance. Players take on the role of a handful of different characters and their immensely useful canine companion, who can put his enhanced sense of smell to work, avoid obstacles, and stay out of the way of enemies while solving puzzles. Together, the group attempts to help a young German soldier navigate the trenches and ultimately find his lost love. Though the story itself is a work of fiction, the locations in which it takes place are anything but. You'll be roaming and surviving through historical battles on the Western Front like the Battle of the Somme and the Battle of the Marne and passing through areas like Reims and Montfaucon.
If you're looking for a true surprise of a game, you can't do much better than Valiant Hearts: The Great War. The Switch port offers another welcome opportunity for this adventure to leave its mark. If we're lucky, this won't be the last time the UbiArt Framework gets put to such captivating use.