By William F. Floyd, Jr.
Kent was seated at the breakfast table. Knight informed him that they had come to conduct a search of his residence. They instructed Kent that whatever he told them might be used against him in court. The investigators began questioning Kent. He stated that he had nothing in his possession that belonged to the U.S. government. Furthermore, he denied having any idea about why they would want to search his residence. Of course, this did not deter the investigators.
The raid on Kent's apartment was the culmination of an investigation that had been going on for many months. In Kent's apartment, the investigators found multiple suitcases and stacks of boxes jammed with papers and photographic plates from the U.S. Embassy where he was employed as a cypher clerk. They also found a red leather book hidden away in a cupboard that contained the names of hundreds of British citizens. Knight and the others were pleased that they were able to gather ample evidence that could be used to prove an espionage case against Kent.
The investigators hauled Kent off to the U.S. Embassy where he was held in custody. The investigators debriefed U.S. Ambassador to the United Kingdom Joseph P. Kennedy. He berated Kent and he formally dismissed him from his job at the U.S. Embassy. Since Kent no longer had diplomatic immunity, Scotland Yard could prosecute him for espionage.
Kennedy had been shocked at what he saw. Kent had not only comprised State Department cipher codes worldwide, but also had copied Kennedy's memos, some of which expressed his controversial opinions about the war in Europe. 
Among the documents seized was correspondence between U.S. President Franklin D. Roosevelt and Winston Churchill, who at the time was Great Britain's First Lord of the Admiralty. The documents showed that Roosevelt was looking for ways to avoid U.S. neutrality in order to help the British defend themselves against the German threat from land, sea, and air.
Some of the diplomatic cables that Kent stole revealed that Churchill had recently asked Roosevelt if the United States could loan some of its half-century-old destroyers to Great Britain because the Royal Navy was stretched thin around the globe. The fact that Roosevelt was even considering such a request would not sit well with isolationists in the United States.
Kent was born on March 24, 1911, in Manchuria where his father, William Patton Kent, was U.S. counsel. The elder Kent took his family with him as he moved from one diplomatic assignment to another. They lived in Leipzig, Germany; Berne, Switzerland; Belfast, Ireland; and Hamilton, Bermuda, before returning to the United States. The first time young Tyler set foot on American soil was when his father retired from the Foreign Service in 1919.
Young Tyler attended prestigious preparatory schools, first Kent in Connecticut and then St. Albans in Washington, D.C., and was accepted at Princeton University. He entered Princeton in the fall of 1929.
Kent, who had demonstrated a remarkable gift for foreign languages at the prep schools he attended, studied foreign languages at Princeton. He left Princeton in his second year to study Russian at the Sorbonne during what would have been his sophomore spring semester at Princeton. That summer he studied Spanish at the University of Madrid. He eventually earned a degree in history and economics from The George Washington University as part of a focused preparation for a career in the Foreign Service.
The recent university graduate seethed inside with insecurities and prejudices. He was self-centered, arrogant, and unscrupulous. Upon graduating from GWU he learned that Ambassador William C. Bullitt, who would serve as the first U.S. ambassador to the Soviet Union, was looking for clerks with knowledge of the Russian language for the new embassy that would soon open in Moscow. Bullitt subsequently hired Kent. The 23-year-old college graduate travelled to Moscow in 1934 and he reported for work in his first post with the Foreign Service.
Kent found Stalinist Moscow to be a dreary city. Food and hygiene products were in short supply. As for luxury items, they were almost nonexistent.
Bullitt, who was a Russophile, tried to create opportunities for closer contact between his staff and the Russians in the hope it would foster a good working relationship. For his part, Kent only thought of himself and how he might be able to thrive under the circumstances in which he found himself.
Kent was the epitome of the sharp-dressed man. He owned tailor-made, expensive suits that made him appear affluent when he was actually low on the diplomatic ladder. This false front enabled him to obtain a Russian starlet as his close companion. The more he socialized with the Russians, the more he became a mark for Soviet intelligence operatives.
Kent managed to obtain a gun, a car, and a studio where he photographed his Soviet-furnished mistress in the nude. It was here that Kent began keeping copies of official messages for what he called historical purposes. Such behavior would indicate that Kent was working for the NKVD. Yet his State Department superiors, if they knew about such activity, never took any action.
The NKVD maintained a permanent observation post outside the embassy from which it brazenly conducted operations. At the time that Kent was employed at the embassy, it was customary for a number of attractive women to wait across the street for men working at the embassy to leave for the day. The women, who pretended not to know English, lured the men into bars at nearby hotels. Some American diplomatic personnel who fell for the girls' act and believed that the girls could not understand them were careless and spoke freely about their work. The women, who were Soviet agents, reported their findings to their NKVD superiors.
"These women have, up until a short time ago at least, had free access to the Embassy building and there was hardly a night when several of them were not there," stated an FBI report issued in 1940.
In this atmosphere of heavy drinking and flirtation, it not take long for Kent to get in trouble. He neglected his work and engaged in improper behavior for someone in his position. Kent later tried to justify his behavior in Moscow by saying that there was insufficient translation work to keep him occupied and that he was bored with his mundane clerical duties.
His behavior was serious enough to nearly get him thrown out of his job after just a short time. Bullitt gave him a stern reprimand and let it go at that despite the near-universal recommendation from embassy officials that Kent should be dismissed from his position. 
On April 25, 1935, Ambassador Bullitt wrote that Kent's work had greatly improved. If Kent had seemed to calm down it may have been because he met the woman who would be his principal paramour for the remainder of his time in Moscow. Her name was Tatiana (Tanya) Alexandrovnaya Ilovaiskaya. A green-eyed blonde, she was the epitome of the beautiful female secret agent. It was mainly due to Tanya that Kent, in contrast to most bachelors who served in Moscow, had a good social life. Tanya would make no attempt to conceal from Kent her connection with the secret police.
Kent soon thought of a new scheme. Working with Tanya and fellow clerk Anthony Barrett, he began to do business on the black market. The three collaborators bought jewelry and furs that they shipped by diplomatic pouch to New York where they were sold on the black market. Kent's share of the profiteering helped pay for his car and the rent on a dacha where he spent weekends with his co-conspirator and mistress. 
On September 23, 1939, Kent left Moscow for a new assignment in London. Although members of the diplomatic service suspected him of engaging in espionage in Moscow, they could not prove it. Nevertheless, they purposely transferred him to London. Kent had made quite the life for himself in Moscow, and he was deeply displeased to have to leave it behind.
Ambassador Kennedy had wanted Henry W. Antheil, chief code clerk at the Moscow embassy, to fill the opening in London; however, Antheil changed his mind. He had been Kent's predecessor as code clerk in Moscow. Ironically, it was discovered that Antheil also had passed classified information to the Soviets. Antheil died in a suspicious commercial airliner crash in 1940 before formal charges could be brought against him.
Kent reported for duty at the London embassy on Thursday, October 5, 1939. He was immediately put on the watch list of the British Security Service, better known as MI5, because he had sailed aboard the same ship as a Gestapo agent who was under British surveillance. It did not help that Kent later dined with the agent. Kent had to adjust to living in a wartime environment, for Great Britain and France had gone to war with Nazi Germany when it invaded Poland on September 1, 1939.
Kent quickly settled into the routine of decoding. He rented a two-room apartment at 47 Gloucester Place, which was located within walking distance of the embassy. Kent continued to collect classified documents even though he did not have a Russian mistress with whom to collaborate. He may have done this to satisfy his oversize ego.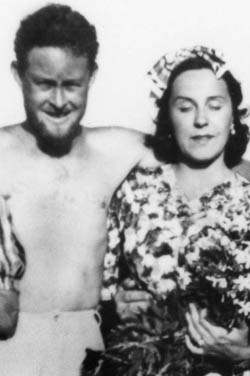 When off duty Kent actively participated in London's vibrant social scene. He became a regular at the Russian Tea Room, a gathering place for anti-communist, ex-patriot Russians. The owner of the tea room was Nikolai Wolkoff, the former Imperial Russian naval attaché in London. The admiral's daughter, Baroness Anna Wolkoff, was the center of attention at the tea room, which was a gathering place for right-wing extremist and anti-Semites.
Another regular at the Tea Room was Archibald "Jock" Ramsay, a Scottish Member of Parliament. Ramsay was the founder of a secret society known as the Right Club whose right-wing extremist members were vehemently opposed Churchill's call for total war against Germany. Kent was comfortable in this milieu, and he soon joined Ramsay's club.
Kent would often work deep into the night alone at the embassy. This enabled him to make copies of secret and sensitive documents, which he would then put in his briefcase and smuggle out of the embassy. He brazenly stored them in his apartment.
The Tea Room and the Right Club soon were of great interest to MI5. Captain Maxell Knight, who headed up MI5's counter-subversion section, had recruited women to penetrate the club. One of these agents was known as "Miss Amor." Dining with Baroness Wolkoff on February 24, 1940, Amor learned that Wolkoff was spending a great deal of time with a man from the American Embassy who was a spy for German sympathizers. Knight soon discerned that the spy with whom the baroness had become so familiar was none other than Kent. Wolkoff told Amor that Kent was providing Ramsay and herself with stolen documents.
Knight was confident that Kent could lead authorities to a fifth column. If he could arrest Kent and seize the secret documents, he might be able to connect him to British traitors. Churchill, who had become prime minister of Great Britain in May 1940, was keen on seizing every suspicious alien and appeaser in the country. Indeed, Churchill intended to push this policy through Parliament.
In regard to Kent's espionage, time was of the essence. The British were on pins and needles because they expected the Germans to launch a seaborne invasion of Great Britain. Just two days after Kent's May 20 arrest, Parliament rubber-stamped an act authorizing internment of any individual suspected of associating with the enemy. Kent was charged with violating the Official Secrets Act and obtaining and transferring documents "that might be directly or indirectly useful to an enemy." Wolkoff was arrested the same day on similar charges.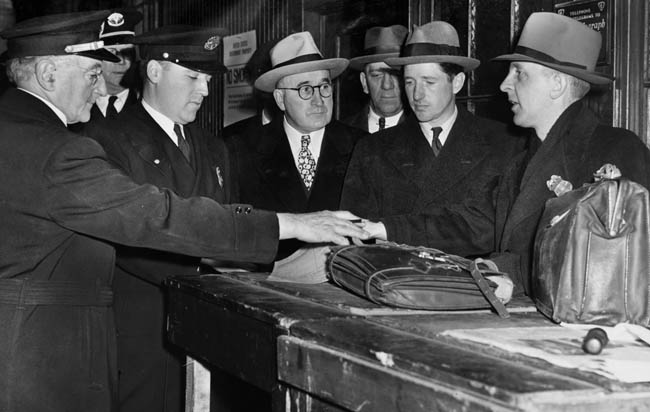 Kent had hidden the documents he had taken in Moscow so that he might one day use them to political advantage. For example, he might give them to U.S. lawmakers who shared his political objectives relative to isolationism and anti-Semitism. There was no mention of his arrest in the press.
The U.S. State Department announced 11 days later that Kent had been fired and that he was being detained by order of the British Home Secretary. State Department officials later said that Kent had turned over highly secret cables and documents to both the Soviet Union and Germany during his tenure in Moscow and London. A search of his London apartment turned up copies of 1,929 official documents.
"They are a complete history of our diplomatic correspondence since 1938," a State Department official said. "It means not only that our codes are cracked, but that every diplomatic maneuver was exposed to Germany and Russia." This was an exaggeration, though, for further investigation revealed that Kent had not compromised the codes.
Kent's secret trial began at the Old Bailey on October 23, 1940. It was interrupted periodically by the Blitz. The jury deciding his case reached a decision in just 25 minutes. They convicted him on five counts related to obtaining and communicating documents that might be used by enemies of Great Britain. He subsequently received a seven-year sentence. Baroness Wolkoff, who was tried separately, received 10 years. Archibald Ramsay was held without trial and released after four years.
Kent's sentence ultimately was scaled back to slightly more than two years because he was a model prisoner. It was standard practice at the time in Great Britain to reduce sentences by one third for good behavior. He departed London on November 21, 1945, aboard the British steamer Silver Oak and arrived in Hoboken, New Jersey, on December 4.
Shortly after his arrival, Kent wed Clara Hyatt, the former wife of a Foreign Service officer. Clara's son had no doubt about why Kent married his mother. "He married my mother for her money and never did an honest day's work in the 42 years of their marriage," he said. Kent persuaded his wife to let him handle her financial affairs. He then charged her $10,000 annually to perform that function; in other words, for the privilege of fleecing her.
The former code clerk eventually sold his wife's property in Maryland and moved to Florida where he bought 80 acres. He not only built a new house on the land, but also relaxed on the couple's yacht. In 1959 he bought the Putnam County Weekly Sun, which he filled with vitriolic right-wing propaganda, attacking liberals, Blacks, and Jews. The Miami Herald and other newspapers wrote investigative articles about Kent and his newspaper that helped drive it out of business.
Kent's social standing in his community quickly declined when his money ran out. At that point, the couple moved from place to place. They finally wound up living in a trailer in Kernville, Texas. It was there that Kent died of cancer at the age of 77 on November 20, 1988. 
Kent retained his radical political views until his dying day and remained unapologetic. Although the FBI investigated Kent regularly during the 1950s and 1960s, it never produced any charges against him.