By Paul Loane
Artwork by Don Troiani
In the days following the outbreak of war, Northern states scrambled to assemble small militia groups into regiment-size units, recruit additional volunteers and uniform them all in a cohesive manner. Rhode Island was no exception with the added problem of having no official state uniform for its troops. Ambrose Everett Burnside, former major general in the state's militia, returned from his job as a N.Y. City banker and stepped up to the task of equipping and organizing the troops.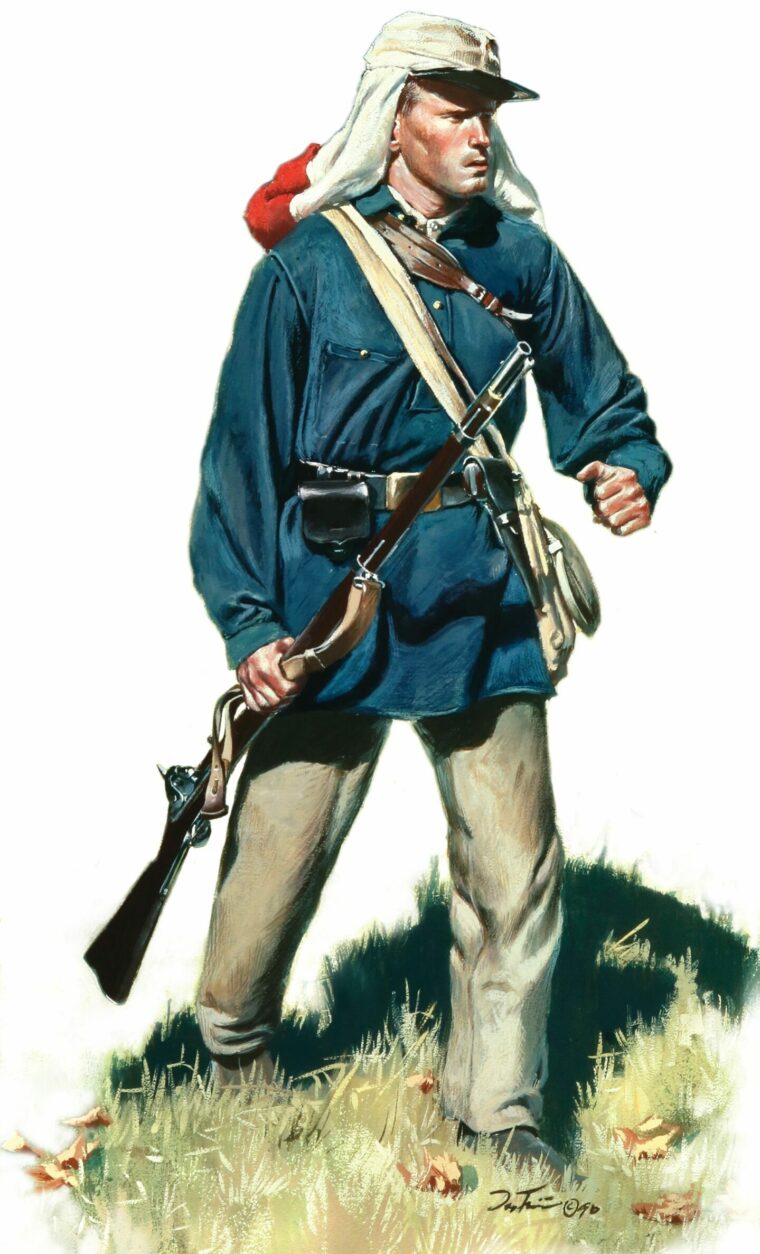 On April 20, just five days from Lincoln's call for 75,000 troops for three months service, the First Rhode Island Detached Militia departed for Washington D.C., led by Col. Burnside himself. On July 16 the unit left camp outside the capital with the bulk of the Union Army and five days later met the Confederate forces at Manassas, Va. Here the Rhode Islanders were in the thick of the fighting and in the calamitous retreat "maintained a soldierly calmness and preserved its ranks unbroken" until it returned to its camp. With its term of service expired, the unit departed for home on July 25 and was officially mustered out of service on August 2.
Headgear: The unit wore a blue "chasseur" pattern kepi with a detachable white cotton covering known as a havelock. Designed to protect the wearer from the sun, it was introduced by Sir Henry Havelock of the British Army for use during the Indian Mutiny in the late 1850s. The American copies hung limply on the soldiers' heads making them hot and uncomfortable. A year later, the mania for havelocks was gone and they disappeared from the army.
Blouse: With summer approaching, and expectations that the war would be short, uniforms were lightweight, with little attention to durability. Designed by Col. Burnside and inspired by the "hunting shirts" worn by many Continentals during the American Revolution, the blue flannel pullover blouse was simple and easily made by the ladies in Providence. Single breasted for line officers and enlistees, double breasted for staff.
Gear: The most distinguishing item of gear was a bright red woolen blanket carried on the back by a brown, over-the-shoulder leather strap made for that purpose. A waistbelt with cartridge box and cap box, a white canvas haversack for rations and a tin canteen completed the kit.
Principal Weapon: U.S. Model 1855 Rifle-Musket with bayonet. Many also carried a small pocket pistol presented to the rank-and-file by an admirer on April 30.
Trousers: The trousers supplied with the blouses were a loose-fitting, gray woolen weave.