By John W. Osborn, Jr.
British Army privates Thomas Highgate, Ernest Jackson, and Louis Harris shared a distinction in World War I that they undoubtedly would rather not have had. They were the first and last British soldiers to be executed for desertion in World War I, and their deaths created a bitter political dispute that reverberated through the decades until the end of the 20th century and beyond.
Highgate fled the fighting at Mons and was discovered, his uniform heaped at his side, hiding in a barn on the Rothschild estate by a gameskeeper. Now wearing civilian clothing, Highgate explained, "I want to get out of it and this is how I am doing it." Unluckily for him, the gameskeeper was a British ex-soldier who turned him in to authorities. On September 7, 1914, with the war barely a month old, Highgate faced a firing squad. Before his execution, he wrote out a will on the back of his Army pay book, leaving what little he had to his girlfriend in Dublin. Highgate was the first of 3,080 British soldiers to be sentenced to death for desertion and other offenses during World War I.
Ernest Jackson, serving in the 24th Battalion, Royal Fusiliers, was an incorrigible shirker who, when given a second chance, deserted a second time. Private Louis Harris of the 10th West Yorkshire Regiment had been once rejected as unfit, then conscripted when the demands of war led to standards being reduced. He, too, deserted. On November 7, 1918, just four days from the Armistice, Jackson and Harris became the last soldiers in the British Army—the 345th and 346th, respectively—to be executed for desertion or various other offenses, around 11 percent of all those sentenced to death.
With soldiers attempting to flee at the rate of 10.26 per 1,000 men, desertion accounted for the overwhelming majority of military executions during the war—some 266 in all. To convict, a military court-martial had to be satisfied that the accused had run away with no intention of returning. Private A. Ingham of the Manchester Regiment was one such man. Arrested in civilian clothes on a ship about to sail from France, Ingham claimed to be an American. Private Edward Bolton of the 1st Chestershire Regiment was another offender. Bolton did not return from leave in England and was finally tracked down far from home, working in a civilian job under an alias.
Soldiers being court-martialed often were assigned officers with no legal training in mounting a defense, just hours before their hearing. When convicted, they were not told of their sentence; they were only informed of their fate the night before their execution, when they were given a bottle of whiskey to drink for solace. For the first two years of the war, families were informed of their loved ones' executions, but protests led by reformer Sylvia Pankhurst resulted in families being told simply that their relatives had "died of wounds."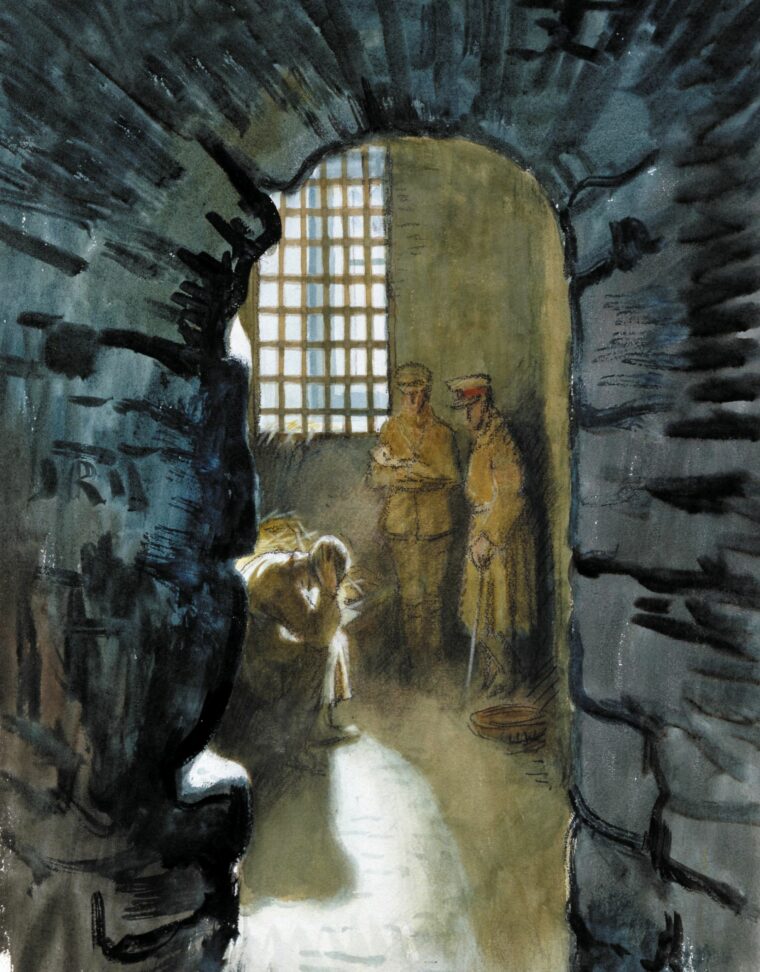 Private John McCauley and his Scottish battalion were lined up to witness one such execution. He recognized the condemned as a soldier he had trained with and realized that several members of the firing squad were from the condemned's hometown. "The thing that had been a man sagged at the stake" after the volley, wrote McCauley. "I still say that fear of facing a firing squad had little effect on the man whose nerves were shattered beyond repair and who eventually became panic stricken at the horrors surrounding him."
But Lt. Gen. Sir Aylmer Hunter-Weston had no such doubts. To him the deserters were cowards who "constitute[d] a serious danger to the war effort, and the sanction of the death penalty was designed to frighten men more than the prospects of meeting the enemy." He showed that he meant what he said in the case of Private John Bennett, only 19, who had fled in panic from his position at the Somme, returned hours later, and was charged with misbehavior before the enemy. His commanding officer suggested that Bennett was shell-shocked, and the review board suggested mercy, but, as corps commander, Hunter-Weston still had him shot.
The behavior of some condemned men was in stark contrast with the implication of cowardice that hung over them. Edward Bolton "was the calmest man on the ground," said the officer who supervised his execution. Medical Officer Captain M.S. Elser, assigned to handle the case of Private Frank O'Neill, 1st Sherwood Forresters, "thought that I would make it as easy for him as possible, so I took half a pint of brandy in a glass and told him if he drank that off he would know very little about it. He said, 'What is it?' I replied, 'Brandy.' 'No,' he said, 'I have never drunk spirits in my life, there is no point starting it now.' So, there it was, he who had run from battle showed a spurious sort of courage in the end."
One of the oddest executions was the joint one for Privates William Stone, Peter Goggins, and John McDonald, who were shot at dawn on January 18, 1917. Ironically, the trio had each been exempted from military service as too short, but they volunteered anyway and were placed in a special unit for undersized soldiers.
Conditions at Gallipoli were such that no less than 101 British soldiers deserted and were sentenced to death, although in the end only three were shot. After receiving a last-minute reprieve for being absent from guard duty, Private Davis of the Royal Munster Fusiliers went ahead and deserted twice more—the last time there was no reprieve. Private Salter, East Lanchashire Regiment, deserted and was caught and escaped three separate times before being found posing as an Australian soldier. Sergeant Robbins of the Wiltshire Regiment had a good record, unlike Davis or Salter, but had refused to go on a night patrol, claiming to be sick. He may well have been telling the truth—the trenches at Gallipoli at the time were flooded and freezing.
Two executions during the Battle of the Somme would have political repercussions for decades. On September 16, 1916, Private Harry Farr, a veteran of two years at the front and just released from the hospital for shell shock, refused to go forward again, saying, "I cannot stand it." He was dragged toward the lines screaming and struggling, finally breaking free and running away. Temporary Sub-Lieutenant Edwin Dyett, Royal Naval Reserve, was found in a destroyed house behind the lines; he claimed to have gotten lost trying to find his new unit. He was court-martialed the day after Christmas, and because he was only 18, the court and his division commander recommended mercy. Commander in Chief Sir Douglas Haig rejected the plea, and Dyett was shot on January 5, 1917, leaving a letter to his mother asking forgiveness "for bringing disgrace upon you all."
Even more tragic was the case of Lieutenant Eric Poole of the West Yorkshires. Knocked unconscious by an explosion at the Somme, Poole was sent back to the trenches still disoriented. He disappeared and was found wandering in the rear in a confused state. His brigade, division, and corps commanders all urged mercy, but Second Army commander Sir Herbert Plumer rejected their pleas on the grounds "of the inherent seriousness of the offense when committed by an officer."
Only one other British officer was executed in World War I, Lieutenant John Patterson of the Essex Regiment, who was convicted of murdering a military policeman while resisting arrest for desertion. The first British officer to be cashiered in the war, Lt. Col. John Ford Elkington of the Royal Warwickshire Regiment, was reinstated and restored to rank when he was found fighting heroically as a private in the French Foreign Legion.
Of Britain's Commonwealth allies, Canada executed 25 soldiers; New Zealand, five. Australia, over repeated protests from the British high command, limited the death penalty's application to mutiny and desertion to the enemy. Any death sentence had to be approved by the governor general, and no Australian was executed during the war.
The French cloaked their records in more secrecy than the British, and the number of executions is unclear, with figures ranging between 130 and 550, most of them shot in the war's first year. One of those early-executed poilus, Private Henri Flotch, 298th Infantry Regiment, wrote a farewell letter to his wife: "On November 27 [1914], about 5 pm after a violent bombardment lasting two hours we were in a frontline trench finishing our dinners when the enemy came over and made me and two others prisoner. In a moment of confusion I managed to make my escape. I followed my comrades, and later I was accused of having abandoned my post in front of the enemy. Twenty-four of us were brought before a court-martial yesterday. Six were condemned to death, of whom I was one. I am no more guilty than the others, but an example must be made. My pocket wallet will be sent to you and it contents."
Flotch and the others were posthumously pardoned in 1929. Other cases also became notorious. Private François Laurent was shot for wounding himself—the wound was later proven to be genuine. Private Lucien Bersot was executed for mutiny after refusing to accept the bloodstained trousers of a fallen comrade. A corps commander had to be talked out of having a whole company machine-gunned on the spot for refusing to advance, and he finally settled for six men being chosen by lot to be shot. All were pardoned posthumously after the war.
The incident of the "four corporals of Suippes" became a national scandal and the basis for a classic motion picture. During the Battle of Champagne in March 1915, divisional commander General Henri Reveilhac ordered his 21st Company, 336th Infantry Regiment into yet another useless assault. Exhausted from days of such attacks, none of the men followed their officers and NCOs over the top. Observing from a command post, Reveilhac went berserk and ordered a nearby battery commander to shell the regiment's trenches. When the artillery officer refused to fire, Reveilhac, still out of control, ordered a wire-cutting party from the company sent out in broad daylight, an obvious suicide mission. Corporals Theophile Maupas, Louis Giraud, Louis Lefoulen, and Lucien Lechat and 16 other men went out on the mission, which was obviously hopeless. After spending a day pinned in shell holes under constant machine-gun fire, they crawled back, many of them wounded, in the dark.
Still in a rage, Reveilhac ordered a court-martial of the corporals at the town of Suippes. The verdict was a foregone conclusion. Either finally coming to his senses or losing his nerve, Reveilhac rushed a reprieve to the executioners; it arrived just as the volley of the firing squad was ringing out. A film based on the incident, Paths of Glory, directed by Stanley Kubrick and starring Kirk Douglas, was banned in France for 20 years. It remains one of the most powerful antiwar movies ever made.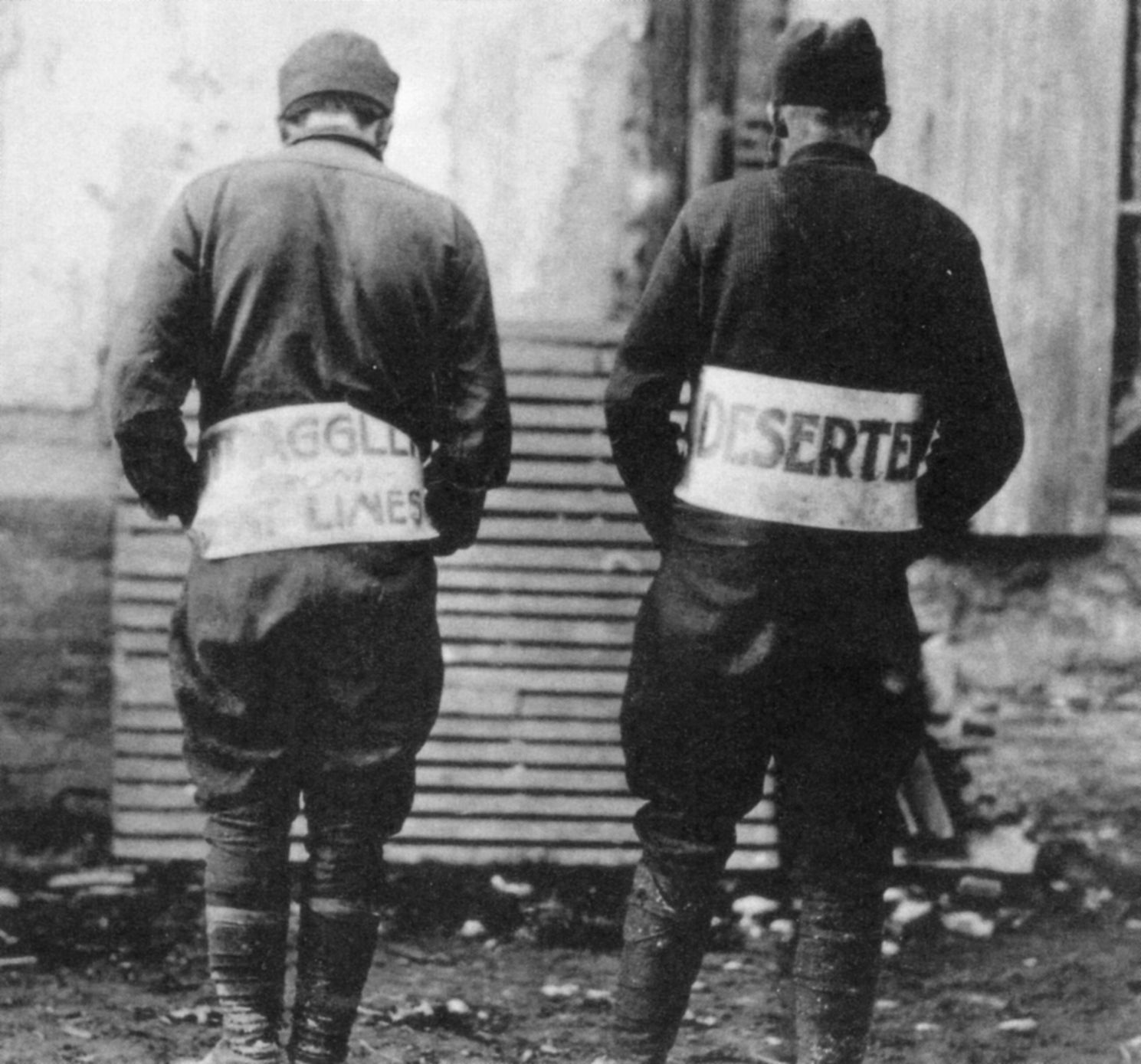 The most notorious case involving the French occurred at Verdun the next year. Lieutenant Herduin, his company reduced to just 35 men and facing encirclement, violated a no-retreat order and withdrew, causing a collapse in the sector. Without even a trial, Herduin and a subordinate, Ensign Millaud, were shot. The military tried to quiet the resulting furor by claiming that Herduin's last words were: "Soldiers! You are going to shoot me; but I am not a coward, nor is my comrade, but we did abandon our post; we should have stayed there to the end, to the death. If you find yourselves in the same situation, do not retreat, remain to the end. And now, aim well, right at the heart! Proceed! Fire!"
The French officially reported that only 23 soldiers were shot for the notorious 1917 mutinies. "Without question there were many more executions than the French Army historians admitted—more, probably, than they even knew about," wrote Richard M. Watt in his groundbreaking account of the disorders, Dare Call It Treason (1963). "After all, a mutiny scarcely rebounds to the credit of any commander, and when executions involved in the suppression of revolt could be covered up by listing the deaths under some other category than execution, such as 'died of wounds' or 'killed in an accident,' there was a strong temptation to do so."
The American Expeditionary Force in France sentenced 24 deserters to death but shot none, although 10 soldiers were executed for murder or rape. The numbers fell disproportionately on blacks—five officers were listed among the deserters in an incident when the African-American 368th Regiment disintegrated under fire in the Argonne Forest on September 23, 1918, and six black soldiers were executed during the war, all for rape.
Compared with the British and French, the German Army was surprisingly lenient. Only 18 soldiers were executed during the war, with the Reichstag repeatedly rejecting the military's demands for stiffer penalties. The harshest army, surprisingly, turned out to be the Italian. Commander in Chief General Luigi Cardona declared, "The Supreme command desires that at all times and in all places, an iron discipline should reign throughout the army." He shot almost twice the number of soldiers than the British did. In return, he attained not a disciplined army but a demoralized one, and one that ultimately disintegrated at Caporetto. American novelist Ernest Hemingway later memorialized the summary executions at Caporetto in his classic novel, A Farewell to Arms.
After the war, the Edwin Dyett case became the centerpiece of a campaign to abolish the death penalty for desertion in the British Army. The effort was led in Parliament by Ernest Thurtle, who had been wounded as a captain in the war. The effort was stalled until it was found that the Army had quietly abolished the death penalty for striking a superior and for sleeping on guard duty. After last-ditch opposition in the House of Lords led by Viscount Allenby, commander of British forces in the Middle East, the abolition of the death penalty for desertion finally became law on April 19, 1930. A famous subordinate of Allenby's agreed. "It was such a damnable judgment upon our flesh and blood," said T.E. Lawrence, the legendary Lawrence of Arabia.
The issue, however, did not go away. The British military sought during World War II to have the death penalty for desertion restored, although statistics showed that discipline was no worse without it. In 1972, a member of Parliament urged the court-martial records of executed soldiers be destroyed, with the Ministry of Defence responding that they had to be kept on file. In 1993, the granddaughter of Private Henry Farr got a bill introduced to have executed deserters pardoned, but it failed. Finally, on August 15, 2006, the Defense Ministry announced that it would pardon Farr and 305 other soldiers who had been shot for desertion and other noncriminal offenses. Explaining that they would be pardoned as a group since there was not enough information to assess each case individually, Defense Secretary Les Browne said, "I believe it is better to acknowledge that injustices were clearly done in some cases, even if we cannot say which—and to acknowledge that all these men were victims of war."
In 2019, the official records of British World War I executions will become public at last, and the pathetic details of the long-abolished punishment will be open for all to see.