By Michael D. Hull
Early in World War II, the British War Office and the Admiralty were shocked by daring small boat attacks, some of them suicidal, on Allied shipping in the Mediterranean Sea. Several Royal Navy ships anchored in Egyptian ports were sunk or damaged by Italian explosive motorboats and manned torpedoes. The cruiser HMS York was crippled and a tanker sunk by a modified Italian touring boat off Crete in March 1941, and Italian midget submarines sank the proud battleships HMS Queen Elizabeth and HMS Valiant in Alexandria harbor in December 1941.
The Germans and the Japanese also used such small craft with varying success. Casualties were heavy, but the results startling. In the Italian and German versions, the single crewman bailed out before the explosives-packed boat hit the target. The British responded by developing a small, fast, explosive motorboat, but it was never used in action.
However, other ideas for small craft attacks were germinating in fertile British minds, as in the case of Major Herbert G. "Blondie" Hasler of the Royal Marines, a peacetime small boat sailor. He dreamed up a bizarre plan for using small teams of two-man canoes to sneak up on moored enemy shipping under cover of darkness, plant limpet mines on their hulls below the waterline, and then paddle away as fast as possible.
Hasler's Designs for a Canoe Attack
A man of considerable courage and resolve, Hasler served as the fleet landing officer at Scapa Flow in 1940, and fought at Narvik with the French Foreign Legion during the ill-fated Norwegian campaign. He was named to the Order of the British Empire, mentioned in dispatches, and awarded the Croix de Guerre.
Early in 1942, at the age of 28, Hasler sent a paper on his small boat attack concept to Lord Louis Mountbatten's Combined Operations headquarters. Combined Operations directed hit-and-run raids on enemy coastal installations by British Commandos and specialized naval teams. Hasler's paper was turned down.
But the news of Italian sneak attacks on British ships in the Mediterranean made Combined Operations planners think again, and Hasler was appointed to one of Mountbatten's brainchildren, the Combined Operations Development Center at Southsea, Hampshire. From there, he was sent to form his own unit. When the concept of explosive motorboats was shelved, Hasler was free to promote and refine his canoe plan.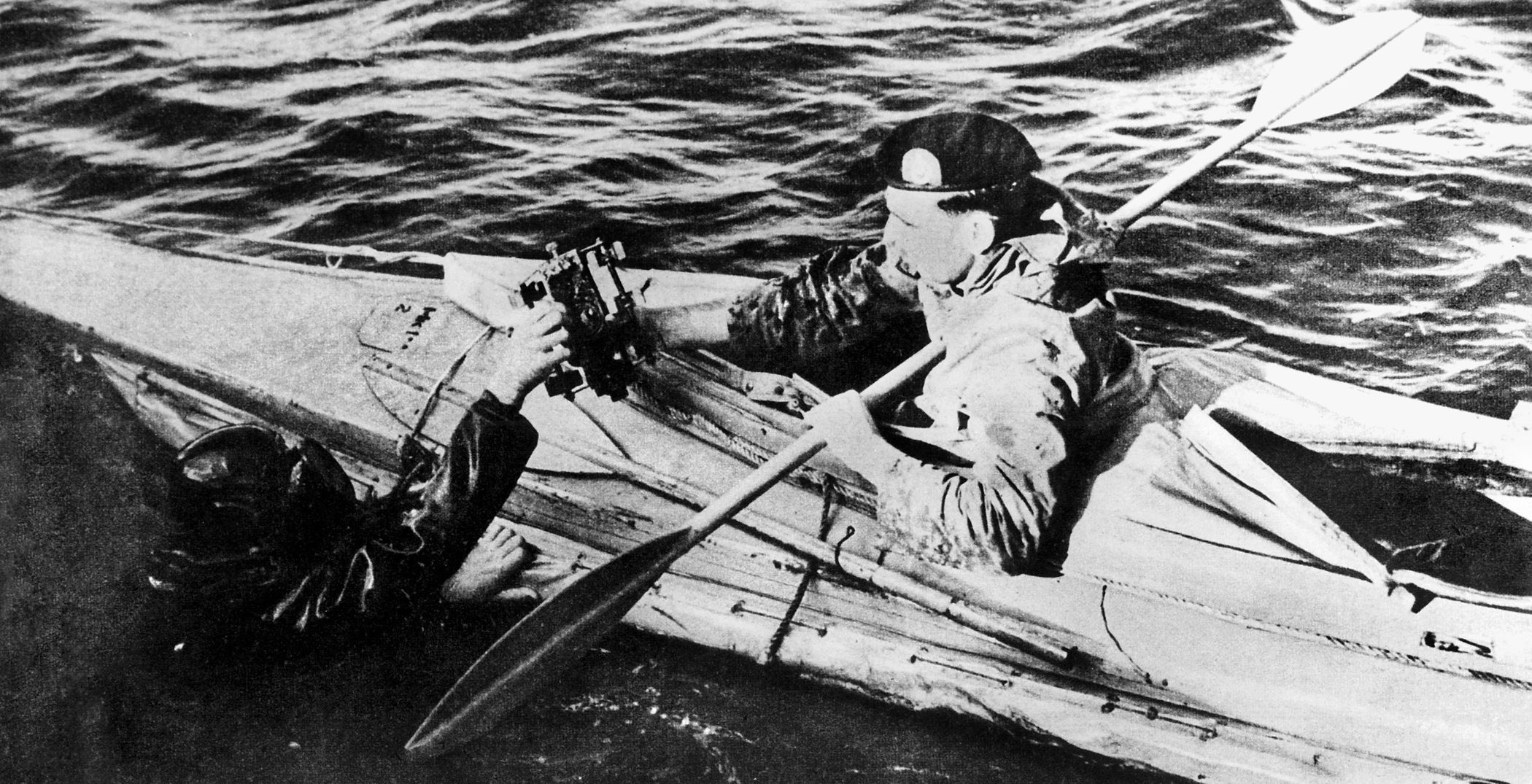 Recruiting and Training the "Cockleshell Heroes"
He went to the Royal Marines small arms course at Gosport, Hampshire, in August 1942, and rounded up volunteers. He emphasized the need for knowledge of small boats and light mechanical engineering, and the ability to work as an individual in a small team. Formed at the big Portsmouth Royal Navy base, Hasler's 24-man unit was initially called the RM Beach Patrol Detachment, and then the RM Boom Patrol Detachment as a cover name.
Based at Southsea, the unit trained in the area of the boom that protected the Solent, the channel between southern England and the Isle of Wight. Purportedly guarding the boom, Hasler's men trained in the River Thames and in Scotland in underwater attack, canoe handling, and night navigation. They practiced with limpet mines, trained with submarines, and received instruction in escape and evasion procedures. Folbots—small folding boats made of canvas—were used, but soon they were found to be unsuitable for launching in rough water or being lifted into a mother craft or submarine. They were replaced by Mark 2 semi-rigid, two- and three-man collapsible canoes.
Hasler's paddling crews were a close-knit unit. The Royal Marines—traditionally nicknamed "Jollies"—lived in billets and knew each other well. By the time their first operation, code-named Frankton, was conceived by Combined Operations headquarters in the autumn of 1942, their morale was high. The canoeists were about to embark on one of the boldest and most extraordinary combat missions of World War II and to gain fame in military annals as the "Cockleshell Heroes."
The Cocklemen's Mission
Targets for Major Hasler's "Cocklemen" were picked out by British intelligence officers reading signals transmitted from the Japanese Embassy in Berlin to Tokyo. The targets were to be German merchant ships running the British blockade and carrying rubber and raw materials to the Third Reich, as well as other vessels hauling special manufacturing equipment to Japan. The ships all started from the Bordeaux-Bassens docks, about 75 miles up the River Gironde in southwestern France. An attack by British Commandos had been ruled out as too costly in effort and investment. The area was defended by an estimated 20,000 German troops.
After the disastrous raid on the northern French port of Dieppe by Commandos and Canadian infantry in August 1942, Mountbatten's planners shied away from large-scale assaults on well-defended targets of this type, especially because Bordeaux was so far inland. And a bombing raid would have caused too many civilian casualties. So, Combined Operations gave the task to Hasler and his canoeists.
Six Cocklemen in three canoes would be launched from a submarine nine miles from the Cordouan Light on the southwestern coast of France. They were to head inland up the River Gironde, paddling by night and laying up during the day. The journey would take several days. Then, after navigating the Gironde estuary to the Bordeaux-Bassens docks area, the canoeists were to attach limpet mines on the German ships and escape overland, using an established network for downed Allied aircrews set up by British MI-9 intelligence agents working with the French Resistance. An approach up the Gironde was dependent on a precise combination of tide and moon, which occurred at the end of November.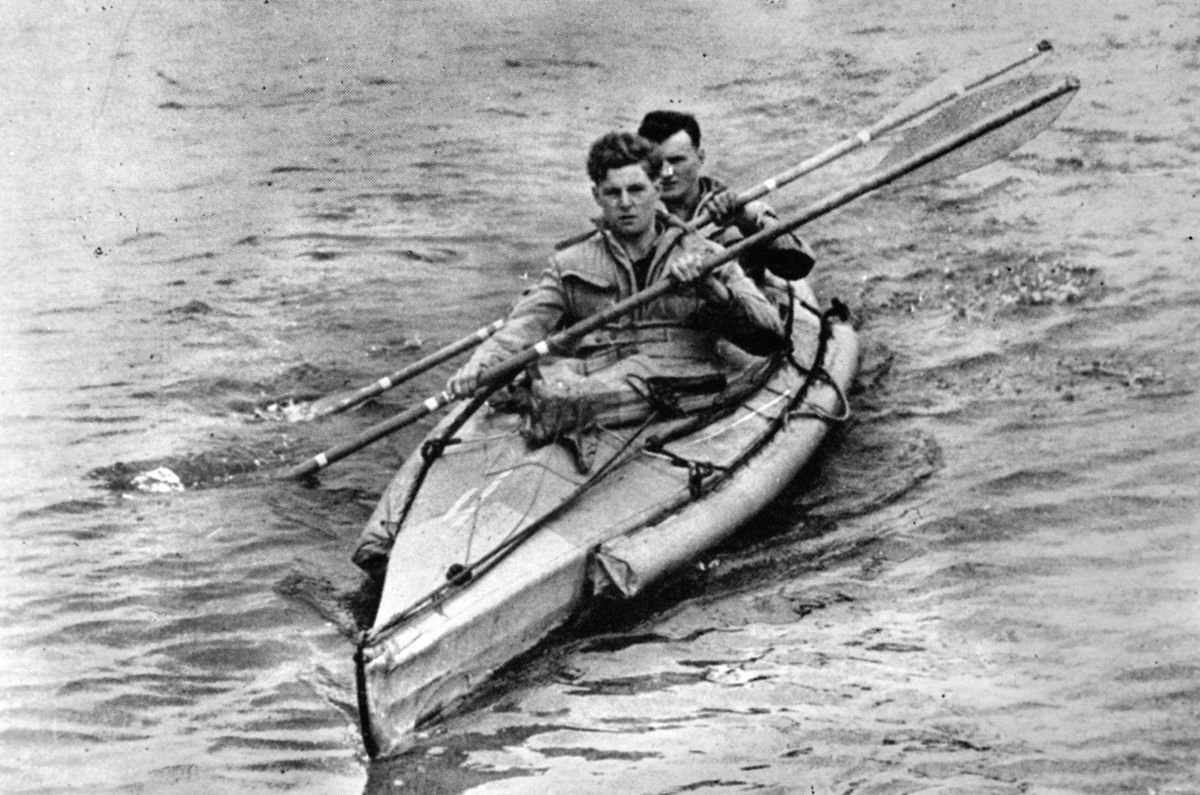 After an addition of manpower and training exercises in the Thames estuary and in Scotland, Major Hasler's team—a dozen men and six Mark 2 canoes—was mustered and equipped for the raid. Besides double paddles, cargo bags, sounding reels, log pads, tide tables, dim torches, six-magnet limpet mines, hand grenades, assorted tools, light weapons, and rations and water for six days, each man was issued a .45-caliber Colt automatic pistol, a Commando fighting knife, and even toothpaste and a brush.
The chosen Cocklemen were Hasler and Marine William E. Sparks in the canoe Catfish; Corporal A.F. Laver and Marine W.H. Mills in Crayfish; Corporal C.G. Sheard and Marine David Moffatt in Conger; Lieutenant Jack W. MacKinnon and Marine James Conway in Cuttlefish; Sergeant Samuel Wallace and Marine Robert Ewart in Coalfish; and Marines W.A. Ellery and Eric Fisher in Cachalot. The 13th member of the team was Marine Norman Colley, in reserve. He would not be called upon.
Setting to Sea in Five Canoes
After a final briefing, Major Hasler and his handful of Jollies clambered aboard the T-class submarine HMS Tuna and sailed from Holy Loch, Scotland, on November 30, 1942. After a long voyage down the western coast of Europe and into the Bay of Biscay, the submarine stood off the mouth of the River Gironde. Hasler and his paddlers were primed and eager for their hazardous mission, with the captain of HMS Tuna observing that they were "a magnificent bunch of black-faced villains."
All was ready, but a snag prevented one of the canoes from taking part in the operation. The canvas hull of Cachalot was ripped in the torpedo hatch of Tuna and could not be launched. Crewman Ellery was dismayed, and his boatmate, Fisher, broke down and wept.
The five remaining canoes disembarked from Tuna at 5:30 pm on December 7, 1942, and their crews headed toward the River Gironde as daylight faded. The Cocklemen managed to keep out of sight of two German armed trawlers stationed at the river mouth, but the mission got off to a bad start. After three hours' paddling with the flood tide under their tails, the Cocklemen saw the white water of a tide race ahead of them—short, steep waves breaking on shallows as the flood tide pushed in. This was an unforeseen hazard, so Hasler rafted everyone together to discuss how to deal with it.
The Raid's Costly Start
Coalfish failed to negotiate the tide race on the first attempt and was never seen again. It was learned later that Sergeant Wallace and Marine Ewart actually paddled through the tide race on that first night but were swept inshore and capsized in surf. While still in uniform, they were captured at daybreak on December 8 by men from a German flak battery. After several days of interrogation, during which they refused to reveal their objective, they were shot in Bordeaux early on December 11.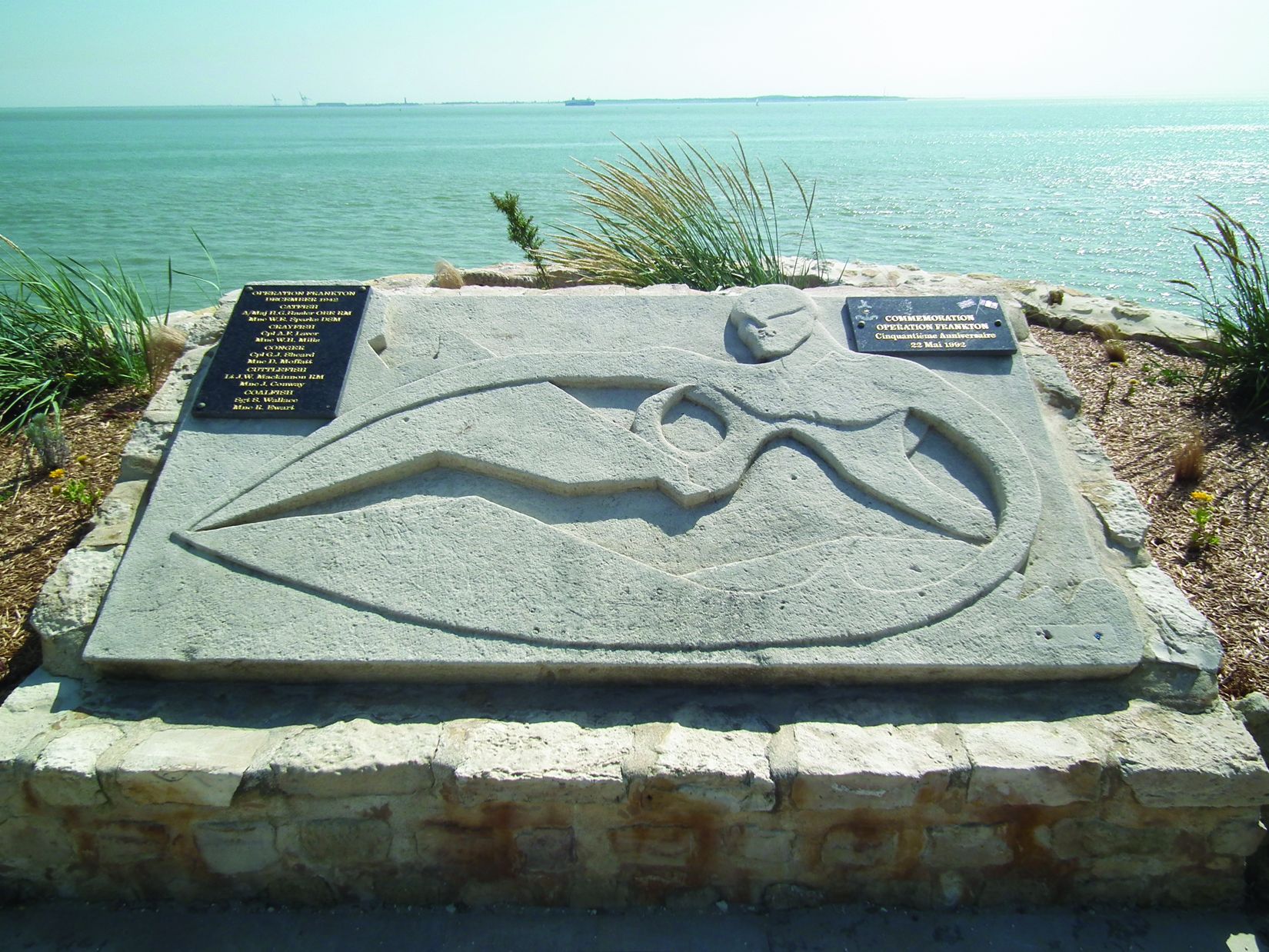 Wallace and Ewart were executed under the terms of Nazi dictator Adolf Hitler's infamous "Commando Order" of October 18, 1942. It read in part, "From now on, all men operating against German troops in so-called Commando raids in Europe or in Africa are to be annihilated to the last man. This is to be carried out whether they be soldiers in uniform, or saboteurs, with or without arms; and whether fighting or seeking to escape; and it is equally immaterial whether they come into action from ships or aircraft, or whether they land by parachute. Even if these individuals on discovery make obvious their intention of giving themselves up as prisoners, no pardon is on any account to be given."
The canoe Conger capsized on the second attempt to negotiate the tide race in the River Gironde. Corporal Sheard and Marine Moffatt were each towed by Catfish and Crayfish to within a mile of the shore on Pointe de Grave, where a lighthouse marked the entrance to the river. The light had suddenly been switched on, and it was so bright that the canoeists were sure they had been spotted. Sheard and Moffatt set off to swim ashore but never made it. Moffatt's body was washed ashore, but Sheard's body was never found.
After seven tiring hours of paddling and with daylight approaching, Cuttlefish became separated from Catfish and Crayfish, which had found a laying-up position for the day amid riverbank reeds. During the first night's journey, the Cocklemen—shivering and with exhausted limbs—had been paddling for 11 hours, covering 20 nautical miles.
Lieutenant MacKinnon and Marine Conway pressed on for three nights until Cuttlefish was sunk by an underwater obstacle. The two men swam ashore to make their way home through Spain. The crews of the two remaining canoes, Catfish and Crayfish, meanwhile, spent the daylight hours of December 8 in a hide under camouflage nets. They slept in their canoes and were visited by friendly Frenchmen.
That night, after spending three and a half hours hauling their fully loaded canoes across almost a mile of sandy mud, the two weary crews started paddling again up the River Gironde. The weather turned colder, freezing the spray on the cockpit covers and numbing the Marines' hands and fingers. They covered 22 miles in six hours that night.
Placing the Explosives
On December 9, Major Hasler's canoeists lay up for the day in a hide. In order to take advantage of the remaining three hours of flood tide at the end of that day, the crews took a risk and set off at dusk. They were spotted by a French farmer, and they hoped and prayed that he would not betray them to the Germans.
That night, the two canoes traveled 15 nautical miles. By dawn on December 10, the Cocklemen were still too far away to find a makeshift base from which they could attack the enemy ships. By 6:45 pm, the resolute paddlers had covered only nine miles because of the thrust of an ebbing tide, so Hasler decided to change the plan of attack from that evening to the night of December 11. This entailed another 20 miles of paddling to the objective.
The canoes Catfish and Crayfish stealthily approached the Bordeaux-Bassens docks, where several German ships were moored. Because of a clear sky and with the moon not yet set, the planned time for launching the attack had to be delayed. Major Hasler and his small team set the time fuses on their limpet mines for 9 pm, and the two crews separated. Catfish headed for the west bank quays, and Crayfish for the east bank.
Drifting with the flood tide after the moon had set, Hasler and Sparks in Catfish attached three limpet mines to the hull of a 7,000-ton cargo ship, two on a mine-laying destroyer, two on a smaller merchant vessel, and one on a tanker. These were tense moments, and the two men hardly dared to breathe. At one stage, their canoe was almost crushed between the bows of the cargo ship and the tanker in the ebbing tide. As Hasler and Sparks drifted, a German sentry swung the beam of his torch on them, holding it steady for what seemed like an eternity until the tide floated Catfish behind another ship. Perhaps thinking that the canoe was a floating log, the sentry switched off his light and turned away.
Eight hundred yards across the river, Corporal Laver and Marine Mills in Crayfish found the east quays empty, so they floated down on the ebbing tide to place four limpet mines on each of two cargo vessels they had spotted earlier from their advance base. Then both crews paddled downstream as fast as they could go, beached well before first light, and set off in their pairs on separate escape routes. Since leaving HMS Tuna, the surviving Cocklemen had paddled 91 miles.
Escape Across the Pyrenees
The four Royal Marines were heartened to hear explosions erupt in the Bordeaux-Bassens docks, but the results of their bold and costly efforts were less than spectacular. Some of the limpet mines had failed to explode, and some had fallen off the enemy hulls before detonating. Four ships were damaged enough to keep them in dock for several months. Germans claimed that the vessels were empty at the time of the attack, though one of the ships holds contained 5,000 tons of copper. The damage to the mine-laying destroyer was minor because her sides were designed to withstand underwater explosions.
Nevertheless, the Cocklemen's feat shocked and angered the German naval authorities, and Hitler himself was informed of it. The Germans were convinced for a time that the so-called untouchable ships safely moored in Bordeaux had been the victims of drifting underwater mines. Some incredulous Germans even wondered if Italians were responsible for the deed, rather than four Britons in humble canoes.
It was not until the missing canoes were discovered that the Germans surmised what had happened. Countermeasures were taken. Booms were installed in harbors as part of a new defensive grid, heightened security precautions were ordered, and a new sport for German sentries emerged because of the raid—taking potshots at floating logs.
Meanwhile, Major Hasler and Marine Sparks went ashore near Saint-Genes-de-Blaye. After trying to scuttle their canoe, which would not sink, they made their way to the town of Ruffec on December 18, 1942. A signal to the French Resistance had not been successful, so no one was there to meet the two men. Hasler and Sparks asked for help at the Hotel de la Toque Blanche, which proved to be friendly, and were then taken to Armand d'Breuille's farm on December 19. The two Royal Marines spent the next six weeks in hiding. In March 1943, they were guided across the Pyrenees into neutral Spain and on to the British consulate in Barcelona. Major Hasler was flown to England and arrived on the afternoon of April 1.
Corporal Laver and Marine Mills were less fortunate. After being on the run for two days, they were picked up by the French police and turned over to the Germans. Lieutenant MacKinnon and Marine Conway of Cuttlefish, meanwhile, had managed to travel incognito about 30 miles from Bordeaux. They were about to be hidden in a hospital when they, too, were arrested by gendarmes and handed over to the enemy. All four Royal Marines—Laver, Mills, MacKinnon, and Conway—were in civilian clothes when captured. They were shot in Paris in March 1943. The Third Reich tried to hide the truth of the raid, and the burial certificates of the executed men read "found drowned in Bordeaux harbour." They were buried at Bagneux Cemetery in Paris.
Shortening the War by Six Months
The gallant Sergeant Wallace and Marine Ewart, who foiled Gestapo agents for several days before being shot, were eventually memorialized at Chateau Magnol in the Bordeaux suburb of Blanquefort, where many bullet holes remain in the end wall of a large bunker. A plaque, placed there by a caring French citizen, bears their names and the famous opening lines from The Soldier, Rupert Brooke's World War I poem:
If I should die, think only this of me:
That there's some corner of a foreign field
That is forever England.
Of the surviving Cockleshell Heroes, Major Hasler was awarded the Distinguished Service Order. He was recommended for the Victoria Cross, Britain's highest decoration, but was deemed ineligible because his actions were not "in the face of the enemy." Sparks was awarded the Distinguished Service Medal, and Laver and Mills received the oak leaves of mention in dispatches.
Prime Minister Winston Churchill believed that the Bordeaux mission shortened the war by six months, while Lord Louis Mountbatten called it "the most courageous and imaginative of all the raids ever carried out by the men of Combined Operations commands." Although the results of the Cocklemen's exploits were disappointing, the operation proved to be a significant morale booster for the British people.
Many of Blondie Hasler's concepts led to the postwar formation of the Special Boat Service, one of Britain's elite specialized combat units. Hasler himself returned to his first love, sailing, and became a noted international yachtsman and father figure among single-handed mariners. He invented the first practical windpowered, self-steering gear for yachts. In 1960, he competed in the first OSTAR (observer single-handed transatlantic race) from Plymouth, Devon, to New York, and finished second in 48 days to Sir Francis Chichester, Britain's most famous long-distance sailor.
Hasler returned to Bordeaux in the early 1980s to pay respects to the executed members of his Cockleshell Heroes. He died on May 5, 1987, at the age of 73.
The 1942 raid by Major Hasler and his few Royal Marines was celebrated in two books, Cockleshell Heroes (1957) by C.E. Lucas-Phillips and The Last of the Cockleshell Heroes (1971) by William Sparks and Michael Munn, and a 1955 British film, The Cockleshell Heroes. Directed by Jose Ferrer, it starred Ferrer, Trevor Howard, Christopher Lee, Anthony Newley, Dora Bryan, Beatrice Campbell, and Peter Arne.