By Joseph Luster
Whether you love them or merely tolerate them, the Call of Duty games are a staple of the wargaming landscape for a reason. At this point, the series has a nearly 18-year history behind it, with seventeen entries and plenty of offshoots that have established their own unique narrative and aesthetic throughlines. In the case of the Black Ops series, the latest installment is its sixth, and Call of Duty: Black Ops Cold War also has the honor of pulling double duty as it bridges two generations of consoles and attempts to usher in a new era.
Available across PC, PlayStation 4, PlayStation 5, Xbox One, and Xbox Series X/S, there's no shortage of ways to play Cold War, but at its core you'll find another comfortably familiar take on the first-person shooter blockbuster. This time around, as the title implies, we're heading back to the '80s to tackle a mix of real-world events and original characters—from East Berlin and Turkey to Vietnam, the Soviet KGB headquarters, and beyond. While the protagonist always shares the codename of Bell, you're able to mold your own custom character for the campaign, tweaking everything from cultural background to gender, right down to a bevy of unique personality traits that actually impact the game in certain ways. Player choice does carry some weight in this campaign, so it's always interesting to see how that plays out over the course of what is typically a relatively straightforward style of storytelling.
The gist of the story—which serves as a sequel set 13 years after the original Black Ops—finds players thrust into the history of a group of CIA operatives in their infancy. At the height of the Cold War, they must prevent global nuclear conflict through operations that will, ostensibly, remain off the record for the rest of time. Outside of the fast-paced shooting and the bombastic set pieces for which the series is known, half the fun is finding out firsthand what happened during these world-preserving off-the-record missions.
On the topic of that fast-paced action, Cold War starts out really strong with an early mission set in Amsterdam just two weeks after the 1981 New Year's Day celebrations. Before you know it, you're dealing with a hostage crisis and engaging in an intense rooftop chase, with all of it coming to a head in the kind of unexpected way Black Ops fans will really enjoy. From there you have missions set in the Vietnam War—one of many flashbacks that serve to slot in extra contextual puzzle pieces to the overall narrative—and harrowing attempts to infiltrate KGB headquarters, among many other memorable outings.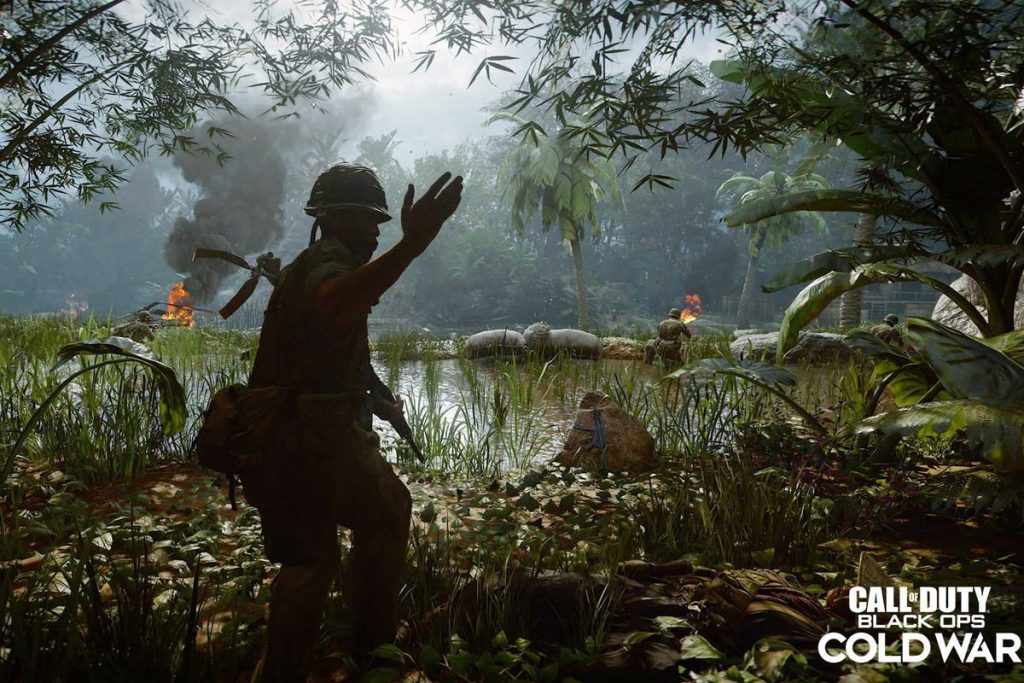 There are plenty of twists and turns along the way, and for some players, this will be where Black Ops Cold War burns the brightest. Others, of course, only come to the table for the multiplayer, which is alive and well here with both fresh and familiar game modes. The competition will no doubt be fierce in both six-on-six and twelve-on-twelve matches, but those used to more packed battlefields will want to check out the new Fireteam mode, which supports up to 40 players. There's also cross-platform play—making it easier to link up with friends on different platforms—as well as a progression system that can connect to Call of Duty: Warzone for interchangeable weapons and gear.
Toss in the always-welcome Zombies bonus, which packs in a new "Dark Aether" storyline, and you have a well-balanced mid-gen outing from the lead developers at Raven Software. At this point, we pretty much know what to expect from a new Call of Duty game, but the level of polish is even higher this time around, and Call of Duty: Black Ops Cold War shows the teams responsible still have a few interesting tricks up their sleeves.
Genre: Action
Platform: PS4, PS5, Xbox One, Xbox Series X|S, PC
Publisher: Activision
Available: Now