By Christopher Miskimon
Stephen Decatur, captain of the USS Intrepid, sprang his trap under cover of darkness on the night of February 16, 1804. His crew had spent many hours sneaking into Tripoli harbor. During that time, their ship had drifted slowly toward the captured American ship USS Philadelphia.
His crew tied up next to the Philadelphia in a quest to capture her. He quickly realized that the ship was in no condition to sail. He decided to destroy the Philadelphia rather than let her remain the enemy's prize. Armed with swords and pikes to avoid gunshots that would alert guards in harbor forts, the American sailors and Marines boarded and seized their target. The Americans moved swiftly through the ship setting fires as they went.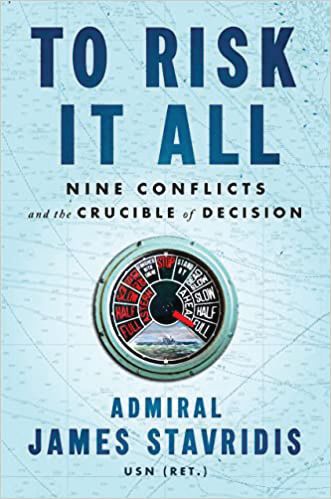 Decatur remained aboard the Philadelphia until he was sure the fire would consume Philadelphia; by then, the guards in the harbor forts had realized the ship was under attack. They fired their muskets at the Americans. Intrepid sailed out of the harbor 90 minutes later with its crew having accomplished their difficult mission. Decatur garnered famed for himself and for the fledgling U.S. Navy with this act of valor.
Decatur is one of nine profiles of courageous naval officers in this new work, which examines acts of daring and decision making under conditions of the greatest danger and stress. The author uses his long experience as a naval officer to study each case. In so doing, he sets forth the key factors that influenced the leader and the difficult situations they faced. His prose is clear, readable, and free of jargon.
To Risk It All: Nine Conflicts and the Crucible of Decision (Admiral James Stavridis, USN (ret.), Penguin Press, New York NY, 2022, 323 pp., photographs, notes, bibliography, index, $28.00, hardcover)