By Michael Haskew
Henry Augustus "Harry" Butters, Jr., was born in San Francisco, California, on April 28, 1892. He was educated both in his native country and in Great Britain. When World War I broke out, his heart was with the British, and he enlisted in the army. Harry stood six feet, two inches tall and impressed his comrades with his horsemanship. It is said that his exploits during the early months of the war were so outstanding that future British Prime Minister Winston Churchill, then serving as an officer on the Western Front, invited the young American to dinner in his fortified bunker. 
Serving as a 2nd lieutenant in the Royal Artillery, Harry Butters reached the Somme in the long, brutal summer of 1916. After serving for several weeks in a support role moving ammunition and provisions to the gunners on the front lines, Harry was assigned to a gun crew as a replacement for a man who had fallen. On August 31, Butters and another officer were crouched in a dugout near their artillery piece as the Germans rained a barrage of shells, some of them containing poisonous gas, on the British positions.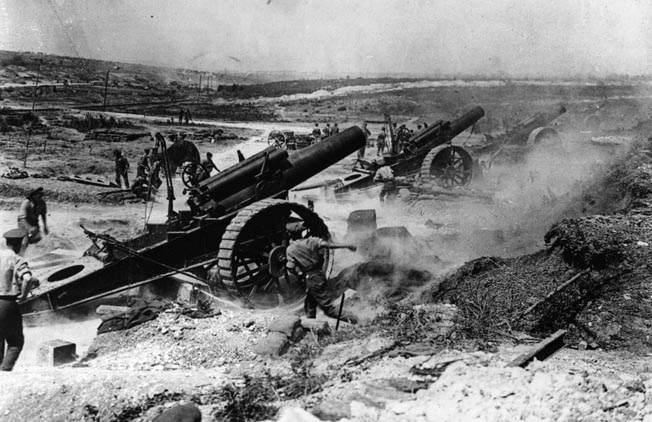 "It's Time We Move Out of This."
After enduring the enemy artillery bombardment for a time, Butters looked at his companion and said, "It's time we move out of this." As he stepped forward, a German gas shell hit him squarely, and his death was instant. The other soldier removed his gas mask and checked for signs of life, but there were none. A few days before he became the first American citizen killed in World War I, Harry had spoken with a Roman Catholic chaplain and explained that he wished to have a Catholic funeral service and a quiet burial place marked by a cross with the simple phrase "An American Citizen" written on it.
The funeral was attended by all the nearby officers and men who could be spared from their duties. The casket was draped with the British Union Jack after efforts to locate an American flag proved fruitless. An observer noted the presence of a staff captain representing the commanding general, Harry's artillery commander, Colonel Talbert, with a section of comrades from his unit, and a detachment of other soldiers – quite a gathering in the midst of an offensive on the scale of the Somme. "A trumpet played the sad farewell," the observer recalled. Butters was buried in the Meaulte Military Cemetery on the Somme battlefield in the Picardy region of France.
Thousands More to Follow
On the day after Harry was killed in action, his section commander, Captain Nelson Zamhra, wrote to one of the American's friends. "A short time ago Harry Butters asked me to communicate with you should anything happen to him. Little did I think at the time that this sad duty would devolve on me so soon. He was killed last night. He was with his guns, and no one could have died in a nobler way, or more in the execution of his duty…We all realised his nobility in coming to the help of another country, entirely of his own free will, and understood what a big heart he had…." Within months, the United States entered World War I, and thousands more Americans followed Harry Butters to the battlefields of France.