As the fateful day drew to a close, the exhausted World War I soldiers of the German 25th and 82nd Reserve Divisions huddled in their trenches. It was May 30, 1918, and for the past two days the Germans had battled elements of the American 1st Division for control of the small village of Cantigny and its environs. Before them the virgin ground had been churned, the twon shot up, and its cemetery turned into a ghoulish battlefield of broken headstones and protruding coffins.
While the Americans had given ground, they had not broken, and they had repulsed every assault the experienced Germans mounted. Over the course of the battle, the Americans had whittled the 82nd Reserve Division down to 2,500 effective personnel. The Battle of Cantigny, the first major assault of the American Expeditionary Force (AEF) on the Western Front, proved that Americans "would both fight and stick," said Maj. Gen. Robert Lee Bullard, commander of the 1st Division.
In "Doughboys' Bloody Baptism," a sobering article in the July 2014 edition of Military Heritage magazine, you'll read all about the American contribution to World War I. For much of the fighting, U.S. Marines exhibited impressive bravery in fighting at point-blank range, but unfortunately, their inexperience was apparent when compared to that of the veteran Germans.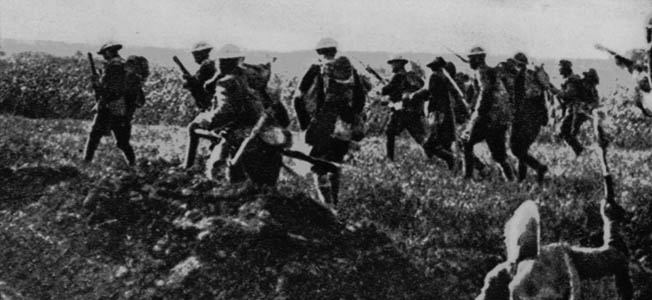 This is only one of the many impressive features you'll find inside the July 2014 edition of Military Heritage. Other stories include:
"Soldiers of God"
Established to protect and care for pilgrims in the Holy Land, the Knights Templar and Knights Hospitaller also defended the crusader states.
"Like a Picture of Hell"
At Chancellorsville in May 1863, Joe Hooker conceded the initiative to the Confederates; Robert E. Lee then made the most of the opportunity.
"Manstein's Victorious Panzers"
In February 1943, German Field Marshal Erich von Manstein unleashed his elite panzer units in a devastating counterattack against Russian forces on World War II's Eastern Front.
"Napoleon's Dramatic Rescue"
When an Ottoman army surrounded Jean Kleber's division at Mount Tabor in April 16, 1799, the timely arrival of General Napoleon Bonaparte ensured a French victory.
What do you think about the American contribution to World War I? Let us know what you think about these and other stories inside the July 2014 edition in our comments section. If you don't already have a copy, pick up a print or digital edition to get in on all the action.