by Christopher Miskimon
In late 1940, fortune seemed entirely against the United Kingdom. France had fallen, Italian troops threatened imperial holdings, and Britain's few allies were still gravely threatened. Skill, stubbornness and ingenuity were all that kept the U.K. in the fight. But of all Great Britain's generals, none can be said to have possessed these qualities more so than Archibald Wavell. For a time, he was the only British theater commander to be actively engaged against the enemy. He oversaw campaigns which spanned nine countries across two continents.
[text_ad]
The son of a British Army officer, Archibald Wavell was born May 5, 1883. He spent much of his youth in India, where his father was posted. As a young man, he attended the military academy at Sandhurst. He was posted to the Black Watch, with assignments in Africa, India and a year in Russia to learn the language.
Assigned to 9th Infantry: The Second Battle of Ypres
Soon after World War I broke out, Wavell was assigned to the 9th Infantry Brigade. During the Second Battle of Ypres in June 1915, he was wounded by a shell splinter that destroyed his left eye. After recovering, he was promoted to Major and sent to Russia as a liaison officer. In 1917, now a Lieutenant-Colonel, he went to the Middle East to serve under General Sir Edmund Allenby. Wavell considered Allenby a mentor, from which he learned the importance secrecy, surprise and deception in combat. When Allenby entered Jerusalem in December 1917, Wavell was with him.
Before the war ended, Wavell would go on to serve in many other staff assignments, and in both staff and command roles between the 1920s and late 30s. In several, he was able to experiment with new facets of warfare, including mechanization and radio use. The horrible frontal assaults of World War I led him to seek better ways of fighting that would result in fewer casualties.
Grossly Outnumbered in the Middle East
On the eve of World War II, he was sent back to the Middle East. It would be there that Wavell would watch the fighting unfold. He was now Commander in Chief of Middle East Command, a vital force for the British Empire during the war. The responsibility put him in charge of all British land forces in the region, from Egypt to Iraq and Palestine to British Somaliland. He had to work with officers and politicians across an area of 1,700 by 2,000 miles.
The war effectively started in the Middle East in mid-1940, and from the start, Archibald Wavell's command had its work cut out for it. Crossing the Egyptian-Libyan border was an Italian army of 215,000, and in Italian East Africa another 250,000 were poised to seize British territory. Against this, Wavell had only a fraction the troops his enemies brought in against him. Rising to the challenge, Wavell and his officers devised new tactics designed to strike at Italian weaknesses, employing deception and disguise to hide the British numbers.
Operation Compass
The result was Operation Compass. Originally designed to remove the Italians from Egypt, unfolding events created an opportunity to eliminate the bulk of the Italian army in North Africa. Wavell seized the chance and succeeded, culminating in the Battle of Beda Fomm where the remnants of the Italian 10th Army were destroyed. The British now held all of Eastern Libya. But unfortunately, most of Wavell's most experienced troops were soon withdrawn to fight in Greece.
Though stretched for resources, Wavell's efforts began to bear fruit. The Italians were defeated in East Africa, a Nazi-backed uprising in Iraq was put down, and Vichy French-controlled Syria was seized to prevent its further use by the Germans. British forces had fought outnumbered but won stunning victories, doing much for English morale in the early years of the war.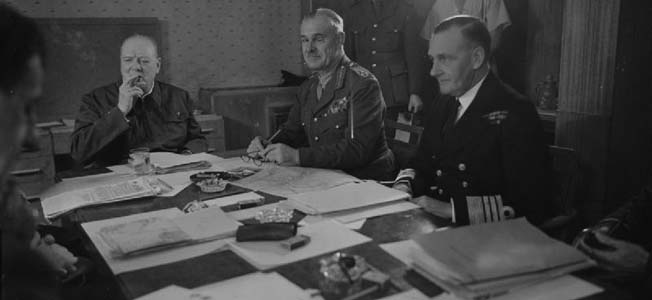 Quickly Replaced
Tragically, neither Greece nor Crete could be permanently defended, despite Wavell's best efforts. When Rommel's Afrika Korps struck a weakened British force in Libya, they pushed them back to Egypt. Efforts to push the Germans back failed. Churchill lost confidence in Wavell, replacing him with General Claude Auchinleck; Wavell took Auchinleck's post as Commander-in-Chief, Indian Army.
Once Japan attacked the British Empire in December 1941, Wavell's command grew to include Burma and Malaya. Here, Wavell dealt with a lightning Japanese offensive that totally outclassed British resources in the region. Afterward, Wavell conducted a number of operations against the Japanese with little success. Churchill again replaced him, making him Viceroy of India as compensation.
Wavell stayed in this position until after the war, when he was replaced during the years preceding Indian independence. Upon return to England, he was made an Earl and given other titles commensurate with his rank and service to the Empire. In 1950, he became ill with jaundice and died on May 24.
Field Marshal Archibald Wavell had accomplished much, often with very little, only to be marginalized when he could not perform miracles.