by Michael Haskew
In addition to standard aircraft carrier and warship patrol operations in the open sea, naval action during the Vietnam War developed a character of its own. While the U.S. Navy maintained responsibility for more traditional functions, the interior waterways of Vietnam became an area of operations that required a different approach.
[text_ad]
Since the early 20-century, the patrol workhorse of the U.S. Navy had been the destroyer, which rose to prominence during the two world wars. Destroyers provided perimeter security for formations of surface ships, anti-submarine and antiaircraft defenses, and search-and-rescue duties among others. These warships rendered invaluable service; however, during the Vietnam War the ocean-going vessels were unsuited for operations along the deltas, coastal areas, and rivers of the country.
A Holdover From World War II
The American Fletcher-class Navy destroyer was a weapon of World War II. Armed with main batteries of five-inch guns, 40mm Bofors antiaircraft weapons, 20mm cannon, torpedoes, and an array of machine guns and automatic weapons, these were formidable warships, and a number of them remained in service through both the Korean and Vietnam Wars. These destroyers displaced 2,500 tons fully loaded, were more than 375 feet long, and their draft exceeded 17 feet.
Clearly, a smaller warship was needed to navigate the confines of Vietnam's coastal areas and to patrol the waterways of the country's interior. By 1965, the Navy recognized the need for such craft, and the primary weapon of the so-called "Brown Water Navy" was born. The Patrol Craft Fast (PCF) became commonly known as the Swift Boat and was the most prominent of the Navy's riverine patrol craft during the Vietnam War.
On February 1, 1965, an extensive naval staff study titled Naval Craft Requirements in a Counter Insurgency Environment was published. It concluded that the requirements of patrol, combat, and interdiction of communist troop and supply movement along the rivers of Vietnam presented unique challenges. Further, the document specified the basic capabilities of a new type of riverine craft to fulfill the brown water role. Among these were superb reliability, a non-wooden hull, speed of up to 25 knots, the capability to sustain operations during patrols of up to 500 miles, quiet running, shallow draft, and armament capable of limited offensive operations.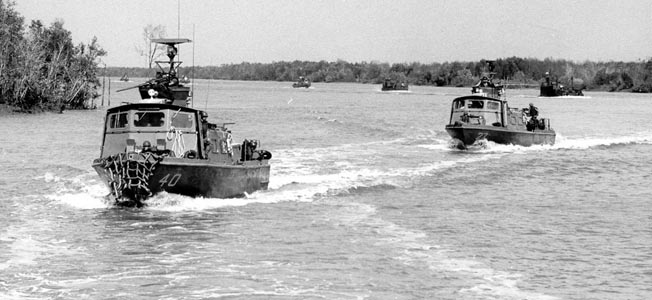 The Swift Boat
The Swift Boats were 50 feet long and constructed of welded aluminum hulls. With a beam of about 13 feet and a draft of roughly five feet, they were well suited for narrow spaces. Their General Motors 12V71 Detroit Diesel engines provided 480 horsepower with a range of 750 nautical miles at a speed of 10 knots and 320 nautical miles at 21 knots. The Swift Boats were initially armed with twin-mounted .50-caliber Browning machine guns in a turret atop the pilothouse, another .50-caliber in an over-under configuration, and an 81mm mortar. The standard crew was six, including a skipper, boatswain, radar and radio operator, engineer, and two gunners.
The first Swift Boats reached Vietnam in October 1965, and about 100 of the Mark I and Mark II variants were ordered by the Navy through 1967. Another 33 of the slightly larger Mark III boats were delivered to Vietnam between 1969 and 1972.