By Sam McGowan
Without dispute, the P-38 was the airplane of the aces. While other fighter types had their share of aces, the P-38 was flown by most of the top scorers, of whom Major Richard Ira Bong was at the top of the heap.
A Wisconsin farm boy and one of nine children, Bong received Civil Aviation flight training and earned his private pilot's license at Superior State College, then enlisted in the Army Air Corps as an aviation cadet on May 29, 1941. After completing pilot training he remained behind for a time as an instructor then was assigned to Hamilton Field, Calif. to check out in the P-38.
While he was at Hamilton, Bong was involved in the famous buzzing incident that brought him to the attention of General George Kenney. He looped the loop around the Golden Gate Bridge, then flew down San Francisco's Market Street at such a low level that he blew the laundry off a woman's line. She complained to the Fourth Air Force commander, General Kenney, who called the errant pilot to his office for a chewing out. Kenney was impressed with Bong and asked for him by name for assignment to Australia.
Bong was assigned to the 49th Fighter Group in Australia, but was one of a group of 49th pilots who were picked to gain combat experience in New Guinea with the 35th Fighter Group, which had been flying combat in P-39s and was partially converted to P-38s. Bong was one of the first P-38 pilots in the Fifth Air Force to score kills against the Japanese when he shot down two of six enemy planes that were claimed over Buna on December 27, 1942. He claimed two Nakajima Ki-43 Oscar fighters over Lae on January 7, 1943, and became an ace the following day on another mission to Lae.
A Record-Breaking Fighter
On February 3, Bong rejoined the 9th Fighter Squadron, which had received its own P-38s, and returned to combat with the 49th Group. His sixth kill was claimed during the Battle of the Bismarck Sea when he shot down a Zero. Bong's victories came in ones and twos, except for an escort mission over Lae on July 26, 1943, when he was credited with four enemy planes. He was awarded the Distinguished Service Cross for this feat.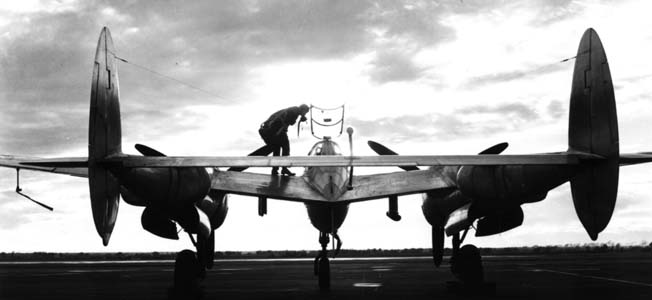 When Bong broke Eddie Rickenbacker's record of 26 kills in April 1944, he was sent back to the States for a publicity tour and to attend gunnery training, which he had never completed before assignment overseas. He returned to the Fifth Air Force and was given an assignment as an advanced gunnery instructor. His new duties allowed him to continue to fly combat, and by mid-December he had racked up 40 kills. General Douglas MacArthur presented him with the Medal of Honor.
Bong was removed from combat, sent back to the United States, and assigned to duty as a fighter test pilot. He died in the crash of a P-80 jet fighter he was testing in August 1945.
Originally Published July 27, 2015
Updated May 11, 2017