by James Hart
Creating good games has never seemed to be the Gameloft business model. Instead, the media giant tries to create engaging mobile versions of blockbusters already published on other platforms.
Their major titles provide evidence enough. The Dungeon Hunter series? Each iteration is a more sophisticated attempt at a mobile Diablo. Order & Chaos is a World of Warcraft dupe for Android and iOS. N.OV.A. is Halo-on-the-go, and Modern Combat is Gameloft's portable variant of Call of Duty.
[text_ad]
Of course, this approach doesn't make the games bad—Gameloft is one of the most successful mobile developers and publishers in the industry, and each title mentioned above has been very well-received. But it does mean we shouldn't kid ourselves.
In an interview with Modojo.com's John Bedford, Modern Combat 4: Zero Hour's lead designer Alex Charbonneau said that his team really wanted to bring something special to the table with their fourth installment.
"We didn't want the game to feel like an add-on to Fallen Nation," Charbonneau said, "so we came up with three pillars that would shape Zero Hour: create outstanding visuals on mobile, tell a thrilling story with unique twists and interesting characters, and build an addictive multiplayer that would satisfy players for hundreds of hours."
In Modern Combat 4: Zero Hour, the team met two of their goals and then some. But on the third, they completely dropped the ball.
The Weak Plot Reveals Itself Early On
Even two minutes in, it becomes obvious that the weakest part of the game is the plot. Players assume control of Joel Blake, an uninspired protagonist deployed to Hawaii to quell a hostage situation. Specifically, Blake and his team are to save the U.S. President and a group of politicians attending a peace summit on the island. Soon, the team discovers that Saunders Global Security (SGS)—the very company hired to work the summit—is behind the attack.
Then, in a rare departure from the expected story arc, players switch roles and play as one of the bad guys. You learn that Edward Page, a former Green Beret, is the man behind the attack in Hawaii. He sided with Everett Saunders, CEO of SGS and another Green Beret veteran, to take the country down.
As you might imagine, Blake's team doesn't rescue the president in Hawaii, so they follow the terrorists to South Africa—it's there they save the president. Saunders escapes, though, and begins plans to set up some kind of biological weapon of mass destruction in Antarctica. The team follows, etc., etc.
Clearly, gameplay was the focus here. Gameloft was not interested in developing any kind of plot outside of what was required to explain the action. Modern Combat 4 is about bringing the Call of Duty experience onto mobile platforms, not storytelling.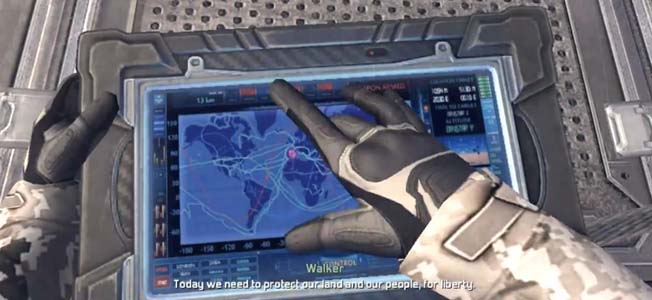 Action-Packed Campaigns That May Be A Little Too Action-Packed
The missions themselves are all over the place. In just a quick fifteen-minute session you might storm a beach, grease a whole platoon of bad guys, pilot a drone to take out some folks the next building over, storm said building, maybe set the roof and the walls on fire, jump into a jeep, fight a helicopter and then call in some air strikes. It's non-stop action in a style that would make even Michael Bay blush.
But ludicrous or not, the game is quite a lot of fun. There are several gameplay variations the designers threw in to dissolve the run-and-gun monotony, and although they seem contrived, they go a long way in keeping the missions fresh.
First-person shooter controls are hard to develop for mobile devices, and Gameloft certainly didn't try to reinvent the wheel here. Instead, the designers offered a handful of compromises intended to expedite gameplay, but do dumb down the experience somewhat. It's a delicate balance, but for the most part the additions deliver what they intended.
In short, Modern Combat 4: Zero Hour is a visually impressive, quite addictive FPS that takes no risks whatsoever. It's a solid portable Call of Duty emulation for getting your fix on the go, but it's also what you've come to expect from the previous three Modern Combat titles. In other words, you get what you pay for.