By Peter Kross
Shortly before Pearl Harbor, an attractive Danish journalist arrived in the United States to pursue a writing career. A former beauty queen who had won numerous talent contests and was once called "the perfect Nordic beauty" by none other than Adolf Hitler, was courted by the top brass in Germany, including Hitler, Herman Göring, and Josef Goebbels. After landing a job with the isolationist Washington Times Herald, she began writing a weekly column on the most interesting personalities in Washington, D.C. Her questionable past, however, caught the attention of J. Edgar Hoover's FBI, and a full-scale, covert investigation into her daily activities took place. The woman who was the center of all this intrigue was Inga Arvad, a talented writer—and possibly a Nazi spy.
Arvad's Connections With Hitler and His Cronies
Inga Arvad was born on October 6, 1913, in Copenhagen, Denmark. Her mother, Olga, an English doctor, brought young Inga to England for her early education. Upon her father's death, the Arvad family moved to Paris, and Inga studied piano at the Conservatorium in Brussels. She later returned to Paris upon graduation. At age 16, Inga was crowned Beauty Queen of Denmark, contended for the Miss Europe crown, and at age 17 married an Egyptian diplomat named Kamal Abdel Nabi. The marriage lasted only two years and ended in divorce. After the breakup of her marriage, Inga returned to Copenhagen where she obtained a job as a correspondent with the Berligske Tidene, the largest Danish newspaper.
Inga was a stunning beauty and, using her good looks and talent, was sought after in both high society and politics. During her time with the Berligske Tidene, she traveled to Germany on numerous occasions and was able to interview the top brass of Nazi Germany. Inga made such an impression on Hitler that he invited her to his private box during the 1936 Olympic Games in Berlin. Inga even interviewed Hitler twice, as well has having discussions with Goebbels and Göring. These sessions were not related to politics, but were discourses about everyday matters such as food and their personal habits and interests.
It was from these early meetings with Hitler's henchmen that the FBI considered Inga Arvad to be a possible German espionage agent. According to a January 21, 1942, FBI memo to the Attorney General's office, "The combination of these facts indicates a definite possibility that she may be engaged in a most subtle type of espionage activities against the United States."
In 1935, at age 21, Inga met and soon married Paul Fejos, a noted movie director, and starred in a number of his films. During World War I, Fejos had served in the Hungarian Army as a cavalry officer and also found time to get his medical degree. Fejos came to the United States after the war and in 1929 became a naturalized American citizen. Inga and Fejos traveled to Southeast Asia, including the Malay Peninsula, the Dutch East Indies, and China.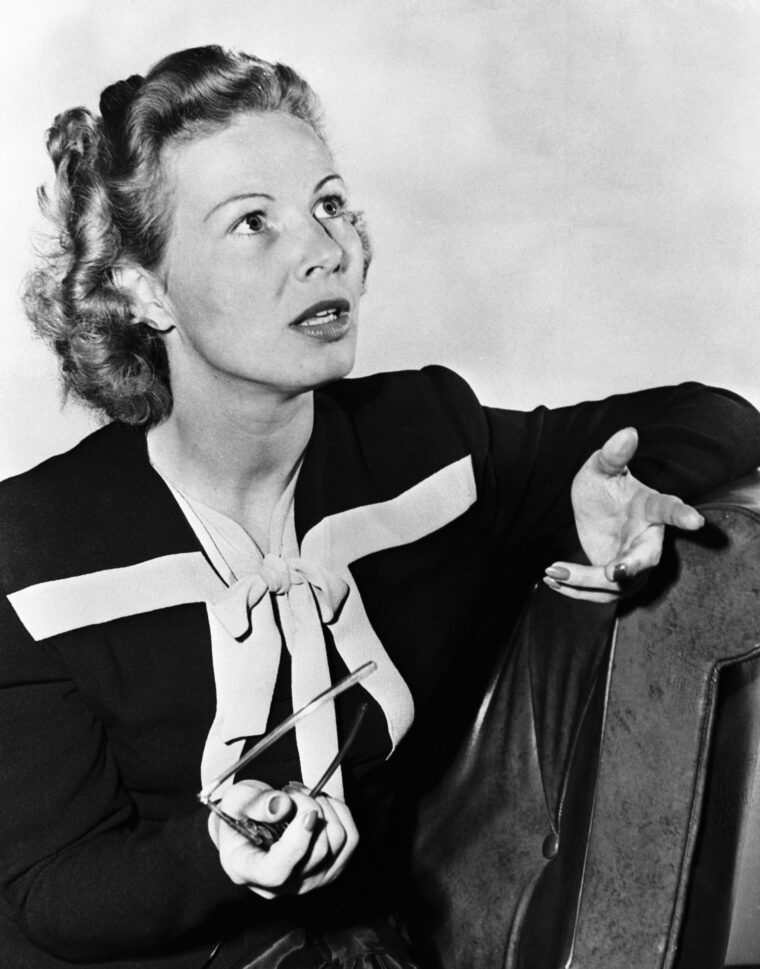 Under the Eye of the FBI
In 1939, Paul Fejos and Inga Arvad went to visit his new employer, Axel Wenner-Gren, at his home in the Bahamas. Wenner-Gren had opened up his own bank branch in the Bahamas, where the banking laws were not subject to the usual tight inspection. He was friendly with the Duke and Duchess of Windsor, who had been embroiled in the controversy over an heir to the British throne marrying a commoner (the Duke was implicated as a Nazi collaborator by members of the British government). In 1941, the Internal Revenue Service (IRS) in the United States opened up a lawsuit against Wenner-Gren, and his company was put on a blacklist of firms not allowed to enter into U.S. commerce. Wenner-Gren was a man with a shadowy past and was also the subject of FBI surveillance. Fejos headed the Wenner-Gren scientific expedition to South America aboard his yacht, Southern Cross.
As FBI surveillance of Inga began to heat up, she was seen in Wenner-Gren's company in both New York and Washington at different times. In February 1940, Inga arrived permanently in the United States and was accepted to the Columbia University School of Journalism. FBI documents report, "Since her arrival in the United States, Arvad received approximately $6,000, $3,000 of which [were] received from AXEL WENNER-GREN. Arvad had in her possession a pamphlet of the Pan-American Highway and Relation to Hemispheric Solidarity; figures as to trip of Secretary Knox to the Hawaiian Islands; correspondence with JOHN KENNEDY, PAUL FEJOS, AXEL WENNER-GREN, and others sent out…"
The John Kennedy referred to was none other than the second oldest son of the former U.S. Ambassador to England, Joseph Kennedy. John Kennedy, then a young lieutenant serving with the Office of Naval Intelligence in Washington, D.C., would start a long and passionate relationship with Inga Arvad while she was married to Paul Fejos. That affair with a possible German spy would set off alarm bells at both the FBI, which was already following Arvad, and the Office of Naval Intelligence. Information gleaned from the dual investigation of Kennedy and Arvad went right to the Oval Office and into the hands of President Franklin D. Roosevelt.
The FBI kept a detailed account of the activities of both Paul Fejos and Axel Wenner-Gren and prepared an elaborate set of questions for Inga regarding both her husband and his employer. According to the FBI, "Although the principal reason for interviewing Miss Arvad is to explore the possibility that Miss Arvad was employed by Wenner-Gren as a private intelligence agent, Miss Arvad's social and political activities both in Europe and this country are so related to the theory that she was Wenner-Gren's agent that it would seem desirable to explore her entire adult life in considerable detail."
Some of the bureau's questions read as follows: "Her relations to Paul Fejos. When and how did she first meet Fejos? What does she know about his background or previous employment? When did he first become employed by Wenner-Gren? … Particularly, what does she know about Fejos' activities as leader of an alleged archeological expedition in Peru? What was the real purpose of the trip?
"Miss Arvad's relations with Wenner-Gren in 1937 and 1938. Was she herself employed by Wenner-Gren in connection with the cruise of the Southern Cross in the Pacific in those years? What activities did she observe Wenner-Gren engage in either aboard the yacht or in the various ports? … Did she on any of the trips or at any time hear any stories of large amounts of cash being transported on the yacht? Did Fejos accompany Wenner-Gren on this trip? What were they doing during that time?"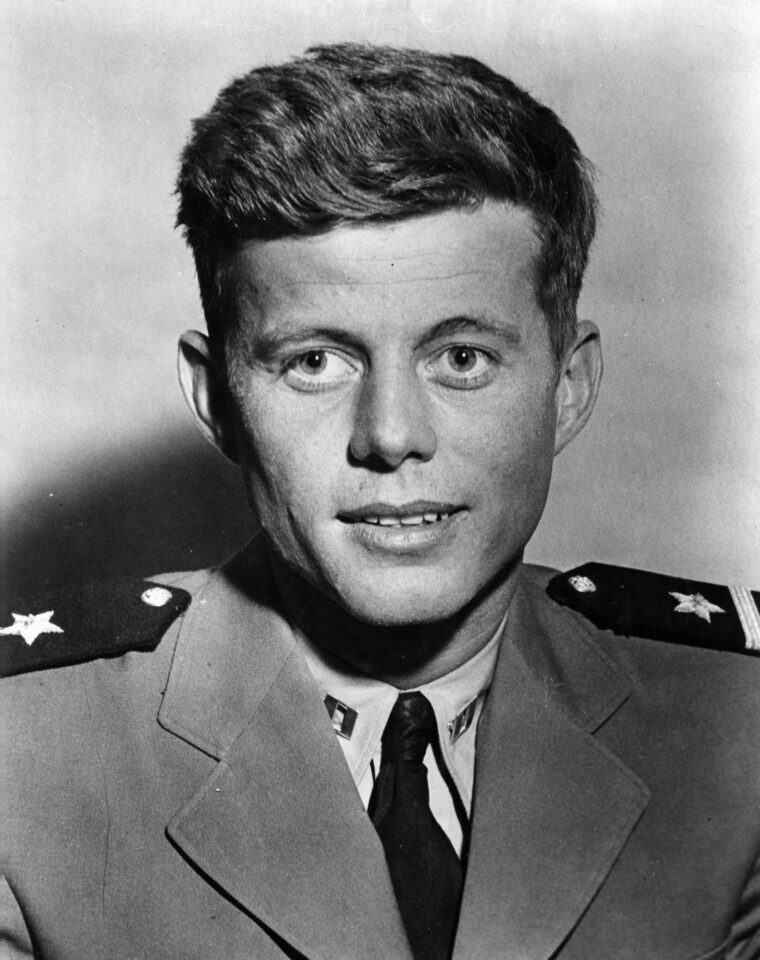 An Affair With John F. Kennedy
After her graduation from Columbia University in June 1941, Inga moved to Washington, D.C., where she got a job with the Times Herald newspaper. Inga wrote a popular column in which she interviewed prominent people in business and government.
Inga shared an apartment with Kathleen Kennedy, the sister of John F. Kennedy. During their time as roommates, Kathleen (called "Kick"), introduced Inga to her brother. Young John Kennedy was instantly taken with Inga, a worldly woman some five years older than he, a person with charm, wit, and most importantly, the figure of a modern day goddess. Jack and Inga fell madly in love, and a heated sexual relationship soon began.
In June 1941, an incident concerning Inga's past became known to the Herald's editor, Frank Waldrop. A person working in the paper's morgue came across a picture of Inga with Hitler at the 1936 Olympic Games. Soon, rumors began circulating that Inga might be a spy. Eleanor Patterson, the publisher of the Herald, was notified about Inga's past, and she told Frank Waldrop to look into the situation. Waldrop, accompanied by Inga and the woman who found the disputed picture, Page Huidekoper, went to FBI headquarters to tell their amazing story. The FBI, which had already known about Arvad's shadowy past, immediately began a covert investigation that included bugging her apartment located at 1600 Sixteenth Street in Washington, surveillance of her daily activities by field agents, tapping her home phone, and opening her mail.
During the FBI's probe of Inga Arvad, a young, lanky man was often spotted in her company. The two were obviously having an affair, as the young man would be seen arriving and leaving her apartment at all hours of the day and night. The only clue to his identity was that his name was Jack. The Jack in question, it turned out, was Ensign John F. Kennedy.
John Kennedy was working in the Office of Naval Intelligence reading rather mundane intelligence reports of no significant value. The Bureau informed the Navy, and a joint intelligence probe began. An FBI memo dated January 17, 1942, written by Agent G.C. Barton reads, "Mr. Kramer advised the writer that information had come to the Bureau that Inga Arvad has been carrying on an affair with a young ensign of the United States Navy reported to be the son of the former American Ambassador to London, Joseph P. Kennedy. Mr. Kramer instructed the writer to discreetly confer with ONI and determine if this were true and if it were true, to determine what action had been taken against the ensign. He called on the above date and stated that it had come to ONI's attention that Ensign Kennedy had been 'playing around' with Inga Arvad and that steps had been taken to put an end to the relationship. Lt. Horan stated that Kennedy would probably not be disenrolled but it was anticipated that he would be transferred out of Washington."
Breaking Off the Relationship
On ONI's advice, Kennedy was transferred to the naval base at Charleston, South Carolina, hoping that would put an end to the affair. It did not. With Inga's phone tapped, the Bureau had no trouble keeping tabs on her travels. She was followed on numerous trips by train to visit Kennedy at Charleston where they would check into the Francis Marion Hotel for heated lovemaking sessions, all recorded by the Feds. At one point, Kennedy affectionately referred to his partner as "Inga Binga."
Inga told Jack that she wanted a divorce from her husband and asked if he would marry her. Young Kennedy remained noncommittal, which infuriated Inga. In their conversations, Kennedy told Inga confidential information concerning diplomatic relations between the United States and England. The FBI reported in a February 6, 1942, memo to Director Hoover that "in another conversation, Arvad accused young Kennedy of telling someone that he had no intention of marrying her, that it was merely a passing incident."
FBI records include a January 27, 1943, letter from Inga Arvad to Clyde Tolson, J. Edgar Hoover's number two deputy. Inga writes, "I might as well be frank to start with. I am writing you because I need your help. I tried to call you on the phone this morning, but it was impossible to reach you. You did introduce me to Mr. Hoover once at a party in Washington, but I don't feel that I can write him and say please let me see you for five minutes … I would like to talk to Mr. Hoover about a personal matter, in which he is the only person who can help me. So, dear Mr. Tolson, please persuade Mr. Hoover to see me. Any time, any day and I shall come to Washington. If Mr. Hoover is going to be in N.Y.C. in the near future it would be wonderful but that is too much to hope for."
Why Inga Arvad, whom the FBI was investigating, would send a personal letter to the director of the FBI to discuss a personal matter remains a mystery.
Jack Kennedy's affair with Inga Arvad soon caught the attention of his powerful father, the ex-Ambassador to London. After a call from Director Hoover regarding his son's relationship, the elder Kennedy, in no uncertain terms, instructed Jack to break off their involvement. Within days after receiving his father's call, Ensign Kennedy told Inga they were through. Friends of Kennedy told stories that Inga Arvad was the love of Jack's life. However, for political and other considerations, their relationship was not allowed to last.
Kennedy was soon transferred to the South Pacific where he would gain fame as the commander of PT 109. Later, of course, he became the 35th president of the United States. But the investigation of Inga Arvad would take one more bizarre twist.
No Smoking Gun
The investigation reached the Oval Office in a July 16, 1942, FBI memo written to Marvin McIntyre, FDR's personal confidant. "Some weeks ago the president sent to me a personal note indicating that we should keep a weather eye on Inga Arvad. There have been numerous rumors concerning her and her background, and we have been making a general check of her activities.
"I have just learned that one of her present, close associates is with Niles Bloch, residing in New York City. Niles Bloch is employed in the Foreign Language Broadcast Section of the Office of War Information (part of the early American intelligence-gathering apparatus). According to the Arvad woman, he will shortly be made the chief of the Scandinavian Section of that organization. He is engaged in air programs. The Arvad woman is herself considering an offer to accept a position with the Office of War Information in New York City. She has been spending the last several weekends with Bloch in New York City.
"In view of the general background concerning this woman, I thought I should let you know, as I thought the president might be interested in this matter."
The fact that Inga Arvad was spending so much time with Niles Bloch, a man who worked in a sensitive, intelligence-gathering agency, and was herself considering a job in the OWI should have sent shock waves across the establishment in Washington.
Over the years, Arvad hotly denied to friends that she was pro-German, but colleagues at Columbia University said she held virulent anti-Semitic views. Studying the declassified FBI documents on Inga Arvad, no smoking gun concerning her possible espionage activities for the Nazis could be found. But, as the saying goes, a good spy does not leave a trail.
---
Peter Kross is the author of Spies, Traitors and Moles: An Espionage and Intelligence Quiz Book and his latest, The Encyclopedia of World War 2 Spies.