By Peter Suciu
One of the finest collections of militaria ever housed in one room was on hand in Louisville, Kentucky, at the 15th annual Show of Shows. With enough equipment present to mount a major military campaign and enough uniforms to hold an impressive victory parade, it was an event that more than lived up to its name.
The Ohio Valley Military Society sponsors the annual collectibles show each February. As one of the oldest and largest militaria collector's clubs in the world, the OVMS boasts more than 2,000 current members. The Show of Shows is just one of three shows the group sponsors, but it has also become the largest in the world, attracting flocks of international dealers and collectors to the Kentucky Fair & Expo Center. While rival events such as the Military Antiques Xtravaganza, or MAX, focus almost exclusively on Third Reich collectibles, the SOS offers a much more eclectic mixture of fine items.
Today, the Show of Shows is the largest collectibles show in the world. Prior to its beginning in 1992, there were few events even close to mega-show status. In the early 1980s, only a few regional events anywhere in the country were devoted entirely to militaria, and most of these were 200- or 300-table shows. The largest was the annual Cincinnati, Ohio, show sponsored by the Ohio Valley Military Society, with about 400 tables. Over time the MAX was launched, and while that show grew in size and scope, it also suffered from repeated changes in venue. For many collectors, last year's show in Indianapolis fell short of expectations.
By contrast, the Show of Shows has repeatedly sold out in recent years. The annual show, which is held in Louisville in February, features more than 1,600 tables, with a wide variety of collectibles. "There is something there for everyone, whether you collect $100,000 Nazi baubles or $3 patches," noted Jeff Shrader of Advance Guard Militaria, who regularly travels to a variety of shows, large and small. "The result is something of a giant 'ecosystem,' for lack of a better word. There is simply too much merchandise to be absorbed. As word of this atmosphere has spread, more and dealers are buying or trying to buy tables, and more and more collectors are making a major commitment of time and travel to attend."
The 2007 Show of Shows saw more than 1,650 tables devoted to collectibles from the English Civil War to complete Iraqi Republican Guard uniforms. There was a heavy mix of Imperial German, British, American, and Japanese items. If that were not enough, the show coincided with the National Gun Day & Civil War Show, which was held just down the hall with another 3,000-plus tables.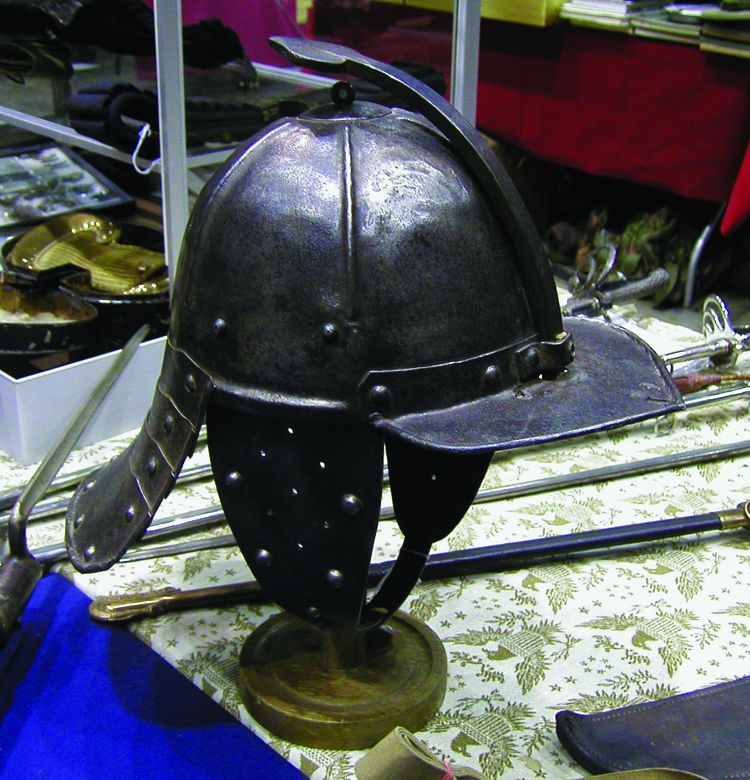 "I thought this year's SOS was the best of the past three that I've attended," said longtime collector and dealer Tom Buck, who traveled from Virginia Beach for the three-day event. "The Kentucky Expo Center has the ability to put on more than one show of such magnitude at the same time. Plus, this venue is close to all the major hotels, restaurants, and most importantly to some, the airport."
The premier collectors are still regarded by many of the old timers to be those of the Third Reich, and there was no shortage of daggers, swords, flags, uniforms, and helmets. The stahlhelm, or steel helmet, remains one of the most recognizable collectibles, and the SOS had some of the finest examples ever seen, mixed in with plenty of high-end (and not so high-end) fakes.
One notable advanced collector was on hand to sell nearly his entire collection of early Model 1935 German helmets. These included more than 25 helmets from the various branches of the German Wehrmacht, along with unique camouflaged examples. It was no fire sale, however. The prices were fair but firm, and the examples were worth every penny. Other collectors seemed to agree, and by the end of the show the table was bare, with the helmets selling in record time.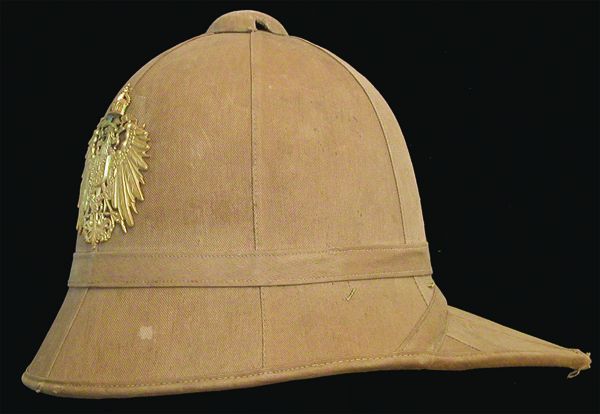 Among the prized German helmets at the show was an early pre-World War II double-decal Waffen SS helmet that sold for more than $8,000. And it wasn't just German Third Reich items that were at a premium this year. For the past several years, no doubt thanks to movies such as Saving Private Ryan and HBO's Band of Brothers, the popularity of American World WWII militaria has been on the rise.
"For general U.S. helmets, the SOS has just about anything the collector could ask for," said advanced helmet collector Larry Munnikhuysen. He noted that he saw fewer rare examples than in years past, but that prices continue to rise across the board. "The prices at this year's SOS were high, as they are every year," Munnikhuysen said. "As the good material decreases in quantity, the remainder goes up in price—rules of the marketplace. Almost without exception, though, the marked price is negotiable; therefore, dealers tend to mark high in the anticipation of negotiating down to a fair price. I did find some pieces were terribly under-priced, which generally indicated dealer uncertainty over authenticity or dealer ignorance of what the item really was."
Vintage American uniforms were also on hand, including numerous examples of Indian War swords and uniforms. One of the show's biggest surprises was that a nearly complete Pattern 1882 corporal's uniform went unsold. With jacket, pants, and helmet, the seller actually had the collection priced to sell, offering it for only a few hundred dollars more than some of the helmets alone. It was another example of how some eras are still underappreciated.
Much more popular this year were items from Imperial Germany, and the SOS boasted more than 100 excellent examples of the infamous German Pickelhaube, or spiked helmet. Pickelhaubes.com founder Brian Loree made the trek down from Toronto to gather with other fellow "Pickel-heads," or spiked-helmet collectors. The event has become a regular gathering place for the enthusiasts. One member in good standing was away, serving in Iraq, and the group had a mannequin crafted in his likeness. "The Show is worth the trip because of the amount and variety of militaria for sale plus the fellowship that comes with meeting up with other collectors," said Loree. "I think that militaria collectors are a rather isolated group. There are few members of the general population who are interested in old military antiques."
Loree added that the shows, especially the big ones such as SOS, are a good place to learn about other areas of militaria and history. "It really does not matter if you collect Canadian, British, American, German, WWI, or WWI," he said, "we can all appreciate how it feels to buy that special piece at a show. Most collectors are really anxious to share their knowledge and if you have an open mind, you can learn a great deal."
Even with the National Gun Day Show down the hall, SOS was not to be confused with a gun show. While there were plenty of vintage firearms, those seeking modern handguns, sporting rifles, and hunting equipment were completely out of luck. Swords, daggers, bayonets, and other bladed and edged weapons were plentiful, however, with everything from medieval Japanese samurai swords to Third Reich daggers on hand.
This year's show saw a decline in one area of firearms, however—nonfiring guns. Because of a recent ban on the importation of parts for "nonguns," the actual number available at the show was significantly smaller than in past years. And while there were still a few non-functional machine guns available, there weren't the massive, cluttered tables that resembled a cache of small arms from a Third World civil war.
For decades, Japanese militaria has been the "other" Axis collectible, existing in the shadow of German Third Reich items. But in recent years, new understanding of Imperial Japan, coupled with a wave of new movies, has spurred interest. At this year's SOS, the exhibit of Japanese items was the largest yet, and prices were already on the rise.
With the recent Clint Eastwood-directed movie Letters from Iwo Jima nominated for an Academy Award for best picture, it was not surprising to collectors that Japanese militaria was finally in vogue. While still rare, Japanese militaria is often much more affordable—and accessible—than German items, even when the rising prices are factored in. The days of finding a near-mint German helmet for under $1,000 are all but a thing of the past, but a nice Japanese helmet still can be found for $500 to $700, and items such as tunics and web gear can be had for only a few hundred dollars.
This year, Japanese collectibles certainly seemed to attract far greater interest than in years past. "It may have to do with the fact the ranks of the World War II vets are getting pretty thin and their descendants, particularly male, want to learn about their experiences first hand before it's too late," observed Stan Zielinksi, an editor for BANZAI, the monthly newsletter devoted to Japanese militaria.
The Show of Shows has benefited in recent years from a better grouping of similar dealers, forming what is akin to the "Old Quarters" of an ancient or medieval city. This was most notable at this year's show, where many of the most significant dealers of Japanese items were grouped together, giving collectors with an interest in the area a better chance to take it all in and determine what they liked best.
While large comic book or science fiction conventions are known for their guest speakers and celebrities, military collectibles shows are typically concerned with the items themselves. But the Show of Shows had attendees lining up for a chance to meet and greet several notable veteran guests, including decorated heroes and authors. Among the honored guests were Medal of Honor recipient Jack H. Lucas, a World War II Marine Corps veteran from Iwo Jima and the author of the book Indestructible; and Robert L. Williams, 101st Airborne Division and D-Day veteran and the author of Return to Normandy.
Other notable guests included World War II P-51 pilots and Tuskegee Airmen Eugene J. Richardson, Jr., and John L. Harrison, as well as Ted "Dutch" Van Kirk, navigator of the Enola Gay, and David "Tex" Hill, a pilot with the Flying Tigers. These American flyers traded stories with Luftwaffe pilot and former POW Gottfried P. Dulias, who was on hand to share tales of his exploits over the Russian Front. Also on hand was actor and former USMC drill sergeant R. Lee Ermey, host of Mail Call on the History Channel.
Proving that there was something for just about every budget, the Show of Shows attracted several notable book dealers, as well as authors selling signed copies of their books on topics ranging from American sleeve patches to the history of the "Blue Max."
The rear of the hall served as the staging area for attendees to chat with the notable guests, and also offered a sight of a restored Kubelwagon, which was on hand courtesy of a World War II reenactment group. About the only thing missing was some period armor, but Louisville is just a short drive from Fort Knox, which is home to the General George Patton Armor Museum.
For those looking to head to SOS next year, the dates have already been announced—February 21-24, 2008. Plan to show up early, and expect the sellers to be willing to wheel and deal. The best tip for those considering heading to the show next year is to sign up for OVMS membership, as the show is open to dealers and members on Thursday, while the general public can't get in until Friday and Saturday. Likewise, members can attend the Sunday breakdown, which is a good time—and last chance—to find that special bargain. The Show of Shows will continue to offer a mix of historic items, notable personalities, and the chance to mingle with fellow collectors from around the world.