By John W. Osborn, Jr.
To their Russian enemies they were the "Spanish mercenaries of Hitler's Fascist lackey, Franco." To Hitler himself, "One can't imagine more fearless fellows. They scarcely take cover. They flout death." Officially the 250th Infantry Division of the Wehrmacht, it was commonly called the Division Azul, or the Spanish Blue Division, after the color of Spain's Falangist (Fascist) Party. As Spain was neither combatant nor conquered, the volunteers who fought in it were probably World War II's most purely ideologically motivated soldiers.
Volunteers for Hitler's Invasion of Russia
The announcement on June 28, 1941, by the regime of Caudillo Francisco Franco that a division of volunteers would be recruited to join Hitler's six-day-old invasion of Russia set off a wave of virtual hysteria across Spain. While some mobs stoned the British embassy, others stampeded recruiting offices in such numbers that many met their quota in a day and within in the week they had signed up enough to form several divisions.
The entire cadet corps of Spain's equivalent of West Point volunteered, as did 3,000 students from the University of Madrid. While the senior command was unenthusiastic, many officers offered to be demoted or even enlist as privates. Of the first 18,694 who entrained for Germany on July 17, 1941, 70 percent, including every officer from captain on up, were from the regular army, and most of the rest were Spanish Civil War veterans.
Furthering the Crusade Against Communism
As Gerald R. Kleinfeld and Lewis A. Tambs wrote in Hitler's Spanish Legion, "for many of the young Spaniards who volunteered, the Russo-German War was a continuation of their own Civil War of 1936-1939—a crusade against Communism." those who sent them had their own more subversive and politically (as opposed to ideologically) motivated reasons.
The most pro-Nazi members of the Fascist regime, led by foreign minister and brother-in-law of Franco, Ramon Serrano Suner, pressed for an outright declaration of war against Russia, seeing it as a stepping stone for joining Hitler against Britain and seizing Gibraltar.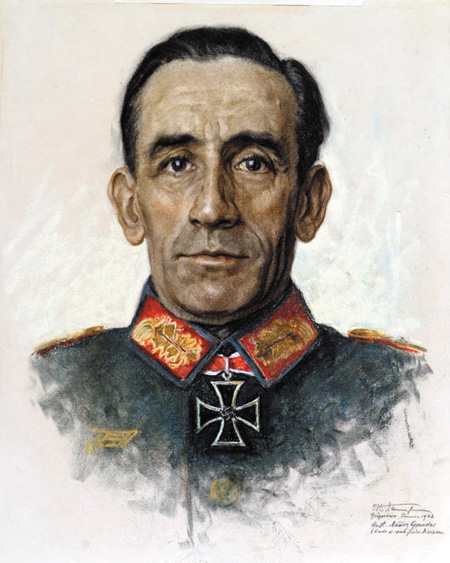 Franco Plays Close to the Chest
However, the ever-cautious Franco, whose vehement hatred of Communism always took a back seat to his own political survival, had his own personal agenda. For nine hours the previous October he had patiently listened to, then rebutted, Hitler's blandishments to enter the war. Hitler would later groan that he would rather have teeth pulled than try again. For Franco, the Blue Division was a way to keep his hand in should Hitler win the war, while holding off the Nazi dictator at least temporarily and satisfying his most extreme elements at home.
While training in Bavaria, the Spaniards drew harsh criticism from Germans for their sloppy dress and failure to salute. In Russia, they continued to draw the ire of the Germans for their disdaining to properly maintain weapons or dig effective fortifications. Hitler even complained: "They regarded a rifle as an instrument that should not be cleaned under any pretext."
Inflated Condoms on Their Rifle Barrels
The Spanish for their part showed their contempt for an order against fraternization with women by parading before German officers with inflated condoms on their rifle barrels, and some Russians who observed this spectacle reported it as possible use of poison gas balloons. Since they received all their supplies from the Germans, the Spanish would soon have more substantial and serious causes for complaint. A German diet that spread gastritis and a last-in-line priority for winter clothing forced the Spaniards to share one overcoat among a number of men. By Christmas, over 700 men had been disabled by frostbite, more than had been killed in action.
To reach the front, the Spanish Blue Division made the longest sustained marching effort of World War II—45 days. From August 29 to October 9, 1941, they trudged from Sulvaki, Poland, to Vitebsk, Russia, almost 625 miles, in a column stretching 20 miles, each man lugging 70 pounds of equipment. The division saw its first action just 24 hours after being moved into the line and would soon be engulfed in a military maelstrom.
"Bodies … Stacked Like Cordwood"
On November 8, one battalion occupied the villages of Posselok, Possad, and Otenski in a line stretching 25 miles along the east bank of the Volkhov River. Four days later, before dawn, the first furious Russian assaults along the line began. Within hours, Posselok was in flames and the 40 Spanish survivors of the company there had fled to Possad.
Kleinfeld and Tambs wrote that they found the village "a living hell!…Bodies with the young faces of university students were stacked like cordwood at the CP (command post)."
By early December, the division commander, General August Munos Grandes, who had so bombastically ordered his men to "defend Possad as if it were Spain … share the glory and the danger," was now despairing, "All the men in Possad and Otenski are dead, sacrificed to bombs, shells tanks, and crushing enemy infantry attacks."
Enduring the Horrors of the Eastern Front Along the Leningrad Sector
On December 7, a withdrawal was ordered prior to securing German authorization. The Spanish crossed over the frozen Volkhov under cover of darkness so stealthily that the Russians bombed and shelled the vacated positions for hours. a spotter who didn't get the word and an infantryman who slept through it had to walk out on their own. The stand along the Volkhov had cost the division 120 killed and 440 wounded.
The Division served along the Leningrad sector, enduring the hardships and experiencing the horrors that made the Eastern Front the most dreaded of World War II. In winter, food had to be sliced with axes and temperatures of 12 degrees below zero were considered mild weather. In springtime, the men were tormented by hoards of mosquitoes from the surrounding swamps and by the stench of thousands of bodies frozen stiff during the winter and now thawing and decomposing.
The Spanish Blue Division's 21 Major Battles (and Hundreds of Engagements)
The Spaniards were shocked by the horrors of war in the East. One soldier of the Spanish Blue Division saw a comrade impaled to the ground by an incoming Russian shell. Spaniards who retook positions previously abandoned to the Germans found wounded they had left behind with their chests torn open with picks. In turn, volunteers from Spain's vicious version of the French Foreign Legion sliced off the ears, noses and fingers of Russian prisoners, then sent them stumbling back to their lines.
Of its 21 major battles and hundreds of smaller engagements, three actions of the Spanish Blue Division would epitomize the savagery of the Russian Front in World War II and become legendary. These include the endurance trek of its ski company from January 10-21, 1942, the stand of the El Segunda Battalion at Poselok, January 22-28, 1943, and the desperate battle at Krasny Bor on February 10, 1943.
Ordered to relieve 543 Germans cut off south of Lake Ilmen, the ski company started out in temperatures of minus 40 degrees. The temperature plunged even further to minus 56 degrees as the company struggled through winds, knee- and sometimes waist deep snow and icy water, and zigzagged around crevasses. After crossing the frozen lake, the company still had to fight its way past Russian ski troops and tanks. By the times the Spanish contingent reached its destination and brought out the Germans, only 12 of its original 206 men had not been killed, wounded, or disabled. The ski company had suffered an incredible 95 percent loss!
Decimated at Poselok; "Tomorrow The Bulls Will Run"
The El Segunda Battalion was equally and brutally decimated defending Poselok. It had needed 20 trucks to be transported to the front. When it was relieved after almost a week under incessant Russian shellfire, only Lieutenant Francisco Soriano, seven sergeants, and 20 men had survived.
One soldier who did not come back was Captain Salvador Massip. Hit in the left eye, ooze freezing as it ran down his cheek, then hit in the right leg, he rejected pleas by his men to be carried to safety as he dragged himself along the line directing machine-gun fire at the oncoming Russians. In the end, he pulled himself to his feet to face the enemy and was cut down as he was throwing his last grenade. He was awarded the Laureate Cross of St. Ferdinand, Spain's version of the Medal of Honor or Victoria Cross.
Warned by the Germans of the impending Russian assault at Krasny Bor, 20 miles east of Leningrad, a Spanish officer told his men, "Tomorrow the bulls will run." At 6:45 am, the Spaniards were, in the words of the Russians' official Leningrad war diary, "stunned by a squall of explosions," as artillery shells, mortar rounds and katyusha rockets fired from 800 Russian.
Bunkers were demolished and trenches caved in. "Where snow had lain, the fierce heat had laid bare the scarred grass and a moment later grass and topsoil as well disappeared. A landscape like the mountains of the moon was created," recalled one survivor. To another, it was an "absolute inferno."
The next storm broke as almost 100 Russian tanks and thousands of soldiers charged. Twelve hours of pure chaos and carnage followed. The Spaniards called artillery fire down on themselves as they were being overrun. Members of the headquarters staff armed themselves, charged singing the Falangist anthem Face to the Sun, and were wiped out. Russian tanks fired point-blank into the clearly marked field hospital and at fleeing ambulances until driven back with Molotov cocktails.
Corporal Antonio Ponte blew a Russian tank up along with himself. Captain Manuel Ruiz de Huidrobo had turned down leave to visit his wife and newborn son to remain with his men and went down emptying his pistol into Russians swamping his trench. Both were awarded Laureate Crosses.
The Spaniards were finally ordered south to form a new line, where they held against further attacks for five days. On Black Wednesday, as Krasny Bor came to be called, 75 percent of the Spaniards who fought were killed or wounded, a staggering 3,645 casualties among the total complement of 5,608 soldiers.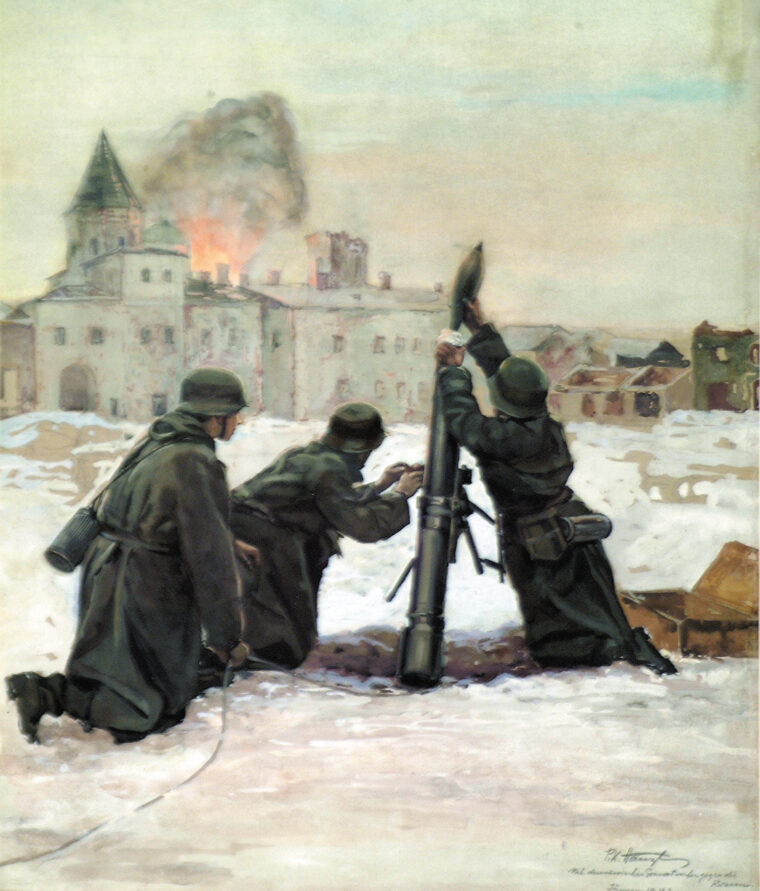 In addition to the troops on the ground, five Spanish fighter squadrons were rotated in and out of action. Flying Me-109s and Focke-Wulf FW-190 fighter aircraft, they shot down 156 Russian aircraft while losing 21 pilots killed and one shot down and captured.
In the meantime, ruthless diplomatic and political infighting were raging in Berlin and Madrid. Munoz Grandes told Hitler he wanted to take over the government of Spain, declaring, "I am prepared to stake everything, even myself, for friendship with Germany. My driving force is hatred for Britain, which has oppressed my country for centuries." Hitler, not surprisingly, encouraged him. In Madrid, the German military attaché met with another Spanish general about a possible coup. German Foreign Minister Joachim von Ribbentrop proposed a characteristically harebrained scheme to force Franco from power by bombing Madrid.
Allied diplomats, for their part, were pressuring Franco to stop trading with Germany and to withdraw Spanish forces from Russia with threats of oil and food embargoes and the successful invasion of North Africa to put teeth into them. The U.S. Ambassador went further, reminding Franco, "What would happen if Russia declared war on Spain? Russia is an ally of the United States and Britain." Franco finally sacked Foreign Minister Serrano Suner, purged pro-Nazis from his regime, and recalled Munoz Grandes, giving him a hero's return, decorating him, and then shelving him.
With the war's tide plainly turning against Hitler and the numbers of Spanish men volunteering for service drying up, Franco decided on September 25, 1943, to withdraw the Blue Division. A week later, he publicly affirmed Spanish neutrality. The Blue Division, in contrast to the cheers it went off to, returned in near silence. Cautious as ever, Franco chose not to irritate Hitler any further by drawing much public attention to the pullout.
Of the 47,000 Spanish men who served in the Blue Division, 22,000, or 47 percent, became casualties. A year after their return, Franco was writing them off, making the amazing remark to an American journalist that sending the Blue Division to Russia "implied no idea of conquest or passion against any country." He added, "When the Spanish government realized that the presence of these volunteers could effect its relations with those Allied countries with which it had friendly relations, it took the necessary steps to make those volunteers return home."
A Volunteer Legion, inevitably called the Blue Legion, of 2,133 stay-behind, diehard Spanish Fascists fought on until it was recalled on March 21, 1944. Some 250 Spanish Fascists joined the Waffen SS and went down fighting around the Reich Chancellery in Berlin in 1945. Their leader, SS Colonel and former Blue Division captain Miguel Ezquerra, was taken prisoner but managed to escape and return to Spain.
Ezquerra was more fortunate than 330 other Spaniards, 300 of them captured at Krasny Bor, and held in Soviet prisons and labor camps from Odessa to Siberia. Ninety-four of these died before the remainder were returned to Spain on April 1, 1954. For all their suffering, they were, in their turn, luckier than the almost 5,000 of their Blue Divisions comrades who "flouted death" and lost.
---
Author John W. Osborn, Jr., is first time contributor to WWII History who writes from his home in Laguna Niguel, California.