By Mike Haskew
Soldatenkaffee, named after a café frequented by German soldiers in Nazi-occupied Paris during World War II, is, thankfully, one of a number of choices for luncheon fare in Bandung, Indonesia. The eating establishment first opened its doors in 2011 and then staged a reopening in June 2014 following a supposed overhaul of its heavily Nazi-themed atmosphere. Reporting in 2017 indicated that the café was shutting down again to find a more popular location and it is unclear whether it is open today.
According to a story carried by GlobalPost, the café, located in Indonesia's third-largest city, features a décor that leaves most of the civilized world scratching its collective head. A portrait of Adolf Hitler occupies a prominent location above the fireplace, while wrought iron Nazi eagles, posters, and propaganda adorn the walls. Large Nazi flags and broadsides exhorting the virtues of enlisting in the Waffen SS are placed around the establishment, and the interior walls are painted red. By the way, some of the Führer's best quotes, sage wisdom indeed, are reproduced for diners to enjoy as well.
Nazi Dining, Right Down to the Swastika-Emblazoned China
Those seeking a Nazified dining experience can have it all, right down to the Swastika emblazoned china and menu items such as nazi goreng, a slightly renamed version of a traditional Indonesian dish of fried rice called nasi goring.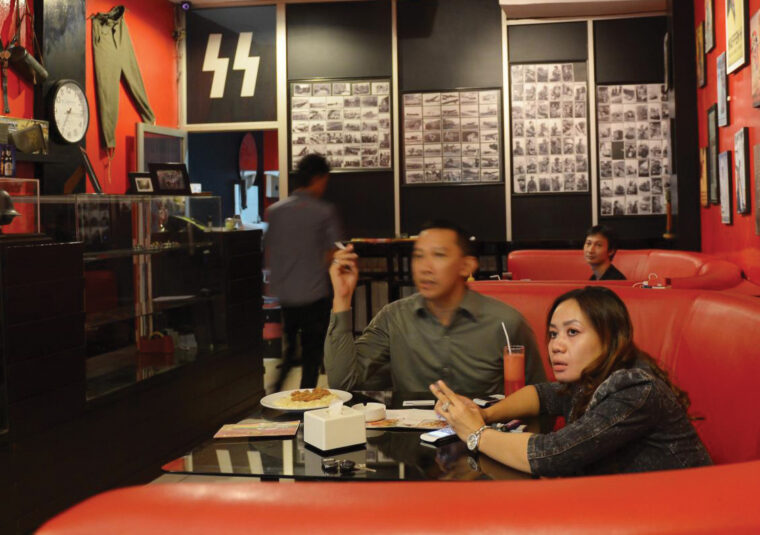 A story that appeared some time ago in the Jakarta Globe newspaper generated a public outcry and produced enough concern that the café owner, Henry Mulyana, amid a large number of death threats, was hauled before local authorities to discuss the nature of his business. Innocently enough, he explained that he was not a Nazi, neo-Nazi, or even a bigtime Hitler fan. He just decided to come up with a theme that would bring in a steady stream of customers.
Mulyana further explained his idea during a news conference. "From the beginning," he related, "I have said that the SoldatenKaffee is not a Nazi café. This café's theme is World War II. We have a lot of customers from Europe, and they don't have a problem with the World War II theme because it is seen here from a historical perspective."
Disclaiming the Verity of the Holocaust
Such reasoning must also be tempered with his previous remarks to the Jakara newspaper, disclaiming the verity that the Holocaust actually occurred. "Controversy will always exist," he said, "depending on from what side we are looking. The way I see it, the Nazis didn't commit slaughter."
It was after the comments to the newspaper were published that the owner closed down and promised to broaden the perspective of the SoldatenKaffee theme. In fairness, there are now photographs of British Prime Minister Winston Churchill and Soviet Premier Josef Stalin (a communist mass murderer is a vast improvement over Hitler alone, right?), along with memorabilia from several Allied nations on display. However, the overriding ambience, one would reasonably conclude, remains Hitleresque.
Perhaps even more disturbing than the continued overt homage to Nazism presented by the proprietor of SoldatenKaffee is that its patrons frequently show up for a meal dressed in period uniforms of the German Army—and though they might get a free pass if participating in some sort of reenactment—others step out in full SS regalia.
Not a Major Topic in Indonesian Schools
It is worthy of note that the Holocaust and the Nazis are not known to be major topics in Indonesian schools. The GlobalPost article quotes one individual as saying, "Perhaps the Holocaust was mentioned, but very briefly. We only heard about Adolf Hitler. I think we were taught to dislike the Jews more than the Nazis."
Now, there is an assertion that could use deeper analysis.
No, I have not been to Indonesia. So, it follows logically that I have not visited SoldatenKaffee. Thinking about it, though, just looking at the place from the street would probably be enough to cause most of us to lose our appetites.